Finder is committed to editorial independence. While we receive compensation when you click links to partners, they do not influence our opinions or reviews. Learn how we make money.
Will my medical debt affect my credit score?
Take proactive steps to keep your doctor bills off your credit report.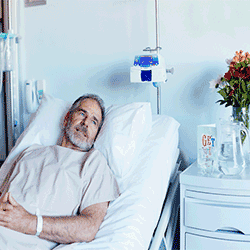 Medical debt resulting from an injury or illness can add to an already stressful recovery. By understanding how and when medical debt affects your credit score, you're in a better position to navigate the process of paying your bills in a way that's manageable.
Do unpaid medical bills affect your credit?
Yes, unpaid bills can affect your credit score and your ability to qualify for future credit. The key is whether your inability to pay results in the provider turning your bill over to a collection agency. In that case, the debt will likely appear on your credit report.
Medical debt refers to bills you have for health care, like emergency room visits, surgery costs and doctor visits. The difficulty with most medical debt is that it's largely unexpected — no one plans to become sick or injured.
If your medical emergency requires urgent care, hefty medical bills can find their way to your doorstep even if you have insurance.
How long does it take for unpaid medical debt to end up on my report?
As of September 2017, most unpaid medical debt is subject to a waiting period of 180 days before it's added to your credit report. That's good news if you're worried about medical bills affecting your credit score.
This six-month cushion could be just the time you need to sort through the claim with your insurance company or arrange payment alternatives with your medical provider.
What if my insurance never paid my medical bill?
The damage to your credit depends on the credit scoring model used by a potential creditor. Most lenders use the FICO 8 model, which treats bills in collections the same, regardless of whether the bill is paid. However, the FICO 9 and VantageScore 3.0 models waive settled collection accounts, which might work in your favor if you've since cleared the debt.
What steps can I take to dispute inaccurate medical bills on my credit report?
If you suspect your score is low because of a medical bill, work to remedy the issue in three steps:
1. Get a copy of your credit report. If an unpaid medical bill shows up on your credit report after you've cleared the debt, gather documentation that proves the bill was paid, such as receipts or account statements.
2. Contact the bureaus. Let Equifax, Experian and TransUnion know about the error on your credit report by mailing a formal letter or by submitting a dispute form on their sites.
3. Follow up. You should receive a response from the bureaus within 30 days after submitting your dispute. Confirm that the corrections are reflected on your credit report before letting the matter rest.
Where can I get help paying my medical bills?
If your insurance doesn't cover your bill or you're having trouble paying out of pocket, resources are available to alleviate your medical debt:
Nonprofit hospitals. If you're a qualifying low-income family, a nonprofit hospital might help cover the expense. You may need to show proof of income in the form of tax returns or pay stubs.
Local human-service agencies. State-run health programs sometimes help supplement the cost of medical expenses. Research what's available in your neighborhood through your city or county offices.
The United Way. Call 2-1-1 from anywhere in North America to learn more about this nonprofit's healthcare support system. Its advisers can point you in the direction of local services near you that may be able to help.
4 tips to keep medical bills off your credit report
The best way to safeguard your credit score in the face of medical debt is to keep it from landing on your credit report in the first place.
Ways that you can keep your doctor bills off your report include:
Review your explanation of benefits (EOB). An EOB often arrives before your medical bill, detailing the expenses your insurer covers. When you know about expenses beyond your bill, you can better plan how you'll pay them when they come due.
Review your medical bill. If you haven't received one, request an itemized bill from your medical provider. That way, you'll know what you're charged for and what's outstanding.
Contact your provider. Don't assume that your insurer has things covered. Follow up by calling to discuss your medical expenses and confirm what's covered by your plan.
Negotiate your bills. If your insurance doesn't cover the bill, call your medical provider to learn about next steps. Your provider may be willing to negotiate a payment plan — or even a cash discount, if you can manage the payment up front — keeping it from collections.
Get your score or rebuild your credit
Bottom line
An unplanned medical bill shouldn't add more stress to your recovery. You have 180 days to manage healthcare debt before it shows up on your credit report. Use the time to contact your insurance company, carefully review itemized bills and reach out to your provider for alternative payment.
Frequently asked questions