Luxury Card Mastercard® Black Card™ Unboxing: The new Luxury Card
Ever wonder what opening a metal luxury card is like? Have a look.
Unboxing the Luxury Card
Luxury Card is a card provider known for … well, its luxury cards that come with valuable perks and exclusive experiences. The cards come with a variety of solid travel perks and features. Most notably, these cards are metallic, sleek and weighty. Drop the card on a table, and you'll know from the sound alone it's no regular credit card. Some might even consider it a status symbol, given how exclusive these cards are.
Luxury Card was kind enough to send Finder a card of our own – the Luxury Card Mastercard® Black Card™ — so that we could share what it's like to open one of these beauties.
The mail
Rather than an envelope, my complimentary Luxury Card arrived in a small, hefty cardboard box, weighted at about one pound. So, what the heck is in the box?
Another box! The actual Luxury Card container is a matte gray box made of sturdy cardboard with a laminated finish. The design is minimal, similar to what you'd expect from an Apple product, with "Luxury Card" embossed in silver on the front.
The box appears to "slide" open by pushing on the sides, but it's actually closed with a simple magnetic flap. It opened easily once I figured out how it worked, and the magnets aren't flimsy. In fact, I turned it upside down just to see if the weight of the box's contents would cause the flap to open. (It didn't.)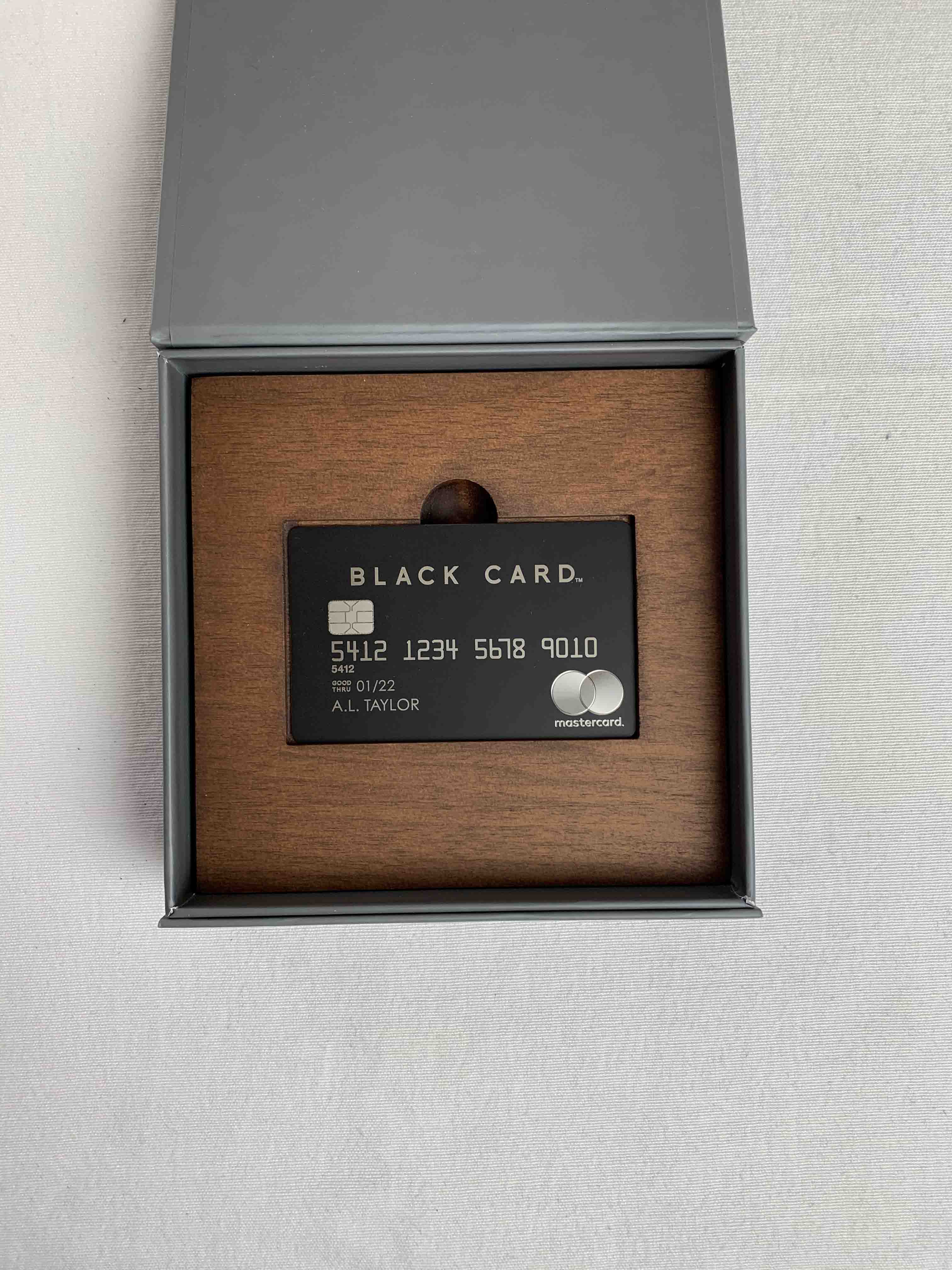 The first thing you see when opening the box is a small Welcome sheet and pull tab. Lifting the tab reveals seven additional sheets detailing the various features of the Luxury Card, as well as contact information for customer support, the 24/7 concierge and card activation. I would have preferred this information in a booklet (I'm almost certain to lose a sheet), but I imagine there are plenty of people out there far more organized than I am.
Despite the fan of sheets, I appreciate that Luxury Card lays out its card features on opening the box, giving you a jumping off point for exploring them. Too many credit cards hide their features away in a guide to benefits or force you online to uncover them.
Under the features list is a curious item: A "utility pad," according to one of the informational cards in the box. It's a small leather square in the same color scheme as the Luxury Card box. I honestly thought it was a mouse pad, and — hey — even Luxury Card says you could use it as one. The world is your oyster! It's a small but nice touch that helps sell the "luxury" of this card.
Finally, we get to the main event: The Luxury Card Black Card itself. It rests in a wooden bed, snugly wrapped in plastic to protect the card from dings or scratches. The wood has a noticeably fresh smell to it, which gives you the sense Luxury Card handcarved this small shelf just for you. Unsurprisingly, this wooden bed is where most of the package's weight comes from.
Finally, removing the wooden block reveals documents with all of the card's nitty-gritty details.
Cardmember agreement
Guide to benefits
Details of how Luxury Card uses your personal information
Small envelope for return services
What does the Luxury Card look like?
The Luxury Card Black Card looks sleek and modern. It's matte black and silver, with a silver Mastercard symbol engraved into the card itself. Unlike other luxury cards on the market, your account number appears on the front of the card, rather than the back.
The back of the card features information you'd expect of a credit card: contact numbers, a space to sign your name and the magnetic strip.
How does the Luxury Card feel?
This is a metal credit card that's strikingly weighty — in fact, it's the heaviest credit card you can apply for. It actually slipped out of my hand during my inspection and noisily clattered to the floor. It sounded like a very tiny cookie sheet.
Given the construction, you could no doubt chop some vegetables with this card. Even better, it's scratch resistant, doesn't bend and can't be shredded. In my time handling the card, it didn't attract many, if any, fingerprints, so you can put your microfiber cleaning cloths away.
What other perks come with the Luxury Card Mastercard® Black Card™?
Street cred aside, here are four main highlights of the Luxury Card Black Card:
Concierge service. In Finder's concierge testing, Luxury Card consistently ranked the fastest and most helpful service among the competition. Just how much time can the concierge service save you? Over 54 hours!
Airport lounge access. The Luxury Card Black Card grants you access to Priority Pass lounges across the US during your travels — worth more than $429 if you were to purchase it directly from Priority Pass.
Travel credits. Every calendar year, you receive up to $100 as a statement credit you can use on airline purchases, including airfare, baggage fees, lounge access and eligible in-flight purchases.
TSA PreCheck and Global Entry credits. Every five years, you receive a statement credit worth up to $100 toward your TSA PreCheck or Global Entry application fee.
6 more reasons to add the Luxury Card Mastercard® Black Card™ to your wallet
How can I apply for the card?
Apply at Luxury Card's website or select See offer to add this slick metal card to your wallet. The Luxury Card Black Card's qualification requirements are somewhat strict, so you'll need a strong credit score to join the ranks of Black Card cardholders.
Receive an annual $100 air travel credit
Luxury Card Mastercard® Black Card™
Patented black-PVD-coated metal card—weighing 22 grams.
2% value for airfare redemptions with no blackout dates or seat restrictions. 1.5% value for cash back redemptions. Earn one point for every one dollar spent.
Annual Airline Credit—up to $100 in statement credits toward flight-related purchases including airline tickets, baggage fees, upgrades and more. Up to a $100 application fee credit for the cost of TSA Pre✓® or Global Entry.
Enrollment in Priority Pass™ Select with access to 1,300+ airport lounges worldwide with no guest limit. Includes credits at select airport restaurants for cardholder and one guest.
24/7 Luxury Card Concierge®—available by phone, email and live mobile chat. Around-the-clock service to help you save time and manage tasks big and small.
Exclusive Luxury Card Travel® benefits—average value of $500 per stay (e.g., resort credits, room upgrades, free wifi, breakfast for two and more) at over 3,000 properties.
Cell phone protection for eligible claims of up to $1,000 each year. Plus additional World Elite Mastercard® benefits.
Annual Fee: $495 ($195 for each Authorized User). Terms and conditions apply.
How fast will I get the card?
You can expect your new card to arrive within 7 to 10 business days after approval.
Bottom line
If you're looking for a slick card to add to your wallet that offers a touch of luxury and might draw some eyes, the Luxury Card Black Card can fit the bill. Plus, it's fun to unbox. Read our Luxury Card Mastercard® Black Card™ review for our full thoughts on rewards rates and travel perks.