Finder is committed to editorial independence. While we receive compensation when you click links to partners, they do not influence our opinions or reviews. Learn how we make money.
LendKey student loan refinancing review
Find competitive rates and unmatched loan benefits from its network of nonprofit lenders.
Best for graduates looking to compare offers from local banks and credit unions.
Pick something else if you never completed your degree.
$300,000
Max. Loan Amount
Details
| | |
| --- | --- |
| Product Name | LendKey Student Loan Refinancing (with AutoPay) |
| Minimum Loan Amount | $7,500 |
| Max. Loan Amount | $300,000 |
| APR | Starting at 1.99% |
| Interest Rate Type | Variable |
| Minimum Loan Term | 5 years |
| Maximum Loan Term | 20 years |
| Requirements | You must be a US citizen or permanent resident and have an undergraduate or graduate degree. |
Expert review
Review by
aliyyah.camp@finder.com
---
Aliyyah Camp is a writer and personal finance blogger who helps readers compare personal, student, car and business loans. Aliyyah earned a BA in communication from the University of Pennsylvania and is based in New York, where she enjoys movies and running outdoors.
Expert review
LendKey is ideal for graduates looking to refinance their student loans with a local bank or credit union. You can compare offers from multiple lenders by filling out one online form on LendKey's website. Its network of lenders offer both variable and fixed rates, as well as a wide range of loan terms between five and 20 years. It's also a good choice for borrowers with high debt loads — you can refinance up to $300,000.
However, you need to have earned your degree to qualify. And you can't refinance test prep loans, like for the bar exam.
Not sold on LendKey? Compare other student loan refinancing providers to find a better fit for you.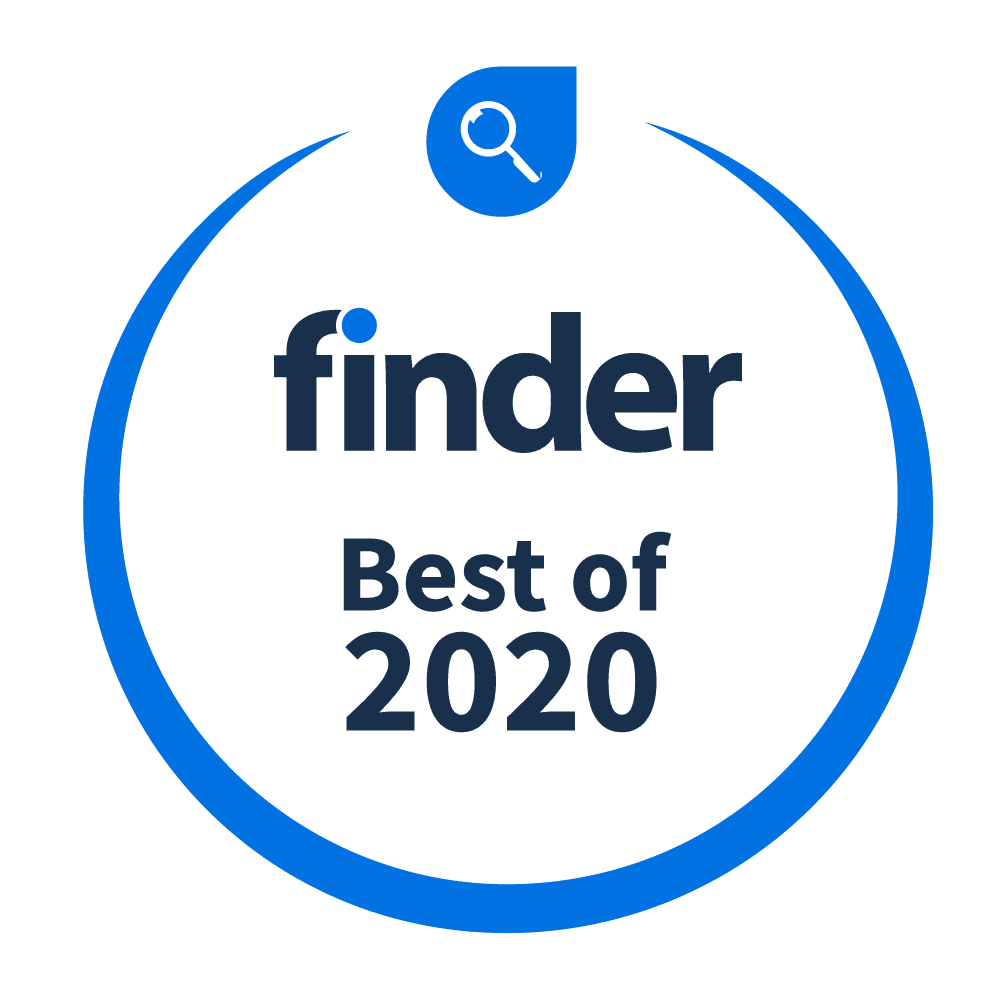 First, do I qualify?
LendKey requires student loan refinancing applicants to:
Be a US citizen or permanent resident.
Have a steady source of income, or a cosigner with income.
Have a student loan from a graduate or undergraduate degree.
Benefits of refinancing a student loan through LendKey
Loans you can apply for through LendKey come with a number of noteworthy features, including:
Low rates. The rates LendKey's partners offer are some of the lowest out there — even for a student loan refinancing.
Variable or fixed rate. When you turn to LendKey to refinance an existing student loan, you get to choose from fixed and variable rate alternatives. If you don't mind taking a little risk with your repayment amount, getting a variable rate loan might work well for you. If you prefer the peace of mind that comes through fixed repayments, a fixed rate loan might be a better bet.
High loan amount and flexible terms. The maximum loan amount is $300,000, and the loan term can be 5, 7, 10, 15 or 20 years.
Savings in fees. When you refinance with LendKey you won't pay any origination fees, or prepayment penalties.
Why you might want to look elsewhere
Degree required. You can't qualify with one of LendKey's partners if you have debt from a degree you didn't finish.
Can't refinance test prep loans. Student loans used to cover the cost of studying for an exam after completing your degree, such as a bar exam loan, aren't eligible.
Cosigner release not available on all loans. While some partners allow you to take your cosigner off your loan without refinancing, not all do.
What other products does LendKey offer?
You can get a loan from LendKey for purposes other than refinancing. Your options include:
Private student loans. Through LendKey, you can find lenders that may consider your academic credentials when assessing private student loans, which can get you a lower interest rate. If you have made consecutive on-time principal and interest payments in the past, you can find lenders that offer co-signer release. You don't have to pay any loan origination fees, and the interest you pay might be tax deductible.
Home improvement loans. When you apply for a home improvement loan through LendKey, you get to deal with a financial institution that supports local homeowners and contractors.
What customers say about LendKey
Although LendKey doesn't have many customer reviews online, it's accredited by the Better Business Bureau (BBB) which means it meets certain transparency standards and makes an effort to resolve consumer complaints. LendKey's been accredited by the BBB since 2012 and has an A+ rating.
It's had several consumer complaints filed against it, most of which indicate that LendKey is prone to technical errors that it's not always equipped to fix. One customer tried to apply for a loan with a fixed APR, only to be given a variable interest rate. Another had their application denied because LendKey erroneously identified them as a temporary, rather than full-time employee and therefore ineligible without a cosigner. Others were charged late fees for mistakes their banks made.
Compare LendKey to other student loan refinancing providers
Am I eligible?
If you have a student loan you're currently repaying, a decent credit score and/or a steady source of income, you may qualify for a refinanced loan from LendKey. There are a number of factors that go into getting a personal loan, but as long as you have a history of on-time payments for your loan, you have the opportunity to get better rates.
You need to provide the following information to complete your application successfully:
Your personal information. This includes your name, contact details and annual income.
Your school information. Select your type of degree and the school where you earned it.
Your loan information. Estimate the total amount of student loans you'll be refinancing.
How to apply for student loan refinancing through LendKey
You can submit your application conveniently online. Here's how:
1. Start by clicking the Go to site button on this page to be directed to LendKey's website.
2. From there, you'll fill out a one-page application form with your personal, school and loan information discussed above.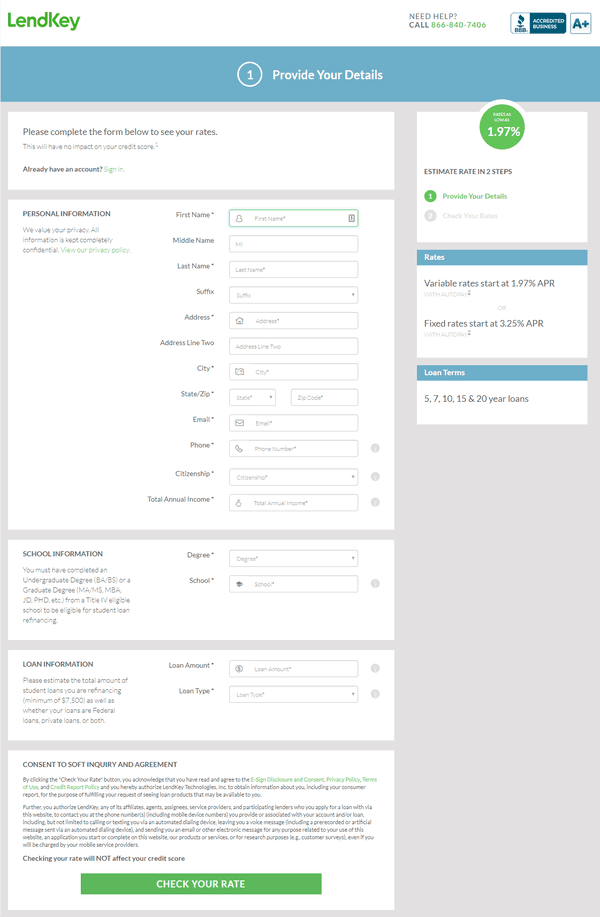 3. Click Check Your Rate to see potential offers.
I got my loan refinanced. Now what?
Now that you have a lower rate, you'll need to assess how much your refinanced loan will cost you. Budget for your payments, and with a personal loan, paying it off sooner will save you thousands of dollars in interest over the long run.
LendKey services student loans for its partners so you'll make repayments through the company rather than your lender. If you have any questions or concerns about your account, reach out to LendKey's customer service team.
I wasn't approved. Now what?
It's not the end of the world. Keep repaying your student loans at the current rate, and over time, you can improve your credit score and work on any other factors that contributed to your denial. You may be able to apply again in a few months and increase your chances of approval.
In the meantime, you can learn more about student loan refinancing and compare other providers.
Learn more about how student loan refinancing works or find other credit unions that offer refinancing with our guides.
Frequently asked questions