Finder is committed to editorial independence. While we receive compensation when you click links to partners, they do not influence our opinions or reviews. Learn how we make money.
Compare inventory financing options
Make sure your suppliers get paid without putting a strain on your cash flow.
Editor's choice: First Down Funding business loans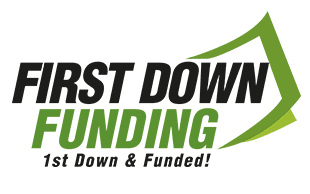 No prepayment penalties
Competitive rates
Works with bad credit and most industries
Check eligibility
Relying on your cash flow to obtain products from suppliers can cause financial strain if you have a growing business that relies on lots of inventory to keep going. This is where inventory financing comes in.
It's designed to pay your supplier directly on your behalf, allowing you to meet your financial obligations while keeping your shelves stocked and your business's reputation intact.
How does inventory financing work?
Inventory financing is a line of credit or short-term loan that a business can use to buy the products it sells. Any inventory you purchase becomes collateral for the loan, protecting the lender against default. If you're not able to repay the loan, the lender can seize and sell the products to satisfy the debt.
Here's a breakdown of how it works:
The lender pays your supplier.
The supplier ships the goods and you restock your inventory.
You sell your goods and repay the lender.
Depending on the lender, you can apply for up to $1 million. The repayment period is determined by how long it would take to sell your inventory.
A shorter repayment term may mean a higher interest rate, but it's usually a small increase. It could make financial sense to choose the shortest term you could afford because paying interest on a small loan over a longer period will eat away at your cash flow.
Which businesses could benefit from inventory financing?
Generally, inventory financing is used by manufacturers of consumer products and auto dealers that have large amounts of money tied up in inventory. This type of financing is especially good for businesses with international suppliers because sometimes there are delays between paying the supplier and receiving the goods.
Compare lenders that offer inventory financing
How to qualify for inventory financing
Lenders want to see that you're able to make repayments, so you need to prove that your business is in decent shape financially. While you don't have to put up collateral if applying for an unsecured inventory loan, your business must meet some standard eligibility requirements:
Minimum time in the industry. Lenders like to see that your business has been operating for at least a few years.
Minimum annual revenue. You must show your annual earnings. Minimum revenue requirements differ by lender, but are typically at least $100,000 a year.
No credit defaults. Defaulting on existing financial commitments shows lenders that your business is not in a position to take on another loan.
Industry type. Whether or not a lender will approve a loan depends on your industry. If your business is in an industry considered to be volatile or unpredictable, your application might be rejected.
How does the coronavirus affect eligibility requirements?
Because inventory financing relies on a flow of buying and selling goods, it may be more difficult to be approved by a lender during this global crisis.
Your lender may require a higher overall revenue and extra proof you'l be able to repay your loan — and that your inventory can still sell. A brick-and-mortar store may find it more difficult to qualify during a local stay-at-home order. You can compare lenders and contact their customer service teams to see if your business meets current eligibility criteria.
But even if your business is eligible, it may not be the best decision. If you aren't able to sell your inventory, your business's cash flow could be eaten up by frequent loan repayments. Instead, you may want to consider an SBA disaster loan if your business is struggling to stay afloat because of the coronavirus.
What are the benefits of inventory financing?
Inventory financing comes with several perks, including:
Expedites shipping for overseas suppliers. Shipping inventory from overseas can mean significant delays, especially if you have to put off paying your supplier. An unsecured inventory loan can expedite shipping, helping to eliminate unnecessary delays. You may also want to consider trade finance for international business transactions.
Avoid using working capital. You don't have to dig into your working capital to unlock cash flow.
Enhances your business's reputation. This solution can also help boost your business reputation because you're able to take on bigger orders, which will increase your business capacity and maximize turnover.
What should I keep in mind before applying?
There are a few questions you can ask yourself before applying to ensure it's the right decision:
What is the nature of your inventory? Slow-selling inventory may not be ideal for this type of financing, as you may not find a lender who'll approve you.
What is your credit like? You will generally need good credit to be eligible for inventory financing.
Are you confident in your inventory? Remember the lender has the right to inspect the inventory to ensure it's maintained its value.
Bottom line
Inventory financing can be a useful option to keep your business moving if your cash flow relies on maintaining lots of inventory at once. Make sure you compare your loan options before selecting a lender to ensure you get the right terms for your business's needs.
Frequently asked questions