How to fill out SBA Form 912
Step-by-step instructions for accurately completing the SBA's "good faith" form.
Applying for a government-backed business loan is typically more complicated than your standard business term loan. With such competitive rates, the government wants to make absolutely sure it's putting taxpayer dollars toward a worthy enterprise.
To you, the business owner, this means completing forms requiring more details about your job history and personal wealth than most underwriters consider.
Form 912 is one way that the Small Business Administration assesses your eligibility for a loan. It uses the information you provide about your criminal history to decide whether you satisfy the character requirement for an SBA loan.
What's Form 912?
Also called your "Statement of Personal History," Form 912 contains information about your behavior, integrity and past criminal history. Your potential lender analyzes this information before deciding whether your past renders you ineligible for an SBA loan.
But before you start calling your friends or exes for notarized lists of your personal flaws, relax: It's not that invasive. This form primarily asks about brushes with the law to help your lender decide if you and your colleagues are "creditworthy characters" — which is an actual eligibility requirement for an SBA 7(a) or 504 loan.
Who needs to fill out Form 912?
If you're here, you might have answered "Yes" to question 18 or 19 on SBA Form 1919. Not all lenders require applicants to complete Form 912. If you're not sure whether you need to, reach out to your lender first to ask if it's mandatory.
Most SBA applicants will find they need to complete and submit Form 912 separately:
Business owners
Partners with more than 20% equity in a partnership
Owners with more than 20% equity in an LLC
Officers, directors, trustors and managing members of an LLC
Anyone hired to manage daily operations
Anyone cosigning this loan
What documents do I need to submit Form 912?
You might want to wait until after you've completed Form 912 to begin gathering your documentation. That's because you'll have a better idea of what you need after you've truthfully answered its questions.
If you have a clean record, then you might not need any supporting documents. If you have a criminal record, you will likely need to include documents detailing your cases.
Note that a criminal record doesn't necessarily mean you're ineligible for an SBA loan. Your lender will decide if you have good character case by case, based on your answers.

How to fill out Form 912 in 7 steps
Before you get started, make sure that your form is the most recent version by checking the top right corner. If it's expired, download an up-to-date Form 912 on the Small Business Administration website. Depending on the time of year, the form you find online may not yet have been updated. In that case, reach out to your lender for the most current form.
To minimize mistakes that come with unclear penmanship, consider typing the information directly into the form using a PDF reader like Adobe Reader. If you use Chrome, the form may automatically open in a new tab and include fields you can type in. Otherwise, neatly complete the form by hand in dark ink.
After you've fully completed Form 912, sign it and initial Questions 5, 6, 7 and 9 by hand before submitting it.
Step 1. Your basic contact and business information
This is the easy part: It's just personal information about you, your business and your lender.
Section 1a. Write your business's name, mailing address and general email address.
Section 1b. Write your full legal name. If you don't have a middle name, write the letters "NMN" under "Middle." If your legal name is only an initial, include it. Under your current legal name, write any former legal names, including the dates you used those names. If you need more space, attach a separate sheet of paper, making sure to include "SBA — Form 912" and your signature.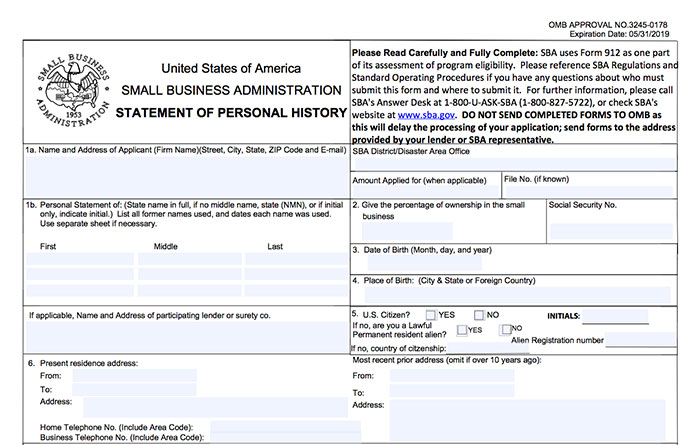 Step 2. Loan application information
Complete the boxes that aren't labeled as steps with details about your loan application.
Unmarked box below 1b. Write the name and address of the lender or surety company you're using to apply for an SBA loan.
Box to the right of 1a. Write your SBA district or disaster area office. Not sure what that is? Find your SBA district office in your state online, choosing the district office closest to your business.
Amount and file number. Fill out the amount your business is applying for and the file number, if you know it. Otherwise, leave the file number blank.
Step 3. Your personal information
Boxes 2 through 6 ask about your contact information, legal status and involvement in the business applying for an SBA loan.
Box 2. Write the percentage of the business that you own and your Social Security number.
Box 3. Write your birthday in order of month, day and year.
Box 4. Write the city and state you were born in. Not born in the US? Write the city and country.
Box 5. Indicate whether you're a US citizen or a permanent resident. If a permanent resident, write your alien registration number. Otherwise, write your country of citizenship. You'll need to initial this section after you print out the document.
Box 6. Write in your official address, including the date you moved in. If you still live at this address, write "present." If you've moved in the past 10 years, write the address under "Most recent prior address, including the dates you lived there. Otherwise, leave the most recent address blank. At the bottom of Box 6, write your home and business phone numbers, including the area code.
Step 4. Current charges against you
These next few steps are the most important part of your Form 912. You must indicate in Box 7 whether you currently face criminal charges in any capacity — an indictment, arraignment or anything else.
Unfortunately, current criminal charges almost always mean that your business is ineligible for an SBA loan. It's your choice whether or to continue with the application, but you likely won't qualify until the charges are dropped.
If you're in a legal gray area, talk to a lawyer and your lender — and maybe have them talk to each other — to figure out how to proceed with answering this question.
Step 5. Past charges
Indicate in Box 8 whether you've been arrested in the past six months.
A recent arrest doesn't mean you're automatically rejected. But it does mean that you'll need to submit documentation on your arrest.
Step 6. Probation, convictions or pleas
In Box 9, indicate whether you've ever:
Been convicted of a criminal offense.
Pled guilty to a criminal offense.
Pled nolo contende to a criminal offense.
Been on pretrial diversion of a criminal offense.
Been on probation or parole for a criminal offense.
Recent convictions or pleads do not automatically disqualify you. But you'll need to submit documentation on these convictions with your form.
If none of these situations apply to you — or if your record includes parking or minor traffic violations — continue on.
Step 7. Sign and initial
If you're completing your form electronically, print it out and write your initials next to Boxes 5, 7, 8 and 9. Under Box 10, sign your document, also writing in your title and the date you've completed your form.
I filled out form 912. Anything else I need to do before I submit?
If you checked No in Boxes 7, 8 and 9, you can submit your Form 912.
Otherwise, for each criminal charge, you'll need to provide documentation that includes:
A signed written statement describing the crime and charges.
Official court documents for each conviction.
Parole or probation board statements.
Any other documents that can help prove your statement.
The written statement
Your written statement for each offense should include:
When the offense or offenses happened.
Where the offense or offenses happened, including the jurisdiction.
Specific charges you faced, including the level of charges and any court documents.
A description of the charges, including fines you paid, time you served, the terms of your probation, any legally mandated workshops or classes and other court conditions.
A statement saying you've met all of the court's conditions.
A signature or date.
What happens after I submit Form 912?
If your past doesn't include criminal convictions or crimes, you simply wait for your lender to decide on your application.
If you indicated past convictions or crimes on Form 912, your lender might submit your form to the SBA to run a background check and ask for fingerprints, depending on the degree and seriousness of your criminal past.
One misdemeanor, never prosecuted
If you were arrested and booked at a protest — or for some other small crime — but never faced charges, your lender might clear you without reaching out to the SBA. This means you might not be subject to a background check or fingerprinting.
A few misdemeanors
Maybe you faced a few charges for minor crimes. Lenders generally don't reach out to the SBA if you haven't had any legal proceedings in the past six months. It might, however, if you've had more than a few. In that case, you could be subject to a background test and fingerprinting.
A felony
Even if you committed a felony 40 years ago, you could be subject to a background check and fingerprinting. Your lender may also send your application to the Office of the Inspector General or Office of Security Operations for approval.
Compare top SBA loan providers
Bottom line
Form 912 — Statement of Personal History isn't required for all SBA loan applications. But take extra care if your lender asks your company's business owners to submit one — you could face a hefty fine or even jail time if you're caught in a lie. If any of the owners face criminal charges or were recently convicted of a crime, that's likely an immediate rejection.
To learn more about how government lending works, read our guide to SBA loans. Or check out our guide to business loans for alternative financing options.
Frequently asked questions