How to fill out SBA Form 159
Learn how to fill out the SBA's fee disclosure — and whether you even need to complete it.
What with all the paperwork required to apply for a loan through the Small Business Administration, you might find it's easier to hire help in navigating the process. Unfortunately, this could mean you're on the hook for yet another form — the SBA fee disclosure.
This form isn't complicated. But figuring out whether you need it can be a bit tricky.
What is SBA Form 159?
Also called the "Fee Disclosure Form and Compensation Agreement," Form 159 indicates to the government that you are a business owner who used an agent to help complete your SBA application. You provide details as to where you got your help and how much you paid for it.
You'd also use this form to disclose if your lender paid a fee to a partner agency like SmartBiz for referring you as a borrower. Typically, you need to complete one form for each agent you hired.
Part of the reason the Small Business Administration asks for this form is to make sure that you aren't getting ripped off. If the SBA believes your agent charged you too much for its services or for unnecessary expenses, it may ask your agent to provide you with a partial or full refund.
You might see a refund if you paid:
Commitment fees
Bonuses
Broker fees
Commission
A referral fee
A fee for a service you didn't ask for or want
Who needs to submit Form 159?
Generally, you need to submit Form 159 if:
You used an agent to help you apply for an SBA loan from one of the four eligible programs.
Your lender paid a connection service a referral fee for bringing you in as a client.
It's easy to know if your lender paid a referral fee — either they did or they didn't.
But the SBA's definition of an agent can get complicated. Typically, SBA lenders, loan packagers, accountants, brokers, consultants, lawyers and referral agents count as agents. But it all depends on the circumstances.
Must read
If your business is applying for a 504 loan and used a certified development company (CDC) as an agent, it can't charge more than 1.5% of your loan amount in fees. When you submit an application, it can collect either $2,500 or 1% of your loan amount, whichever is less. But it must refund your deposit if you're denied.
You don't need to report your CDC fees in this form. However, if the CDC charged your lender a referral fee, then the SBA considers it a referral agent. You're required to report it as a fee — even if you didn't pay it.
What information will I need to provide?
The SBA Form 159 requires applicants and agents to provide:
Your and your business's name.
The agent's name and business.
The agent's contact information.
How much the agent charged for its services.
If you have an authorized representative, you'll need to include their name in the application.

How to fill out the SBA Form 159 in 7 steps
Both you and your lender will need to complete and sign this form together and each agent must sign off on it. Remember: You need to submit a completed SBA Form 159 for each agent you worked with.
To minimize mistakes that come with unclear penmanship, consider typing the information directly into the form using a PDF reader like Adobe Reader. If you use Chrome, the form may automatically open in a new tab and include fields you can type in. Otherwise, neatly complete the form by hand in dark ink.
Before you get started…
Make sure you have the most up-to-date form — the SBA issued a new version of form 159 in September 2018 that applies to both the 7(a) and 504 loan programs. This is the only version it currently accepts, which is set to expire on August 31, 2021.
As of November 2018, it's not the first form that comes up in an online search. You can typically get the updated version through your lender or on the SBA website. Check the top right-hand corner to make sure your form is not expired.
Step 1. Form purpose and instructions
This section reiterates what we've covered here: what counts as an agent, and when to complete this form.
Carefully read this step to double-check you've followed the SBA's directions exactly.
Step 2. Basic information
Select which you're applying for: 7(a) or 504. Next to SBA Loan Name write your name as it appears on your loan application. If your application is in your business's name, write the business name.
Next to SBA Loan Number, write the number on your SBA application without leaving any spaces. Then write your SBA Lender's FIRS ID number without any spaces and the legal name of your SBA lender.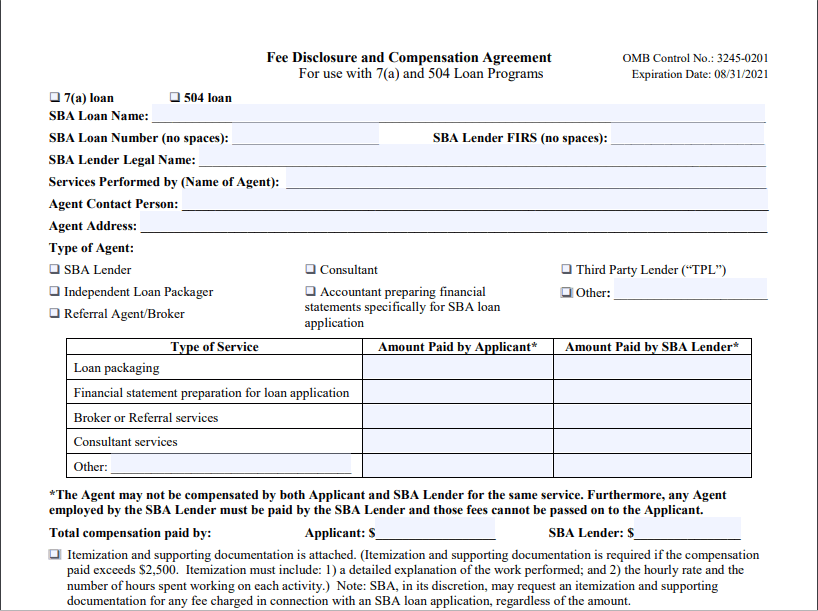 Step 3. Information about your agent
Write the name of the agent you used next to Services Performed by. Enter the full name of the person you worked with next to Agent Contact Person. Then provide your agent's mailing address next to Agent Address.
Under Type of Agent, select the best description of how your agent operates. You have a choice between:
SBA lender.
Independent loan packager.
Referral Agent/Broker.
Consultant.
Accountant preparing financial statements specifically for SBA loan application.
Third Party Lender (TPL).
Other.
If you select Other, write in a brief description of the agent you used.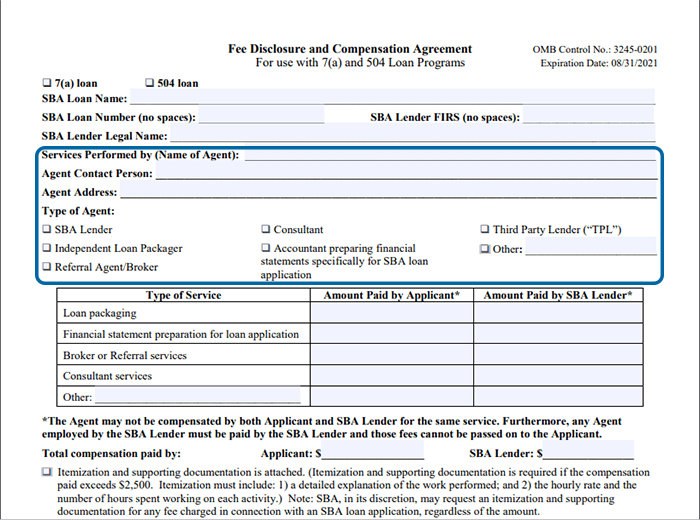 Step 4. Compensation for service
In this next step, fill out the chart with information about how much you and your SBA lender filled paid for the following services:
Loan packaging.
Financial statements or tax returns prepared specifically for the application.
Broker or referral services paid by applicant (SBA 7(a) and 504).
Legal services performed specifically for a Disaster Assistance Loan closing.
Other — with a description of the service.
Then add up both columns and write the total amount you paid and your SBA lender paid the agent.
If you paid more than $2,500, your agent must attach a separate sheet listing for each service:
The type of service.
The hourly rate.
The number of billed hours.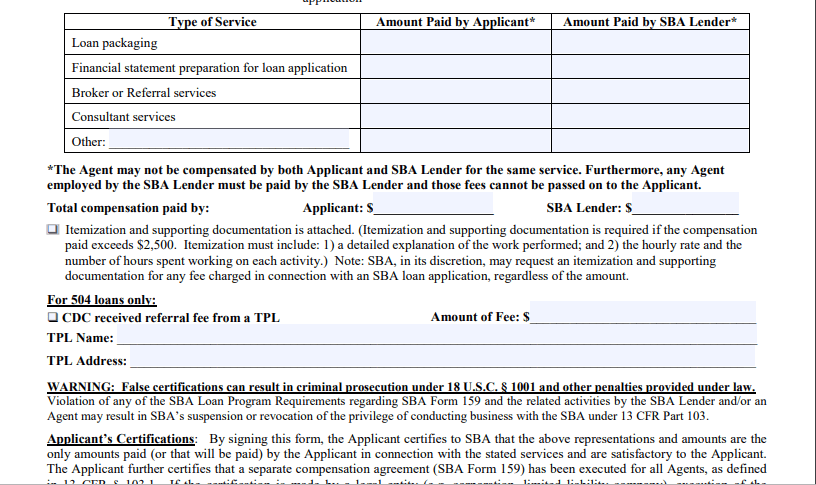 Step 5. 504 loan referral fee
Skip this section if you're applying for an SBA 7(a) loan. Otherwise, check the box if your CDC got a referral fee from a third party lender and write the amount it was compensated.
Then enter the third party lender's name next to TPL Name and its mailing address next to TPL Address.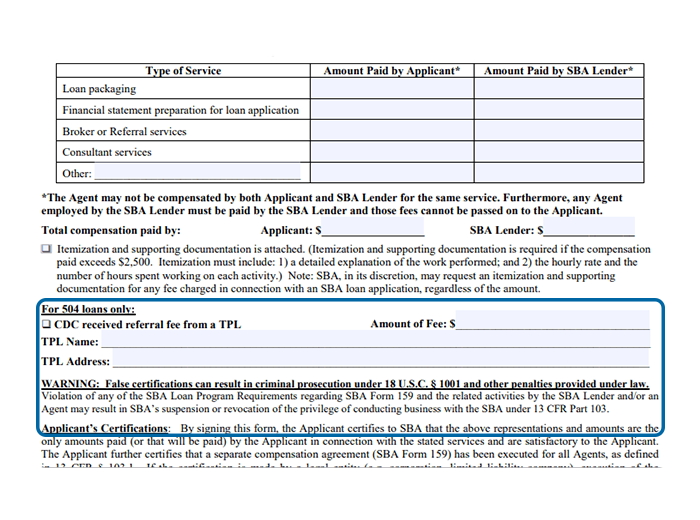 Step 6. Applicant certification
Carefully review the information provided. If you notice mistakes or have any questions, reach out to your agent and your SBA lender before signing the document. Submitting false information can result in criminal prosecution of you or your agent.
After you're certain everything is correct, carefully read the Applicant's certifications. Sign and print your name, then write the date and your title.
Step 7. Agent certification
After signing the form, bring it to the your agent. Have your agent's representative read the Agent's Certifications and have them sign and print their name. The agent's representative should write the date and their professional title.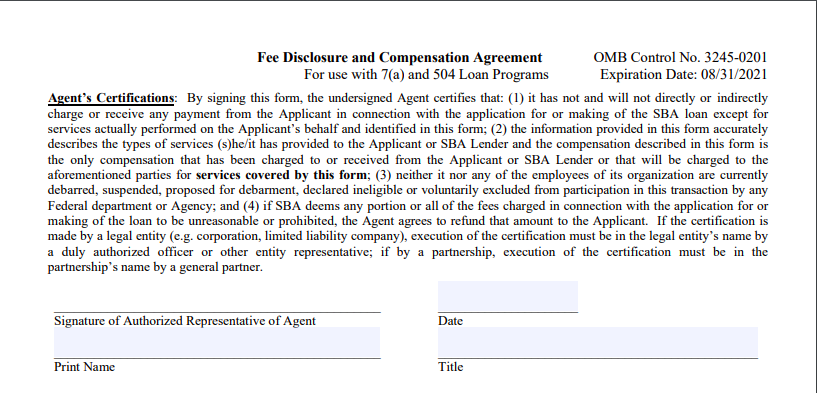 Step 8. SBA lender certification
Finally, bring your form to your lender. Have a representative of your lender read the Lender's Certifications before signing and printing their name, and writing their professional title and the date.
Write the same applicant name you indicated in the above Applicant's name.
I filled out Form 159. What happens next?
After you've completed your part of the form, there's nothing else for you to do. Leave it with your lender — it's required to keep a copy of the form on file and might have to submit an additional copy after your loan is disbursed.
Compare SBA loan options
Bottom line
SBA Form 159 itself isn't complicated, but completing it correctly can be tricky. If you're not sure how to proceed with a section, consider reaching out to your lender for help. It's likely experienced with SBA loans and Form 159. Otherwise, contact the SBA at 800-827-5722.
Read our guide to SBA loans to learn more about how SBA programs work. Or read our business loans guide to see about other business financing options you might qualify for.
Frequently asked questions
Should my agent write their hourly rate and hours worked, even if they charged me a percentage of the amount?
They might need to. Either way, your agent must include an itemized schedule listing the services it provided and individual costs.
I have more than one agent. Can they all contribute to one form?
No. You must submit a separate SBA Form 159 for each qualifying agent you hired to help you with your SBA application.
What does the SBA consider "reasonable compensation?"
It depends on several factors, like the amount you're applying for and how complicated your application is. Reasonable compensation could range anywhere from $500 to $4,500.
If you're working with an agent that's performed SBA services before, it should have an idea of what the SBA considers a reasonable fee for the amount of work it does for you. Otherwise, consider consulting the SBA or your lender to double-check. If the SBA thinks you paid too much, your lender might have to partially refund its compensation