The PPP is closed
The Paycheck Protection Program (PPP) officially ended on on May 31, 2021. Compare traditional business loans instead if your company still needs financing.
The Paycheck Protection Program (PPP) is less complicated compared to other loans backed by the Small Business Administration (SBA). There are fewer requirements, lenders process and fund the loans on their own, and it's more widely available.
March 2021 changes to the PPP
The American Rescue Plan Act and an executive order made a few major changes to the PPP that opened it up to more borrowers.
Self-employed borrowers can now use their gross annual income to calculate their PPP loan amount — and can qualify if they reported any income in 2019 or 2020. Previously, self-employed PPP loans were based on net profit.
Internet publishing organizations with no more than 500 employees are now eligible for a PPP loan.
Almost all 501(c) organizations that were previously ineligible can qualify as long as they have no more than 300 employees. The one exception is 510(c)(4) organizations, which are still ineligible.
Past non-financial fraud felonies, student loan delinquencies and student loan defaults will no longer disqualify you from a PPP loan.
Are lenders still accepting PPP applications?
Yes, the SBA reopened PPP applications on January 11, 2021 and they will remain open until May 31, 2021.
If you don't want a PPP loan or need financing now, compare other loans for businesses affected by the coronavirus or see if your business qualifies for a COVID-19 grant. You can also explore these alternatives to SBA loans to help increase cash flow.
Step 1: Check the application dates
Make sure you have the most up-to-date application by checking the date at the top of the form. The most recent version was revised on January 8, 2021. If you're applying through a lender's application, check in to make sure they're also using the most recent version. Otherwise, not all businesses will qualify
Step 2: Make sure you qualify
Review the requirements for the PPP to make sure your business makes the cut. At a minimum, your business must meet the following criteria:
Established before February 15, 2020
Either have fewer than 500 employees, or meet traditional or alternative SBA size standards — with some exceptions for the service industry and franchises
Be a small business, nonprofit, tribal organization, veterans' organization, housing cooperative, 501(c)(6) organization or sole proprietorship or independent contractor
Not currently in bankruptcy proceedings
Owners with a 20% or more stake in the company must be US citizens or permanent residents and current on all federal loans. And any business owned by someone with a financial fraud felony in the past five years or federal loan defaults will be disqualified — excluding student loans.
There's a chance some lenders might have additional requirements, but they likely won't be as strict as a typical SBA loan.
Step 3: Compare lenders
Most small business lenders are offering PPP loans. Since rates, terms and loan amounts are the same regardless of the lender you use, consider factors like additional eligibility requirements, documentation required and potential turnaround times.
While you can find a PPP loan with non-SBA lenders, you'll likely hit less snags with a lender that has experience working with government-backed business loans. The SBA also released a new Lender Match tool on its website that can help you find a lender to apply for a PPP loan through.
Apply for a PPP loan
Here's a list of online lenders that are offering PPP financing again. Keep in mind that these lenders don't offer SBA disaster loans — you'll need to apply for those directly on the Small Business Administration's disaster website.
Step 4: Prepare for the application
If you don't see an application on the lender's website, call customer service to find out how to apply and what documents you need to upload. At a minimum, you'll likely need to provide verification of payroll costs — such as a W-2 — as well as 1099 forms and utility bills.
If your business has more than one owner with at least a 20% stake in the company, come up with a plan so you can each fill out the appropriate sections of the application.
Step 5: Fill out the application
The SBA requires all lenders to use the same information for PPP loans, though the format might change. These steps show you how to. It's only two pages long and is less complicated than most SBA loan applications.
Once you have the form handy with you, follow these steps to apply:
1. Provide basic information about your business.
Complete the box at the top of the application with the following information:
Business type. Check the box indicating the type of business your business is registered as.
DBA or tradename, if applicable. If your business goes by a different name than its legal name, write that here — for example, Jon Doe Media.
Year of establishment, if applicable. For businesses that were legally registered during a certain year, write the year it was founded. Write NA if you're self-employed or an independent contractor.
Business legal name. Write the name your business is legally registered under — for example, Jon Doe Media, LLC.
NAICS Code. Write your industry's North American Industry Classification System. If you aren't sure what it is, you can look up your code on the NAICS website.
Business address. Write the street address of your business's main location. If you have a service industry business with multiple locations, write the address for the location you want to fund.
Business TIN, EIN or SSN. Fill in your business's tax identification number (TIN). If you're an independent contractor or self-employed individual, provide your employee identification number (EIN) or Social Security number (SSN).
Business phone. Enter the phone number you want to be contacted at to receive status updates or questions about your application.
Primary contact. Write the name of the person the lender should reach out to about the application.
Email address. Provide an email address where the lender or SBA can reach you about your application.
2. Calculate your loan amount and purpose.
Complete the second box with the following information:
Average monthly payroll
If you're self-employed, check out our specialized guide.
Otherwise, Enter the average amount your business spent on eligible payroll costs in 2019 or 2020. You can use our in-depth guide to calculating your loan amount to better navigate this step.
New businesses. Use the average payroll cost between January 1, 2020 and February 29, 2020.
Seasonal businesses. Use the average monthly payroll cost between either February 15 or March 1, 2019 and June 30, 2019.
Multiply your average monthly payroll by 2.5 and write the amount next to the dollar sign — if you don't have an Economic Injury Disaster Loan (EDL) and move on to the number of jobs. If it's higher than $10 million, write $10 million — that's the maximum you can borrow.
EIDL and net of advance
Subtract any EIDL advance — if applicable — you've received from the balance of any EIDL loan that you're using to cover payroll expenses. Then add the result to the number you calculated in the previous step and enter it next to the dollar sign.
Number of jobs
Write in the number of full-time, part-time and other employees you have on payroll. Don't include independent contractors.
Purpose of the loan
Select all costs you intend to cover with this loan:
Payroll
Rent or mortgage interest
Utilities
Covered operations expenditures
Covered property damage
Covered supplier costs
If you plan on using it for other costs, check Other and write in an explanation.
3. Provide basic information about owners.

Under the box labeled Applicant Ownership, fill in the following information for everyone with at least a 20% stake in the company. If your business is owned by a trust, provide information for the trustor.
Owner name
Title in the company
Percentage of ownership
Tax identification number, employer identification number or Social Security number
Personal address
If there are more than two owners, attach a separate sheet with their information.
4. Answer questions about the business and owners.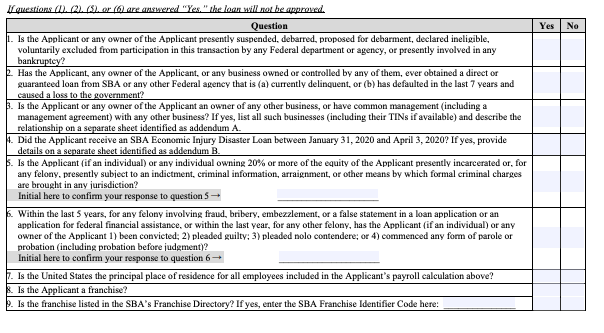 Check Yes or No for each question in this section. If you answer Yes to the first two questions, you aren't eligible for this loan.
Question 1. If your business or any owner with at least a 20% stake in the company has been banned from participating in a federal program or is currently in bankruptcy proceedings, you're ineligible for this loan. Otherwise, check No.
Question 2. If your business or any owner is currently delinquent or has defaulted on a federal loan in the past seven years — including student loans — you aren't eligible for this loan. Otherwise, check No.
Question 3. If your business is managed by another business, check Yes and attach a list of all affiliated businesses with a brief description — including the number of employees — labeled Addendum A. Otherwise, check No.
Question 4. Check Yes if your business has received an SBA Economic Injury Disaster Loan due to the coronavirus outbreak between January 1, 2020 and April 3, 2020. Attach a sheet with details including the loan balance, rate and term, labeled Addendum B. Otherwise, check No.
Question 5. Check Yes if any owner with a 20% stake in the company or more is currently serving time for or subject to criminal charges. Otherwise, hit No. Write your initials to confirm your response.
Question 6. Check Yes if your business or an owner has committed of fraud, bribery, embezzlement or making a false statement on a federal assistance loan application within the last five years. Also check Yes if an owner has committed any other felony in the past year. Otherwise, check No. Initial your response regardless of how you answer.
Question 7. Check Yes if you only included employees that live in the US when calculating your eligible payroll costs. Otherwise, select No.
Question 8. Check Yes if you run a franchise, or No for all other types of businesses
Question 9. If you own a franchise that's listed in the SBA's Franchise Directory, check Yes and enter the SBA Franchise Identifier Code. Otherwise, select No.
5. Read and sign representations, authorizations and certifications.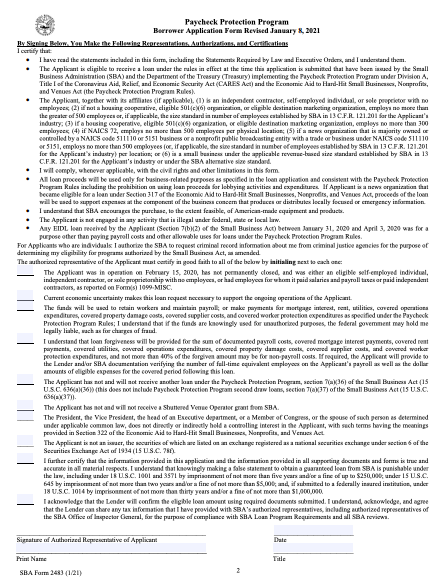 Like with the previous section, all owners must complete this final section separately. Each owner must read through the representations and authorizations and write their initial next to each certification.
6. Sign and date the application.
Review the application for inaccuracies, and make sure each owner signs, dates and writes their title on their part of the application. Then, send the application to the person who is the business's main representative to sign, date and write their title on each application form.
Follow your lender's directions for submitting the application form, along with any required documents.
Step 5: Wait for a decision
Application processing times vary depending on the lender and the volume of applicants. It may take as little as one day or as long as a few weeks to get a response.
8 business owners dish their SBA coronavirus loan stories
Step 6: Receive your funds
If you're approved, your lender will typically send the funds to your business's bank account by ACH transfer. This can take between one to three businesses to process. If you're borrowing from a lender where you already have an account, you may be able to get your money the same day you're approved.
Twenty-four weeks after the funds are disbursed, you can apply for forgiveness.
How the Paycheck Protection Loan program works
3 steps to take after getting a Paycheck Protection Loan
Make the most of your Paycheck Protection Loan by taking these steps:
Rehire staff. If you had to lay off staff or reduce salaries, use the loan to bring them back on — this will increase the amount of forgiveness you're eligible for.
Keep detailed records. You'll need to provide documentation for all eligible expenses when you apply for forgiveness — otherwise those costs won't count toward forgiveness.
Stay in touch. Reach out to your lender with any questions you have about the loan and forgiveness. Since this is a new program, policies are likely to change.
Want to learn about other options? Read our guide to business loans during the coronavirus to find out what else is available to you.
Frequently asked questions
Commonly asked questions about the First Draw PPP loan application.
Businesses that shut down during the crisis can still qualify as long as they were established before February 15, 2020.
Does having an Economic Injury Disaster Loan make me ineligible for a PPP loan?
No, in fact you can refinance an Economic Injury Disaster Loan (EIDL) with a Paycheck Protection Program loan. If you already have an EIDL and want to refinance, ask your lender about adding the balance to your loan amount before it issues your PPP loan.
Is the EIDL advance still available?
Funding for the EIDL advance ran out on July 11, 2020. However, a new round of funding is in the works with the passing of the Economic Aid Act in late December 2020.
Is the application the same for a Second Draw loan?
Not quite. Read our guide to applying for a Second Draw PPP loan to get a step-by-step look at the new application.