Finder is committed to editorial independence. While we receive compensation when you click links to partners, they do not influence our opinions or reviews. Learn how we make money.
Greenlight Card review
Start teaching good saving and spending habits early.
Get this card if you're a parent who wants to teach your kids the value of saving.
Choose another card if you're looking for a prepaid card for yourself.
$0
Signature transaction fee
Details
| | |
| --- | --- |
| Card type | Debit |
| Card network | Mastercard |
| Monthly fee | $4.99 |
| Signature transaction fee | $0 |
| PIN transaction fee | $0 |
Expert review
Review by
rhys.subitch@findercrew.com
---
Rhys Subitch is a writer and editor at finder.com who tackles topics across the site. With half a decade of experience researching, editing and writing for a Fortune 500 company, university and several independent publications, Rhys brings readers the most up-to-date and curated info on all things finance.
Expert review
The Greenlight Card is best for parents who want to teach their kids the value of saving. It has the potential to be an effective teaching tool when it comes to helping your kids better understand the value of saving. It can also take the mess out of allowances and chore tracking.
But there's a flat monthly fee of $4.99.
If you're looking for a debit card with minimal to no fees, you'll want to keep looking. As always, compare your options when choosing a debit card.
What you'll like
As a parent, you want to set your kids up for success any way you can — and that likely includes teaching the value of earning and saving money. The Greenlight Card provides a resource that can help you do just that with features such as:
Mobile app. Both you and your young cardholder will have access to the Greenlight smartphone app so you can check and manage funds on the go.
Two categories you can fund. Greenlight allows you to deposit money in two categories: one that can be spent by your child anywhere and anytime, and the other that has parental control features.
Chores. Create one-time and recurring chores in the app that you can monitor and incentivize with payouts.
Allowance payouts. Set recurring allowance payments and make it easier for you and your kids to keep track of and manage the funds.
Instant transfers. Transfers made from the parent to child wallet are instant and don't require a processing or transaction fee.
Usage notifications. Set the level of notifications you want to receive about your child's spending. You can receive alerts when purchases are made or declined, requests come in, their balances are low and more.
Parent-paid interest. Encourage savings by setting up an annual percentage yield rate that you pay toward your kid's general savings. It's based on the average daily balance of the general savings and pays out monthly.
Real-time extra funds requests. If your child's out shopping and needs to make a purchase that exceeds the funds they have, they can send you a request for additional money in real time.
Multiple kids on one plan. You can have up to five children to one parent account.
First card replacement is free. Sometimes cards get left behind, dropped and otherwise lost. The first replacement is on Greenlight, and any after will cost $3.50.
No purchase, reload or withdrawal fees. ATM operators can still charge fees, but none of these go to Greenlight.
No credit check. Your identifying information will have to be verified, but your credit won't be run.
Card customization. You can opt to get your child's card customized with a photo of them for a one-time fee of $9.99.
What to watch out for
While the Greenlight Card can be an effective teaching tool, there are a few potential downsides to consider.
$4.99 monthly fee. Keep in mind, though, that this is a flat fee regardless of how many children you have on the account.
Not accepted in several countries. Check the list of countries where the Greenlight Card isn't accepted before you send your kid across borders with it.
Direct deposit is limited. Your child can receive direct deposits to their card from their employer — but not from other income sources, such as Apple Cash, PayPal, Venmo or the state or federal government.
Compare with other prepaid cards
How do I get the Greenlight Card?
Go to the Greenlight site.
Enter your phone number and click Get started.
Choose I'm the parent/guardian.
Enter the verification code that's messaged to you and click Next.
Enter your email address and select Next.
Create a password and select what your kids call you. Click Next.
Enter your child's name and mobile number — or name, birthday and gender if they don't have a mobile number — then select Next or Add another child.
Enter in your personal information, accept the cardholder agreement and click Next.
Set up funding and submit your application for verification.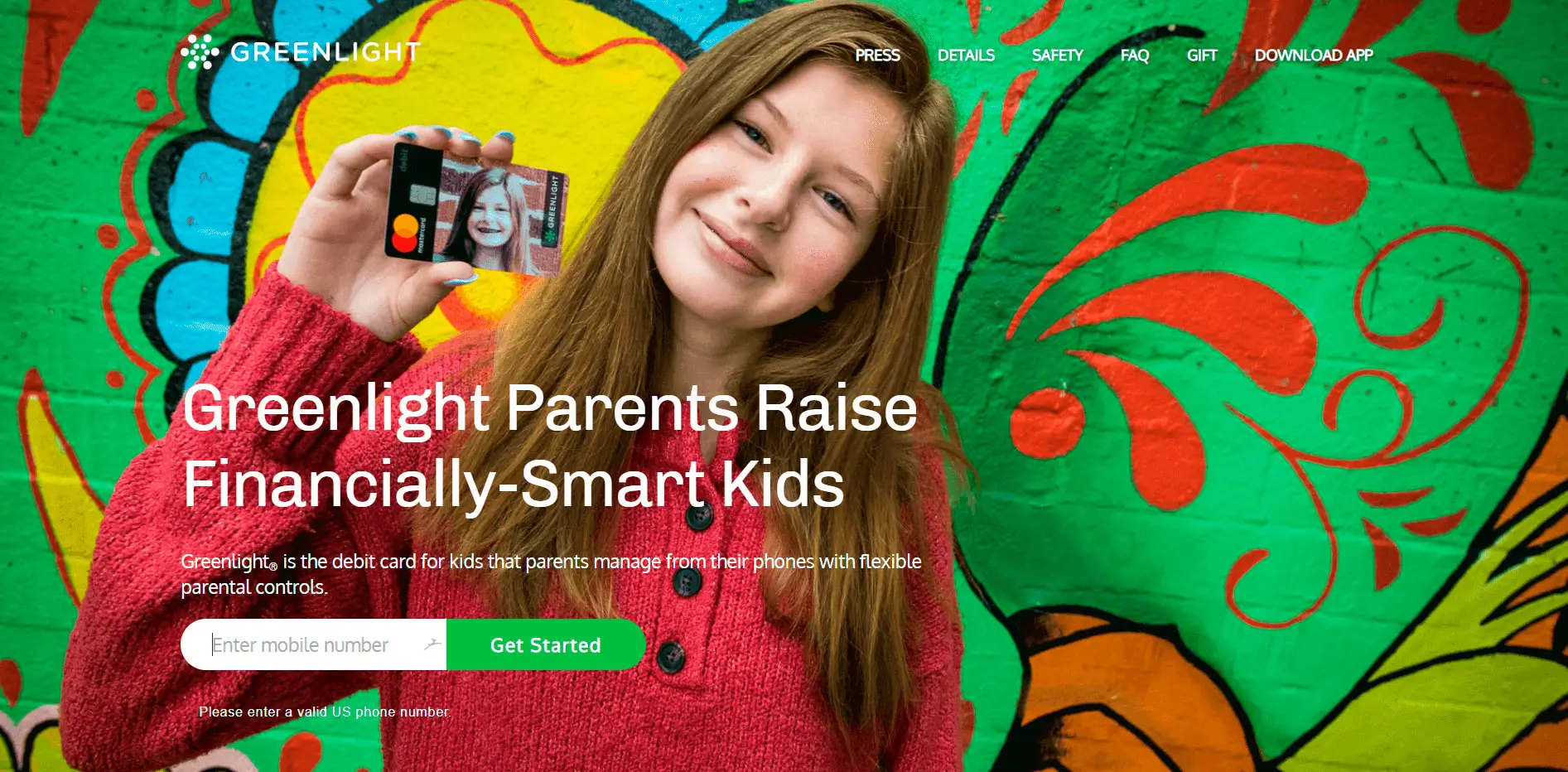 Eligibility
Kids who want to sign up before their parents need to be at least 13 years old, but there's no age minimum for a kid who's signed up by a parent. The primary accountholder needs to meet these requirements:
At least 18 years old
US citizen or permanent resident of the US
US address that isn't a PO box
Required information
Full name, mobile number and home address
Date of birth and Social Security number
Funding options
The parent wallet can be loaded by:
ACH transfer from your bank account
Debit card
The child's debit card can be funded by:
Transfers from the parent account
Direct deposit from the child's employer
How long will it take to get my card?
The card should arrive five to seven business days after the parent account is verified and approved.
I got the card. Now what?
Download the app for you and your child. Check balances, transfer funds, monitor chores and more from your smartphone.
Encourage your child to set up their savings. The general savings account also comes with savings goals that you can set and work toward.
Sign up for direct deposit. Children who already have a job can set up direct deposit and have their hard-earned check go straight into the debit card's anytime fund.
Contact customer service with any questions. Call the number on the back of your card or 888-483-2645 with questions — Monday through Friday from 8 a.m. to 11 p.m. ET and Saturday and Sunday from 8 a.m. to 9 p.m. ET. You can also email through its site.
Frequently asked questions