Finder is committed to editorial independence. While we receive compensation when you click links to partners, they do not influence our opinions or reviews. Learn how we make money.
How to get your own personalized credit card
Creating your own fabulous credit card design is simple.
If you feel a standard credit card design doesn't quite capture your personality, you're in luck. Many credit card companies allow you to personalize the design of your credit card to your liking. Here's how to create your own custom credit card designs.
1. Access your creditor's card design site
Most banks allow you to personalize your credit card design from the comfort of your own home through a specific card design page. To access these pages, you'll typically need to first sign into your card account.
2. Pick your card account and choose a design
The level of customization you're allowed for your credit card will vary depending on your bank. For example, Discover card designs are preselected so you'll only have so many designs available depending on the card. Others, such as Chase, only provide this service for specific credit cards. In this case, the Disney Rewards card and the Disney Premier card.
Others, such as Wells Fargo, allow for complete customization, including photos or other images of your own design. For those, you'll be asked to upload the image and format the area you wish to show up on your credit card.
Design restrictions
There are restrictions on the lengths your designs can go to. For example, you may not use another credit card provider's logo. You are also not allowed to misrepresent your card in any way, meaning that you may not imply that it is a platinum or gold card when it isn't. Other restrictions may include:
Third-party trademarks or copyrighted images
Telephone numbers, URLs, addresses and other personal information
Violent or offensive images
Political or religious imagery or text
Photos featuring numbers or other images that may confuse or mislead the nature of the card
3. Finalize your design and wait
Once you've completed your design, simply make your final confirmation and wait. Once you receive your confirmation email, you can expect to receive your card within five to 12 calendar days.
Are there extra costs associated with designing my card?
Typically. When you make personalized credit cards, the provider will generally charge a fee for the service. However, there are some companies that are allowing customers to do this for free.
History of older credit card designs
Earlier credit cards were made up of one or two colors and your credit card number — lacking any distinguishable design. After a little while, banks came to realize the importance of visual branding and began to drive more efforts into making their card designs recognizable. Banks started to use the logo, color, advertising characters and endorsements to increase their brand's exposure.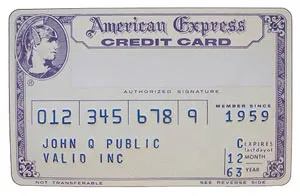 Compare credit cards
Bottom line
Creating personalized credit cards is easier than ever, so check with your bank to see what design options are available. And if you're looking for a new card, compare credit cards to find one that best suits your needs.
Frequently asked questions
More guides on Finder