Death Road guide
Race weaponized cars and earn crypto assets in a variety of ways.
Free to try
Complete daily quests
Earn crypto & trade card NFTs
Runs on HIVE blockchain
Go to site
Disclaimer: This page is not financial advice or an endorsement of digital assets, providers or services. Digital assets are volatile and risky, and past performance is no guarantee of future results. Potential regulations or policies can affect their availability and services provided. Talk with a financial professional before making a decision. Finder or the author may own cryptocurrency discussed on this page.
Known as the first racing game built on the Balance Smart Chain (BSC), Death Road is a play-to-earn blockchain game. Players race against each other or against AI in hopes to earn cryptocurrency using weaponized cars.
Death Road also has its own metaverse. Players can visit the marketplace to buy and sell NFTs, trade weapons, buy loot boxes or buy virtual land to rent out their owned vehicles.
Racing games are nothing new, but a racing game built on a blockchain is.
Highlights
:
Metaverse racing game
PvP and PvE
Rent out cars for income
Marketplace for cars and weapons
What is Death Road?
Launched around August 2021, Death Road aims to build a comprehensive gaming ecosystem for the next generation of racers and blockchain gaming enthusiasts. The game features 2D graphics, shooting mechanics and its own metaverse city.
Its gameplay is simple: Players can race against the AI or each other and build their own garage full of fast and deadly NFT cars. Death Road offers a wide variety of racing tracks and weapons, which are attached to the vehicles and can be used to cause further mayhem and destruction.
The game Death Road's Twitter has over 175K followers, but only four members on the subreddit — yes, only four — and around 3,000 members on its Discord. The Twitter following is impressive, but it looks to be the only real form of communication the game has with its player community.
Playing Death Road
To play, go to deathroad.io. The game supports three wallets: MetaMask, Coin98 and WalletConnect.
You need an NFT car to race, which you can buy at the Death Road marketplace for DRACE, the game's native currency.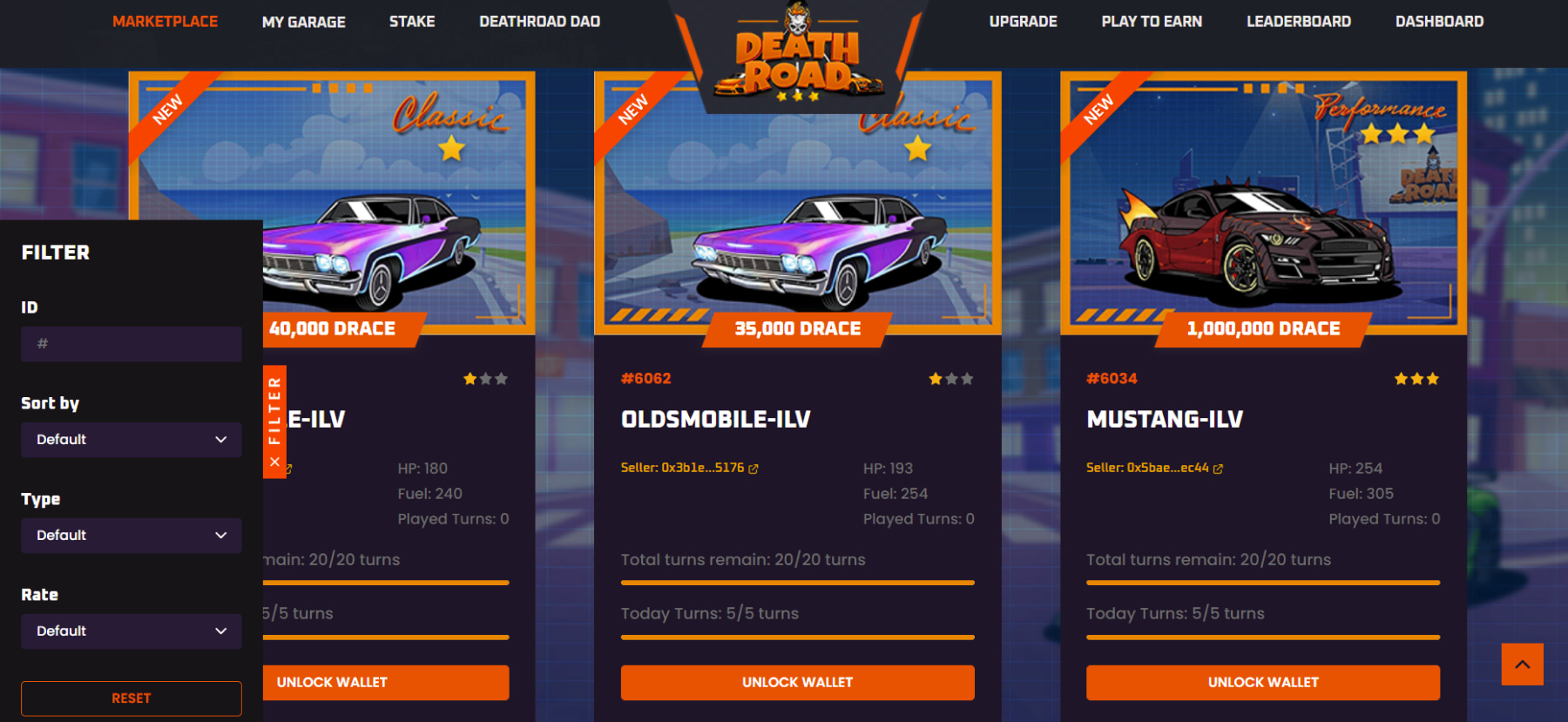 Image source: Death Road
In the player vs. environment (PvE) mode, racers battle against AI-controlled cars to reach the highest score possible. At the end of each level, a boss battle forces players to duke it out with a large truck.
Racers need to keep an eye out for the health and fuel meters. In terms of weapons, it's advisable to bring rockets beyond the required machine gun, as it improves your chances of success. Players should also try to catch all the health icons and upgrades that show up on the road.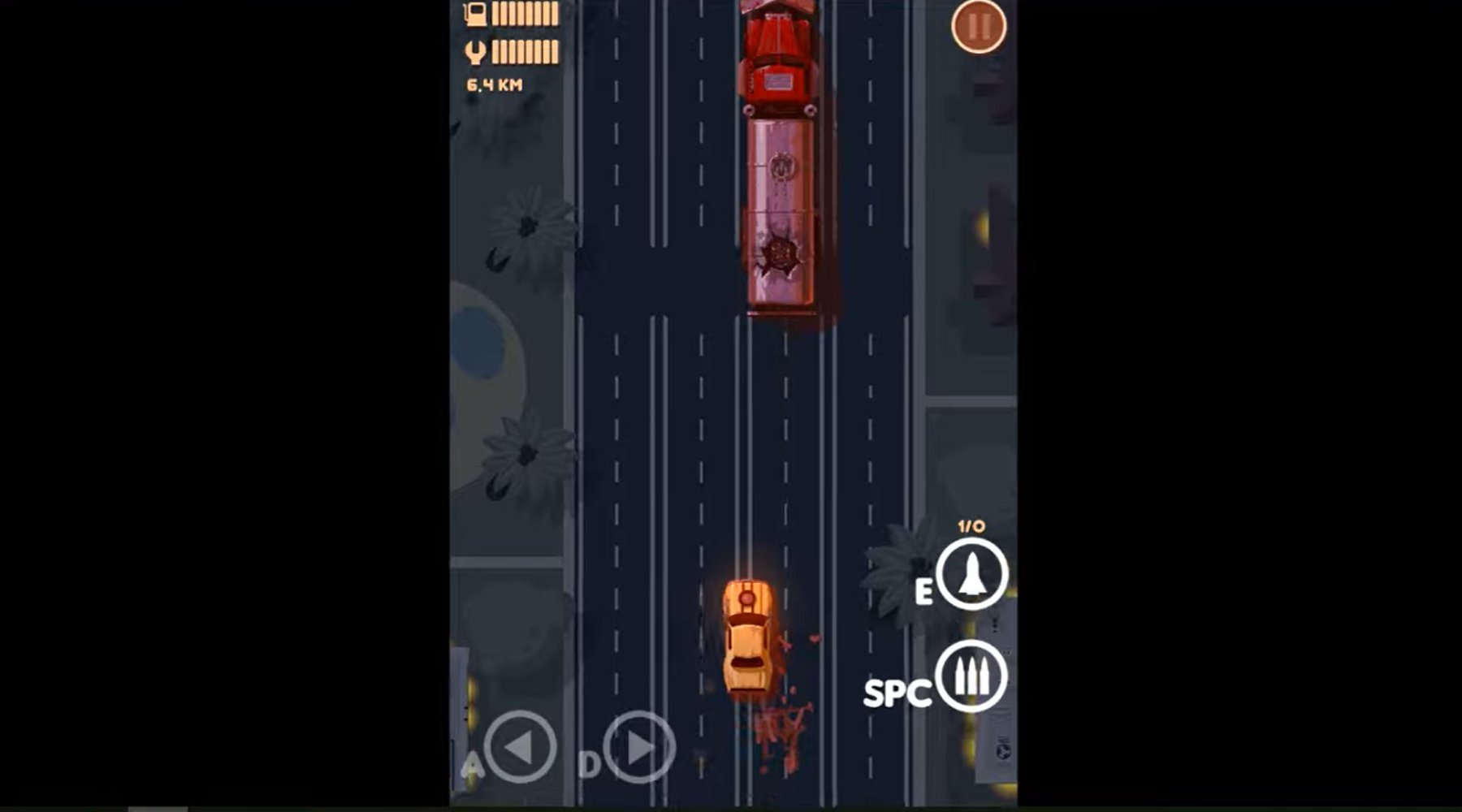 Image source: Death Road, YouTube "Huyen Ha"
Death Road metaverse
The Death Road metaverse is a virtual city where players roam and explore buildings such as garages and rent-a-car shops. Here's a breakdown of what you'll find in this metaverse.
Virtual Property / Garages. Purchasing land property, like garages, is only available for players who own five or more cars. Players with a garage can store their cars or provide car rental services to other players. Users can choose how much they charge and for how long.
Marketplace. The Death Road marketplace allows anyone to buy or sell used cars, weapons or any other NFT within the metaverse. The marketplace is peer-to-peer.
Showroom. The Showroom allows users to buy secret boxes containing random cars and weapons. The showroom is open for sale for 15 minutes on Fridays, Saturdays and Sundays at 14:00 UTC
City Hall. Racers can vote and create more land or enact other changes to the virtual city. Voting is done at the City Hall and is only available to token holders and landowners.
What is the Death Road token?
Two tokens fuel the Death Road metaverse: DRACE and xDRACE. Both are utility tokens, but they have some differences.
xDRACE is exclusively a utility token, which can be used to buy packs, protection cards, more turns for cars, land and fees to upgrade cars. xDRACE is necessary for players who want to get the most out of Death Road.
DRACE also has immense utility within the ecosystem, with the added advantage of being a governance token. DRACE is used in almost every transaction and allows holders to vote on the governance of the ecosystem, and how developments and upgrades happen over time.
DRACE is valued at $0.007291, at the time of writing, according to CoinMarketCap.
How to buy DRACE
The DRACE token is currently available on PancakeSwap, the largest decentralized exchange (DEX) of the BSC ecosystem. Gamers and investors can buy DRACE in exchange for any other BSC asset through PancakeSwap.
If you don't yet have any BSC assets you can first buy BNB on an exchange before using PancakeSwap to trade it for DRACE.
Buy BNB on: Crypto.com App
Priorities security with a $750 million insurance fund
User-friendly user interface
Long list of features such as lending, borrowing, staking and crypto debit cards
Poorly rated customer service
Certain cryptocurrency support is geographically restricted
High withdrawal fees
Crypto.com supports a wide range of cryptocurrencies and features. Its user-friendly interface makes it a good choice for both inexperienced and experienced users.
Fees for trading are competitive, though can be high when withdrawing to an external wallet from the exchange.
There is a detailed knowledge base available on how features work, as well as Crypto.com university that teaches about various assets.
The company prioritizes security, marketing and design, but reviews suggest that customer service is lacking.
Deposit Methods

Credit card
Cryptocurrency
PayPal
TransferWise
SEPA


Deposit Fees

None

Withdrawal Fees

Cryptocurrency: Fees vary

Trading Fees

Maker: 0.04-0.20%
Taker: 0.10-0.20%
Win or earn DRACE tokens by winning races against other players or by playing the PvE mode, which awards DRACE depending on the score achieved. Playing the game is the only way to earn DRACE other than selling NFTs on the marketplace or swapping for the asset on an exchange.
How does play-to-earn work with Death Road?
There are five play-to-earn tactics in Death Road:
Betting. Earn by waging bets on cars — if you win the bet, that is.
PvP. Earn by beating other players in the battle arena. You must own at least five cars. Available Monday through Saturday and rewards the top 10 players on the leaderboard from each competition.
PvE. Earn by beating AI in the PvE mode.
Renting cars. If you own five or more cars, you can buy a garage where you rent out your cars to other players.
Trading NFTs. Users can buy and sell cars and weapons on the Death Road marketplace.
Players earn DRACE tokens when playing PvP or PvE, which can be used to invest in new cars or upgrades to old ones, new weapons and property NFTs.
What are Death Road NFTs?
Every in-game vehicle and weapon is a unique NFT.
Cars have five different levels, from weakest (1) to strongest (5). The strongest cars are more challenging to handle and expensive to manage but promise greater returns as they allow participation in higher-level tracks.
Cars also get damaged with each race and have three damage stages: normal, damaged and destroyed. Cars can be upgraded through the mixing feature, which allows the combination of several cars into a more powerful one. Buying a protection card helps eliminate the risk of losing cars if the mixing process fails.
All the other pieces of virtual real estate, like garages, in the Death Road metaverse city are also NFTs. Property NFTs enable players to establish a source of passive income as users can rent cars out and have other players pay for space.
How to buy and sell NFTs on Death Road
You can buy and sell the NFT cars and weapons on the Death Road marketplace. You must connect one of the three supported wallets — MetaMask, Coin98 or WalletConnect — to complete transactions.
Everything on the marketplace is sold for DRACE.
About the Death Road developers
We found very little information about Death Road's developers. We were able to find the name of the CEO of Death Road, Cam Pham. According to his Twitter, he's the "Lead Dev & Smart Contract Audit at The Arcadia Group," and has a PhD in software engineering.
The main site lists their investors and advisors, but not the actual developers. A few blockchain games display their team on the main site, and most at least note their CEO, but Death Road next to nothing.
This is a downside in our book. Blockchain games with transparent development teams immediately send trust signals to potential users and investors.
Death Road roadmap
The game has moved in three phases. We're in Phase 3 at the time of writing, consisting of:
Launch of Death Road metaverse
Adding more maps, obstacles and weapons
Marketing push
Improving graphics and user experience
Compare marketplaces to buy and sell game NFTs
Bottom line
As cool as some of the cars look, Death Road's gameplay is reminiscent of old-school flash games, with its top-down 2D game view. Players can upgrade their cars with "cooler" and more powerful weapons, but it doesn't seem like enough to really spruce up the gameplay, in our opinion. If you're looking for a game with stunning graphics and immersive gameplay, this isn't it.
The gameplay is basically a fixed shooter like Galaga, but with cars. And less exciting.
However, it does have one major advantage over other racing games built on blockchains — you actually race your car and have control of it. With many other racing games, like Chicken Derby or ZED RUN, you just watch the race unfold.
If you're looking to collect swanky cars from Death Road, this could be the game for you. If the gameplay isn't your cup of tea, you don't even have to race to earn — you could rent out your prized cars if you buy a garage.
Overall, our impressions of this game aren't fantastic. We wish there was more information on the developers and the racing was more AAA. But in terms of play-to-earn options, it has quite a few.