Finder is committed to editorial independence. While we receive compensation when you click links to partners, they do not influence our opinions or reviews. Learn how we make money.
Credit cards with fraud protection
Get account alerts, 24/7 fraud monitoring and more.
Credit card fraud is on the rise in the United States. Luckily, many security features are widely found in major credit cards, and card providers are constantly developing unique and effective fraud-prevention tools.
Credit cards that offer zero liability protection
Zero liability protection is one of the most important fraud-protection tools you'll find. As long as you're diligent about reporting fraudulent purchases, you won't have to pay for them. All major banks offer this feature, though this isn't necessarily the case with smaller issuers. Given the importance of this security feature, you might weight this into your considerations when choosing a card.
Here's a brief list of major banks that offer zero liability protection:
American Express
Bank of America
Barclays
Capital One
Chase
Citi
Discover
First National Bank of Omaha
PNC Bank
SunTrust
USAA
US Bank
Wells Fargo
Chase credit card fraud protection
The Chase Sapphire Reserve® is an excellent choice for Chase credit card fraud protection. As a cardholder, you're covered by the bank's usual suite of security features, such as account encryption, suspicious-activity alerts and multiple authentication checks.
If your card is lost or stolen, Chase can expedite your card replacement for delivery in one to two business days.
On top of fraud-prevention features, the card also comes with shopping benefits like purchase protection, return protection and extended warranties.
Compare credit cards with fraud protection
What are credit cards with fraud protection?
These are cards that offer tools to guard against unauthorized purchases on your account. Under the Fair Credit Billing Act, you can be responsible for no more than $50 if your credit card is stolen and used without your consent. And if your credit card number is stolen and used, you aren't liable at all.
In truth, you often won't be liable for any fraud activity thanks to the security features and policies adopted by most major credit card issuers.
Common fraud-protection features include:
Zero liability.
You won't be on the hook to pay for fraudulent purchases in eligible instances.
Account alerts.
You can sign up for email, text or phone alerts for your credit card if unusual payments and password changes are detected.
24/7 fraud monitoring.
Your provider will monitor your account for suspicious transactions, and may freeze them.
Account security options.
These might include two-factor authentication and biometrics, which help you verify your identity. Your provider may also offer features that let you quickly change your account details if they're compromised.
Card replacement.
Quick card replacement encourages consumers to report stolen cards immediately. Some providers will expedite card replacement if you ask.
Chip technology.
It's more difficult for fraudsters to copy information from a chip embedded inside a card than from a magnetic strip.
| | Zero liability | Fraud alerts | 24/7 fraud monitoring | EMV Chip |
| --- | --- | --- | --- | --- |
| American Express | | | | |
| Bank of America | | | | |
| Barclaycard | | | | |
| Chase | | | | |
| Citi | | | | |
| Capital One | | | | |
| Discover | | | | |
| US Bank | | | | |
| Wells Fargo | | | | |
More providers are offering unique security features
Here are a few out-of-the-box benefits you might find with certain providers:
Instantly freeze your card.
If you don't know where your card is, you may be able to lock it so it can't be used for any transactions. Several providers offer this benefit, including American Express, Capital One, Citi, Discover and USAA.
Temporary credit card numbers.
Temporary card numbers also known as virtual cards are used to make online purchases securely without exposing your real card number. You'll find this feature with providers such as Capital One and Citi.
Biometric features.
Card processors such as Visa and Mastercard are testing cards that store fingerprint data. And the Apple Card lets you authorize each purchase with your iPhone through Face ID or Touch ID.
Credit card identity theft protection.
Some companies offer help resolving identity theft. For example, Citi offers its Identity Theft Solutions program. Specialists can help you review your credit report, file a police report, identify compromised accounts and more. If you have a Mastercard, you have access to Mastercard ID Theft Protection. This offers ID Theft Alerts and access to experts who will help you file identity-theft affidavits, cancel accounts and communicate with credit bureaus.
| | Card freeze/lock | Temporary card numbers | ID theft protection |
| --- | --- | --- | --- |
| American Express | | | |
| Bank of America | | | |
| Barclaycard | | | |
| Chase | | | |
| Citi | | | |
| Capital One | | | |
| Discover | | | Optional 15.00/month |
| US Bank | | | |
| Wells Fargo | | | Optional $6.67/month |
How to get credit cards with fraud protection
All major credit card providers offer robust fraud protection. That's because they have a big incentive: Each time they miss an unauthorized transaction, they may have to pay for it out of their own pockets.
Any reputable provider will be happy to tell you how it protects you from fraud. Typically, you'll find this information in a dedicated content hub on the provider's website.
At the very bottom of the American Express website, for example, you'll find a link that takes you to the provider's Security Center.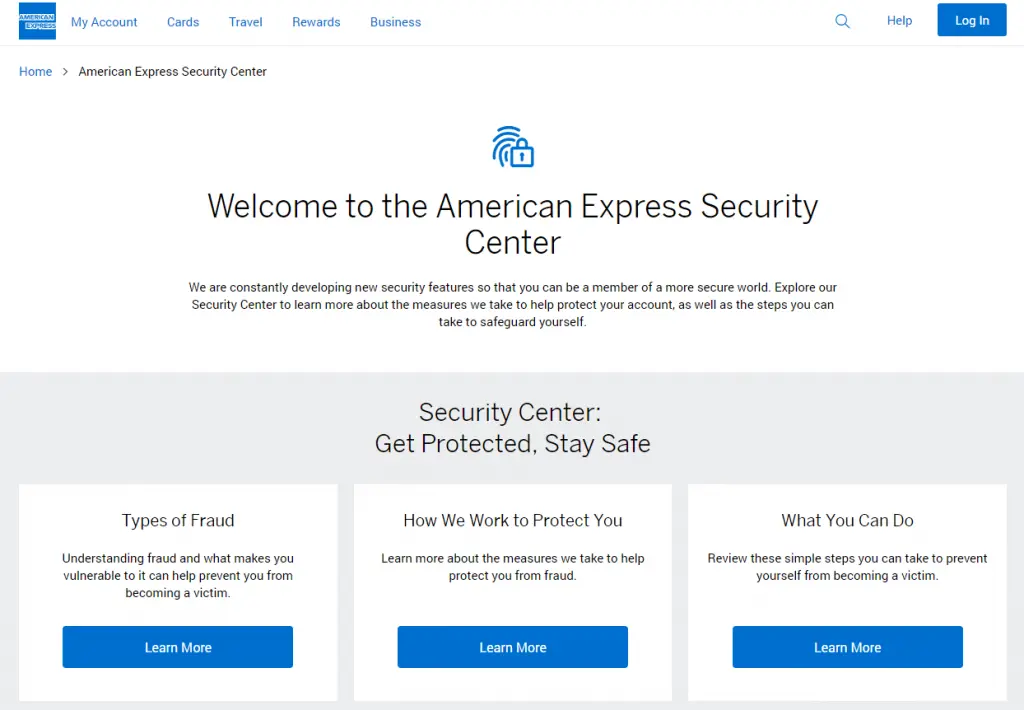 How can I use credit card fraud protection?
If you suspect your card has been used fraudulently, call your bank immediately to report the unauthorized transaction. You'll find the customer-support number on the back of your card.
If your card is lost or stolen, check your bank's website for the general support phone number. A representative will help you deactivate your card and get a replacement. Ask if your bank offers expedited shipping on replacements.
What happens after I dispute a charge?
Your card provider will open an investigation into the charge. If the charge was fraudulent, your provider will send you a new card and account number.
In the meantime, you may receive a credit on your account for the amount of the charge.
Do debit cards feature fraud protection?
Unlike credit cards, debit and ATM cards don't necessarily offer the same level of fraud security and protections. Your liability for misuse is as follows according to the Federal Trade Commission.
| Your maximum liability is… | If you report the theft of your card… |
| --- | --- |
| $0 | Before fraudulent purchases are made. |
| $50 | Within two business days after becoming aware of the theft. |
| $500 | More than two business days after becoming aware of the theft, but within 60 calendar days of receiving your card statement. |
| Unlimited | More than 60 days after receiving your card statement. |
Bottom line
Strong fraud protection is paramount to keeping your finances safe. Carefully examine how a potential card provider will guard your information, and verify that it offers a zero-liability benefit.
If you're curious about how this topic, check out our guide on credit card security.
Frequently asked questions
Pictures: Getty Images