Credit card concierge services: Which can help you find yeast?
We tested three of the top concierge services to see who would rise to the occasion in a time of knead.
bread
. It's sort of a big deal right now.
Yes, hundreds of presumably bored bakers-to-be have turned to bread making to fill the crushing void created by restaurant and bar closures. There are even podcasts devoted to making bread.
And wouldn't you know it, when a great throng of society decides to pick up a hobby all at once, there are shortages. Yeast shortages.
To be fair, I can understand hoarding yeast a little more than I can understand hoarding toilet paper. You can't — or shouldn't — eat toilet paper.
Yearning for yeast
A few weeks back, we used the toilet paper shortage as an opportunity to put credit card concierge services to the test: Which could find us some toilet paper? To my chagrin, Finder publisher Megan Horner ran away the victor with fast and impressive results from Luxury Card's concierge app.
But why trust just one test when you can perform two? The Finder credit card team asked the same three credit card concierge services for help in finding yeast and flour:
Like last time, our approach was simple. We contacted our respective concierge services at the same time and asked for the nearest stores that carried flour and yeast. We also chose one address to center our request around, this time near San Diego.
Credit card concierge test results
Here's a look at how each concierge service fared this time around.
| | Time to connect | Performed the task? | Promised turnaround | Actual turnaround | Number of options | Found yeast? |
| --- | --- | --- | --- | --- | --- | --- |
| Amex Platinum Card | Less than a minute | Yes | Within 12 hours | 8.5 hours | 3 | Yes (online delivery only) |
| Luxury Card Gold Card | Immediately | Yes | Within 3 hours | 3 hours, 10 minutes | 8 | No (available the next morning) |
| Sapphire Reserve | 1 minute | Yes | Within 6 hours | 4.5 hours | 2 | No |
Liza: Amex Platinum Card
If you read our last concierge test, you know that Amex left Liza high and dry on toilet paper. The concierge rep stated that calling stores and checking availability was not a service the concierge performed.
Amex sang a different tune this time around. The concierge representative mentioned she could do the research and circle back with in-store and delivery options. The catch: They needed about 12 hours.
Sure enough, the rep took advantage of that 12-hour time frame: Liza received an email with nearby stores carrying flour or yeast at 8:34 p.m. So, about an 8-and-a-half-hour wait for a response.
Two of the representative's three stores carried yeast, albeit through online orders only. One of these stores was roughly 40 miles away – not a convenient stop if you're currently self-isolating.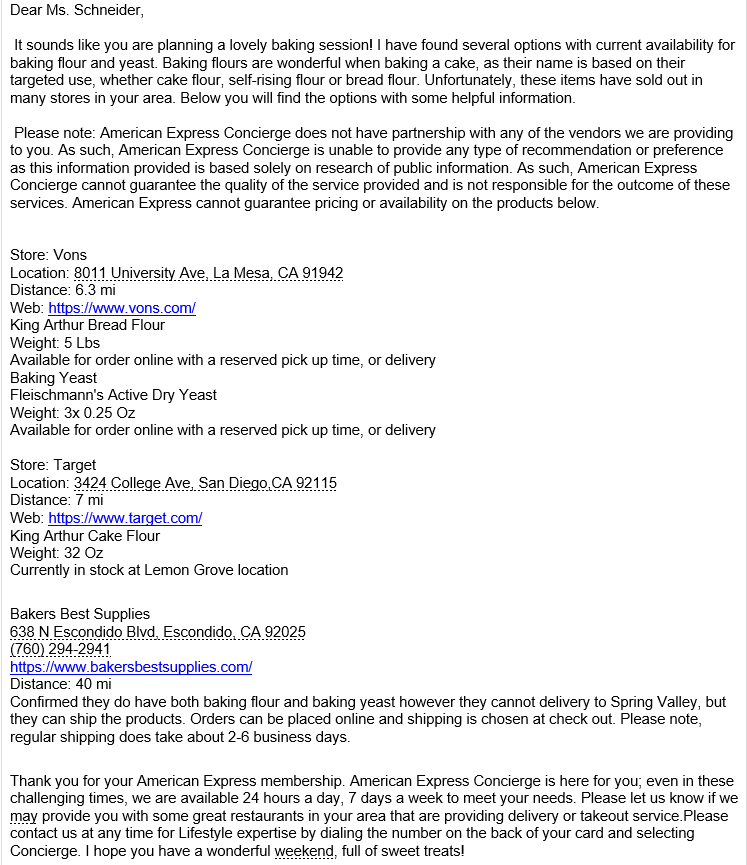 Megan: Luxury Card Gold Card
As the victor of our last concierge test, Megan didn't take long to show her true colors: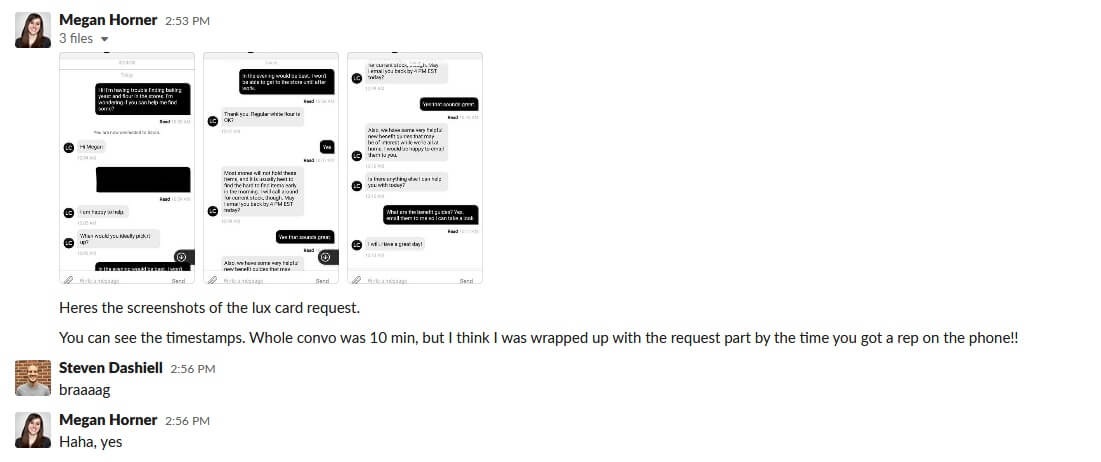 Megan once again received an immediate response from the Luxury Card Gold Card app. However, the rep noted she would email the results of her research within three hours.

To be fair, the concierge asked when Megan wanted to pick up the flour and yeast. Megan suggested in the evening after work, so it's possible if Megan asked to pick it up earlier, the rep would have offered results faster.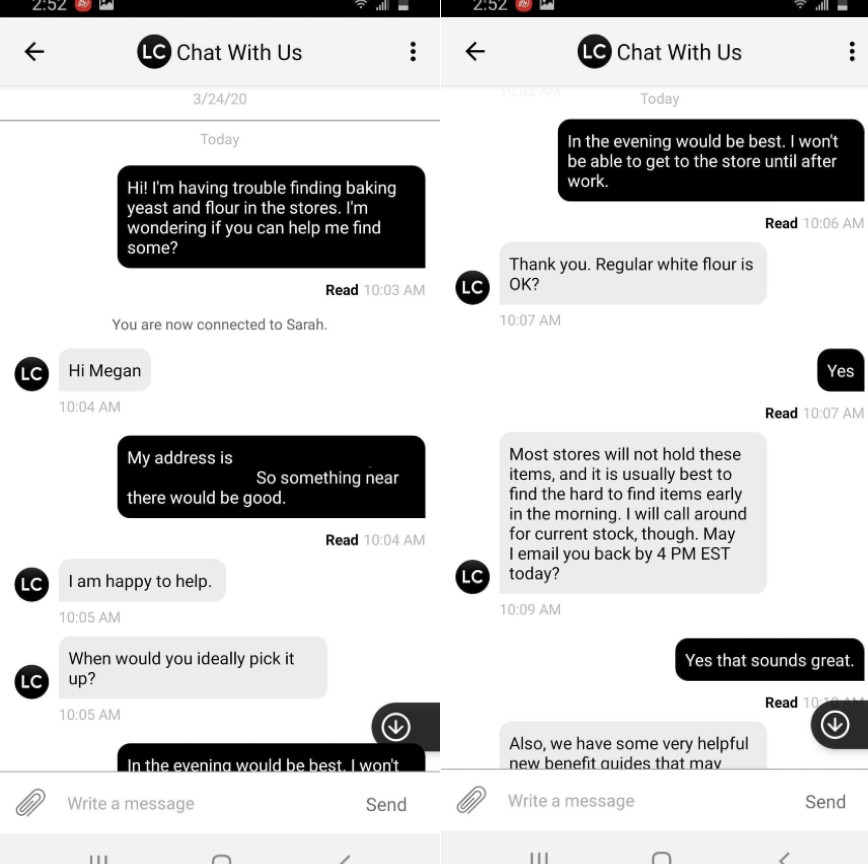 Ultimately, Megan got her results at 1:10 PM the same day. Of the eight listed stores, only a few had flour — and none had yeast. As consolation, the concierge rep offered Megan a site with information on yeast substitutes. Enjoy your weird chewy bread, Megan.
Steve: Sapphire Reserve
My last experience with Sapphire Reserve's concierge service was perfectly acceptable. I called, made my request, and received an answer much later that day.
I didn't expect a different result with my yeast request. But I got a little extra TLC from Jordan, my rep, who asked several clarifying questions about this yeast and flour, including:
If I wanted to go to a store to pick it up or have it delivered to my car
If I had specific brands in mind
If I had certain quantity needs
What my budget was for these purchases
It was nice! Granted, I don't really need yeast, but it's great that the service is so thorough.
After clarifying my request, she asked if I wanted to be placed on hold to wait for the results. If I truly wanted to win this experiment, I would have said yes. Instead, I let her know that she could email me before 4 p.m.
Jordan called back two hours later with one more question about how far I was willing to travel. Then at 2:32 p.m., I received my results: two stores, neither of which had yeast.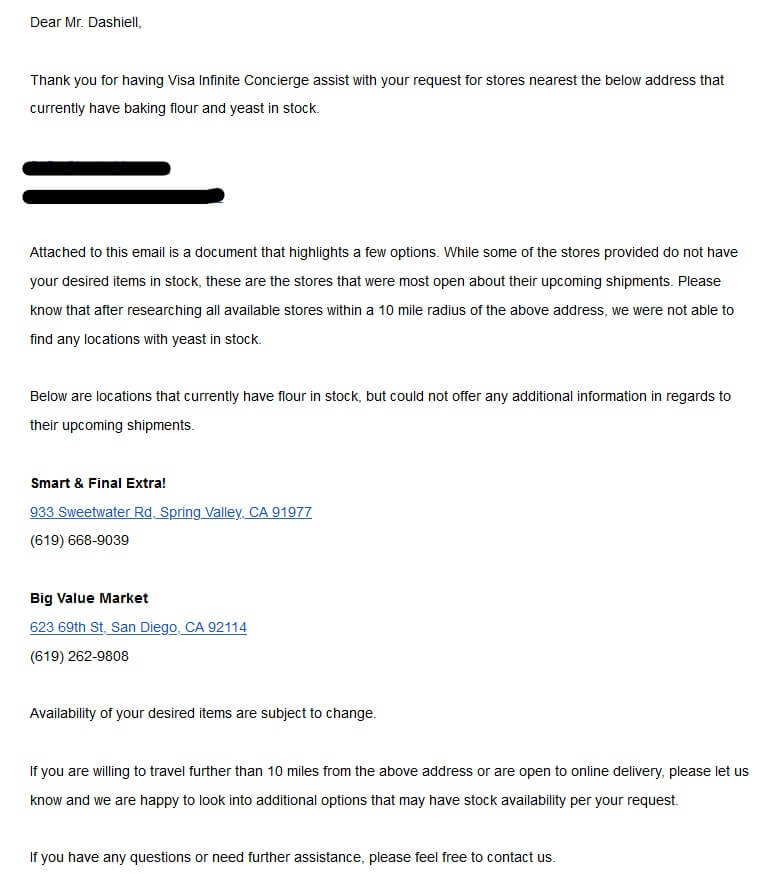 Quality rises
Our results were much closer this time around: All three concierge services ultimately delivered on our request — or at least tried to deliver. The biggest difference came down to turnaround for results.
Still, we're pretty impressed with the thought each concierge rep put into our requests. I was practically interrogated for my yeast preferences, and Megan even received a few guides on how Luxury Card concierge can help during the pandemic. Super thoughtful!
If you haven't used the concierge service on your credit card, give it a try! At the very least, it can take research off of your plate, providing breathing room in a busy schedule. Stay tuned for the next round in our concierge test, where we'll throw another concierge service in the baker's mix.
You may have heard of this crazy thing called