Finder is committed to editorial independence. While we receive compensation when you click links to partners, they do not influence our opinions or reviews. Learn how we make money.
How much does it cost to start a new business?
8 common expenses to consider when budgeting for your startup.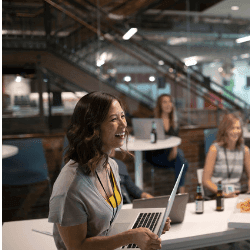 You need to spend money to make money — but just how much depends on the type of business you're looking to start, on top of other factors. Estimating the different costs you might incur can help you apply for financing that truly meets your business's needs.
How much does it cost to start a new business?
It costs around $31,000 to start a business, according to a 2009 survey by the Ewing Marion Kauffman Foundation. How much you actually pay depends on your business type, where you're located and the equipment and supplies you'll need to get up and running. For example, it will cost much more to start a new restaurant than it will to start a freelance photography business out of your home.
How to calculate startup costs for a small business
Calculating the cost for a startup is relatively simple — you just need to add your estimated expenses together to get a full picture of what your budget should look like. The Small Business Administration (SBA) has a helpful worksheet you can use to calculate the funds required to start your business.
8 common startup costs
While your specific costs will vary, these are the eight most common factors to consider when deciding how much you'll need to borrow:
1. Registering your business: $50 to $725
In most states, registering your business as an LLC, C-corporation or S-corporation costs under $300. But licensing and permit costs can vary, so it's best to meet with an accountant and attorney to guide you through the process. Just be sure to work their fees into your budget as well.
2. Office space: $4,000 to $15,000 per employee
Renting or buying office space is typically one of the larger fixed expenses your new business will face. On average, you can expect to pay $4,000 to $15,000 per employee every year. To reduce this cost, you may want to consider working from home or out of a coworking space for those first few months you're just getting started.
Once you're ready to expand into an office, take the cost of rent, utilities and taxes into account as well as any changes you plan on making to the layout of the office. The rent you pay will largely depend on where your business is located. While larger cities are often more expensive, they may offer more amenities and easier access for your employees.
3. Equipment and supplies: Varies
The equipment and supplies you need will vary greatly depending on the type of business you plan on opening. Because of this, it's critical to do your research.
You'll likely need to finance some of your equipment, so prepare a budget and a solid business plan so you can present it to lenders. And if you plan on hiring a few employees, keep in mind they'll need their own equipment and supplies, too.
4. Inventory: Varies
You'll have no concerns about inventory if you provide a service. But any business involved in retail or manufacturing will need to calculate their inventory costs.
To create a budget, work backward from your revenue goal. Use the price you plan on selling your inventory at and how much you realistically plan on selling in a year to help guide you.
5. Employees: 25% to 50% of your budget
Payroll should cover more than just an hourly salary. Consider benefits, employment taxes, commissions, overtime pay and bonuses when calculating your startup budget.
Because it varies widely across the country and by industry, there's no set number to keep in mind. Instead, you should be prepared to dedicate a significant portion of your budget to payroll at first.
Remember: You also need to be paid, so be sure to account for your own wages when determining employee costs.
6. Insurance: Around $1,280 per year
The average cost of business insurance is $1,281 per year, according to a 2017 survey by business insurance provider Insureon. However, this data is based on policies serviced solely by Insureon. Your costs will likely vary depending on where you're based, your business's risk profile and the provider you choose.
When comparing business insurance providers, you might want to look into these four types of coverage depending on the industry you're in:
Product liability
General liability
Professional liability
Workers' compensation
7. Website and marketing: Less than 10% of your budget
If you plan on using an online platform like WordPress, Wix, Squarespace or Weebly, you'll likely only need around $30 to $40 per month to register a domain and create a website for your business. As for marketing, most of these costs can be reduced by simply using social media and other free brand-building platforms. If you want to create flyers, buy ad space on Facebook or print business cards, limit your expenses to 10% of your budget.
8. Taxes: At least 21% of revenue
If your business is registered as a corporation, you should expect to pay the current federal corporate tax rate of 21% of your revenue and any corporate taxes charged by your state. If your business is registered as a sole proprietorship, LLC or partnership, your taxes will be accounted for in your federal and state income taxes.
The costs can get tricky, though. Rather than calculating them on your own, contact an accountant to ensure your business is following all regulations. It can help save time and money now — and some headaches down the road.
Compare your business loans options
How can I pay for initial startup costs?
While your options are limited compared to businesses that have been around for a while, you still have a few ways to finance your startup:
Bottom line
From equipment and inventory to payroll and office space, funding the cost of your startup can put a huge dent in your personal finances. Before you dig into your savings, compare business loan options that might work for your new company.
Frequently asked questions