Finder is committed to editorial independence. While we receive compensation when you click links to partners, they do not influence our opinions or reviews. Learn how we make money.
Brex for Startups review
A charge card for startups that doesn't require a personal guarantee.
Get this card if you're a startup and want a hassle-free card without a personal guarantee.
Pick something else if you want an intro APR period or if you want to carry your balance.
Apply with a minimum of $100,000 in your business bank account.
300
Recommended credit score
Details
| | |
| --- | --- |
| Product Name | Brex for Startups |
| Card type | Mastercard |
| Annual fee | $0 |
| Purchase APR | N/A |
| Balance transfer APR | N/A |
| Foreign transaction fee | None |
| Interest free period | Up to 30 days |
| Additional cardholder fee | $5 |
Expert review
Review by
kliment.dukovski@findercrew.com
---
Kliment Dukovski is a credit cards writer. He's written over 600 articles to help readers find and compare the best credit cards. Kliment has also written on money transfers, home loans and more. Previously, he ghostwrote guides and articles on foreign exchange, stock market trading and cryptocurrencies.
Expert review
The Brex for Startups corporate card is a charge card designed for startups. It comes with a $0 annual fee for your first five cards, $25,000 signup bonus worth of services, including credit or discounts for Amazon Web Services, Salesforce and Zendesk, plus you get to earn unlimited 1x points on all purchases.
If you make the Brex for Startups your exclusive credit card, you get to earn 7x points on rideshares, 4x points on travel booked via Brex Travel, 3x points on dining and 2x points on software purchases.
To apply, you don't need a personal guarantee or a secured deposit, and you can get a credit line 10 times higher than you would with a standard business credit card. With the management tools and easy accounting software integration, you can save time on analyzing employee spending and month-to-month reconciliation. But if you're looking to carry a balance, look for another card.
The perks
No personal liability.


This is one of the rare corporate cards for startups that doesn't require personal liability, a credit score, social security number or security deposits. Since startups have a high failure rate, this can give you a peace of mind knowing your personal assets won't be affected in case of default.

High credit limit.


Brex claims you'll get a credit limit that's 10 to 20 times higher than with a traditional business card. That's because your assigned credit line is based on the cash you raised and the equity your company has.

Earn rewards.


Earn 1x points on all of your purchases. And if you make Brex for Startups your exclusive credit card, you boost your earning to 7x points on rideshares, 4x points on travel booked through Brex Travel, 3x on dining, 2x on recurring software and software as a service and 1x points on everything else you buy. Each point is worth one cent.

Signup bonus.


Get up to $25,000 worth of services, including $5,000 in credit for Amazon Web Services, a 25% subscription discount of up to $375 for Salesforce, $436 credits per month for 12 months for Zendesk and more.
New rewards program
Starting March 31, 2020, you can replace your existing reward categories with new reward categories designed to help your business cope with the current coronavirus crisis. Note, these categories are available only if you make Brex for Startups your exclusive corporate credit card.
These are the new reward categories:
7x points on remote collaboration tools bundle (Zoom, Slack, GoToMeeting, Gong and Monday)
3x points on food delivery bundle (Caviar, DoorDash, Uber Eats, Grubhub and Seamless)
2x points on recurring software
1x points on all other purchases
In addition, you may also get exclusive discounts, including up to $100,000 in Amazon Web Services credits; one month free and discounted three-month starter package on DoorDash's DashPassfood delivery service; and 50% discount on all annual Dropbox Business Standard subscriptions.
You'll also like
Easily add new card members.

Quickly issue new cards to your team and set their spending limits.

Use your card immediately.

Upon approval, start making purchases with a virtual card while waiting to get the physical card.

Expense management tools.

Save time and analyze employee spending by automatically transferring your data to your accounting software. Brex integrates with QuickBooks, Xero, NetSuite and Expensify.

World Elite Mastercard® benefits.

Enjoy security against unauthorized purchases with zero liability and advanced fraud and ID theft protection. You'll also get global assistance and insurance for travel purchases made with your card.

No annual fee.

Your first five cards have no annual fee. For each additional card, pay $5 per month.

No foreign transaction fees.

If you travel abroad, use this card freely without incurring any foreign transaction fees.
What to watch out for
Can't carry a balance.

Your due date is 30 days after the close of your statement period, and you must pay it in full.
Compare business credit cards
Full list of Brex credit cards
What size business is the Brex for Startups card good for?
Brex is aimed at startups that have at least $100,000 in their bank account. The number of employees doesn't play a huge role with this card, as you can quickly and easily add new card members. You'll also have expense management tools at your disposal to save time monitoring employee spending.
| Where you spend | How much you spend annually | Cash back |
| --- | --- | --- |
| Rideshares | $24,000 | $1,680 |
| Dining | $96,000 | $2,880 |
| Travel | $36,000 | $1,440 |
| Software | $50,000 | $1,000 |
| Everything else | $120,000 | $1,200 |
| Total | $326,000 | $8,200 |
Suppose your startup has 20 employees, you have five Brex for Startups cards and you've made Brex for Startups your exclusive business card. If your annual spending looks similar to our example, you would earn $8,200 in cash back. If we add the $25,000 worth of bonuses offered by Brex, the rewards you get beat any standard business card.
Note that your rewards will vary based on how much you spend and what you redeem them for. This example is based on our own calculations at the time of writing.
What should I know before I apply?
To apply for the card, you must provide:
Your name and work email.
Company name and website.
How your company was funded and your role in the company.
What credit score do I need?
You don't need to provide your credit score to apply for the card. Instead, Brex looks at your investors, your cash balance and spending patterns. And according to that, they set up your credit limit and provide you with your card.
What do customers say about Brex for Startups?
One of the features that customers especially like is that they aren't personally liable. Others like the fast application process, the Amazon Web Services credit and the easy integration with accounting software.
How do I apply for the Brex for Startups card?
Click Apply now.
Fill out the application form with the requested information, including your name, work email and company information.
Click Create Account.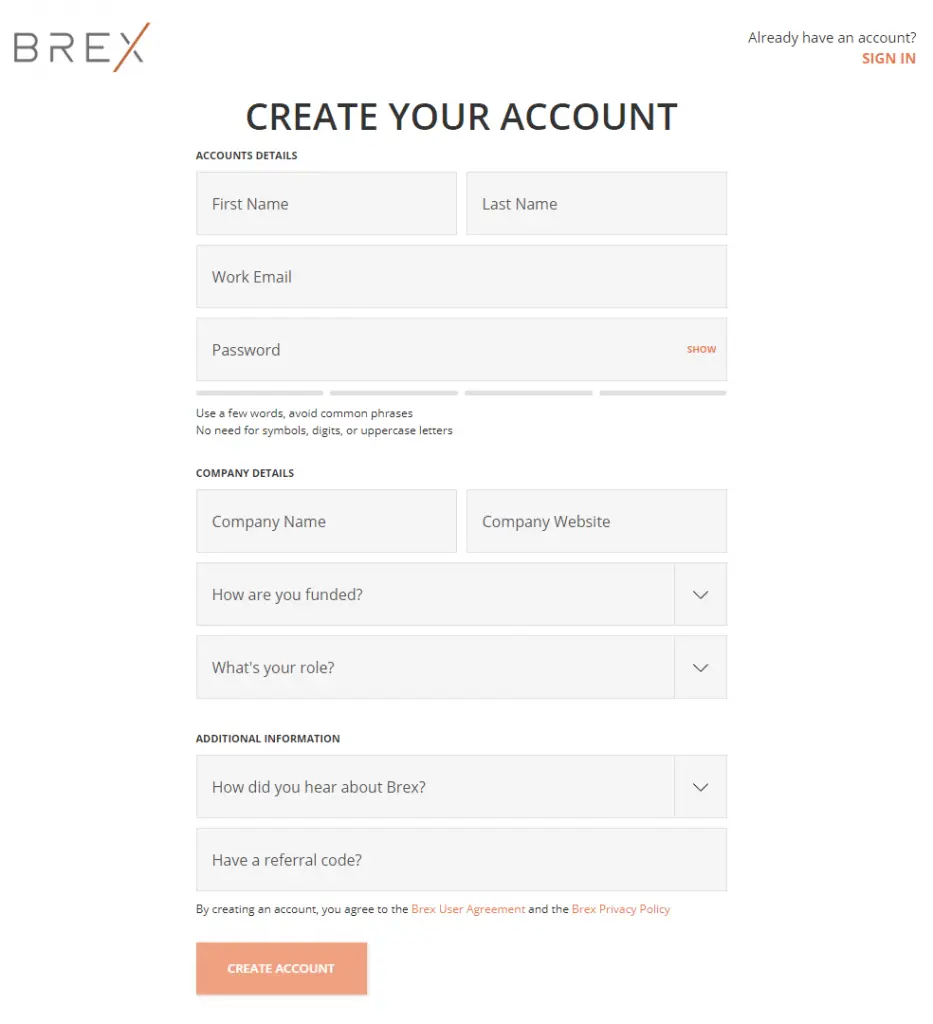 How long will it take to get my Brex for Startups card?
You can start using your card online as soon as you're approved. To get the physical card, you'll have to wait up to five business days.
I got the card. Now what?
Pay on time. You have 30 days to pay your balance. If you don't, Brex may close your account.
Customer service. For any questions, call 833-228-2044 and Brex support will help you.
Bottom line
If you're looking for long-term financing for your business, you may want to consider the Brex for Ecommerce instead. But if you're a startup with high income or investment capital and you're looking for a hassle-free card without personal guarantee, the Brex for Startups corporate card could be a solid choice.
The card comes with efficient monitoring tools, a robust signup bonus and if you make Brex for Startups your exclusive business card, you can enjoy a high cashback rate on rideshares, travel, dining and software.
However, if you're not sure this is the right card for your business, look for a standard business credit card and compare your options.
Frequently asked questions
Images: Brex
Credit card ratings
★★★★★ — Excellent
★★★★★ — Good
★★★★★ — Average
★★★★★ — Subpar
★★★★★ — Poor
Our team evaluates credit cards to determine their value against similar cards on the market.
We rank card types — travel, cash back, business — on a set of factors that are most relevant to that type of card. We create these rankings to help you narrow down a credit card that best suits your spending and budget.