Finder is committed to editorial independence. While we receive compensation when you click links to partners, they do not influence our opinions or reviews. Learn how we make money.
Using a credit card to pay taxes
You can pay taxes with your credit card, but there will be fees.
When you owe the IRS, it gives you plenty of ways to pay your tax bill. But can you pay taxes with a credit card? The answer is yes — as long as you pay through one of the IRS's three approved payment processors.
A credit card isn't your cheapest option: You'll pay about a 2% fee per payment. However, paying with a credit card could come with specific benefits, too.
How to pay taxes with a credit card
Visit the IRS online to see the list of approved payment processors.
Select a processor, and visit its website.
Choose which tax filing status you're paying for.
Enter your name, Social Security number, address and contact details.
Submit your billing details, including your credit card information and billing address.
Note that not all IRS taxes are eligible for payment by credit or debit card, and the IRS could limit how often you can make payments with a card. See the IRS's Frequency Limit Table by Type of Tax Payment for more information.
Which card types are accepted by the IRS?
All of the major card networks — Visa, Mastercard, Discover and American Express — are accepted.
IRS credit card payment processors
The IRS offers three approved processors, each of which charge similar fees for credit card payments. Here are your options and their associated fees as of this writing.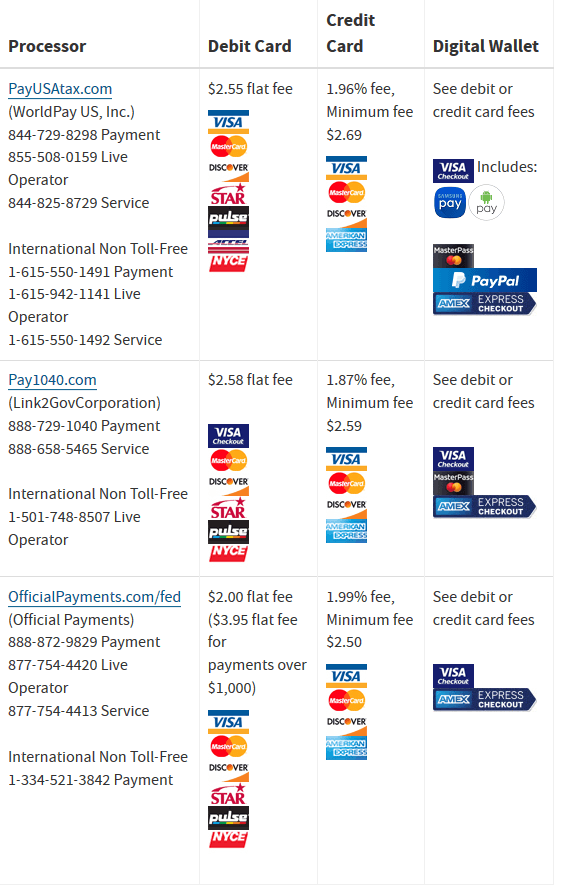 What fees will I pay?
Here are the fees you'll pay depending on the size of your tax bill.
| How much you owe | Approximate credit card fee |
| --- | --- |
| $500 | $10 |
| $1,000 | $20 |
| $2,500 | $50 |
| $5,000 | $100 |
| $7,500 | $150 |
| $10,000 | $200 |
| $15,000 | $300 |
| $20,000 | $400 |
When should you pay taxes with a credit card?
Before paying your taxes with a credit card, weigh the benefits and potential drawbacks.
Five reasons to pay taxes with a credit card
You need time to pay off your taxes.
If you face a big tax bite, you don't have to pay it all right away. Putting it on your credit card is one way to pay it off over a longer period. But keep in mind that an IRS payment plan may be a better option in this case, as the interest rate tends to be lower.
You want to reach a minimum spend for a signup bonus.
The minimum spends on signup bonuses are usually a few thousand dollars. Reach yours more easily by paying your taxes with your credit card. Just make sure that the IRS's processing fee doesn't erase what you'll gain from the bonus.
You have a credit card with a long 0% intro APR period.
If you're paying your taxes using a 0% APR credit card, you can effectively defer your payments. Instead of putting your money toward taxes immediately, you can let it grow in a savings account, money market account or certificate of deposit.
The rewards are worth more than the fee.
In some cases, the rewards you'll earn could be higher than the IRS processing fee, such as cash back or airline miles. Just be sure to do the math carefully beforehand, to make sure that the nearly 2% fee you'll pay is actually worth any potential rewards — and that you'll actually use the rewards soon enough to make paying the hefty fee upfront worth it.
You want to level up or reach elite status.
Paying with an airline branded credit card may enable you to reach a spending threshold that qualifies you for an elite status. For frequent travelers especially, the membership perks may be worth it, as elite status often includes lounge access, bonus miles, class upgrades and more.
Five reasons to avoid paying your taxes with a credit card
You can't afford to pay the fee.
Simply put, if you can't afford to pay the processing fee, then you probably shouldn't use a credit card to pay for your taxes. If you're running low on funds and are just looking for a way to break your taxes into gradual payments, consider setting up a payment plan with the IRS.
You have trouble keeping up with payments.
It's rarely a good idea to rack up a lot of debt on your credit card without paying it off soon. If you plan on paying only the minimum toward your balance each month, consider passing on a credit card tax payment. You'll quickly accumulate interest that could balloon your debt.
You need to keep an eye on your credit score.
Putting a big charge on your credit card will raise your credit utilization ratio, which could put a dent in your credit score. If you're looking to open a line of credit soon — such as a mortgage, car loan or credit card — it may be wise to avoid more debt right now.
You have high credit utilization ratio.
If your tax payment isn't a large sum compared to your available credit line, you shouldn't have any problems. But if it takes a significant portion of your credit line, you could offset your credit utilization ratio. Keeping your utilization ratio above 30% can damage your credit score.
You could max out your credit limit
If using a credit card to pay your taxes causes you to hit the credit limit, this could hurt your credit score and incur penalties. Also, if you rely on that card for emergencies or rainy day spending, reaching your credit limit could cripple your ability to fund other necessary purchases.
Consider an installment agreement
If you're paying taxes via credit card because you can't pay your tax bill all at once, consider an installment plan. This is an agreement with the IRS that lets you pay your tax debt in monthly payments. You can choose between a short-term plan that lasts 120 days, or a long-term plan that lasts more than 120 days. While you'll still accrue interest on the balance, it's typically less than the APR on most credit cards — so it may be a more prudent option in the long run.
To begin an installment plan, you must file your tax return and owe $50,000 or less in taxes, penalties and interest.
Can you pay quarterly taxes using a credit card?
Yes, you can pay quarterly taxes using a credit card. This would apply to people who don't automatically have tax withheld from their income, such as freelancers and self-employed individuals.
The same pros and cons generally apply. However, one unique perk associated with paying your quarterly taxes via credit card is that "United States Treasure Tax Payment" will be included on your statement — proof that you've paid, in addition to the confirmation number.
Find the right credit card for you
Bottom line
Make sure to weigh the benefits and drawbacks of using a credit card to pay for taxes to make sure it's financially worth it. If you like the idea of racking up rewards, then compare rewards credit cards to find a welcome offer that pays off in the long run. Otherwise, find a credit card that can help you pay your taxes while meeting your financial needs.
Frequently asked questions
Pictures: Getty Images