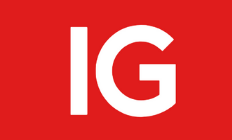 IG review | Share dealing, ISAs and smart portfolios explained
We take a look at IG share dealing and IG smart portfolios in our extensive review.
CFDs are complex instruments and come with a high risk of losing money rapidly due to leverage. 71% of retail investor accounts lose money when trading CFDs with this provider. You should consider whether you understand how CFDs work and whether you can afford to take the high risk of losing your money.
Finder rating
★★★★★
Expert analysis
Customer rating
★★★★★
Satisfaction survey
Easy to follow learning resources
Fees charged for inactivity
IG is an investment platform that does it all. It's got ISAs, pensions, contracts for difference, research and a learning facility. We've named IG as the best trading app for training resources. This was based on our comparison of all the platforms we've reviewed on our site against 70 different metrics, including the learning resources each platform has available. You can see all of the other best trading apps in our guide. Read all about IG's features, costs and some pros and cons in our IG review.
Buy and sell US shares with no commission with IG
Capital at risk, investments may fall
Invest in over 10,000 shares, funds and investment trusts
Low costs - Zero commission on US shares, £3 on UK shares
Support available 24 hours a day from Sunday to Friday
Open an account in a few minutes through website or app
What is IG?
IG has been around for a while – since 1974 to be exact and has almost 240,000 clients. It's a CFD broker, an ISA provider and a pension provider all rolled into one. Despite what it says on the tin, IG is not really for novices. It's got incredible depth in its web app and platform, which could be a bit overwhelming if you're new to investing.
That being said, IG does offer hand-holding Smart Portfolios for those who would prefer to have their investments managed for them. It's also got the IG Academy, which can teach you all about investing, how it works and how you can get started – so beginners can still get in on the action. IG has been listed as one of our best trading apps of 2022 because of the range of products it has on offer.
(Word to the wise – steer clear of the spread betting and CFD options IG is offering if you're new to investing! This is risky territory. If you're an experienced investor and came here to read about these, we've covered them below.)
What products does IG have?
IG offers three product choices:
IG general investment account
IG ISA
IG self-invested personal pension (SIPP)
Once you've decided on the product, IG then offers two main ways to invest. We go into more detail about these further down:
IG Share Dealing. You make your own investment decisions.
IG Smart Portfolios. This option lets you pick a ready-made portfolio which is managed on your behalf.
IG Share Dealing
If you opt for IG Share Dealing you can buy and sell shares, funds and investment trusts, with over 10,000 to choose from.
The prices are pretty low. US shares have no commission, while UK shares can cost as little as £3 if you trade three or more times in the previous month (£8 usually). You can trade outside of the US stock market's trading hours as well.
What can I invest in with IG Share Dealing?
Here are some of the things you can invest in with IG:
Companies. There are thousands of different companies that you can buy shares in.
Exchange traded funds (ETFs). IG has 2,000 eligible ETFs that you can invest in to allow you to get exposure to the UK equity market from just 0.4%. IG has an ETF screener on its website, which lets you track sectors and find what you are looking for. If you're not sure what an ETF is, we have a handy guide.
Investment trusts. IG has investment trusts to give you exposure to a wide range of markets.
Bonds. You can trade bonds, which are sort of like an IOU from the government.
IG share dealing review
IG's share dealing platform is customisable and well designed. You can change the view based on how much detail you're looking for. Once you get the layout you're looking for you can save it for future use.
The search function is really neat, too. You can search through the different types of assets and get a snapshot view of some of the key information, such as the current price and change.
IG Smart Portfolios
If you're not an experienced trader then you might want to choose an IG Smart Portfolio. These offer a similar experience to robo advisors, such as Nutmeg or Wealthify.
What is an IG Smart Portfolio?
With IG Smart Portfolios you can invest in a managed portfolio that matches your attitude to risk. You answer a set of questions about your knowledge and experience of investing and your investment goals. You are matched to a portfolio based on your answers to these questions.
Once you have taken the questionnaire, IG will ask about how much you intend to invest and how long you want to invest it for. It also asks how much money you have set aside as an emergency fund and won't match you to a portfolio if you have less than three months worth.
IG Smart Portfolio review
IG's Smart Portfolios are available if you don't fancy managing your own portfolio, such as if you're a beginner or not very in-the-know about investing. It gives some helpful insight into what you are invested in, sorted by asset class, sector and location, and lets you make decisions on your attitude to risk and your financial goals.
The mobile app can give you some information on your investments, but doesn't tend to be as helpful as the browser view for those with a Smart Portfolio, as it appears to have been designed with share dealing in mind.
IG Smart Portfolios vs IG Share Dealing: Which should I go for?
If you're new to investing, you might be wondering what the difference is between the two types of investment with IG.
It depends on what you want to do. People would usually choose IG Share Dealing if they wanted to buy and sell shares in companies and are happy to spend time making adjustments on their investments. You don't have to be an experienced investor to go for this option, but you're much more likely to be one.
Meanwhile, IG Smart Portfolios offer some help in your investments by matching you up to a pre-made portfolio. There's a risk questionnaire that you can fill out to find out more about your risk appetite and to help IG understand what you want to get out of your investments. IG forms your portfolio on your behalf with this information.
| | IG share dealing | IG Smart Portfolios |
| --- | --- | --- |
| Who's it suited to? | Good for you if you want to choose your own investments, such as individual shares or ETFs. | Suitable for those who don't fancy the faff of choosing their own investments. |
| How much investment knowledge do you need? | A fair bit – you'll need to understand the types of investments you want to choose, the risks involved and how to research them. | Very little – you should understand investment risks and how the portfolios work but you don't need to know how to choose investments. |
| Choose your own investments? | | |
| Ready made portfolios? | | |
| Invest in an ISA? | | |
| Invest in a SIPP? | | |
IG ISAs
IG stocks and shares ISAs are available with IG's Share Dealing account and ready-made IG Smart Portfolios.
As with all ISAs, you have an allowance for the tax year which you can use to invest tax-free. The allowance for the 2021/2022 tax year is £20,000. This means that you can invest up to £20,000 tax-free.
Features of the IG stocks and shares ISA include:
Flexibility. You can withdraw funds without reducing your ISA allowance.
Free to open. There aren't any transfer or exit fees either.
Wide choice of investments. Choose from over 12,000 global stocks and exchange traded funds (ETFs).
No custody fee. Buy or sell trades three or more times in a quarter and IG will waive the custody fee (usually £24).
You're also able to open a lifetime ISA (LISA) with IG. This lets you invest up to £4,000 per year for your first home or for retirement. The government contributes £1,000 for every £4,000 invested.
IG ISA review
On the whole, IG's ISA is a strong competitor. It offers exactly what most people are looking for in an ISA, but only if you plan to make several trades each quarter. Its main drawback is the custody fee, which is only waived if you make more than three trades in a quarter. It could set you back £96 per year, which is considered to be pretty pricey compared with other ISAs.
IG SIPPs
IG's SIPP allows you to invest in your future with tax benefits. Your pension is locked until you turn 55.
Features of IG's SIPP include:
Invest up to £40,000 in the 2021/2022 tax year with at least 20% tax relief on your contributions and no capital gains or income tax to pay.
Invest in domestic and international shares and ETFs.
Transfer one or more pensions from other pension providers.
IG's technology helps you find lower prices when buying shares.
If you want to invest for your future but don't want to play around with share dealing, IG offers a Smart Portfolio SIPP.
Features of the IG Smart Portfolio SIPP include:
Invest up to £40,000 in the 2021/2022 tax year with at least 20% tax relief on your contributions and no capital gains or income tax to pay.
Get diversified global exposure.
Benefit from regular adjustments made by BlackRock.
Administered by James Hay.
Portfolio is matched to your risk profile.
IG general investment
You can open a general investment account with IG that allows you to make taxable investments outside of your ISA allowance. People usually go for this option if they've used up their annual ISA allowance as you may need to pay capital gains tax on your profits.
Capital gains tax is payable if you make gains of more than £12,300 in each tax year (£6,150 for investment trusts).
IG fees
The fees you are charged to use IG depend on whether you choose to use IG Smart Portfolios or IG Share Dealing. The additional fees, such as fund costs, transaction costs and foreign exchange costs, are explained in more detail below.
IG Smart Portfolio fees
| Investment amount | IG management fee | Average fund costs | Transaction costs | Total (annual) |
| --- | --- | --- | --- | --- |
| Up to £50,000 | 0.50% | 0.15% | 0.07% | 0.72% |
| Over £50,000 | Free | 0.15% | 0.07% | 0.22% |
IG trading fees
In order to get the lowest costs with IG, you need to have traded at least 3 times in the previous month. Here's some of the fees:
Cost of shares
| Type of share | Standard | 3+ trades per month |
| --- | --- | --- |
| US shares | £10 | Free |
| UK shares | £8 | Free |
What are these fees for?
Other fees
| Fee description | Fee |
| --- | --- |
| Quarterly account fee | £24 |
| Foreign exchange conversion fee | 0.5% |
| Commission on trades placed over the phone | £40 |
IG CFDs
You can trade contracts for difference (CFDs) with IG. A fair warning, in case you didn't see it earlier: CFDs are complicated and risky, so aren't really suitable for beginners. We won't be offended if you skip this section, honestly.
Now we've got that out of the way. The CFD section of IG's site is a bit overwhelming with all the blue and red flashing as the buy/sell prices change, but it's really just a sign of how comprehensive it is in this area. It's got loads of live data and a newsfeed to keep you up to date on what's going on in the market to help you make better decisions.
You can trade on indices, foreign exchange (forex), shares and commodities with IG and never have to own the underlying asset. Main benefits include:
Negative balance protection. This ensures that your account balance doesn't stay below zero. It's worth mentioning that this isn't available for professional traders.
Competitive spreads.
Expert support. 24 hours a day from 8am Saturday to 10pm Friday.
Web-based platform and mobile apps available.
Educational resources. These are through IG Academy, which is detailed below.
IG CFD fees
The only direct charge you really need to worry about is the spread (a commission in the case of share CFDs). IG charges its own spread on top of the market spread as its fee for the trade.
Ultimately, this depends on market conditions. You can see the spread, as it's the difference between the bid and ask prices.
Overnight funding
This is the charge for keeping your CFD positions past 10pm UK time. This charge is added to your account as an interest adjustment. You don't pay overnight funding for futures or forwards as it's built into the spread.
Guaranteed stop premiums
You can attach guaranteed stops to your position to help protect your investments. IG charges a fee if it is triggered. This is called the premium.
IG extra services
There are some extra services that IG charges you for if you use it. These are listed below and you can find details on the website.
Direct Market Access (DMA)
Live price data fees
ProRealTime Charts
Inactivity fee
Account documentation fee
Currency conversion charge
Third-party charges (such as fees for credit and non-UK debit card payments)
Does IG have an app?
You can use the IG app or the website to manage everything – check stock performance, set alerts and find out about significant events when they happen. IG has made it customisable to suit your preferences and has integrated a live news and Twitter feed to keep you up to date with the stock market.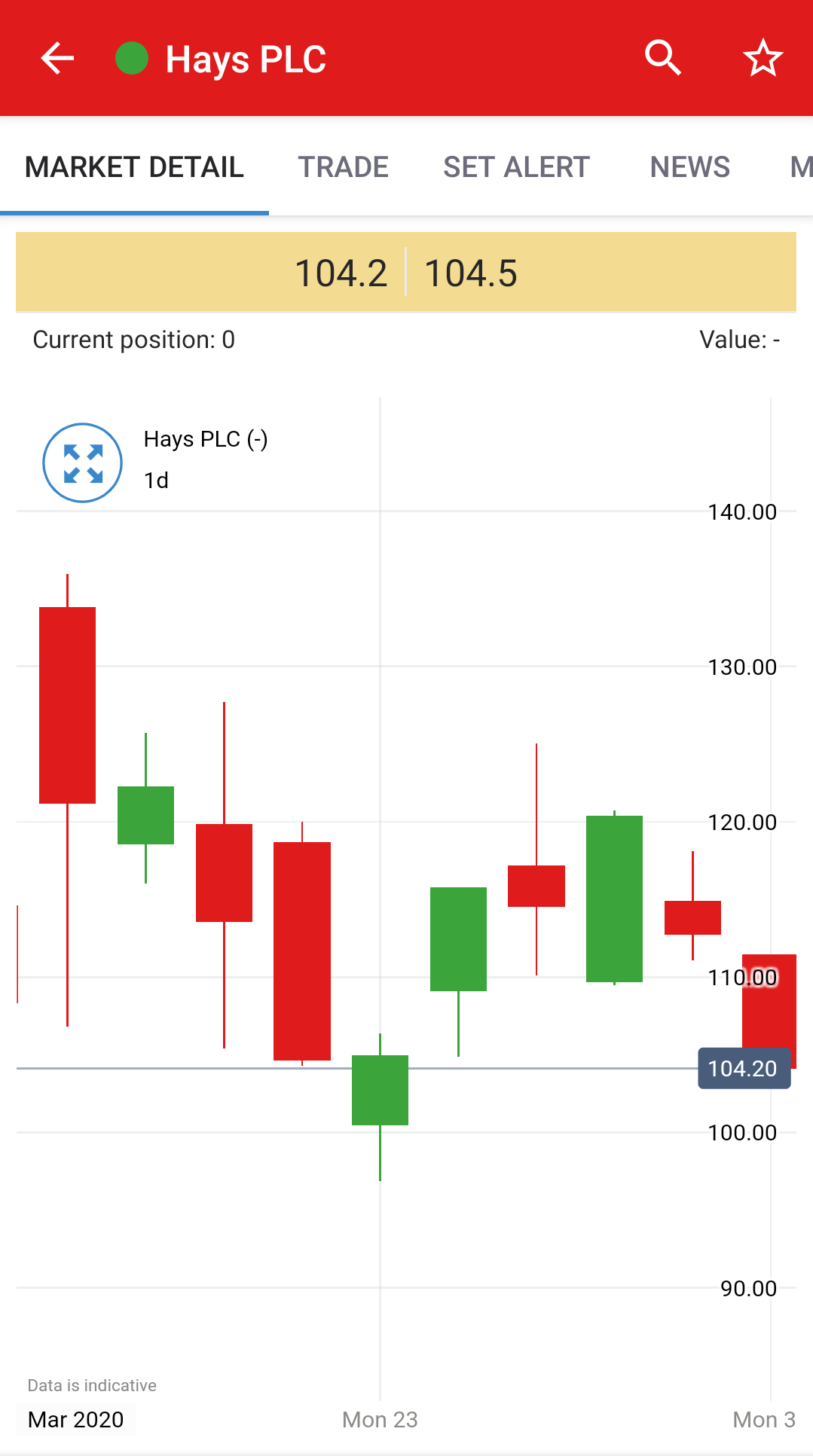 IG demo account
Demo accounts allow you to get an idea of share trading before you start investing real money. This is often popular with beginner investors who are hesitant while they don't know exactly how it works.
Annoyingly, IG's demo account is only available for its spread betting and CFD trading services, which is pretty complicated territory. You can try it out with £10,000 in virtual funds to see how it works and get an idea of what the platform allows you to do. We liked that the platform is customisable. It allows you to choose your layout and watch markets that you're interested in.
The charts are helpful, as they give detailed information on the movements – that is, if you know how to read them. This is where IG Academy can come in handy, as it gives you the opportunity to learn how they work. We briefly cover IG Academy below.
If you're planning to stay away from spread betting and CFDs (a wise choice if you're a beginner!) then IG's demo account won't be of any use to you. A nice alternative is Trading 212's demo account, which lets you try out share trading with £50,000 in virtual money. There's no requirement to use Trading 212 for the real thing, so you're more than welcome to come back and use IG when trading in real life, if you wanted to.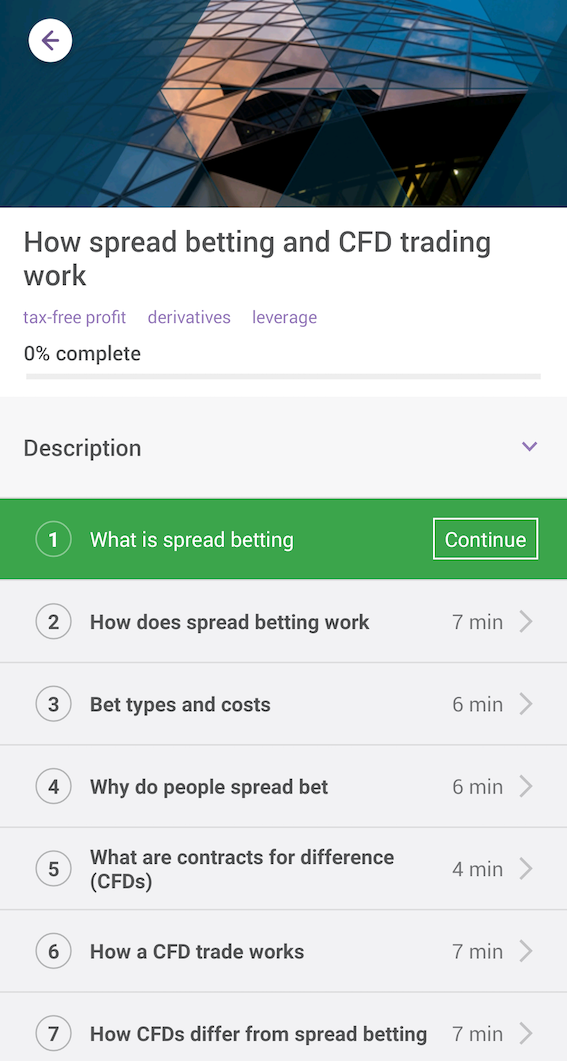 IG Academy
IG Academy is IG's educational offering. It has online trading courses, webinars and seminars to give you a little leg-up in investments. This is handy, as investing can be complicated, especially when you have as many options available as IG offers.
The online trading courses have videos and interactive quizzes and exercises. There are frequent live sessions, which are webinars where IG's experts share their knowledge and insight. This gives you the chance to ask questions about share trading.
IG Academy has its own app, which means that you can learn about share trading and investing on the go. It's pretty simple to use and gives you info on how long each section will take.
Is IG safe?
IG is regulated by the Financial Conduct Authority (FCA) and your investments are covered by the Financial Services Compensation Scheme (FSCS), so if IG were to go bust, you are covered up to £85,000. IG is a trusted provider and is an established FTSE 250 company that's been running for 45 years.
IG customer reviews
IG has mostly positive reviews online, particularly for its app. Finder commissioned a survey of 752 people to find out what customers of some of the trading apps we've reviewed thought. Several of IG's customers said that it was easy to use, many said that the prices were reasonable and good customer service was mentioned frequently.
Here are the company's scores across a number of review platforms (updated 28 May 2020):
Trustpilot
Google Play
Apple App Store

★★★★★

3.5 out of 5
Based on 2,500 reviews

★★★★★

4 out of 5
Based on 7,000 reviews

★★★★★

4.6 out of 5
Based on 4,000 reviews
Pros and cons of IG
Pros
Suits beginner and experienced investors
Low fees
Mobile app lets you manage your investments on the go
Cons
Opening your account is a slow process
Fees charged for inactivity
IG review: Our verdict
IG has a simple structure and caters for experienced investors, and those with less experience who want a bit of help in managing their portfolios. The fees are relatively low, depending on what you plan to do. For share dealing, you pay a set amount when you buy and sell and with the portfolios, you pay a percentage based on how much you are investing.
Get started by visiting IG and opening an account. Don't think IG is for you? Take a look at other share trading platforms with our comparison table or you can check out some IG alternatives.
Frequently asked questions
Share dealing platform ratings
Our customer satisfaction scores ("Customers say") are based on a survey of 753 customers carried out in December 2021.
All investing should be regarded as longer term. The value of your investments can go up and down, and you may get back less than you invest. Past performance is no guarantee of future results. If you're not sure which investments are right for you, please seek out a financial adviser. Capital at risk.