Finder is committed to editorial independence. While we receive compensation when you click links to partners, they do not influence our opinions or reviews. Learn how we make money.
Seven Corners travel insurance review
Competitive, comprehensive individual and group coverage backed by more than two decades of experience.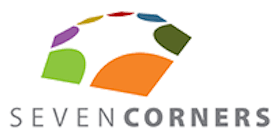 Get this insurance if you're looking for comprehensive travel coverage — and you're willing to pay for it.
Pick something else if you're looking for bare-bones, budget-friendly travel insurance.
Compare Seven Corners coverage options
What types of trip protection does Seven Corners offer?
With so many plans in its travel insurance suite, Seven Corners can provide anything from your basic plans to those for the most active travelers.
Comprehensive packages are offered through Seven Corners' tiered RoundTrip series:
RoundTrip Economy
Coverage at an economical price
Trip cancellation coverage — 100%
Emergency medical coverage — $10,000
Emergency evacuation and repatriation — $100,000
Lost, stolen or damaged baggage — $500
Emergency dental expense — $750
RoundTrip Choice
Preferred levels of protection and options to expand your coverage
Trip cancellation coverage — 100%
Emergency medical coverage — $100,000
Emergency evacuation and repatriation — $500,000
Lost, stolen or damaged baggage — $1,500
Emergency dental expense — $750
RoundTrip Elite
Highest level of protection with specialized options for sports trips and cancel for work reasons
Trip cancellation coverage — 100%
Emergency medical coverage — $250,000
Emergency evacuation and repatriation — $1 million
Lost, stolen or damaged baggage — $2,500
Emergency dental expense — $750
Seven Corners has phased out Dogtag — one of its adventure sports plans — so if you're looking for a specific type of coverage for your next outdoor adventure, compare all plans before choosing.
All plans include 24/7 toll free travel assistance in multiple languages and free cancellation — no questions asked — within 10 days before your coverage begins.
Protection for all of your adventures with Seven Corners
Seven Corners offers comprehensive plans to cover most domestic and international travel needs, including:
Travel medical. Covers trips outside your home country through three Liaison plans: International, Continent and Majestic.
Trip protection. Safeguards US residents' trip costs, medical expenses and belongings while traveling through Roundtrip Economy, Roundtrip Choice and Roundtrip Elite.
Security. Providing personal protection against kidnapping, ransoms and other crises when you travel.
Visitor and immigrant. Inbound Guest, Choice and Immigrant plans cover those who aren't US citizens.
Student plans. Medical coverage for international students and faculty.
Health insurance. Global health insurance coverage through Reside.
Adventure sports. Covers the action-minded traveler who's into hunting, fishing and outdoor sports.
Group coverage. Protect your trip and your health through two plans designed for group travel.
What might not be covered by Seven Corners?
In line with many other travel insurance providers, Seven Corners bars coverage for specific situations that vary by plan:
Specific destinations. Your plan typically bars trips to Iran or Syria, for example.
State restrictions. You won't find all plans available in all US states.
Extreme sports. Unless you buy an adventure-travel plan, your hunting or skydiving trip may not be covered.
Pre-existing conditions. If you have a long-term health issue, your protection may not extend into medical care.
Political or government interference. Declarations of war and terrorism may not be included in your coverage.
How much does it cost?
Seven Corners wholly embodies the idea that the world's your oyster. But that means too many choices to narrow down a specific cost.
Say you're planning a trip to Hungary and want basic coverage that includes medical and trip interruption. You have the option of policy maximums that range from $50,000 to $1 million with daily rates of $0.72 to $1.02, depending on your age.
Ultimately, you'll want to get a quote for your specific needs. It's fast, free, and offers the ability for you to compare plan levels within those needs before you settle on the best for your trip.
Do I really need travel insurance?
Here's the truth: Vacations should provide a break for you to relax and enjoy worry-free time away from home. If something doesn't go quite as planned, travel insurance can help you avoid worrying away your time off thinking about your finances
Say you're on a family trip to the Caribbean packed with sandy beaches, jet-skiing and days in the sun. It's 8 a.m. on your second day, and your whole family is excited to start exploring. But as you make your way down the front steps of the hotel, you trip and land awkwardly on your right ankle, breaking it. The hotel calls an ambulance to pick you up, and you spend the next five hours waiting in the emergency room. You finally manage to see a doctor, who gives you painkillers, a cast and some crutches.
Even fairly common procedures can be extremely expensive when you're abroad. On your release, you're handed a bill for $20,000 to cover the ambulance, emergency room, doctor's time and everything else. Without travel insurance, you're on the hook for 100% of the costs, a quick way to ruin the vacation you saved for.
What are the benefits of Seven Corners?
Seven Corners offers comprehensive travel coverage to travelers through a wide variety of plans that cover stolen luggage, unexpected illness and all potential trip interrupters in between.
But it goes beyond traditional coverage with plans designed specifically for those who like to live life on the edge: adventure travelers and outdoor sports enthusiasts.
Choose from options that cover you before, during and after your travels with:
A global network of doctors and hospitals.
24/7 support and assistance to callers all over the world.
Comprehensive coverage for most any travel need.
A straightforward site and transparent pricing.
What to watch out for
Seven Corners is a leader in its field. But that doesn't mean it's without its drawbacks You'll also need to narrow down exactly the type of coverage you'd like from among many options.
Not many domestic options. Its plans are ideal for international student, senior, business and other travelers.
Unhappy customers report claim denials without a lot of explanation and unhelpful customer support in the thick of trip cancellations, if not an outright inability to purchase a plan due to pre-existing conditions. Still, many are happy with the wide-ranging plans offered to cover nearly any potential pitfall to experiencing a planned adventure.
What should I know before I apply?
When you apply for a plan with Seven Corners, you're required to submit personal info that includes:
Your full name and contact details
Your employment information
Your date of birth and Social Security number
Your passport for international travel only
What documents will I need to provide when filing a claim?
The claim process is a fairly straightforward four steps:
1. Confirm your plan. Find your plan information on your Seven Corners ID card, your policy or your coverage letter. Or log in to your online account, if you created one with your application.
2. Complete and sign the online Proof of Loss Form. Download forms for all situations and in many common languages that include French, Spanish and Chinese.
3. Gather necessary documents. You'll need copies of your passport, related service bills and receipts and any other supporting documentation for your claim.
4. Submit your claim. You have the option of uploading, emailing, faxing or mailing your claim.
Seven Corners doesn't indicate how long you'll wait for a claim. But it does offer an appeals process if you aren't happy with any decision. All appeals are addressed within 30 days of receipt.
What is Seven Corners?
Headquartered in Carmel, Indiana, Seven Corners has been around for over 25 years, underwriting and supporting all of its own policies. It's best known for a wide variety of comprehensive travel insurance plans available for both domestic and foreign travel.
Certified by the BBB since 1999, with an A+ rating, Seven Corners gets an 8.9 out of 10 on Trustpilot based on 567 reviews.
What does the Internet say?
Customers online report an easy-to-navigate website and straightforward quote process. A few say that flipping through each plan and its various tabs can take time, but that Seven Corners makes its information easily accessible.
Still, you'll find complaints about poor communication and denied claims. On the other hand, many people praise the company for their strength in those areas, providing a generally positive outlook on Seven Corners. At the time of this writing, Seven Corners had a score of 8.9 out of 10 based on 622 reviews on Trustpilot.
How to get a quote
Getting a quote is easy and free. From Seven Corners' homepage, you're walked through a series of questions about your residency, trip length, destination and your desired coverage that result in a Quick Quote form specific to your needs.
Indicate your trip's start and end date, your state of residence and personal info about the people you're looking to insure.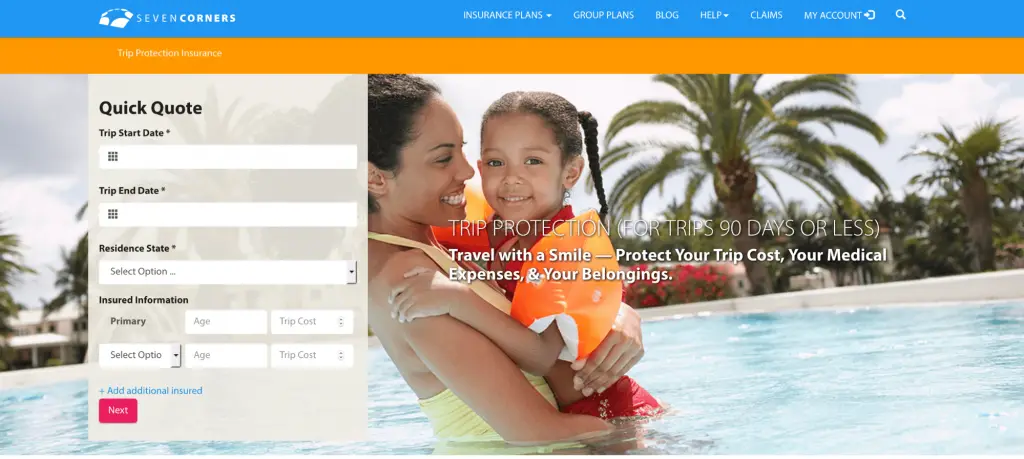 If you already know the type of insurance plan you're interested in, peruse the site's top menu bar to find the coverage you need. From there, you'll see plan costs for a general overview of the pricing you can expect.
I bought a policy. What should I do before my trip?
Review your policy. Make sure that you understand what's covered in your plan, reading all details and exclusions.
Pass along any trip updates. Report your complete travel details and any changes before you head out — including updates to flights, airport transportation and destinations. If your medical situation changes, you'll want to let Seven Corners know.
Contact customer service. Support is available 24/7 by phone, email, social media or live chat.
Bottom line
Seven Corners may not be the cheapest travel insurance provider in the game. But you'll find comprehensive plans that go beyond your typical coverage — whether you're a US citizen traveling domestically or internationally, part of a group, traveling for 45 days or more, a student or some combination of these groups.
No matter your needs, compare your travel insurance options to find a provider that best fits your traveling pursuits.
Frequently asked questions