Do you plan on traveling through Europe? Consider Schengen visa travel insurance.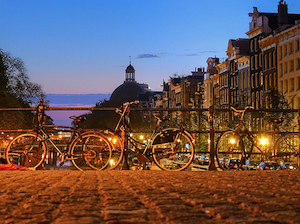 The Schengen Zone is made up of 26 European countries and states — all part of the Schengen Agreement. The agreement erases borders within the European Union to allow travelers to go from country to country without a passport.
But if you're visiting a country that's part of Schengen Agreement, you'll need to have appropriate travel insurance in place to qualify for a visa. Schengen visa travel insurance or health insurance provides what you need for overseas medical insurance coverage for visitors from foreign countries.
In order to qualify for a Schengen Visa, your travel insurance must:
Provide medical coverage of at least $35,000 if you fall ill or are injured while traveling in the Schengen Zone.
Provide coverage for emergency medical evacuation and repatriation of remains.
Be offered by an insurer that has an office in Europe.
Schengen visa travel insurance is offered by a wide range of insurance providers, so shop around to find the right coverage.
find out more about schengen visa travel insurance
What are the Schengen Countries?
The Schengen agreement covers the following countries and states:
Austria
Belgium
Czech Republic
Denmark
Estonia
Finland
France and Monaco
Germany
Greece
Hungary
Iceland
Italy and the Vatican
Latvia
Liechtenstein
Lithuania
Luxembourg
Malta
The Netherlands
Norway
Poland
Portugal
Slovakia
Slovenia
Spain
Sweden
Switzerland
Back to top
How do I get travel insurance that will be approved?
If you're looking for travel insurance to qualify for a Schengen Visa, it's a good idea to see if you already have the coverage you need. For example, if you're traveling overseas for business, check whether your employment contract offers any insurance coverage. If so, make sure it qualifies you for a Schengen Visa — more than $35,000 of medical coverage, coverage for emergency medical evacuation, and repatriation of remains, and offered by an insurer with offices in Europe.
If you're looking for coverage, some insurers refer to Schengen visa directly. For others you'll need to read the benefits and exclusions to see if it offers the amount of coverage you need.
What is travel medical insurance?
If you're traveling to Europe for leisure or business, travel medical insurance is a visa requirement. Not all parts of Europe are part of the Schengen Agreement, so check the list of Schengen Zone destinations.
Travel medical insurance provides coverage for emergency medical and hospital expenses if you fall ill or are injured overseas. It also includes coverage for medical evacuation and repatriation of remains back home.
Other benefits cover you for out-patient treatment, prescription drugs, political evacuation and more. Read the fine print of your insurance plan to get a clearer picture of what's available.
Back to top
What else is covered?
Most travel medical insurance plans allow you to tailor your coverage to suit your needs and budget. Some of the benefits you can add are:
Cancellations and lost deposits. Trip cancellation or interruption, for example following the death of a relative.
Accidental death or disablement. Benefits are provided if you die or are permanently disabled because of an injury suffered during your trip.
Overseas funeral expenses. Coverage for the cost of overseas burial or cremation.
Lost, stolen or damaged luggage and personal belongings. Coverage for the replacement or repair of your personal items.
Delayed baggage allowance. You'll receive an allowance to purchase clothing and toiletries if your bag is delayed by a travel carrier.
Missed connections. If you miss your connection because of a flight delay or other reasons, you may be covered to continue on with your trip.
Travel delays. This benefit covers hotel stays and food when your travel is delayed.
Hijacking. You may be eligible for a benefit if the public transportation you're on is hijacked.
Terrorism coverage. You can add coverage for injury or illness from an act of terrorism.
Pre-existing conditions. Some policies allow you to take out coverage for the sudden recurrence of a pre-existing medical condition.
What isn't covered?
Schengen visa travel insurance will typically not cover your claim because of:
A pre-existing condition without the purchase of additional coverage.
Treatment or surgery that is elective, experimental or investigational.
Pregnancy, childbirth, fertility treatment, sterilization or abortion.
Venereal disease or the AIDS virus.
War, military action, civil insurrection or protest.
Terrorism — some policies offer this as addition coverage.
Immunizations or routine physical exams.
Injury or illness by sports or activities like bungee jumping, hang gliding or contact sports —

s

ome policies offer this as addition coverage.

Vision or ear tests.
Vocational or speech therapy.
Suicide, attempted suicide or any self-inflicted injury.
Illegal behavior.
Alcohol, drug abuse or addiction, or if you were under the influence of alcohol or drugs.
Organ or tissue transplants.
Treatment of mental and nervous disorders like anxiety or depression.
Travel to get treatment or advice for an illness or injury.
Infection of the urinary tract.
Frequently asked questions