Finder is committed to editorial independence. While we receive compensation when you click links to partners, they do not influence our opinions or reviews. Learn how we make money.
Travel insurance for Thailand
From scuba diving to street food, keep safe in the Land of Smiles.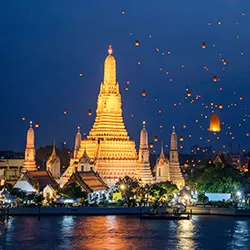 Thailand lures thousands of tourists to its shores every year with its stunning scenery and exotic culture. Before you head off, make sure you're covered with travel insurance, so you can hit the beaches and take in the culture carefree.
Compare travel insurance plans
What does travel insurance cover?
Travel insurance keeps unexpected bumps in your vacation from becoming big bills and overwhelming debt. The average policy covers:
Medical and evacuation expenses. A bad bowl of curry or a jellyfish sting can put a halt on your adventures, but travel insurance can make sure at least your wallet comes out unscathed. If you're sick or injured in an area that doesn't have adequate medical services, evacuation to care can cost thousands without a policy.
Lost or damaged personal property. Thailand is infamous for petty crimes like theft and pickpocketing. Insurance can reimburse you for lost or stolen items.
Cancellations or changes. If you need to cancel your plans completely or return home early, a policy can help pay for new accommodations and flights — and reimburse you for any lost deposits.
Personal accident and liability protection. If you accidentally injure someone or damage their property, liability protection can cover your legal costs.
What extra coverage can I get for Thailand?
Basic travel insurance policies exclude risky activities and expensive electronics, like:
Motorcycle or moped rides. Not all policies cover you after an accident and if you hurt yourself on a rented bike. Check with your insurer before leaving if you plan to ride a motorcycle or moped.
Extreme activities. High-risk activities like jet-skiing, bungee jumping and scuba diving are popular in Thailand. You can add coverage for such adventure to your travel insurance policy.
Expensive cameras or computers. Most insurance policies limit how much they'll reimburse you for pricey equipment, so make sure to ask if what you have is enough.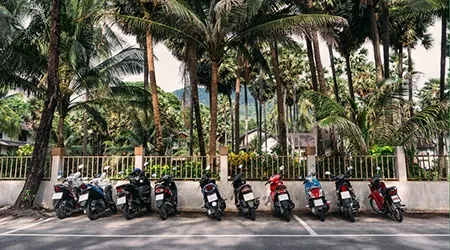 Prepare your money before traveling to Thailand
Back to top
Travel insurance exclusions
Unfortunately, travel insurance doesn't cover everything you might encounter along your travels. Common exclusions across the board include:
Country exclusions. If you're visiting other countries on your trip, ensure your policy covers them. A last-minute trip to a neighboring country could end up costing you a lot more than the train ticket.
Working exclusions. Many travel insurance policies cover recreational travelers only. If you plan to work while overseas, check that your policy covers you.
Contributory negligence. While you may be covered if your belongings are lost or stolen, you're expected to look after them to a reasonable extent. Avoid leaving them unattended in a public place.
Pre-existing medical conditions. If you have a medical condition that you don't tell the insurer about and you need treatment for it while overseas, you may be denied coverage.
Reckless behavior. Excessive drinking, taking drugs or participating in deliberate behavior that puts you in danger can void your claim.
Ignoring government advice. If the US Department of State issues a travel advisory for Thailand, your policy is void if anything happens to you.
Travel Accident Coverage : up to $50,000
Pre-Existing Medical Condition : Available
Concierge : Included
Customizable coverage that can give you peace of mind when traveling to popular or remote destinations.
How to stay safe in Thailand
Travel in Thailand can expose you to safety risks that include petty theft, motorcycle accidents and an unstable political climate. Stay vigilant by keeping these safety tips in mind:
Limit drinking. It's common enough for tourists to learn too late that they're drinks were spiked with dangerous drugs. Keep your drink with you at all times, and refrain from drinking excessively to avoid being a target.
Know the laws and customs. Tourists are not always welcome everywhere. You'll want to respect and observe the culture's laws and expectations.
Don't deface images of Thai royalty. Spray painting, drawing on or otherwise defacing images of the Thai king or queen can get you in trouble. The maximum jail time for this offense is up to 15 years in prison.
Don't drink in public places. It's illegal to drink in temples, pharmacies, parks, gas stations, schools and universities. Breaking this law can land you in jail for up to six months.
Don't bribe the cops. Even though some people do it, bribery is illegal and can lead to jail time.
Beware of scams. Common scams in the country include:

Fake airport taxis. From pretending to get lost to simply overcharging, sketchy drivers can hurt your wallet. Never get into an unmarked vehicle, and organize airport transfers through your hotel.
The watercraft scam. Usually associated with jet skis, this scam can also occur with cars, mopeds and motorcycles. You return your rental only to be accused of causing significant damage and ordered to pay a large amount. Always take photos of your rental before signing an agreements.
Corrupt cops. Police corruption is a problem in Thailand, and many of the local cops are quite happy to accept bribes. The best thing you can do is act sensibly, learn the local laws and stick to them.
Gem scam. If you're approached by a stranger offering to sell you gems at a discount, take caution. Whatever you end up purchasing is likely worthless or never makes it to your shipping address.
The stolen moped scam. You rent a moped, pay a deposit and hand over your passport. When you leave it unattended later in the day, you're shocked to discover it's been stolen, leaving you on the hook to replace it. Don't leave rentals unattended.
Bottom line
From exploring ancient ruins to touring royal palaces, Thailand offers some of the most breathtaking adventures in the world.
The abundance of adrenaline-inducing sports, scrumptious seafood and wild nightlife can also make it a high-risk destination for you and your bank account. With the right travel insurance policy, you can relax knowing you're covered, if something goes wrong.
Frequently asked questions
Picture: Shutterstock
Back to top