Finder is committed to editorial independence. While we receive compensation when you click links to partners, they do not influence our opinions or reviews. Learn how we make money.
Travel insurance for Sweden
From hitting the slopes to strolling through Stockholm, protect yourself on your trip to Sweden.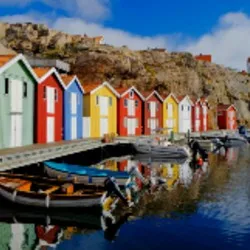 Sweden has been described as a number of countries rolled together, combining the architectural landmarks and rich history of major European cities with the natural wonders of a world-class nature and wildlife destination. It's also one of the 15 safest countries in the world, according to the Global Peace Index. However, that still doesn't mean it's completely risk-free, so before you get on a plane, pick up a comprehensive travel insurance policy so you can relax knowing that you're safe from any mishaps on your vacation.
Compare travel insurance plans
What does travel insurance cover?
Travel insurance helps keep you, and your bank account, safe while you're traveling. While the amount of coverage you get varies from policy to policy, basic things to look for include:
Medical coverage. This is often viewed as a necessity when traveling abroad. If you get sick or in an accident while overseas, medical bills can pile up fast if you aren't insured.
Protection against canceled or delayed flights. If your trip gets canceled or your flight gets delayed, your insurer can help get you on a new flight, cover extra accommodations and reimburse you for lost deposits.
Reimbursement for lost or stolen items. If your luggage gets lost or a pickpocket manages to snatch your wallet, your insurer can reimburse you.
What doesn't travel insurance cover?
Exclusions will also vary from policy to policy, but common reasons for claims to be denied include:
Failure to obey signs and warnings. Even if it's an honest mistake, insurers reserve the right to not pay benefits for losses resulting from a failure to obey posted warning signs.
Inebriation. If something happens while you're under the influence, you may not be able to claim benefits regardless of whether or not alcohol was actually responsible for the event.
Irresponsible behavior. This can range from leaving your luggage in an unattended place to diving off a too-high cliff. If an insurer can argue that you weren't taking sensible precautions to keep yourself and your belonging safe, they can refuse to pay out.
Pre-existing conditions. If you get sick due to a pre-existing condition not listed on your policy, your insurer can refuse to foot the bill. Check with your insurer ahead of time to find out if you need to purchase extra coverage for any medical conditions.
Travel concerns for Sweden
Sweden is a pretty safe country to visit, but every destination has its quirks. Things to watch out for in Sweden include:
Crime. Crime rates are low on the whole. Petty crime like bag snatching and pickpocketing, however, can occur in certain populated areas. Don't keep your wallet in a back pocket and keep one credit card or emergency cash in a separate pocket or bag.
The roads. If you rent a car while in Sweden, keep your headlights on at all times while driving, wear your seatbelt and keep in mind that the legal blood alcohol level for drivers is much lower than it is in the US.
Illness. The Stockholm archipelago and forested areas are home to ticks, particularly from March to November. If you visit these areas, use repellent, check yourself for ticks and see a doctor if you start to feel sick.
Weather events. Sweden experiences very cold winters with extremely heavy snowfall, and with it a risk of avalanches, storms, floods and other events. Be aware that avalanches or heavy snowfall may delay public and private transportation, so make sure you give yourself plenty of time to get to the airport.
Activities to add to your policy
Not all activities will be covered by a basic insurance policy. If you plan on doing any of these, check with your insurer to find out if you need to purchase extra coverage:
Boating. Sweden has a renowned seafaring history, and boats are part of the nation's history, culture and tourist scene. But whether you're fishing, riding the ferry or renting a kayak, different insurance requirements may apply.
Diving. Sweden is one of the world's most renowned diving destinations. The cold water preserves wrecks, while the busy waterways and a rich nautical history mean centuries of shipwrecks in remarkable condition can be explored off the coast. Some policies have diving restrictions on depths, certification requirements and equipment.
National park hikes. If you enjoy alpine views, hiking in Sweden could be for you. It's home to hundreds of hiking paths well-used by visitors and locals alike, with jaw-dropping scenery around each corner. Consider trekking or hiking travel insurance and coverage for medical evacuation if needed.
Back to top
Who should I contact in an emergency?
In an emergency, contact:
Your insurer. Your insurer should have a 24/7 helpline clearly written on your policy.
Emergency services. Dial 112 to reach police, fire and ambulance dispatch.
US embassy. If you lose your passport, get into legal trouble or if there's a countrywide emergency, contact the nearest US embassy or consulate.
Tips for traveling in Sweden
As a Western country, a lot of Swedish culture will feel familiar. However, when you're traveling, it's always the little things that catch you off guard. Useful things to know about Sweden include:
Rent a bike. Biking is common, especially in the cities, and is an easy, cost-effective and convenient way of getting around.
Don't look for wine at the grocery store. The only place to get alcohol stronger than 3.5% is a government-owned liquor store called Systembolaget.
Do the islands. There are about 24,000 islands in the Stockholm archipelago alone, and countless sights to see.
Travel off the beaten path. Parts of Sweden are far enough north that you can experience a midnight sun or take in the northern lights. If you're interested, plan for these in advance rather than hoping to see them.
Get a rail pass. If you want to cover large parts of Sweden on a budget, or want to have the freedom to just up and go without planning your travel in advance, a rail pass is your best bet.
Local buses don't accept cash. You'll need a prepaid bus pass.
Taxis are unregulated in Sweden. Drivers are free to charge whatever they want, so look for price signs in cab windows for an idea of the cost.
Bottom line
Whether you're looking to stroll down the streets of Stockholm on a warm summer day or bundle up and head north for a winter expedition to see the Northern Lights at their most stunning, Sweden's diverse landscape means that it has a lot to offer. However, even one of the world's safest countries can't protect your bank account if you get hurt or your suitcase, with your laptop still in it, never makes it to baggage claim. Before you pack your bags, pack the most important thing — travel insurance for Sweden to make sure your vacation is memorable for all the right reasons.
FAQs
Back to top