Finder is committed to editorial independence. While we receive compensation when you click links to partners, they do not influence our opinions or reviews. Learn how we make money.
Travel insurance for South America
Protect your adventures from Argentina to Venezuela.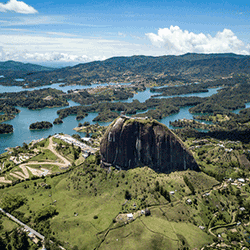 From the mysterious ruins of the ancient Incas to the sandy beaches of Rio de Janeiro, the sights and experiences across South American make it one of the most exciting places to vacation. But to prevent that trip of your dreams from turning into an unexpected financial nightmare, look into a comprehensive travel insurance policy.
Compare travel insurance plans
Why travel insurance for South America is essential
Most of South America is generally safe for tourists. But across its dozen or so countries and territories, you're likely to encounter risks that travel insurance covers:
High altitudes. Some of the most beautiful sites of South America, like the Inca Trail, are synonymous with altitude sickness, which might result in a doctor visit.
Malaria and other infections. In tropical regions like the Amazon, you have a high risk of catching mosquito-borne malaria. The humid climate also increases your risk of catching the flu and other viruses.
Pickpockets and theft. Many South American countries are impoverished, which can sometimes mean a higher risk of people trying to part you from your possessions.
Drugs and crime. South America has a long history of drug trade in countries like Columbia and Bolivia. Police investigations can close down hotels and create long lines at the airport, leaving you with a last-minute change of plans.
Adventure activities. South America's vast, diverse landscape is perfect for adventure activities like hiking and paragliding.
What does travel insurance cover?
Travel insurance offers you financial protection against a whole host of common travel risks in South America:
Medical emergencies. Covers medicine, hospital stays, emergency surgery and even medical evacuations.
Cancellation fees and lost deposits. Covers costs that arise when unforeseen circumstances force you to cancel your trip.
Lost or stolen luggage. Covers bags that aren't able to find their way home between and on flights.
Theft of cash and travel documents. Provides you with money and assistance with replacements.
Personal liability. Cover damaged rental equipment or property that you accidentally damage.
Flight delays. Helps with the cost of new tickets to get you where you're looking to go.
What doesn't travel insurance cover?
The following exclusions typically apply to most travel insurance policies:
Pre-existing medical conditions not covered on your policy.
Visits to a country against a US Department of State travel advisory.
Illnesses from epidemics, pandemics or STDs.
Complications from pregnancy or childbirth.
Irresponsibility, such as leaving your luggage unattended in a public place.
Accidents while you're under the influence of alcohol or drugs.
Intentional self-inflicted injuries or attempted suicide.
Illegal or unlawful activities.
A government authority detaining, confiscating or destroying anything.
Working while in South America.
What adventurous activities require extra coverage?
Riskier activities aren't automatically covered, which means you might need an add-on for:
Biking Bolivia's Death Road. An estimated 300 people a year die on the world's most dangerous road, but it's still a major bucket-list item for many adventurous cyclists.
Hiking Perito Moreno. This enormous and mysterious glacier in Argentina is a stunning hike.
Canoeing in the Bolivian Pampas. The rivers in this area teem with caiman, piranhas and giant anacondas.
Jungle trekking on an Amazon survival tour.

Actively searching out anacondas, jaguars, piranhas, poison dart frogs and vampire bats won't be covered by a basic policy.

Climbing Nevado Ojos del Salado in the Andes. The world's highest active volcano sits at

22,615 feet in elevation.

Diving with sharks in Atol das Rocas, Brazil. An adrenaline-pumping activity where you dive into shark-infested waters.
Case study: Chilean ACL surgery
Michael was approaching the last few weeks of his three-month trip around South America when he set to sandboarding on the infamous Valle de la Muerte dunes.
Carving up the dunes in style, he hurt his knee trying to land a trick. He was rushed to the closest hospital, where he learns he's severely torn a ligament. One of the hospital's top surgeons was able to fix his ACL the next day, preventing any permanent damage.
On crutches and pain killers, Michael called his travel insurance company from the hospital. To his surprise, Michael reached help immediately to explain his situation.
Because Michael had purchased extra coverage for extreme sports, his insurance covered the more than $16,000 bill for:
Ambulance
Surgery
Anesthetist
Hospital stay
Medications
Transportation from the hospital to the airport
A later flight home
Upgrade to business class for extra leg room
The benefits of backpacker insurance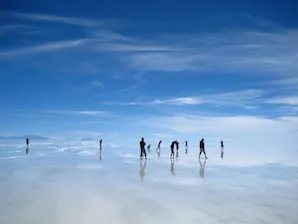 Travel insurance offers several unique benefits tailored to independent travel:
Coverage for up to 18 months. Continuous coverage is great if you plan backpack over the whole of South America.
Wider region coverage. You won't have arrange a policy for each country you plan to visit in South America.
Designed for workers. Your policy may include coverage for while you're working abroad.
Covers select risky activities. You're protected while taking part in adventure popular with younger travelers that aren't usually covered by basic insurance.
Back to top
If something goes wrong, what do I need to make a claim?
If you need to submit a claim, start by getting everything in writing — including contracts with tour operators or adventure activity:
Collect all documents. Including police reports, details of your tour company, airline or hotel, receipts for belongings and medical bills. If your wallet is stolen, you'll need a police report and a receipt or picture of your wallet.
Contact your insurer. Provide all the details of the incident, submitting the claims form along with all related supporting documents.
Request upfront payment, if needed. Some medical emergency cases require immediate payment from your insurer.
Carefully read the fine print. Check your policy for exclusions to make sure you're covered, and read through your policy's appeals process if your claim is denied.
Tips for purchasing travel insurance for South America
South America is a popular destination, so you shouldn't have trouble finding a policy to meet your needs. But take steps to protect yourself:
Be wary of buying a policy from a travel insurance agent. You might save a commission by buying directly from an insurer online.
Compare your options. Weight quotes and benefits from several companies to get the best policy you're eligible for.
Consider the coverage you need. If you're visiting a dangerous area or want to try a new sport, buy an add-on.

Read the terms and conditions.

Look into the benefits and limits that apply to each option, paying close attention to any exclusions.
Travel Accident Coverage : up to $50,000
Pre-Existing Medical Condition : Available
Concierge : Included
Customizable coverage that can give you peace of mind when traveling to popular or remote destinations.
Common South American travel scams
In South America and many other parts of the world, you'll want to keep your head up to scams that include:
Fake or dishonest taxi drivers. Look for legitimate taxi drivers before you set off. You may need to agree on a price beforehand and familiarize yourself with the best route to protect yourself from unnecessary high costs or long journeys.
Fake police officers. Be wary of scammers posing as police officers who try to swindle you out of your money — or worse.
Passport checks. Keep an eye on your passport, especially when handing it over at border crossings.
Hotel price changes. Get the price of the hotel room in writing at the time of booking to prevent dodgy operators from claiming you "misheard" the rate over the phone.
Extra items on your bill. Scrutinize your receipts when eating out to avoid paying more than you need to.
Locals who want to practice English. It starts with a friendly approach but can quickly turn into a sob story about poverty and increasingly aggressive pleas for money.
Who do I contact in an emergency?
If you find yourself in an emergency in South America, helpful contacts include:
Your travel insurer. Call your provider's 24/7 helpline for claims and medical emergencies.
Embassies and consulates. Get help with passport replacement and countrywide advisories.
South America travel tips
So you've booked and paid for your South American adventure and now can't wait to head off on your journey. Here's a few things to know before jumping on your plane:
Buses are often the best way to get around. Domestic flights are expensive in South America. Look to public ground transportation to save money when seeing the sights.
Don't try and see it all at once. South America is a big continent with so much to see and do. Unless you're planning an extended stay, don't pack too much into one trip. If you do visit more than one country, make sure to clear it with your insurer before you leave.
Learn Spanish. To broaden your horizons, consider Spanish lessons before you arrive. It'll make it a whole lot easier to get around and interact with locals.
Keep a credit card separate. Carrying money and a card in a different pocket can be a lifesaver if your wallet is stolen.
Scan your important travel documents. Keep all your files on a USB drive and backed up online.
Get necessary vaccinations. If you get sick from something you could have prevented, your insurer may not cover you.
Bottom line
South America is a rich and diverse continent with so much to explore. You can spend a week lounging on the beaches of Brazil or a year backpacking across the continent on a quest to climb as many mountains as possible. A travel insurance policy can help keep you — and your wallet — safe from any misadventures.
Frequently asked questions
Back to top
Picture: Shutterstock
More guides on Finder