Finder is committed to editorial independence. While we receive compensation when you click links to partners, they do not influence our opinions or reviews. Learn how we make money.
Travel insurance for Malaysia
From the peak of Kinabalu to the streets of Kuala Lumpur, protect yourself on your Malaysian getaway.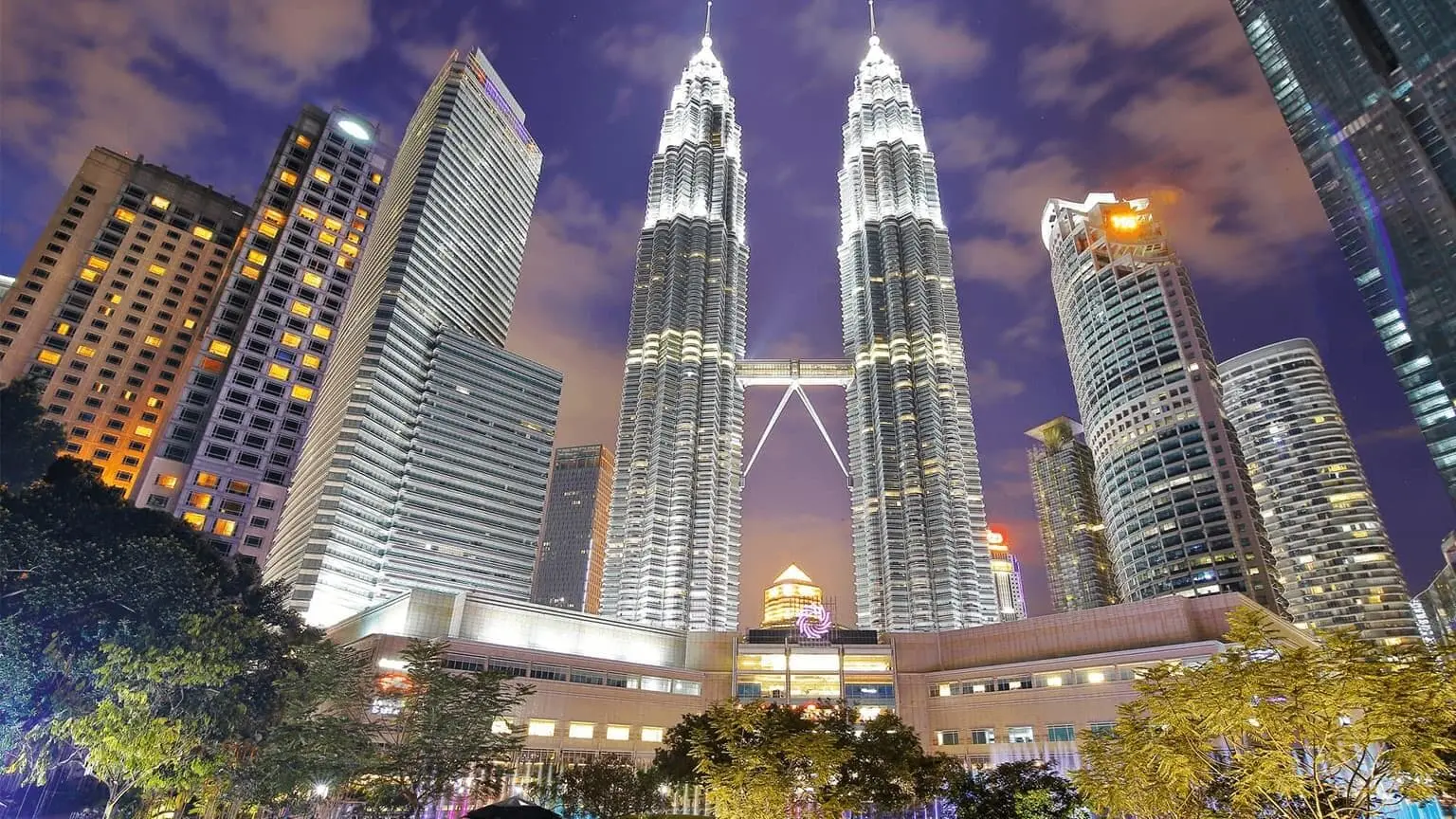 Malaysians are known for their hospitality and engaging charm, and with the country's jaw-dropping beauty and diverse culture, there are a lot of visitors to charm. From the spires of the capital city to the lush forests across the country, this isn't a destination where you'll have a chance to get bored. Before you hop on a plane for your adventure, consider getting comprehensive travel insurance for Malaysia so that you can relax knowing you're covered if you run into any mishaps.
Compare travel insurance plans
What does travel insurance for Malaysia cover?
Areas of coverage vary from policy to policy, but the most important things to get covered for when visiting Malaysia are:
Emergency medical assistance. Even the most bare-bones policy needs to include coverage for any injuries or illnesses that occur while you're overseas, including ambulance fees, hospital expenses and medications. More comprehensive policies will include coverage for medical evacuation and repatriation, which means your insurer will pay to fly you to a major hospital if needed or even back to the US.
Travel delays. If you get stuck in Malaysia longer than expected due to bad weather, an illness or injury or a canceled flight, your insurer can cover the cost of extra hotel nights, flight changes and lost deposits or cancellation fees if you're headed on to another destination.
Lost or stolen belongings. If your luggage never makes it to baggage claim or your wallet is stolen on the way to the hotel, your insurer can reimburse you. Some policies will also include coverage for delayed baggage so that you can pick up toiletries and clothes to hold you over until your suitcase arrives.
Cancellations. If your trip gets canceled for reasons outside of your control, your insurer can reimburse you for any nonrefundable costs.
What doesn't travel insurance cover?
Exclusions vary from policy to policy, but common reasons for a claim to be denied include:
Irresponsible behavior. This can range from leaving your luggage unattended in a public area, such as on the sidewalk outside while you go into a shop, to cliff diving off an obviously too-high cliff. If an insurer can argue that you weren't taking reasonable precautions, they can deny your claim.
Inebriation. If you injure yourself or someone else while drunk or on drugs not prescribed by your doctor, your insurer can refuse to cover the cost.
Pre-existing conditions. If you get sick due to a pre-existing condition not included in your policy, your insurer can deny the claim. Make sure to declare any conditions before purchasing a policy and find out if you can get coverage.
Traveling to an unsafe area. If you get sick or injured while traveling to a country that the US Department of State has issued an advisory against, your claim can be denied.
Risks of traveling to Malaysia
A trip to Malaysia is generally safe, as the country is secure and the locals pleasant and welcoming. That being said, no destination is completely risk-free. Concerns to watch out for when visiting Malaysia include:
Health concerns. Malaria, dengue fever and Zika are all prevalent in the country. Wear long sleeves, use repellent and reconsider traveling to Malaysia if you're pregnant. Hepatitis A and B are also quite common, so get up to date on your vaccines before leaving and see a doctor immediately if you start to feel sick.
Kidnapping. Incidents of kidnapping tourists for ransom have been reported in the eastern area of Sabah State, particularly near resorts. It's advised that you avoid traveling there if possible.
Street crime. Be cautious of street crime as there may be incidents of bag snatching, scams and pickpocketing, especially in major cities. Stay alert, avoid traveling alone when possible and refrain from displaying conspicuous wealth.
Fun activities to get covered for
Malaysia is a popular destination for people who love the outdoors, and it has a lot to explore. However, if you plan on venturing outside of the cities, make sure that your travel insurance will cover you. Favorite things to do include:
Cameron Highlands. One of the major tourist attractions in Malaysia is the Cameron Highlands, which is renowned for its trails, forests and waterfalls. Check with your travel insurer to make sure your policy covers hiking injuries before hitting the trails.
Taman Negara. Nature lovers can also enjoy the Taman Negara, which is one of the oldest tropical rainforests in East Asia. This national park has the world's longest canopy walks and visitors can partake in jungle treks and view Asian elephants and tigers.
Langkawi. Perhaps the most heavily promoted tourist destination in Malaysia is Langkawi, an archipelago of 99 islands situated in the Andaman Sea. The islands are fringed with long, sandy beaches and craggy mountain peaks and boasts an interior of jungle-covered hills. If you plan to visit these islands, it's a good idea to have coverage for medical evacuation in case you need to be flown to a hospital.
Mulu Caves. If you're in need of a little adventure, a visit to the Mulu caves in the Gunung Mulu National Park is guaranteed to captivate you. Tourists can explore the largest cave chamber in the world. Check your policy to see if you're covered for this activity

— some insurers will require you to add this on.
Back to top
Tips for visiting Malaysia
When traveling to Malaysia:
Prepare for the weather. Malaysia is mostly hot and humid, so pack light clothes and be prepared for sudden rain, especially if you're travelling between April to May and October to November.
Follow local etiquette. Remember to remove your shoes if you're invited to a local home or when visiting a place of worship. You should also handle food with your right hand and never point your foot at someone.
Take a tour. In order to get the most out of your Malaysian getaway, book a tour with a well-known sightseeing provider. While this may seem like a "touristy" thing to do, it is one of the best ways to find your way around a new city.
Get to know the locals. Malaysians are generally very friendly, so do not be surprised if locals strike up a conversation with you on the streets or on a bus

—

try to enjoy your time, talk to the local people and learn more about their culture.
Learn Malay. While many locals will speak at least some English, learning a few words of the native language will go a long way toward making a good impression.
Get more travel tips for your upcoming vacation
Who do I contact in an emergency?
If you find yourself in an emergency in Malaysia, some helpful contacts include:
Your travel insurer. Your insurance provider will have a 24/7 helpline that can offer advice, help you find a doctor and guide you through the process of filing a claim.
National emergency hotline. You can reach this service by dialing 999.
US embassy. If you lose your passport, get into legal trouble or if there's a countrywide emergency, contact the nearest US embassy.
6 steps to choosing a policy
When choosing travel insurance for Malaysia, ask yourself these six questions:
Where in Malaysia are you going? Understand the risks that are present in different parts of Malaysia.
How many times will you travel this year? Consider an annual multi-trip policy if you travel regularly. Some companies, such as Allianz, offer policies that will cover you almost anywhere in the world.
What activities in Malaysia will you take part in? If you plan to go hiking, spelunking, diving or anything else heart-pounding, look for a policy that covers adventurous activities.
Are you taking valuable items? If you're bringing anything expensive, like photography equipment, check if the limit on your policy is high enough to replace it if something happens.
Do you have any medical conditions? Make you declare any pre-existing medical conditions and pay for any extra coverage necessary.
Do you prefer paying more up front or only when you have to claim? Look at both the price of the policy and what deductibles and copays you might need to pay.
Bottom line
Traveling overseas can be expensive, but if you're lucky enough to be able to explore the world, there are so many cultures to experience and amazing things to see — and Malaysia is bursting with both beauty and culture. Before you pack your bags, don't forget to pack the most important thing — a travel insurance policy to make sure that a hiking mishap or a bite from a diseased mosquito doesn't leave you in so much debt that this trip is your last.
Frequently asked questions
Back to top