Finder is committed to editorial independence. While we receive compensation when you click links to partners, they do not influence our opinions or reviews. Learn how we make money.
Travel insurance for Norway
From watching the northern lights to skiing through powder, protect yourself on your trip to Norway.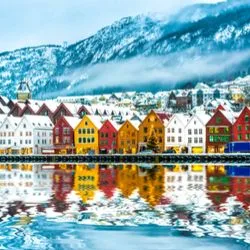 Norway is a one-of-a-kind destination with some of the most awe-inspiring landscapes in the world, offering breathtaking hiking and photography. And with some of the best snow resorts in Europe, if not the world, skiing and snowboarding are just a couple of the activities drawing in travelers in the winter, too. While the country has a reputation for being pretty safe, that doesn't mean it's risk-free. Pick up a comprehensive travel insurance policy before you leave to keep yourself, and your bank account, safe on your trip.
Compare travel insurance plans
What does travel insurance cover?
Areas of coverage vary from policy to policy, but the most important things to get covered for when visiting Norway include:
Emergency medical assistance. Even the most bare-bones policy needs to include coverage for any injuries or illnesses that occur while you're overseas, including ambulance fees, hospital expenses and medications. Comprehensive policies will also include coverage for medical evacuation and repatriation, which means your insurer will pay to fly you to a major hospital if needed or even back to the US.
Travel delays. If you get stuck in Norway longer than expected due to bad weather, an illness or injury or a canceled flight, your insurer can cover the cost of extra hotel nights, flight changes and lost deposits or cancellation fees if you're headed on to another destination.
Lost or stolen belongings. If your luggage never makes it on the carousel or your wallet is stolen on the way to the hotel, your insurer can reimburse you. Some policies will also include coverage for delayed baggage so that you can pick up toiletries and clothes to hold you over until your suitcase arrives.
Cancellations. If your trip gets canceled for reasons outside of your control, your insurer can reimburse you for any nonrefundable costs.
What doesn't travel insurance cover?
Each policy is unique, but common reasons for a claim to be denied include:
Irresponsible behavior. This can range from leaving your luggage unattended in a public area, such as on the sidewalk outside while you go into a shop, to ignoring posted warnings. If an insurer can argue that you weren't taking sensible precautions to keep yourself and your belongings safe, they can deny your claim.
Inebriation. If you injure yourself or someone else while drunk or on drugs not prescribed by your doctor, your insurer can refuse to cover the cost.
Pre-existing conditions. If you get sick due to a pre-existing condition not included in your policy, your insurer can deny the claim. Make sure to declare any conditions before purchasing a policy and find out if you can get coverage.
Traveling to an unsafe area. If you get sick or injured while traveling to a country that the US Department of State has issued an advisory against, your claim can be denied.
Top travel concerns for Norway
Norway is a very well-developed and safe nation. However, as a traveler in a foreign country, you still need to watch out for certain hazards, including:
Border controls. Events in 2016 and preceding years have led to heightened border security in Norway. Carry your passport when crossing borders and monitor local media for up-to-date information on border crossings. Allot extra time to get through if you're entering or leaving the country on land.
Crime.

Norway has a very low risk of serious crime, but bag snatchers and pickpockets are becoming more of a concern, especially during the peak tourist season of May to September.

Avoid walking alone in isolated locations, particularly at night, and don't keep your wallet in your back pocket.
Snow and ice. Norwegian roads can get dangerously icy. Winter tires are mandatory in Norway from November to April, headlights must be on at all times throughout the year and you are advised to carry snow chains if you plan on driving in the mountains. Roads in rural areas can be narrow and winding, so it's a good idea to avoid driving in rural areas at night if possible.
Avalanches. Landslides, rockslides and avalanches can be a danger if you're near the mountains. Keep an eye on local weather reports.
Activities to add to your policy
Get the most of out your Norwegian adventure by taking in everything the country has to offer — but make sure you're covered first. A basic policy might not include riskier activities, so check with your insurer if you plan to go: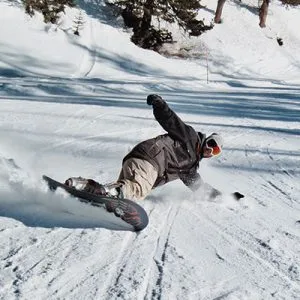 Skiing or snowboarding. Did you sign up for extra coverage for skiing or snowboarding? It not only protects you in the event of injury but can also help cover lost or stolen gear, missing tickets, bad weather refunds and more. It may be worth taking out additional coverage if you plan to hit the slopes.
Mountain climbing. Norway is a global mountaineering destination thanks to a combination of stunning views and terrain to satisfy climbers of any skill level. Conditions can vary between providers for travel insurance for climbing, so you might need to add this one on.
Fishing. Norway is one of very few places in the world that's worth visiting just to go fishing. This is because it has a remarkable combination of rich, cold oceans, numerous freshwater rivers and lakes and ice fishing. Many travel insurance policies will cover angling in general, but if you're going on a boat you might need extra coverage. Most insurers won't cover ice-hole fishing.
Hiking. Norway offers hiking trails with breathtaking views. Some insurers will impose altitude limits or require you to stay on trail, so it's a good idea to see how you're covered before you make plans.
Back to top
Who do I contact in an emergency?
In the event of an emergency, contact:
Your airline. For flight issues, your airline will be your best first point of contact.
Your travel insurer. Your travel insurer should have the number for a 24/7 helpline clearly printed on your policy.
Police. Dial 112 to reach police while in Norway.
Ambulance. Dial 113 in a medical emergency.
US embassy. If you lose your passport, get into legal trouble or if there's a countrywide emergency, contact the nearest US embassy or consulate.
Tips for traveling in Norway
As a Western culture, much of Norway will feel familiar. However, it's always the little things that take you by surprise. To make the most of your vacation:
Learn Norwegian. While many Norwegians will know at least some English, it'll go a long way toward fitting in with the locals if you learn at least a few words in the native tongue.
Rent a car. The long distances and irregular schedules in rural areas mean public transportation is not a reliable way to cover ground in Norway.
Don't assume cities are the main attractions. Many visitors orient their itinerary around trips between cities, like one would in most countries. This doesn't work as well in Norway where the wildlife, scenery and land itself are the main event. Scenic detours are often well worth it in Norway.
Be sensitive to cultural differences. If it seems like the locals are unfriendly, remember that Norwegians have a reputation for being more reserved than you might be used to. There also isn't as big a tradition of small talk as elsewhere.
Bottom line
Whether you're chasing the Northern Lights or just chasing down a bus in downtown Oslo, Norway is a stunning vacation destination with so much to offer. Before you pack your bags, don't forget to pack the most important thing — a travel insurance policy to make sure the only things you bring home are photographs and memories.
Frequently asked questions
Picture: Shutterstock
Back to top