Finder is committed to editorial independence. While we receive compensation when you click links to partners, they do not influence our opinions or reviews. Learn how we make money.
Travel insurance for China
Protect yourself on your Asian adventure.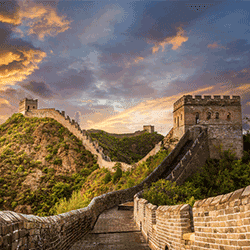 As the third largest country in the world, China is bursting at the seams with an incredibly rich history, a range of sights to take in — including one of the seven wonders of the world — and, of course, delicious local cuisine. Before you pack your bags, don't forget to pack the most important thing — a travel insurance policy to keep you, and your bank account, safe on the adventure.
Travel Accident Coverage : up to $50,000
Pre-Existing Medical Condition : Available
Concierge : Included
Customizable coverage that can give you peace of mind when traveling to popular or remote destinations.
Compare travel insurance plans
Do I need travel insurance for China?
No matter where you are in the world, if you're traveling in a foreign country you should have travel insurance. While China is a fascinating place, it is also a highly populated country with over a billion people. Supply often falls short of demands and the quality of life can differ hugely between the metropolis of major cities and that of a rural farming community in the inner depths of mainland China.
Whether you plan to travel via bike across the countryside or join the masses in Beijing, accidents in foreign countries can be pricey, and an emergency evacuation even more expensive. Add to that the fact that you could lose or damage your invaluable luggage and personal items, find out that your hotel has been canceled last minute or be left to wait overnight for a delayed flight, and you will notice that your pockets feel a lot more shallow by the time your trip is complete.
By having a comprehensive travel insurance for China, you and your loved ones can rest easy before and during your exciting adventure knowing that you won't be left alone to deal with the situation at hand if any unexpected mishaps were to occur.
Is it safe to travel to China?
China is a tourist-friendly country with over 100 million tourists visiting its cities and towns per year. By and large, traveling in China is safe, but as with every other country, you should practice general common sense and exercise caution.
As a foreigner in China, you may be targeted for petty crimes such as pickpocketing and scams. By being alert to your surroundings and not carrying expensive watches, jewelry, cameras or large wads of cash, you can prevent yourself from being a tempting target for thieves.
With a combination of common sense, alert senses and comprehensive travel insurance, China remains a highly safe destination for travelers.
Do I need any vaccinations before going?
To find out what vaccinations you will need to visit China, you should see your doctor well ahead of time, as some vaccinations must be given 4 to 6 weeks prior to departure. As well as making sure your routine vaccinations are up to date, your doctor may recommend shots for:
Typhoid
Hepatitis A and B
Rabies
Japanese encephalitis
Tick-borne encephalitis
Malaria medicine if applicable
What should I look for in a policy when getting travel insurance for China?
While there are a lot of travel insurance brands out there and they will offer differing amounts of coverage, some common features will include:
Overseas emergency medical coverage. This benefit covers you for costs such as hospitalizations, emergency surgery and medications.
Cancellation fees and lost deposits. If an unexpected circumstance forces you to cancel your trip, such as an injury or accident, your insurer can cover the cost.
Luggage and personal effects. If your items are lost, damaged or stolen, your insurer can reimburse you. Some policies will also pay for emergency clothes and toiletries if your luggage is delayed.
Accidental death. If you pass away from an injury suffered on your trip, this benefit will be paid out to your family.
Personal liability. This benefit covers you for legal expenses if you accidentally injure someone or damage property.
24/7 worldwide assistance. Make sure the policy offers 24/7 worldwide assistance so that you're never left alone without help in an emergency, no matter where in the world you are.
Back to top
China travel tips
China is a land still largely undiscovered by tourists despite the high number of travelers because there is such a vast range of cultures scattered throughout the cities and communities. Culture shock is a common shared experience, but preparation is key, so here are some tips:
Saving face. The Chinese are extremely concerned about their image or reputation. The locals may not always say what they mean in fear that they will insult you and cause you to "lose face." You should reciprocate the same manners and never embarrass the Chinese in public. Be alert to body language to read what they really mean.
Taxis. Taxis are often used by travelers for their convenience and cheap prices. However, don't be lured into a false sense of security and always use a taxi with a meter to avoid scams and unnecessary arguments.
Eating. It is common practice to raise your bowl of food to your lips and push the food in with chopsticks. Have fun testing out your chopstick skills and letting your normal table manners fade for a while.
Who do I contact in an emergency?
If you find yourself in an emergency in the China, some helpful contacts include:
Your travel insurer. Their 24/7 helpline should be clearly displayed on your policy.
Police. Dial 110 to reach police dispatch.
Medical help. Dial 120 in a medical emergency.
US embassy or consulate. If you lose your passport, get into legal trouble or if there's a countrywide emergency, contact the nearest US embassy or consulate.
Bottom line
You've booked your incredible journey across the giant of Asia and are excited to explore all that this fascinating country and culture have to offer. By getting travel insurance for China, you'll be well equipped to get adventurous during your travels by knowing that you're covered for any mishaps on your journey abroad.
Frequently asked questions
Back to top
More guides on Finder