Finder is committed to editorial independence. While we receive compensation when you click links to partners, they do not influence our opinions or reviews. Learn how we make money.
Travel insurance for Fiji
From surfing the swells to basking on the beach, get ready for your Fijian vacation.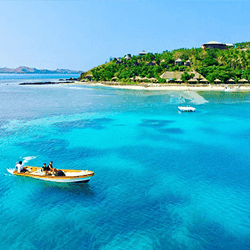 Beautiful beaches, crystal-clear lagoons and heart-pounding waves to surf make Fiji one of the world's ultimate vacation spots. Before you pack your bags, pick up a comprehensive travel insurance policy to keep yourself — and your bank account — safe from island misadventures.
Compare travel insurance plans
What does travel insurance cover?
Fiji is a beautiful country to visit, luring in thousands of tourists every year. While considered to be a low-risk destination, there are certain risks you face when traveling, no matter how safe the destination:
Medical emergencies. If you get sick or injured while traveling, medical bills can quickly rise into the thousands if you aren't insured.
Lost or stolen belongings. If your luggage is lost or your wallet is snatched by a thief, your insurer can reimburse you.
Trip cancellations or delays. Last-minute flight changes, hotel stays for an extra night or two while planes are grounded and lost deposits or cancellation fees can get expensive. An insurance policy will reimburse you for unexpected plan changes.
What doesn't travel insurance cover?
Your travel insurer expects you to act responsibly while traveling, and neglecting to do so means that your claim can be denied:
Ignoring government warnings. If you travel to an area that the US Department of State has issued an advisory against, your claim can be denied.
Getting drunk. If you injure yourself or someone else while drunk or on drugs not prescribed by a doctor, your claim can be denied.
Acting recklessly. If you intentionally put yourself in danger — for example, by harassing local wildlife — your claim can be denied.
Dangerous activities not included on your policy. If you plan to go scuba diving, bungee jumping, or hiking, check with your insurer before you leave to make sure you're covered. Some policies will require you to purchase extra coverage for risky activities.
What are some travel risks I should look out for in Fiji?
While Fiji is generally safe, there are a few concerns you need to be aware of:
Theft. Tourists are targets for thieves, even in the safest of areas. If your wallet disappears or your valuables are taken from your hotel room, having travel insurance means you can be reimbursed for your losses.
Mosquitoes. Fiji is a high-risk area for mosquito-borne illnesses such as dengue fever. If you fall ill while on vacation, your travel insurance policy will make sure that you're able to get the medical care you need.
Weather. November to April is cyclone season. If you book a vacation during this time, there's a high probability that heavy rains and winds could cause delays in your travel plans. Insurance for trip cancellations or delays is highly recommended if you're visiting during cyclone season.
Back to top
Fiji travel tips
The volcanic islands of Fiji make for an exotic vacation spot. You can easily find inexpensive lodging and food, provided you're on one of the main islands such as Viti Levu. When making plans for a day trip to a more remote outer island, bring everything you'll need — even basic necessities like food and water will be considerably more expensive in these areas.
Take caution when visiting the capital, Suva. A popular nightclub spot, this area has the highest crime rate in Fiji. Thieves and pickpockets there typically target unsuspecting tourists. For your daytime adventures, Mamanucas has amazing surfing and snorkeling. Also, make time for the Garden of the Sleeping Giant, where you'll find acres of exotic orchids and plants growing.
Who do I contact in an emergency?
If you find yourself in an emergency in Fiji, some of helpful contacts include:
Your travel insurer. Your insurance provider will have a 24/7 helpline for claims and medical emergencies.
Police. 917.
Fire and ambulance. 911.
Embassies and Consulates. If you lose your passport, get into legal trouble or if there's a countrywide emergency, contact the nearest US embassy or consulate.
Bottom line
From stunning white sand beaches to inland botanical gardens, Fiji is the ultimate place to relax. Unfortunately, like any unfamiliar place, Fiji has its risks. Travel insurance can't keep the mosquitoes in Fiji from biting you, but it will pay for a trip to the doctor to make sure that stomach bug isn't the beginning of dengue fever.
Frequently asked questions about travel to Fiji
Back to top
Related Posts