Finder is committed to editorial independence. While we receive compensation when you click links to partners, they do not influence our opinions or reviews. Learn how we make money.
Travel insurance for Europe
Protect yourself from the unexpected, no matter how far you travel off the beaten path.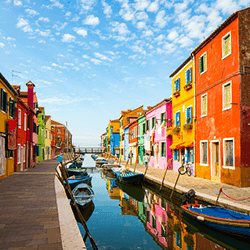 Europe is the third most popular travel destinations for us Americans, just behind our neighbors Mexico and Canada. And for good reason: Many of us descend from ancestors who once lived in France, Spain, Norway or any of the other 47 European countries bursting with history, beauty and adventure.
Whether you plan to explore one country or trek across many, travel insurance can help make sure it goes off without a hitch — and covers you when it doesn't.
Travel Accident Coverage : up to $50,000
Pre-Existing Medical Condition : Available
Concierge : Included
Customizable coverage that can give you peace of mind when traveling to popular or remote destinations.
Compare travel insurance plans
What does travel insurance cover?
Common incidents and occurrences covered by most travel insurance plans include:
Medical treatment. Getting sick in a foreign country can leave you thousands in debt if you're hospitalized. Look for an insurance policy that can cover large medical expenses up front.
Cancellations and delays. Europe is full of small airlines, increasing your chance of delayed or canceled flights between countries. Most insurance policies cover your travel expenses if your flight or train is canceled or late.
Lost or damaged luggage and personal items. Most travel insurance policies cover any loss or damage to your personal items and luggage. Double-check which items are included in your coverage.
Emergency support. From lost luggage to theft or medical emergencies, most insurance providers have someone available 24/7 to help you get you out of a sticky situation.
Death or serious injury. Most insurance providers cover any expenses involved with death or serious injury, potentially saving your family and loved ones from spending thousands of dollars.
What am I not covered for?
Unfortunately, travel insurance doesn't cover bad decisions or lapses in judgment, like:
Riding a motorcycle without a helmet. It's your responsibility to take necessary safety precautions when riding a motorcycle or scooter. If you're injured and are not wearing appropriate protection, your insurance may not cover you.
Undeclared pre-existing medical conditions. If you're hospitalized overseas for a pre-existing medical condition that you didn't tell your insurer about before buying your policy, you won't be covered.
Reckless or unlawful behavior. If you purposely break the law or act irresponsibly, travel insurance won't cover you for legal, medical or damage expenses.
Drugs or alcohol use. Losses incurred while under the influence of drugs or alcohol are rarely covered by insurance.
Leaving your luggage after check-out. If your luggage doesn't make it home because you forgot it at the hotel, travel insurance won't reimburse you.
If in doubt about your coverage, ask your insurer for clarification.
Additional coverage you might need in Europe
Europe is packed with adventurous activities, from skiing in Switzerland to cycling around Italy. But most standard insurance policies don't automatically cover, for example, car rentals or snow equipment.
Depending on your plans, you might need specialized coverage like:
Backpacking insurance. If you plan to see it all on your own two feet, you could find yourself in risky situations. Make sure it's covered.
Snow or ski insurance. Europe boasts some of the best slopes in the world. Many insurers offer skiing or winter sports travel insurance, which covers damage to rented equipment, weather delays or closures, medical expenses, avalanches and evacuations and more.
Car or motorcycle rental insurance. Driving is a convenient way to get around Europe. Car or motorcycle rental insurance covers you for accidents, theft and lost rental deposits. You'll need to be at least 25 years old in many European countries to legally drive, however.
How do I make an insurance claim?
The process for making a claim differs with each provider, but you can typically file a claim online or by phone. You may need to call an emergency phone number or obtain documents to provide proof of the incident.
Set yourself up for claims success by following a few tips before you take off:
Double-check your coverage. Confirm that the dates and countries in your policy cover your actual plans. Clearly detail pre-existing medical conditions to ensure you're covered for them.
Talk to your provider. If you're considering a last-minute adventure, call your insurer to make sure you're covered — or modify your policy, if not.
Document everything. For any incident, accident, flight delay or medical emergency, get written documentation from police, medical staff or airline staff. Providing proof can smooth out the process of submitting a claim.
Take photos. Snap a pic of your luggage before you leave for a record of the items you're taking with you. If they're damaged or lost along the way, you can use the photos as proof.
Who do I contact in an emergency?
If you find yourself in an emergency in Europe, call:
Your travel insurer. Your insurance provider should provide a 24/7 helpline for claims and medical emergencies.
A US embassy or consulate. Your nearest US embassy or consulate can help if you lose your passport or in other emergencies.
Bottom line
From the City of Lights to the Swiss Alps, Europe offers beautiful sights and adventures. Before you set off on your next European trip, pick up a travel insurance policy to protect you from flight cancellations, accidents and other mishaps. That way, you're bound to bring home memories and souvenirs, rather than bills you weren't expecting.
Frequently asked questions
Unfortunately, cancellations and delays can happen quite frequently, especially when travelling to multiple destinations on budget airlines. Make sure you are not out of pocket if you miss a future flight due to other flight or train delays.
Back to top
More guides on finder