Finder is committed to editorial independence. While we receive compensation when you click links to partners, they do not influence our opinions or reviews. Learn how we make money.
Travel insurance for Central America
Protect yourself on your adventure across Central America.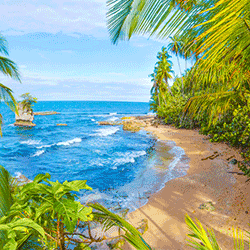 Central America offers a diverse array of experiences for travelers. From scuba diving in Belize to exploring Mayan ruins in Guatemala, it's the adventure of a lifetime. A comprehensive travel insurance policy can help make sure you come home with a lifetime of memories — and not a mountain of debt from a climbing mishap.
Compare travel insurance plans
What does travel insurance cover?
Travel insurance offers financial protection against the specific risks of Central America, as well as common travel mishaps including:
Medical care. Insurance can pay for hospital stays, medication, and evacuation to a high-quality hospital if you're sick or injured somewhere without adequate care.
Lost and stolen items. Your insurer can reimburse you for lost or stolen items including cash, passports and cameras.
Flight delays and cancellations. If your flight is canceled or delayed, your insurer can pay for a new flight, as well as any last-minute changes to accommodations or lost deposits.
What doesn't travel insurance cover?
Travel insurance is there to help you if something goes wrong, but you're expected to have common sense and try to keep yourself safe. Exclusions vary from policy to policy, but there are some common ones:
Leaving your luggage unattended. If you leave your luggage unattended in a public place and it gets stolen, your insurance won't reimburse you.
Getting drunk. If you injure yourself or someone else while you're drunk or on drugs not prescribed by a doctor, you're on your own.
Acting recklessly. If you hurt yourself while acting recklessly, your insurer won't cover you.
Ignoring warnings. If you travel to an area that the US Department of State has issued an advisory against, you won't be covered.
Changing your mind. While your insurer will reimburse you for a canceled trip due to unforeseen circumstances, they won't reimburse you if you just decide not to go.
What travel risks are specific to Central America?
While Central America is generally safe, there are a few risks you need to be aware of. If you get sick or have your belongings stolen, travel insurance can pay for your care or reimburse you:
Health risks. Several months before your planned departure date, speak to your doctor about any vaccinations you may need for the countries you plan on visiting. Vaccinations against malaria, rabies, typhoid, hepatitis and a range of other conditions may also be required.
Zika virus. Protecting yourself against mosquitoes is essential. If you're pregnant, reconsider your need to travel to Central America.
Altitude sickness. Traveling to a high-altitude area? Familiarize yourself with the signs of altitude sickness. Staying hydrated, avoiding strenuous activity and eating small amounts of easily digestible food can help combat the condition. If you start to feel seriously ill, see a doctor immediately.
Petty theft. Stay aware of your surroundings and keep some emergency cash in a separate pocket in case your wallet is stolen. If your luggage, passport or personal belongings are stolen, your comprehensive travel insurance policy can reimburse you.
Case study: Oscar's travel insurance saves the day
Although he's lived in America since he was just a few years old, Oscar stays in regular contact with his grandparents and extended family in El Salvador. Having not seen his grandparents in 10 years, Oscar is thrilled to finally be taking a two-week trip to El Salvador to catch up with his relatives.
But on the second day of his journey, Oscar comes down with a serious case of food poisoning and is hospitalized in San Salvador for two days. Thankfully, Oscar had purchased a comprehensive travel insurance policy before beginning his trip and his insurer covered the full cost of his medical bills. After a few days of recovery, Oscar was ready to continue his long-awaited adventure around El Salvador.
Cost covered by insurance
$2,000 for hospital expenses
$120 for medications
Back to top

What activities should I consider adding to my policy?
While most basic travel insurance policies cover things like medical care, canceled flights and stolen luggage, there are some activities that are considered risky by insurers. These aren't automatically covered, so check with your insurance company if you plan to do some serious adventuring:
Hiking. From trekking in Costa Rica's Tortuguero National Park to climbing any number of spectacular peaks, hiking in Central America is an unforgettable experience. Just remember to check if your insurer imposes a limit on the maximum altitude you can trek to.
Whitewater rafting. If you're planning to go whitewater rafting in Costa Rica, Panama or Belize, check the maximum grade of rapids your insurer will allow you to explore.
Scuba diving. Planning on exploring one of the many spectacular dive sites off the Central American coast? Check your policy for the maximum dive depth and if your insurer requires you to dive with a licensed instructor.
Horseback riding. Horseback riding tours are popular in several Central American countries, so see if it's automatically included in your policy or if you need to purchase extra insurance.
If something goes wrong while I'm in Central America, how do I make a claim?
If you need to make a claim on your travel insurance policy, notify the insurer as soon as possible. This can usually be done over the phone or by filling out an online claim form.
Provide the necessary documentation
Your insurance provider will let you know what you need to do next and provide details of any supporting documentation you may need. This could include police reports, medical certificates and receipts.
It's a good idea to take a picture of the inside of your suitcase before leaving so you have evidence of what you brought. If anything is stolen, contact local authorities and get a copy of the police report.
Have your travel insurance details ready in medical emergencies
Depending on which country you're in, a hospital may require confirmation that your insurer will cover your medical expenses before offering you treatment.
Who do I contact in an emergency?
Emergency numbers. Save these in your phone before you leave.
Country
Emergency services
Belize

Police, Fire and Ambulance: 911

Costa Rica
El Salvador

Police, Fire and Ambulance: 911

Nicaragua

Police: 118
Ambulance: 128 (911 from a cell phone)
Fire: 115

Guatemala

Police, Fire and Ambulance: 110-123-120

Honduras

COPECO (Emergency Response): 2234 5944
Police: 2237-1400

Panama

Police:104
Fire: 103
Ambulance: 911
Tourist police: 511 9260
Your travel insurance provider. They can help with anything from lost baggage to travel delays.
Embassies or consulates. If you lose your passport or if they's a countrywide emergency, contact the nearest US consulate or embassy.
Common scams in Central America
Taxis. From a "broken" taxi meter to unlicensed cabs, there are plenty of scams to be wary of when catching a cab in Central America. Your best bet is to use a licensed operator or, better yet, arrange private transportation.
Tourist tax. When unscrupulous shop owners and stall holders see a tourist coming, they automatically jack their prices up three or four times the usual rate. Don't be afraid to haggle for a better price.
The helpful local scam. Be wary when you're approached by a seemingly helpful local at any sort of tourist attraction. This approach can be a lead-in to any number of other scams, from the offer of cheap accommodations to a demand for payment after giving you a guided tour.
Five steps to selecting travel insurance
Decide where you're going. Make sure you're covered for every country on your itinerary.
Figure out your plan. Make sure you're covered for any riskier activities.
Set a budget. If you're on a tight budget, prioritize what types of coverage you need. Medical should be considered a top priority.
Declare any pre-existing conditions. If you have a pre-existing medical condition, notify your insurer and find out if you're covered.
Compare your options. The final step in the process is to compare the benefits, features, limits and exclusions of a range of policies. Obtain multiple quotes and see which policy offers the best combination of quality coverage and value.
Bottom line
Hiking volcanoes in Nicaragua. Tanning on the beach in Costa Rica. Indeed, Central America is a vacationer's dream. But don't let an unexpected mishap turn your travel dream into a nightmare — pick up a travel insurance policy to make sure that all you bring back are memories.
Frequently asked questions
Back to top
More guides on Finder