Finder is committed to editorial independence. While we receive compensation when you click links to partners, they do not influence our opinions or reviews. Learn how we make money.
Travel insurance for Canada
Protect yourself against potential mishaps on your trip to the Great White North.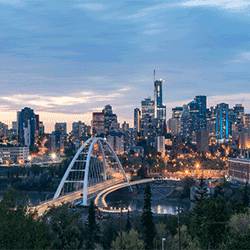 A trip to Canada offers stunning Rocky Mountain hikes, skiing the slopes of Whistler and traversing the cobblestone streets of Old Montreal. Not to mention the potential for missed flights, lost luggage or mid-trip injuries along the way.
While Canada boasts robust national health care, Americans are generally exempt. That's where travel insurance can help. With travel insurance becoming more affordable, picking up a policy should be a no-brainer.
Compare travel insurance plans
What does travel insurance cover?
Protections vary by how much you're willing to pay, but common protections in your policy might include:
Overseas emergency medical coverage.
Cancellation fees and lost deposits if your trip is canceled or rescheduled.
Luggage and personal items that are lost, damaged or stolen.
Delayed luggage.
Accommodations resulting from a travel delay.
Accidental death.
Personal liability and related legal expenses.
24/7 worldwide assistance so you're never without help in an emergency.
What isn't covered?
Comprehensive travel insurance is effectively worthless if your insurer ultimately rejects your claims. As with any insurance, look out for exclusions that include:
Ignoring travel warning advisories from the US Department of State.
Leaving your luggage without supervision in a public place.
Taking drugs other than those prescribed to you by a medical practitioner.
Forgetting to tell your insurer about preexisting medical conditions before starting your policy.
Acting illegally or unlawfully.
Participating in high-risk adventure sports or activities without making sure they're covered.
Is travel insurance required for longer stays?
Not as long as you have health insurance. Health insurance is required for select Canadian visas, including those allowing longer stays or work permits. On entering Canada, you're asked to show proof of your health insurance for the entire duration of your intended stay. If you intend to stay for two years but have only enough insurance for one year, you'll receive a visa for 12 months only.
But can't I just take advantage of cheap insurance when I get there?
No. Canada's universal health coverage is for Canadian citizens and lawful residents only.
Comprehensive travel insurance typically includes evacuation and repatriation coverage — which means if you fall seriously ill or suffer an injury that requires a flight home, your insurance covers the cost. Not to mention other benefits, like coverage for damaged luggage and cancellations.
Winter sports travel insurance
Canada is a top destination for skiing enthusiasts, offering a choice of marked runs, alpine bowls and glaciers in multiple provinces. But before you pack your snow gear and rush to carve down your favorite mountains, consider what you'd do if you wiped out on a slope.
A ski insurance policy could save you multiple headaches and your hard-earned savings with coverage for:
Medical treatment.
Emergency rescue.
Luggage and ski equipment.
Ski pack reimbursement.
Piste closures.
Bad weather and avalanche closures.
Back to top
Who do I contact in an emergency?
If you find yourself in an emergency in Canada, helpful contacts include:
Your travel insurer. Your provider should support an 24/7 helpline for claims and medical emergencies.
Police, fire, ambulance and mountain rescue. Reach emergency services by dialing 911.
Embassies and consulates. Find the contact details of American embassies and consulates below.
Tips for traveling Canada
Canada is a beautiful country. But its large size and countless sights to take in, it can feel a little overwhelming. Luckily, the locals are known for their friendliness and English is one of its official languages, which means that you are bound to have no trouble finding your way around the local gems.
Here are some tips to help get you started:
Visas for tourists. Our friendly northern neighbor doesn't require a visa with your American passport for trips of up to 180 days.
Drive safe. Renting a car for a road trip is a popular way to see the provinces. Study up on Canadian road laws before heading out though. For example, using your cell phone while driving is illegal.
Parlez-vous Français? Heading to Quebec and worried because you don't speak any French? Most Quebecois are fluently bilingual, with "Bonjour, hi" being a common greeting at shops and restaurants.
Find out the best way to take your travel money to Canada
Bottom line
Canada is a safe travel destination, and the majority of hospitals and medical clinics offer an excellent standard of care. But accidents can happen anywhere. A travel insurance policy can provide invaluable peace of mind for any adventure you take on in the land of the maple leaf.
Frequently asked questions
Back to top
More guides on Finder