How to pay for a service dog
A service dog can make life with a disability much more manageable. But between finding the right dog and training it, the costs can quickly add up. Fortunately, there are quite a few grants and financing options that may be able to help.
5 ways to pay for a service dog
When you're ready to buy a service dog, here are five financing options to consider:
Nonprofit grants. There are several organizations, including Assistance Dogs International and Service Dogs for America, that help people with disabilities find service dogs for little or no cost.
Flexible spending account. You can use a flexible spending account (FSA) attached to your insurance policy to buy a service dog if you get a letter of medical necessity (LMN) from your doctor. An FSA allows you to use your salary before taxes, making it less expensive than paying out of pocket.
Crowdfunding. Reach out to your social networks to raise money for your service dog by creating a fundraising campaign on sites like Kickstarter or GoFundMe.
Build up your savings. Though not the always easiest method — especially if you have limited cash flow — having extra savings can make purchasing and caring for a service dog easier.
Take out a personal loan. Once you've exhausted your other options, you may want to consider a personal loan up to $50,000.
Wait lists for grants
Some organizations claim to never turn someone in need away, but many nonprofits have that are several years long to get a service dog. In addition, each organization has its own program and eligibility criteria. Double-check that you qualify before filling out the applications — and try to get them in as soon as possible to secure a spot on the list.
How much does a real service dog cost?
A service dog typically costs between $15,000 and $30,000 to adopt and train, according to the nonprofit Service Dog Certifications. But it depends on the training it receives and the breed of dog you've selected. In some cases a service dog can be as expensive as $50,000.
After you get a service dog, you'll also have to consider annual expenses like vet visits, food and grooming.
Find a personal loan to pay for your service dog
To find a list of lenders that you may qualify for, select the range that your credit score falls under and select the state that you reside in.
Why are service dogs so expensive?
Service dogs require extensive training during the first few months of their lives. And while every dog is different, the final price is generally a combination of adoption fees, specialized training and general pet care.
Adoption
Adoption can cost $500 to $1,500 or more, according to Pet MD. It depends largely on the following factors:
Breed
Adoption fees
Licenses required by your state
Microchipping fees
Medical services, like spaying or neutering and vaccinations
Training
You can expect to pay anywhere from $10,000 to $50,000 to train your dog, according to Puppy In Training, a guide to the ins and outs of raising a service dog. If you adopt a dog that's already trained, this may be wrapped into the adoption costs.
To cut down on the immediate expense, you can train the dog yourself or with the help of a certified trainer. It can significantly reduce the cost in the short term, but it may take longer to fully equip your dog with the skills it needs to help you.
General care
You might spend may spend between $1,500 to $2,000 over the first year, according to the ASPCA. This includes the initial medical costs listed above and ongoing expenses like food, grooming and tags.
This doesn't cover a post-adoption wellness visit or your dog's yearly exam — you'll need to add these to your adoption budget as well.
Which programs offer service dogs?
Many of these programs offer service dogs at no charge to the recipient. But to be eligible, you may need to meet specific criteria or live close to the organization for continued training and support.
Brigadoon Service Dogs

Autism
PTSD
Hearing loss
Visual impairments
Brain injuries
Arthritis
Diabetes
Mobility issues

Provides service dogs to veterans, adults and children with physical, developmental and behavioral disabilities

Bellingham, Washington

The Service Dog Project (SDP)

Mobility issues
Balance issues

Works exclusively with Great Danes to help those with mobility and balance issues

Ipswich, Massachusetts

Paws with a Cause

Physical disabilities
Chronic illnesses
Neurological disorders

Provides custom-trained assistance dogs and works to increase the visibility of service dogs within the community

Wayland, Michigan

Canine Companions for Independence

Hearing loss or impairments
PTSD, veterans only
Physical impairments
Cognitive impairments
Developmental impairments

Trains dogs to help people living with disabilities as well as facilitators working in a healthcare, visitation or educational setting

Training centers located throughout the US

NEADS

Hearing loss or impairments
Physical impairments
Developmental impairments
PTSD and other combat-related injuries

Provides dogs that offer assistance and companionship to adults and children with physical and developmental disabilities

Princeton, Massachusetts

Guide Dogs of America

Visual impairments
Blindness

Offers guide dogs to those who are blind or visually impaired to help increase independence and mobility

Sylmar, California

Can Do Canines

Autism
Mobility impairments
Seizures
Diabetes
Hearing loss or impairments

Provides service dogs to help improve the quality of life for individuals living with disabilities

New Hope, Minnesota

Retrieving Freedom, Inc.

PTSD
Physical disabilities
Autism

Trains dogs to work with veterans living with PTSD and other service-related injuries, as well as children with autism

Facilities located in Iowa, Missouri and Mississippi
How do I know if a program is accredited?
Look for Assistance Dogs International (ADI) accreditation. ADI sets the industry standards for organizations and individuals who train dogs to help people with disabilities. These standards cover the proper selection, training and care of service dogs, as well as standards for administration and the selection of staff and volunteers.
Where can I find financial assistance for service dogs?
Many organizations that raise and train service dogs offer financial assistance for those who aren't able to pay the full price. However, these are typically geared toward individuals with specific disabilities and backgrounds. For instance, both Smoky Mountain Service Dogs and Mutts with a Mission offer service dogs and financial assistance to veterans.
To find a program that offers financial assistance, you may want to speak with your local disability advocates, the VA or other organizations. They may be able to guide you to local resources that help reduce the cost of training your dog.
Financial assistance for ownership costs
Veterinarians may offer discounts for service dogs, and you may be able to claim the cost of purchasing, training and caring for your dog on your taxes. While this isn't direct financial assistance, it can go a long way in reducing the overall price of a service dog.
Does health insurance cover service dogs?
Not usually. Major insurance providers typically don't cover the price of a service dog or its training, but some smaller providers may offer partial coverage. Still, this means getting a service animal is usually a pricey out-of-pocket expense — which is why finding a nonprofit can go a long way in helping you stay out of debt.
Will Medicaid or Medicare pay for a service dog?
Unfortunately, neither Medicaid nor Medicare cover the costs of obtaining or caring for a service dog. However, you can use your SSI or SSDI income to pay for your animal.
If you've recently received disability payments, you may also be able to use your back benefits to purchase a service dog or pay for its training. You can learn more about your options by reaching out to a disability attorney or advocate.
Will the VA pay for a service dog?
Not fully, but some of the costs that come with owning a service dog may be covered by your Veterans Affairs (VA) benefits. To take advantage of this opportunity, schedule a meeting with a mental health provider to begin the application process. If approved, the VA provides comprehensive coverage for your dog's health and wellness as well as any prescription medication or veterinary care your dog may require.
How long does it take to get a service dog?
It can take between one and two years to train a service dog if you decide to adopt and train yourself. But if you need a service dog now, you can adopt one that has already been trained. This might cost you more upfront, but you'll only have to account for the time it takes to adopt and finance your service dog.
But don't underestimate the application process can also be intensive. Filling out the initial application might take a few minutes or a few hours. But reputable organizations will often conduct several rounds of interviews before allowing you to adopt.
How to plan for ongoing expenses
In addition to the cost of adopting and training a dog, you will need to plan for its maintenance. Fortunately, unless your dog is prone to health issues or is injured, caring for a service dog won't cost more than any other dog.
To plan for these expenses, make an annual budget for the most common costs. These include:
Food: $240 to $900
Vet visits: $700 to $1,500
Medication: $100 to $500
Grooming: $30 to $500
Toys, treats and other supplies: $50 to $300
Over the course of your dog's lifetime, you can expect to spend between $14,000 to $16,000 according to the American Kennel Club (AKC). It breaks the cost down to between $700 to $1,000 a year for vet visits and between around $200 to $2,500 a year for grooming, food, toys and treats. CNBC places the lifetime cost much higher at $27,000 to $42,000, but this largely depends on the breed of your animal.
How can I pay for pet care if my service dog gets sick or injured?
Beyond the normal costs of maintaining a dog, there are times when your companion will need additional medical care. While your personal insurance might not cover it, there are a few ways you can get assistance.
Health savings accounts. Because your assistance dog is performing a medically-required service, its medical bills can be covered by your health savings account (HSA). If you spend over 7.5% of your income before taxes on medical expenses for your service animal, you can file to have that money deducted on your taxes. But you'll also need an LMN from your doctor.
Pet insurance. There are pet insurance policies available for your dog in case of illness or injury. Many plans cover service dogs, and there are multiple insurers with premiums that fit various budgets.
Nonprofit funding. Some nonprofits can also help if you find yourself unable to pay for vet bills. Contact one of the options listed above to see if there are any programs you may qualify for.
VA benefits. You can apply to have your service dog's veterinary care and prescription medication subsidized by the VA. You can reach out to a mental health provider to learn more.
Which breeds are best for service dogs?
The best breed for your service dog depends on your needs. The three most common types of assistance dog are:
Labrador retriever
Golden retriever
German shepherd
However, many types of dog are suitable for service work and certain breeds are better for certain jobs. When searching for the right dog breed, it's important to contact trainers and disability advocates. These resources will be able to lead you to the appropriate dog for your needs.
When to go for a big dog
For people who need stability for a physical limitation, a Labrador retriever or German shepherd is considered helpful in providing support when you are struggling to maneuver in certain spaces.
When to go for a medium or small dog
Medium-sized breeds like poodles and collies are often used for people whose disabilities who don't require the strength and size of these larger breeds. If you need a Hearing Dog or one that scents conditions like epilepsy or low blood sugar, a smaller dog might be more suitable. They can easily fit in public spaces where a large dog may seem inappropriate, like at a restaurant or on a bus.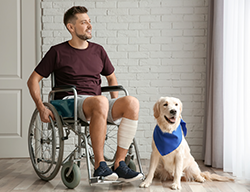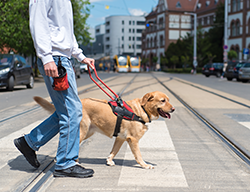 Can I use a miniature horse as a service animal?
Yes, you may be able to use a miniature horse as a service animal. The Americans with Disabilities Act (ADA) was revised in 2010 to allow miniature horses individually trained to perform a service or task for individuals with a disability to be service animals.
In general, miniature horses are typically trained to work as guide animals for people with visual impairments. While they can also be trained to assist with mobility issues, it isn't common. This can make finding a breeder and training program difficult or expensive. And because this is a relatively new concept, there's not much information available.
You can check out the costs of owning a miniature horse on the American Miniature Horse Association (AHMA) website.
Compare loans to finance a service dog
Bottom line
A service dog may be a necessity, but the cost can make them inaccessible. Assistance Dogs International has a respected certification program and list of trainers that can help make your dog more affordable. While it doesn't provide service dogs to those in need, it can direct people with disabilities to a program that can. Other resources may also be appropriate when you need to handle such a large cost.
If you do choose to take out a personal loan, compare your options to make sure you're getting a good deal that suits your budget.
Frequently asked questions