Finder is committed to editorial independence. While we receive compensation when you click links to partners, they do not influence our content.
Find a personal loan for your small business
How you can use personal financing to expand your business or get it off the ground.
Editor's choice: Upgrade personal loans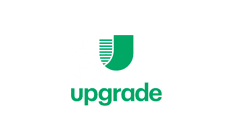 Flexible loan options
No prepayment penalty
Quick turnaround
See your rate
It can feel next to impossible to get startup funding, especially when your business hasn't opened its doors. But because personal loans are lent to individuals, the state of your business won't be a concern. Instead, your ability to repay and your creditworthiness are what lenders consider. You'll still need to meet certain eligibility criteria, but you won't have to provide a business plan or jump through the hoops associated with borrowing a business loan.
Can I use a personal loan for business?
The short answer is yes, you can use a personal loan for business needs.
Personal loans rely on your credit as an individual and play by rules that slightly differ from business requirements. You may have the option of a secured personal loan, but it's less likely that you'll need to provide collateral with a personal loan than with a business loan.
While personal loans can generally be used for any legitimate reason, including financing a business, you should consider the conditions they could come with. The biggest one is that your name — not your business name — is attached to the loan. Any missteps could become personal liabilities.
Personal loans for business in a nutshell
How much can I borrow? Up to $50,000
How long is a typical loan term? 1 to 5 years
What rates can I expect? 4% to 36%, depending on your personal credit
How fast can I get my money? As quickly as one business day
Compare personal loans you can use for business
What do I need to qualify?
To get the best personal loan, you'll generally need to have a good credit score of 680 or higher. Applying is fairly easy through the provider's website or by clicking Check my rate in our comparison table.
When applying for a personal loan, have your personal information and financial details handy. Depending on the lender, your application could take as little as five minutes to complete.
What if I have bad credit?
Life happens, and sometimes it leads to less-than-perfect credit. Luckily, you have ways to improve your credit over time.
You can improve your credit by doing things like paying down your open balances and keeping up on payments.
But not everyone has time to raise their credit score. You could also apply for bad credit personal loans. Bad credit personal loans should be weighed carefully, as they tend to carry higher interest rates and costs.
Case study
A woman from Utah uses a personal loan through Prosper to take her small business to the next level: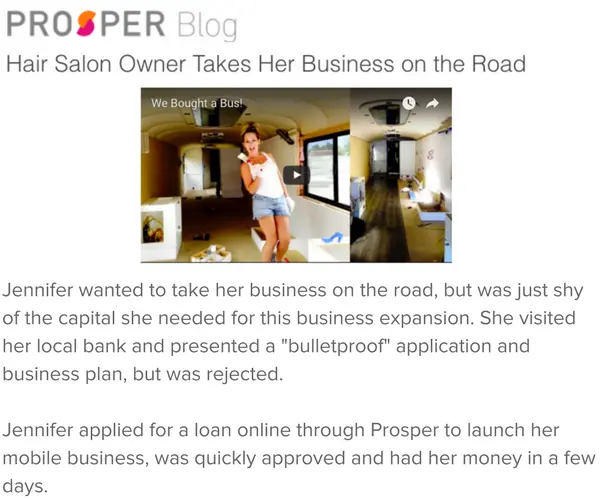 Are personal loans for business tax-deductible?
With sufficient documentation, you can potentially deduct interest payments on your loan from your taxes. Getting this deduction requires keeping records of what you spent the money on and how these payments relate to your business.
A personal loan you get for your small business may be used for more than just business, though. To ensure that interest payments are deductible, you may need to do a little more work — only funds used for business expenses can be deducted from your taxes.
One way to keep track of how much you spent on business is to put the funds you intend to use for these purchases into your business account. Separating your business funds from your personal accounts makes it easy to determine what percentage of the interest you pay goes toward business expenditures.
Personal loans and taxes — what you need to know
Pros and cons of using a personal loan for a small business
Pros
Quick process. It can take weeks to complete the process for a business loan, whereas some personal loans are funded within a business day.
Startup friendly. Because you're personally taking responsibility for the loan, your business doesn't need to meet any requirements.
Low interest rates. Good or excellent credit can typically get you lower interest rates for personal loans. A business loan could be more costly if your business credit isn't as robust.
Reasonable repayment terms. Some business financing require weekly or even daily repayments. With a personal loan, repayments are more likely to be monthly.
Cons
Lower limits. Business loans can have maximums of millions of dollars. Personal loan maximums are generally limited to around $50,000.
Personal liability. You are personally stuck with the consequences of repayment issues. If your business doesn't become profitable or you decide to close the business, you still have to pay back all of the loan.
Less support. With many lenders, getting a business loan also means gaining access to tools and experts to help you grow your business. You usually won't get this same business support with a personal loan lender.
4 tips to get the most out of a personal loan
Consider efficiency. Think about how much time and money each purchase might help you save when considering how you spend your loan funds.
Go secondhand when you can. Some machines are built to last and don't need more than a few repairs to keep on running for decades. Some might even last longer than newer versions — a lot of new equipment is designed to become obsolete in a few years.
Stock up with wholesalers. More inventory means more potential sales. Use your personal loan to take advantage of wholesaler deals to save on costs.
Make an investment in marketing. Now that you have the goods, you need the customers. Investing in a marketing plan by hiring a consultant — or even doing it yourself — can more than pay for itself.
Alternatives to personal loans for business
Bottom line
There are definite benefits to personal loans for business use, depending on your situation. Startups and business owners who only need a few thousand dollars may have better luck qualifying for a personal loan. When combined with other types of business financing, a personal loan could be an excellent asset to expand your business.
Before you start, take a look at your options by reading our guide to personal loans.
Frequently asked questions
More guides on Finder