Finder is committed to editorial independence. While we receive compensation when you click links to partners, they do not influence our content.
Optima Tax Relief review
Personalized support to negotiate back taxes of $10,000 or more owed to the IRS or state.
Bottom line: Employing more than 400 representatives licensed to handle both federal and state taxes, Optima can negotiate back taxes of $10,000 or more on your behalf. Optima can also help with tax preparation, collections, auditing and ID theft protection. But it can be pricey, and there's no guarantee of success. Read our full review.
Optima Tax Relief details
| | |
| --- | --- |
| Free quote or consultation | Online form. |
| Services | Negotiation and settlement, IRS audit defense, tax levies and liens, wage garnishment, back taxes, end penalties and interest. |
| Minimum debt | $10,000. |
| Typical turnaround | 2 to 6 months. |
| Direct or third-party negotiations | Direct. |
| Types of debt | Tax debt. |
| Accreditations | A+ BBB rating; NATP, Inc. 500, NAEA; IRS-approved continuing education provider. |
| Customer service | Phone, email, mail, Facebook, Twitter. |
| States serviced | Not available in North Dakota, Colorado, or Minnesota. |
| Other details | 15-day money back guarantee. Applies to fee paid toward the initial investigation phase. |
Pros and cons of Optima Tax Relief?
Pros
Personalized service. For an upfront fee, Optima's reps handle the paperwork and negotiations necessary to potentially lower what you owe to your state or the IRS.
Appears reputable. Accredited by the BBB, the company earns high marks based on more than 600 reviews. Nearly all complaints are resolved or answered by a rep — a sign of good service.
Money-back guarantee. If you're not satisfied with Optima, request the return of your initial fee within 15 calendar days.
Cons
Can be expensive. Services are advertised at $495 and up. But that's just your initial fee. Your quote ultimately depends on the complexity of your case, and it's due up front.
Success isn't guaranteed. Optima boasts amazing outcomes on its site, but your case may not end up with such notable results.
You must owe at least $10,000. If you owe less, you'll need to look elsewhere for help.
Marketing calls. Some customers complain they've received a high volume of marketing phone calls after signing up for this service.
How much does it cost?
All services with Optima Tax Relief start with its Investigation Phase, which costs $495. Optima considers the complexity of your financial situation, including how much you owe in back taxes and how long you've owed them, before providing you with a final quote to take on your case.
Costs appear to fall within the range of $2,000 to $5,000, depending on your needs. And it won't move forward with your case until you've paid the full amount.
How much could I save with Optima Tax Relief?
Based on the testimonials it advertises on its site, Optima just might help you keep a lot of what you owe in your own pocket. One client review claims the company negotiated a tax debt of $87,000 to just $100. Another boasts of negotiation that turned back taxes of $13,658 into a $7,666 refund.
Yet, it makes sense that Optima would advertise its biggest success on its site. You'll find other customers online who claim their cases never made it out of the investigative phase and they weren't refunded the initial payment.
Compare debt relief companies
What does the Internet say about Optima Tax Relief?
Optima Tax Relief earns an A+ rating from the Better Business Bureau, garnering 4.5 out of 5 stars based on more than 600 customer reviews. You'll find a similar number of reviews on Trustpilot, where it earns 4 out of 5 star.
Generally, customers say they're satisfied with the outcome of their case and the support they received along the way. The majority of customers with negative experiences claim they lost money in their pursuit of relief. Some say the fee they paid to start the investigative phase was little to no help.
Ultimately, your results will vary based on how much you owe, how long you've owed it and the overall complexity of your case.
Is it safe to use Optima Tax Relief?
Yes. Optima Tax Relief encrypts your personal and financial details with industry-standard SSL protection. And they advertise an Optima Tax Relief Client Bill of Rights online, spelling out the rights you're due when seeking services.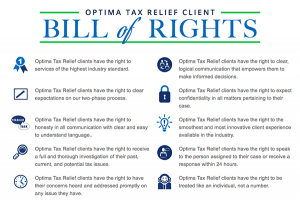 Optima is accredited by the Better Business Bureau and a member of the National Association of Tax Professionals and the National Association of Enrolled Agents. Each of its staff members are licensed by the IRS to prepare tax returns.
Should I sign up for Optima Tax Relief?
Optima Tax Relief can be pricy, and there's no guarantee that your tax balance will be lowered through them. However, one more affordable alternative you can look into is the Fresh Start initiative by the IRS. This program allows you to pay off your tax debt in more affordable chunks up to six years, without having to worry about penalties, liens or bankruptcy. However, you can't owe more than $50,000 in taxes or you won't qualify.
How do I sign up?
Get started online in three steps:
Go to the Optima Tax Relief website. Select the amount of debt you owe.
Select the state you live in.
Enter your contact information, and click Get Free Estimate.
To sign up with a representative, call Optima Tax Relief at 800-536-0734.
I've signed up. What happens next?
Wait for contact. A senior tax professional will call you to provide a free consultation.
Enter Phase 1. If you decide to move forward, pay the $495 fee to begin the investigation phase. After contacting the IRS on your behalf, Optima reviews the details of your case over two to four weeks.
Review your quote. You'll receive a quote specific for the services Optima believes your case requires. If you accept it, you'll pay the full fees to continue.
Enter Phase 2. Over three to nine months, Optima represents your case to the IRS, negotiating the fees and taxes you owe to find a resolution and ultimately close your case.
Bottom line
Optima Tax Relief appears more reputable than some of its competitors, offering personalized services through licensed staff. Generally, customers online say they walked away with a positive experience.
If you owe $10,000 or more in back taxes and fees, Optima offers a free consultation, where you can ask about the likelihood of your case's success.
However, if you're struggling with more than just tax debt, you may want to consider looking into other forms of debt relief.
Frequently asked questions