Los Angeles' airports remain open — for now — amid raging California wildfires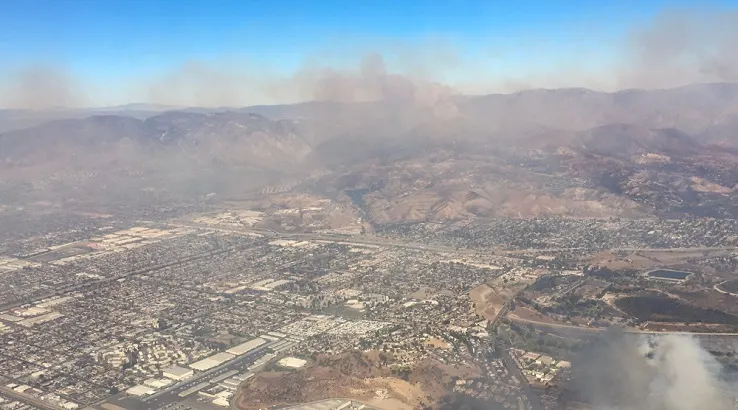 California's busiest airport, LAX, reports it is only experiencing minor inbound and outbound delays.
As firefighters continue to battle out-of-control wildfires tearing through Southern California and more than 110,000 people flee their homes, Los Angeles' airports continue to transport passengers to and from the city.
Dry weather conditions and intense wind gusts threaten to intensify the Thomas Fire, Creek Fire, Rye Fire and Skirball Fire, which have already claimed over 100,000 acres as firefighters struggle to contain the blazes.
California Governor Jerry Brown declared a state of emergency earlier this week. The flames continue to spread across Los Angeles, Ventura, Santa Paula, San Bernardino, Ojai, and other neighboring cities and areas.
Around 9,000 homes are without power and hundreds of schools, across 15 districts, have been shut down.
Los Angeles Airport (LAX) tweeted early Thursday morning that city traffic was "light and moving smoothly". Yesterday, LAX's FlyAway shuttle service was experiencing delays between 1.5 and 1.75 hours due to the fires.
California's busiest airport reports it is only experiencing inbound and outbound delays of 15 minutes or less.
Hollywood Burbank Airport (BUR) is open but advised passengers to check their flight status with their airline.
For any of our plane-to-train passengers, some important information on how the #ThomasFire has impacted @PacSurfliners' operations: https://t.co/4nxdnLBOs7

— Hollywood Burbank ✈ (@fly_BUR) December 7, 2017
Long Beach Airport is also open and re-tweeted a six-point evacuation plan broadcast by Los Angeles County.
Prepare these 6 Ps in case of evacuation:

👨‍👩‍👧‍👦🐶People & pets
📄Papers (important documents)
💊Prescriptions
📷Photos
💻PC hard drives & disks
💳"Plastic" (credit/ATM cards) and cash #LAfires #SkirballFire #CreekFire #RyeFire

— Los Angeles County (@CountyofLA) December 6, 2017
Delta Air Lines, Southwest Airlines, American Airlines and Scandinavian airline SAS have all reported that there are currently no delays or cancellations to or from Los Angeles. However, travel advisories may change.
Hawaiian Airlines is permitting one-time fee-free reservation changes for guests with tickets to/from/via LAX.
US train service Pacific Surfline, which operates throughout Southern California, also tweeted a series of warning messages revealing fire conditions have closed the railroad and highway between Ventura and Santa Barbara. There are also warnings of train cancellations between L.A., Santa Barbara and San Luis Obispo.
Earlier this year, Northern California and its expansive wine regions were battered by wildfires, resulting in heavy delays and the cancellation of more than 100 flights at San Francisco International Airport.
Below is a California statewide fire map depicting all the major blazes currently burning, by CAL FIRE.
Before flying, either for leisure or business, you might consider comparing and taking out travel insurance.
Picture: Shutterstock