Finder may earn compensation from partners, but editorial opinions are our own. Advertiser Disclosure
Inheritance funding
Compare lenders and learn what to watch out for. You don't have to wait for probate to get your money, but you could end up losing big.
Editor's choice: Inheritance Funding probate advances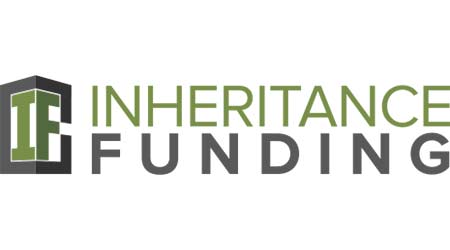 Rebates available
No fees for probate delays
Bad credit OK
See your rate
Probate can take months or even years to get through — but you can access your inheritance before the process is over by applying for an advance or by using your future inheritance as collateral on a loan. But you might want to treat this as a last resort. You could end up paying as much as 40% of your inheritance in fees.
What is inheritance funding and how does it work?
Inheritance funding is a short-term form of financing that grants you access to the value of the funds or assets you've inherited quickly. Inheritance loans, inheritance advances, estate loans and probate advances are the most common ways that companies refer to inheritance funding, and the terms are often used interchangeably.
There's really two types of inheritance funding: an advance on your inheritance and a loan using your inheritance as collateral. Neither consider your credit when you apply, and you can't find these options with a traditional lender.
Inheritance advance
Also called probate advances, these are the most common type of inheritance financing. You often transfer your right to your inheritance in exchange for a fee, rather than interest — though in some cases, interest factors in as well.
Because you're not actually taking out a loan, you don't need to worry about repayments or needing strong credit to qualify.
Estate loans
Sometimes called inheritance loans or probate loans, estate loans allow you to borrow against real estate assets that you don't yet have access to. You receive your funds and repay it plus interest and fees, with your estate considered collateral for the loan.
However, not all "estate loans" work this way — sometimes lenders use this term to refer to an advance. Make sure you understand how your lender works before applying.
Compare inheritance advance providers
Why might I consider an inheritance advance?
There are several legitimate reasons for wanting to get an advance or loan backed by your inheritance:
Cover the cost of settling the estate. Settling the estate of a loved one — known as the probate process — can be costly. Heirs might be responsible for paying legal fees, paying off the estate's debts and taxes, maintaining the estate or overseeing repairs and funeral costs. An inheritance loan can help you cover these expenses without cashing out your emergency fund.
Negotiate real estate inheritance. Some people prefer to inherit real estate, while others just want the cash. You can take out an inheritance loan to buy the other heir's share of the property.
Pay off personal debts. Your inheritance can help you pay off such debts as medical bills, high-interest credit cards or loans — debts that should be paid off as soon as possible to avoid tacking on even more debt.
Cover day-to-day expenses. The probate process can take years, and you might just need the funds to help you get through a tight period. In this case, taking out an inheritance loan can keep you afloat without turning to other forms of lending.
What should I watch out for?
Steep fees. Since there's a risk the inheritance might never come through, inheritance financing can come with steep fees that range from 10% to 40% of your inheritance value. Estate loans can also be more expensive than a loan backed by other assets.
Eligibility requirements. To be eligible for this type of financing, you typically need to inherit assets worth $15,000 or more. You'll also need to provide extensive documentation proving that you're set to inherit these funds.
Legal complications. Inheritance funding involves some serious legal maneuvering. You might want to seek out legal and financial advice to make sure you fully understand what you're getting yourself into.
Chances are, you're going through an emotionally tough time. Consult with experts, friends and family to make sure you're making the right decision for your situation.
What types of providers offer inheritance funding?
You won't find inheritance financing at a traditional lender like a bank or credit union.
Inheritance advance companies
The most common way to get inheritance financing is through an inheritance advance company. These companies buy your inheritance directly from you in exchange for a fee.
They don't consider your credit history when you apply, and you can get your funds within a few days. But these companies can be expensive, charging fees equivalent to those you'll find with a high-interest loan.
Hard money lenders
You can get other forms of inheritance financing through hard money lenders. These short-term lenders provide loans backed by property. Like inheritance advance companies, hard money lenders don't consider your credit score.
This option, too, can be expensive, with APRs often higher than other subprime loans. If you're unable to repay your loan, your lender seizes your estate assets and sells it.
What's the process like?
Applying for inheritance financing is more involved than other types of loans. There's a lot you need to do before you can even start looking at lenders. Typically, you'll follow these steps:
What documents will I need?
Typically lenders ask for:
A copy of the deceased's death certificate.
A copy of the deceased's will.
Legal documents involving the probate.
Documentation stating who the estate's administrator is.
Certification from the administrator stating how much you stand to inherit.
Personal ID.
Compare inheritance advance providers
I got inheritance funding. Now what?
What happens next depends on the type of financing you got.
If you got an inheritance advance, there's little else you need to do if the rights to the inheritance have already been transferred over.
With an estate loan, however, you make monthly repayments until your loan's principal and interest are paid off. Keep an eye on your loan's balance and try not to miss any repayments — these loans tend to come with high interest rates that can add up quickly.
Must read: Inheritance taxes
Inheritances involve two types of taxes: estate tax and inheritance tax. Estate tax is paid from the estate of the deceased before you get your funds. Inheritance tax is what you pay after you receive your inheritance.
Only a few states charge inheritance tax, including Iowa, Kentucky, Maryland, Nebraska, New Jersey and Pennsylvania. This tax can range from 1% to 20% of your inheritance's worth, depending on how much you receive and your state's laws. Often close relatives like spouses and dependents are exempt from paying an inheritance tax.
Make sure you're aware of your state's inheritance tax laws before applying for inheritance financing to know just how much you're eligible to receive.
Alternatives to consider
Depending on your needs, you might find alternatives that are a lot less expensive than inheritance financing.
Family allowance. Sometimes the estate administrator is required to cover living expenses of people who depended on the deceased financially. If this is you, make sure you aren't entitled to an allowance before applying for an inheritance advance or loan.
Advance from the estate. You might be able to get your advance directly from the source — just ask the estate's administrator first. Be aware that you might need to return your advance if the estate faces unexpected expenses.
Make a claim. Did the deceased owe you money or other assets? Consult an inheritance lawyer to see if you can file a claim on the estate.
Personal loans. If you qualify for a personal loan, you might end up with more money in the end than with an inheritance advance. Personal loans won't eat up your inheritance's value and also tend to have lower interest rates than estate loans. If you receive your inheritance before your loan term ends, you might save even more on interest by paying it off early.
How to make the most of your inheritance
Getting an unexpected sum of money or asset might make you feel as if you've won the lottery. But if you act wisely, you might be able turn your inheritance into income and savings that can benefit you for years to come.
Pay off debts. Use your inheritance to pay off any outstanding debts — especially high-interest debt. You'll save on interest and won't have to make monthly repayments.
Invest your money. Creating a diverse investment portfolio can help ensure that you have at least some income that doesn't depend on your employment.
Create an emergency fund. Having funds to cover three to six months of personal expenses helps you avoid a financial catastrophe if large expenses come up that you're not prepared for.
Save for retirement. Unsure about investing? Consider putting the money away in a high-interest savings account for retirement. The returns likely won't be as high as investing, but these accounts comes with less risk.
Start a college fund. If you don't necessarily need the funds, you could save your children from a lot of debt — and yourself from having to rescue them throughout their early 20s — by starting a fund to pay for their college tuition.
Bottom line
Inheritance financing is an expensive option worth treating as a last resort. Before you apply for an inheritance loan, make sure you understand your legal obligations and what your assets are really worth — after taxes.
You might want to look into other financing options like personal loans to find the best choice for your circumstances.
Frequently asked questions