Finder is committed to editorial independence. While we receive compensation when you click links to partners, they do not influence our content.
GameFinder: Compare video game consoles
Each video game console has its own strengths and weaknesses. We're here to help you work out which option best suits your gaming needs before you take the plunge.
Quick facts about games consoles
Depending on whether you want an older model with a smaller hard drive or a 4K-ready beast, you should be able to pick up a new console for between ₹26,000 and ₹38,000.
Retailers often bundle in free games as purchase incentives, too, so keep your eyes peeled for a package that gets you excited.
We can compare teraflops and RAM all day, but ultimately none of that matters if you aren't playing a game you enjoy.
Compare game consoles
| Specs | Nintendo Switch | Xbox One X | PlayStation 4 Pro |
| --- | --- | --- | --- |
| CPU | Four ARM Cortex A57 cores (theoretical max 2GHz) | 8 core CPU @ 2.3GHz | x86-64 AMD "Jaguar," 8 cores |
| GPU | 256 CUDA cores (theoretical max 1GHz) | Six teraflop GPU @ 1,172 MHz, 40 compute units | 4.20 TFLOPS, AMD Radeon-based graphics engine |
| Memory | 4GB | 12GB GDDR5 | GDDR5 8GB |
| Storage size | 32GB expandable to 2TB with MicroSD | 1TB | 1TB |
| Dimensions | Switch: 6.2 inch, Dock: 104mm x 173mm x 54mm | 300x60x240 mm | 295×55×327 mm |
| AV output | HDMI (connects to Switch dock) | HDMI out port (supports 4K/HDR) | HDMI out port (supports 4K/HDR) |
| RRP | ₹26,000 | ₹32,000 | ₹38,000 |
Video game consoles vs gaming PCs
Video game consoles are designed to make playing games on your TV as easy as possible. Unlike PC gaming, which requires some tech know-how and the odd bit of tinkering, consoles are the plug-and-play option.
Just connect one to the power and then use the included HDMI cord to connect it to your television and you're ready to go. You'll also need to connect to the Internet if you want to play online.
Because consoles aren't as flexible as PCs and the hardware is fixed, they're significantly cheaper, too.
New console models tend to arrive in cycles, called "generations", that range from five to eight years long. Console makers aren't as upgrade-happy as PC or mobile phone manufacturers, so if you choose wisely, you'll get many years of entertainment out of yours.
That said, be warned: we're currently nearing the end of the eighth generation of consoles, meaning that by late 2021 more powerful successors will hit the market.
While this might deter you from jumping in right now, it does mean prices are far cheaper than at the start of the generation. There's also a huge backlog of great games to play on the current systems, whereas launch software for new consoles is notoriously underwhelming (though visually impressive).
Xbox vs PlayStation vs Switch
Three main systems define the current generation of consoles:
Both the PlayStation 4 and Xbox One launched in 2013, while the Nintendo Switch arrived four years later. Since then, all three have had mid-generation hardware refreshes and have split their lines into high-end and cheaper options.
The PlayStation 4 and Xbox One are functionally similar. Built around modified PC architecture, they're designed to sit in your living room and deliver high-fidelity gaming to your television.
The Switch is different. Though you can play it in HD through your TV, you can also detach it from its dock and play it in handheld mode using the 6.2-inch screen attached to the console. Raw power is limited for portability and convenience.
These three systems each have two significant variations. In 2016, the PlayStation 4 line was splintered into the PS4 Slim (which replaced the base launch model) and the more powerful PS4 Pro, which has improved overall performance and the ability to output some games in 4K HDR.
The base Xbox One was usurped by the Xbox One S and the beastly Xbox One X, which is Microsoft's pricier premium option for UHD gaming.
And in 2019, Nintendo added the Switch Lite to the fold, a cheaper, lighter version of the Switch that focuses exclusively on portability and cannot be docked and played on a TV.
How to compare game consoles
Now that the generation has progressed and the early kinks have been smoothed over, we can confidently recommend all three consoles. But each has its own identity and will suit different people. When making your selection, take these factors into account.
Exclusive games

Your primary consideration when buying a console should be the games you can play on it. After all, we don't play consoles, we play games.
Each system has its own exclusives that cannot be played elsewhere. These are most often developed by internal first-party studios, but occasionally third-party teams will sign exclusivity deals.
Sony invested heavily in internal development at the start of this generation, and it shows.
The PlayStation 4 has arguably one of the greatest line-ups of exclusive games ever, particularly if you enjoy flashy, big budget, story-driven single-player action experiences. God of War, Spider-Man, Bloodborne, Uncharted 4, Horizon Zero Dawn, The Last of Us 2 and Persona 5 are all modern masterpieces only available on PS4.
Nintendo similarly has a reputation for quality exclusives. Long-running series like The Legend of Zelda, Mario, Fire Emblem, Smash Bros. and Mario Kart form the family-friendly core of Nintendo's identity, and excellent entries from all of these franchises have hit the Switch.
The Legend of Zelda: Breath of the Wild is already spoken about in the hushed tones typically reserved for "best games ever" shortlists.
In contrast, Microsoft infamously positioned the Xbox One as an "all-in-one entertainment platform" at the start of this generation, neglecting significant investment in exclusive games while focusing on oddly misguided endeavours like now-shuttered internal television studios.
We don't know why either.
Although it eventually course-corrected, the console still falls behind the compeition on the exclusives front. That said, Forza Horizon 4 is the best arcade racer on the market, and no third-person shooters feel better in hand than Gears of War 4 and 5.
Where to buy consoles and accessories online
Third-party games

The vast majority of console games are made by third-party developers operating under publishers like Ubisoft, Activision, Electronic Arts, Warner Bros. and Bandai Namco, among others.
With only a few exceptions, most of these come to both the PlayStation 4 and Xbox One, with very little to differentiate them. Occasionally, these games will have console-specific content like exclusive maps and skins or early access to DLC, but this is fairly trivial and shouldn't drive your decision.
The Nintendo Switch is the outlier here. It's less powerful than its competitors and, as a result, does miss out on significant third-party releases, notably Call of Duty, Destiny and newer Assassin's Creed games.
However, because of its runaway success, the Switch is faring better than Nintendo consoles typically do in this regard. Publishers seeing dollars in the size of the install base are turning to older games and remastering them for Switch.
Dark Souls, The Witcher 3, Doom, Wolfenstein, Skyrim and older Assassin's Creed games all have solid Switch versions. There's enough to keep you busy, and being able to play a game as epic and deep as The Witcher 3 while on a long-haul flight is an experience not to be overlooked.
Power/Performance
If you want your games to run at their absolute peak resolution and frame rate with the most advanced lighting and visual touches, the Xbox One X, the most powerful console on the market, is the clear winner here.
Its AMD APU chip (basically the console's brain) operates at 6 teraflops, while the PS4 Pro does a respectable 4.2 teraflops. (On the entry-level end of the scale, the Xbox One S hits 1.4 teraflops and the PS4 Slim 1.84.) The Xbox One X also leads on the RAM front, with 12GB of fast GDDR5 RAM compared with the PS4 Pro's 8GB of GDDR5 RAM.
What this means in practical terms is that the Xbox One X has little trouble outputting at native 4K resolution with HDR. Load times, when properly optimised for, are also significantly faster on Xbox One X.
The PlayStation 4 Pro can display games at 4K HDR, but it's not "true" native 4K. Instead, it uses a clever method called checkerboard rendering – essentially only displaying half the pixels on-screen at any one time and then alternating to the other half so quickly you can't perceive the difference.
Nintendo, well aware its strengths lie elsewhere, is more than happy to sit out the computational power arms race.
Controller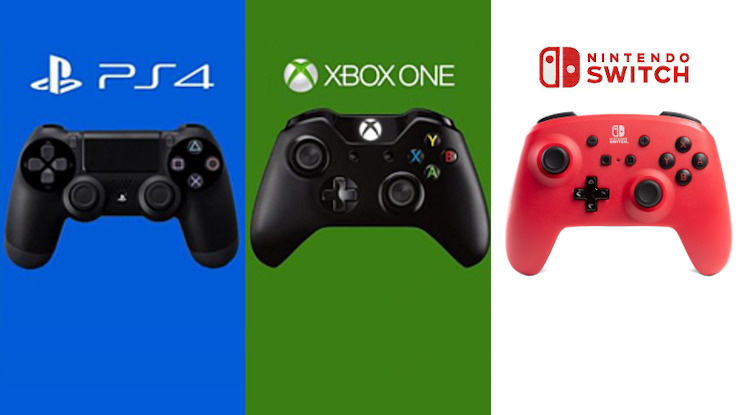 Consoles are played using controllers or "gamepads". This will largely come down to personal taste based on what your hands find comfortable. In terms of ergonomics, we'd give the honours to the Xbox One pad but only by a fraction. The PS4's "DualShock 4" is PlayStation's best ever controller, with Sony finally looking at a pair of hands before designing it.
The Switch's "Joy-Con" controllers are different. Because of the Switch's portability, Joy-Cons are designed to be played in a few different configurations to match your environment. The most comfortable configuration is simply connecting two Joy-Cons to the included charging grip.
We'd recommend trying them all out in a store or at a friend's place. Remember, you'll spend hundreds of hours holding these things, so it's important they don't make your hands cramp up.
Playing Online
Gaming online with friends can be great fun. However, unlike with PC gaming, it's not free – you need to subscribe. A 12-month subscription to either PlayStation Plus or Xbox Live Gold will set you back ₹2,799. Along with allowing you to play multiplayer online, both services offer a few free games every month, often quite good ones, usually from the last year or two.
Nintendo Switch Online is significantly cheaper at around half the price. It allows you to play online multiplayer in games like Mario Kart 8 and Splatoon and also gives you access to a library of old-school games from the NES and SNES era. If you want to play legendary classics like Super Mario World or The Legend of Zelda: A Link to the Past while you wait for the bus, you can.
Convenience/User Experience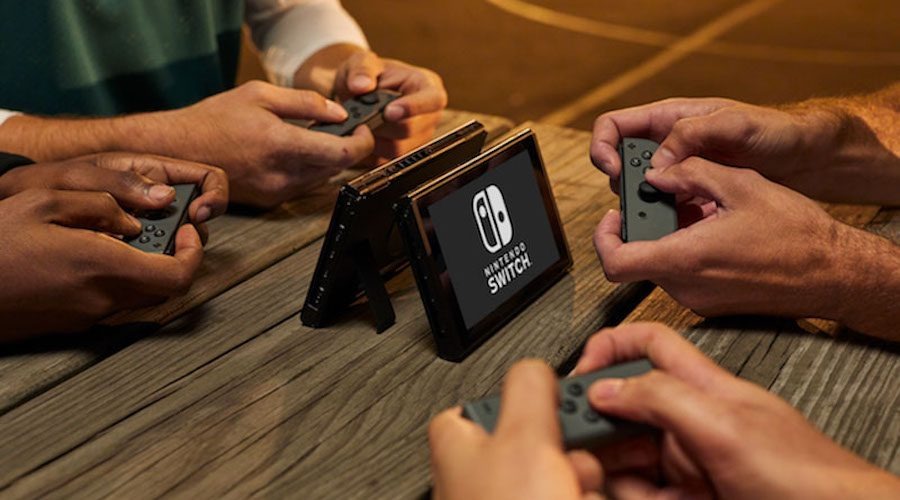 Consoles are as convenient as gaming gets, but the arrival of online connectivity and software updates has muddied the waters a tad. On Xbox One, in particular, a planned play session can occasionally be derailed by mandatory game updates, during which time you'll have to play something else (on PlayStation 4, you can easily opt not to install a hefty patch and continue playing in offline mode).
But it's the Nintendo Switch that cannot be beat when it comes to convenience. Updates are always small and fast, and with the ability to play any game on your TV or in handheld mode while on the move, it's the only console that bends to your lifestyle (and not the other way around). If you travel a lot, or struggle to claim the lounge room TV from binge-watching housemates or family, the Switch is a game changer.
Backwards Compatibility
Traditionally, as new consoles emerge, old games get left behind. This is no longer a concrete rule.
As mentioned, you can play classic games on the Switch via its online subscription system. But the Xbox One blows this out of the water. Microsoft put a lot of effort into ensuring games from the previous Xbox 360 and original Xbox generation work on Xbox One.
Though not every game is backwards compatible, most of the ones you'd hope for have received this treatment. If you've got a stash of old games lying around and want to play Halo or Gears without dusting off the Xbox 360, this is worth considering.
PlayStation 4 does not have any backwards compatibility features. However, some classic games are available on the PlayStation Store, often with remastered graphics. Unfortunately, these games aren't free to download, even if you own the originals.
Storage
For PS4 and Xbox One, we recommend getting a 1TB hard drive model. With the bulging size of 4K games, many larger than 100GBs, the older 500GB drives fill up fast.
The Switch only has 32GB of internal storage, but it can be expanded with a standard SD card. Though Nintendo games are generally smaller at around 5­­–10GBs, if you're buying games digitally, that drive will fill up fast. You'll need to factor in the cost of an SD card into your calculations.
Seven things to consider
If you're buying a console for younger kids, the Nintendo Switch should probably be your choice. Nintendo has more quality family-friendly software than any other console on the market.
If you don't own a 4K HDR TV, you can save money and opt for a PS4 Slim instead of the PS4 Pro or an Xbox One S instead of the Xbox One X. Though the more powerful units will load faster and have larger HDDs as a default, they're really intended to power 4K gaming. If you can't display that on your TV (and you're not planning on upgrading any time soon), it's not worth your money.
The flip side of this is that if you own a 4K TV, you really should opt for the more powerful models. Recent games like Red Dead Redemption 2 and Assassin's Creed Odyssey are utterly gorgeous in 4K HDR.
Microsoft's Xbox Game Pass service drastically changes the Xbox One's value proposition. It's essentially Microsoft's attempt at creating the Netflix of video games. As long as you keep your subscription active, you'll be able to download and play more than 100 games from a regularly updated list. They're good ones, too. All Xbox's first-party titles are available on the service at launch, and a respectable amount of recent third-party games show up. With an Xbox One and a Game Pass subscription, it's entirely possible to play a tonne of great games without ever purchasing a single one.
Unless you own all three consoles, it's impossible to play every great game. You will miss out on something. But that's okay. Just try to align your choice with your gaming tastes. Sony's exclusives tend to be single-player narrative-driven titles whereas Xbox leans more towards online competitive games. Nintendo is more focussed on fun wholesome experiences.
Given that the Switch only launched in 2017 (compared to 2013 for the PS4 and Xbox One), it won't be succeeded and made "obsolete" any time soon.
Once upon a time, the clever move was to buy the "other" console your friends didn't own, so collectively you could experience more games. Nowadays, with the rise of online gaming, you might want to consider the opposite approach and buy the same system so you can play Destiny or FIFA online with your friends.
Should you wait for the next console generation?
Microsoft and Sony are planning to release brand new consoles this year. While an exact date hasn't been announced, the PlayStation 5 and Xbox Series X are expected to hit stores during "holidays 2020". There's a chance the launch could be delayed to early 2021 due to the coranavirus, but either way, two new consoles will be entering the market very soon.
With that in mind, it might be worth waiting to see what the new consoles offer before throwing down cash on a PlayStaton 4 or Xbox One. The Switch, meanwhile, is earlier in its life cycle and will likely remain Nintendo's flagship console for at least a year or two.
Needless to say, the new consoles will be much more expensive and you can expect all games to cost full price during the launch window. If you only play games casually, our advice would be to wait.
---
Gaming glossary
Confused by some of the terms you find when discussing video game consoles? This glossary should help.
---