Finder is committed to editorial independence. While we receive compensation when you click links to partners, they do not influence our content.
Apply for an SBA loan step by step
What every small business owner should know about the SBA loan application process.
Applying for a Small Business Administration (SBA) loan can take months from start to finish. There's the application to fill out, forms to complete, documents to get together — and government-issue jargon to translate. Set aside at least a few hours to apply, and consider working with a business partner, friend or SBA loan expert to make it easier.
My business was affected by the coronavirus. What SBA loans are available?
If you're looking to take out an SBA loan specifically to help your business that was impacted by the coronavirus outbreak, see if you qualify for the SBA Economic Injury Disaster Loan (EIDL) Program. An EIDL doesn't work like typical SBA loans — the short application should take less than a half hour to fill out. And it's supposed to be faster — taking days or weeks to find out about approval and get your funding instead of months.
The SBA Paycheck Protection Program (PPP) reopened to businesses in January 2021 after the Economic Aid Act passed in late December 2020. It has an end date of May 31, 2021. If your business borrowed a PPP loan, you can now apply for PPP loan forgiveness. And if your business still needs funding, you can apply for a Second Draw PPP loan.
Check out our guide to loans available to businesses impacted by COVID-19 for some non-SBA options for your business.
How to apply for an SBA loan in 6 steps
These steps cover the process from what you need to do before you apply, to completing additional forms that might be required with your application.
Step 1: Check your eligibility.
Before you even begin your application, make sure your business is eligible. The SBA might be open to businesses that don't typically qualify for loans, but it still has strict eligibility criteria. The SBA's most general requirements include:
Good to excellent personal credit for all major owners
For-profit, US-based business in an eligible industry — viceand loan packaging typically can't qualify
In business at least two years
Proof the business tried and failed to get funding from other lenders
No delinquencies or defaults on government loans
Meet the SBA's definition of a small business
Owners have invested a reasonable amount of equity in the business
Your lender or program might also have additional eligibility requirements. Your business could qualify for an SBA startup loan through the 7(a) program if it doesn't meet the time-in-business or credit score requirements.
Some SBA lenders also require collateral in the form of the business or business owners' assets. The collateral typically backs the portion of the loan that the SBA doesn't cover — typically between 15% and 50% — with your personal assets
Top 4 reasons SBA loans are rejected
Worried you won't get approved? Here are the top reasons the SBA rejects applications:
Poor credit. While the SBA doesn't have any credit cutoffs, most lenders still prefer to work with business owners that have good to excellent personal credit scores. With that said, a past bankruptcy that you've recovered from won't necessarily hurt you, as long as there's a reasonable explanation.
A criminal past. Any business owner caught up in criminal proceedings — or still on parole — automatically disqualifies a business from getting an SBA loan. And past felonies can come back to haunt you. You don't, however, typically need to worry about lower-level crimes from 20 years ago — or traffic tickets.
Student loan defaults. If any major business owner defaulted on a federal student loan, it could disqualify your business.
Too many assets. The SBA wants to see that your business has made a real effort to get financing elsewhere, including tapping into some personal or business assets. This doesn't mean you have to go broke, but that you don't have a goldmine you could use — but aren't.
Step 2: Choose a program.
Just because most businesses go for the SBA 7(a) program doesn't necessarily mean it's right for you. Choose a program that works best for your business. Here are some of the most common SBA loans.
SBA 7(a). The 7(a) program actually covers several different types of SBA loans. But the standard 7(a) loan is a term loan up to $5 million that any qualified business owners can get for nearly any legitimate purpose.
SBA CAPLines. Falling under the umbrella of the 7(a) loan program, the CAPLine is the SBA's standard use line of credit up to $5 million.
SBA 504. These term loans are generally for buying fixed assets like equipment or real estate to help a business expand, which acts as collateral. This program requires a down payment of around 10% to 20% and instead of applying through a lender, your business applies through a Certified Development Company.
Disaster assistance. This program was made to help businesses get back on their feet after suffering physical damage or financial difficulty from a disaster like a hurricane or the coronavirus pandemic. They come with extra low rates, in amounts up to $2 million.
SBA Export programs. The SBA offers three programs designed for small export businesses that typically have trouble getting a business loan. These include the SBA Export Express program, Export Working Capital program and the International Trade loan program.
SBA Paycheck Protection Loan. The SBA started the new Paycheck Protection Loan program to help small businesses, independent contractors, sole proprietors and nonprofits affected by the coronavirus outbreak. The application process is much easier than for traditional SBA loans, so check out our step-by-step guide to applying.
Step 3: Find a lender.
The SBA doesn't provide loans itself. Instead, it works with lenders who provide the loan and process the application. It's the lender that sets credit requirements and determines whether or not your business is eligible.
You have a couple of options when looking for the right lender: Searching for lenders on your own or using a referral service. Referral services like SmartBiz are great for businesses that aren't experienced with lending or don't have the time to do a comprehensive comparison themselves.
However, they're typically limited to their network of lenders, so you won't be choosing from as big a pool. You also might have to pay fees for their services, making it more expensive.
If you're looking for a lender on your own, ask yourself the following questions when comparing lenders:
Does it offer the SBA program I need? Most lenders offer 7(a) and 504 loans, but you might have to do a bit more digging to find other types of SBA financing.
How much can I borrow? If the loan amounts are too low or high for your financing needs, you might want to look at other lenders.
Do I qualify? Lenders often add credit score cutoffs and eligibility standards to the SBA's requirements for each program. Make sure you and all major business owners meet these standards before starting an application.
What are the interest rates? The SBA caps its interest rates relatively low each year — generally around 9% — but lenders are free to offer rates within that range. You often can choose between fixed and variable rates. Make sure your lender is offering the type of rate your business wants.
Is there a down payment? Some SBA loans come with a down payment. Make sure your lender charges an amount you can provide up front.
Is it an SBA Preferred Lender? These lenders have a track record of providing SBA loans to small businesses and are familiar with navigating this often-confusing process.
How much collateral will I need — and what type? Different lenders have different collateral policies when it comes to SBA loans. Make sure your business and its owners can meet the lender's collateral policies for your type of loan.
How's the customer service? SBA loans aren't the kind of business loan you can apply for on your phone. More likely than not, you're going to have questions, so customer service is key.
How long will it take? If your business has a deadline for funding, you'll especially want to pay attention to how long it takes to get preapproved and the overall timeline of the application. SBA Preferred Lenders can typically get you funding faster than other lenders since they're able to approve and issue government-backed loans themselves.
Consider checking out our top five banks for business loans, which are all SBA lenders. The SBA's top 100 lenders list could also be a good starting point.
Step 4: Gather your paperwork.
Once you've found the right lender or referral service, it's time to start gathering the documents you need for the application. While it depends on the lender and type of program you're applying to, most business owners will need to provide the following information at a minimum:
How much your business wants to borrow
A detailed list of how your business plans to use the funds
Financial projections for the next one to three years
A cash flow statement
A current profit and loss (P&L) statement
A current balance sheet
Two years of business tax returns
Two years of personal tax returns from each owner
Personal financial statements for each business owner
Resumes of each owner
A business plan, including an overview and history
Proof of ownership
Business licenses and leases
If any business owner owns 20% or more in another business, they will likely need to provide details on that business as well, especially financial statements. If you intend to buy another business with your loan, you'll also need to provide financials on that business, including tax returns and the purchase agreement.
Step 5: Fill out the application.
Like with rates, credit requirements and documents, the application also varies from lender to lender. However, a lot of the information should already be in your business plan. Be prepared to provide:
An executive summary
Basic details about your business, such as contact information and how many employees work there
An ownership breakdown by percentage
Details on other government-issued debt, like SBA loans or USDA financing
Specifics on how your business will use its SBA loan
Details on how your business plans to pay it back
Step 6: Fill out the forms.
No SBA application is complete without several different forms. Depending on your loan type, business type and even your business owners' personal histories, your business will likely need to fill out at least two forms. Here are some of the most common forms SBA businesses need to fill out.
SBA Form 1919: Borrower Information Form
All SBA 7(a) and Community Advantage program applicants need to fill out the borrower information form. It provides the SBA and your lender with basics on both the business and all owners and affiliated businesses or investors.
Your lender uses this form to check your business's eligibility, like making sure that there are no conflicts of interest. It also uses this to determine whether or not your business or its owners need to fill out other forms.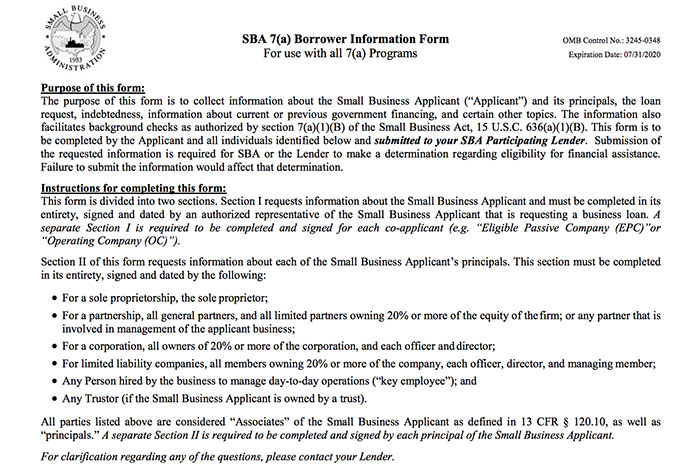 Step-by-step instructions to fill out the SBA Form 1919
---
SBA Form 413: Personal Financial Statement
All SBA 7(a) and 504 applicants are required to fill out a Personal Financial Statement for each business owner or cosigner. It goes into detail about each owner's household assets and liabilities. These include debts, real estate, life insurance policies and even the value of that silverware set you inherited from your grandmother.
Navigating this form is a little complicated, especially if you aren't an accountant. You might want to check out our step-by-step guide to make sure you're filling in the fields correctly.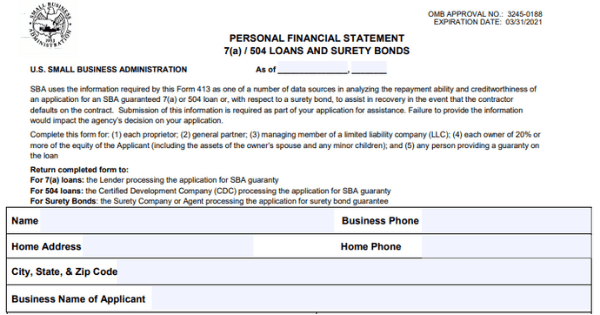 Step-by-step instructions to fill out the SBA Form 413
---
SBA Form 159: Fee Disclosure Form
This form is actually the SBA's way of protecting borrowers from paying unnecessary fees — or too much for legitimate services. All applicants applying for a 7(a), 504 or disaster assistance loan need to submit this form if they received help from an agent.
The form itself is easy, but navigating the SBA jargon isn't for amateurs. In fact, figuring out who needs to complete it — if anyone — typically takes more time than anything else.

Step-by-step instructions to fill out the SBA Form 159
---
SBA Form 912: Statement of Personal History
All business owners and cosigners need to complete a Statement of Personal History if even just one has had a run-in with the law. Basically, it asks for details on any past or current criminal convictions, including recent arrests for a misdemeanor.
Your business isn't eligible for an SBA loan if any owner is involved in criminal proceedings — and no, they can't sell their shares to become eligible — but it's possible to qualify even with a felony past. The SBA decides on a case-by-case basis.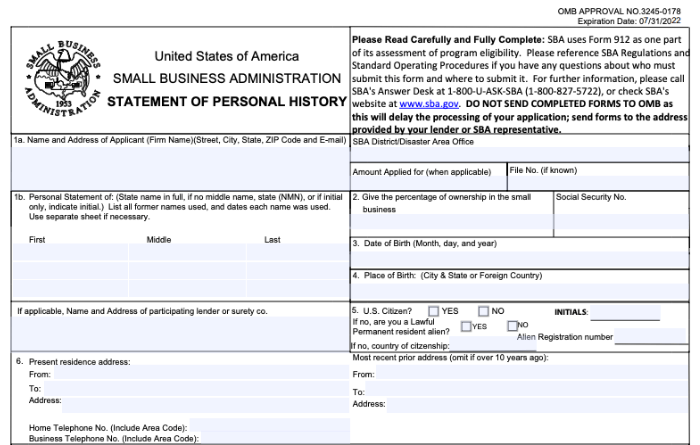 Step-by-step instructions to fill out the SBA Form 912
Find an SBA loan from top providers
SBA disaster loans are only available by applying on the Small Business Administration's website.But if you're interested in a non-disaster SBA loan, you can apply by clicking on one of the lenders in the table below.
WATCH: 4 tips to boost your chances of getting approved
How to apply for an SBA real estate loan
Several SBA programs offer real estate loans, most commonly through the 7(a) and 504 programs. While the application is similar to other 7(a) loan applications, your business needs to take some extra steps to get all of the documentation together — like getting the property appraised and evaluated for potential environmental issues. On top of the other eligibility requirements, you'll also need to:
Make a minimum down payment of 10%
Have plans to occupy at least 51% of the property
When it comes to documents, lenders typically ask for the following:
Real estate purchase agreement
Appraisal of the property
Environmental studies
Rent rolls for the new property
Leases for tenants of the new property
Remodeling or construction plans
Maintenance expenses
A report on the property's condition
How to apply for an SBA startup loan
SBA loans are one of the least-expensive options out there for entrepreneurs and young businesses — and it's catching on. Since 2013, the percentage of SBA loans that went to new businesses went up by 12 percentage points, from 26% to 38% of all SBA loans.
While applying for an SBA startup loan is nearly the same as any other 7(a) loan, there are a few key differences.
More collateral. Startup loans are higher risk than other types of business loans. It's likely that you'll need to provide collateral for a larger percentage of the loan.
Your resume counts more. Past experience in the industry is key to convincing your lender and the SBA that your new enterprise will be successful.
More personal investments. While the SBA likes to see all business owners invest in their own companies, startups are expected to contribute a little more — around 20% or 30% of the amount your business is borrowing.
You and your industry counts. If you work in an eligible industry that has a difficult time getting traditional financing, your likelihood of getting approved could be higher.
Startup-friendly programs
Not sure where to start looking for funds? You might want to check out these SBA programs:
Microloans. Not to be confused with the SBA 7(a) loan program, SBA microloans are for businesses that need $50,000 or less to cover smaller expenses. Your business can use it for anything other than buying real estate or refinancing debt.
8(a) Business Development program. This program works to promote socially or economically disadvantaged business owners. If you're approved, your business can take advantage of funding, special contracts and technical assistance through the program for nine years.
What happens after I apply?
Applying might be the most intensive part of the application process, but it's not quite over once you submit all of your documents and forms to your lender. Here's what you can expect to happen after you've turned everything in.
1. Get your letter of intent.
After your lender has had a chance to review your entire application, it'll send your business a letter of intent (LOI) if it qualifies. This can happen around a week or two after submitting your application. Your LOI tells you your business's potential rates and terms and how much your business is eligible to borrow.
If you're satisfied with these potential terms, sign and return your LOI to your lender as soon as possible so it can get started on underwriting your loan.
Your lender might also ask for a deposit of around $2,000 along with your signed LOI.
2. Wait for underwriters to review your application.
It can take as long as two or three weeks for your lender's underwriting team to review an SBA application — it's as intense process for them as it is for you. Typically, there's nothing for you to do but wait, though you might be asked to provide additional documents or details on your business's financials.
3. Sign the commitment letter.
If the underwriters give your business the green light, you'll get a commitment letter that gives you more details about your loan terms. If you accept these terms, you might have to put down another deposit, usually 5% of the loan amount or $5,000, which you'll get back if you end up backing out of the deal.
4. Close the loan.
Closing can take a while for loans that require appraisals or reviews by third parties, like real estate loans. Once your lender has finalized every last detail, it'll send your business the loan agreement. At this point, you'll review and sign the agreement and pay any closing-related fees and the SBA guarantee fee. After that, your business will receive the funds.
What is an SBA loan?
An SBA loan is a small business loan that's partly backed by the government. This means that if you can't pay back the loan, the government will take part of the hit instead of your lender.
It also means that it's less risky for lenders to take you on as a borrower, opening the doors to lower rates and small businesses that have had trouble qualifying for a traditional loan in the past. In fact, your business needs to prove that it's had trouble qualifying for financing in the past to even qualify.
Through the SBA program, small business owners can apply for up to $5 million in term loans and lines of credit to cover working capital costs or large purchases — like real estate or equipment. It also offers microfinancing to small businesses that need just a bit of funds to get their ball in the game.
Bottom line
SBA loans might not be as expensive as other forms of financing, but it's certainly not the quickest option either. It can take several months from start to finish and hours of filling out forms and gathering documents. But if your business is committed to sticking it through, SBA loans can provide a real opportunity for small businesses to grow in a way that other types of business loans simply can't — both in terms of cost and size.
Not sure if an SBA loan is for you? Read our business loans guide to learn about other options and start comparing lenders.
Frequently asked questions
Answers to commonly asked questions about applying for an SBA loan.
How long does it take to get approved for an SBA loan?
It varies based on the number of forms your need to fill out, how many documents you need to provide, what types of third-party appraisals you need to arrange and how long it takes to get everything together.
Just filling out the application can take anywhere from a week to a few months. Typically, you'll find out if you're preapproved one to two weeks after submitting everything to your lender. Official approval from the underwriting team can take another two or three weeks after that.
Is there any way to speed up the process?
Planning ahead can make all the difference when you need your funding by a certain deadline. Using a referral service, having the right documents at arm's reach and letting all relevant owners and investors know that they might need to make time for the application could seriously save you some time.
Does the SBA also offer grants?
It doesn't, with the exception of the EIDL advance — which became available again due to the American Rescue Plan Act and an executive order. However, it's only available to businesses applying for an EIDL, and is limited to $5,000.
But there are some other government grants that businesses can apply for. These are typically very time-consuming applications, come in small amounts and are very difficult to qualify for — especially if your business isn't involved in developing science or technology that could be useful to the government. You might want to take a look at our business grants guide to learn more about how they work.
When do I need to fill out SBA Form 355: Information for Small Business Size Determination?
You typically only need to fill out SBA Form 355 if the SBA requests it or you're contesting your affiliation with a business. The SBA will let you know if you need to complete this form after you've turned in your application.
To learn more about when this form is necessary, read our step-by-step instructions for filling out the small business size determination form.