Finder is committed to editorial independence. While we receive compensation when you click links to partners, they do not influence our content.
How much does it cost to build a house?
Whether you're building a two-bedroom kit home or a five-bedroom family home, here's everything you need to know about the cost of building a house.
Building a new house can be a daunting experience, but the end result makes it all worth it. It's more than understandable that combining all the features and fittings you want into the perfect home — and doing it all on a budget — can be far from easy.
At the end of the day, if you're building your own home or an investment property, the key factor that comes into play when making decisions is cost. You want your new home to be as affordable as possible and you don't want to get ripped off by any dishonest builders or tradespeople who think they can get away with overcharging.
So exactly how much does it cost to build a house?
How much does it cost to build a house per square foot?
The average figure quoted for the cost of constructing a house is usually around $125 to $150 per square foot.
However, there are range of factors that affect how much it costs to build a house such as:
Site work
Foundation
Exterior finishes
Interior finishes
Framing
Plumbing and electrical
Heating and cooling
Clean up
On top of all that, there are the specifics of your home. What materials are you going to use? Do you want to add a deck, porch or pool? Is there a specific layout you have envisioned? These types of personalizations make it impossible to quote a one-size-fits-all figure.
Home renovations: DIY vs. hiring professionals
What other factors affect the cost of building a house?
There is a huge range of factors that affect building costs.
Land. The worksite itself is one of the most important factors in the overall cost of the home. You have to take into account if the land you're planning to build on is flat or sloping. And after that there may be hidden costs, like large boulders found under the land that need to be cleared prior to building.
Location. It's all about location, location, location. Costs can vary greatly depending on if you want to live rurally, in the suburbs or in a city. Typically cities will cost the most because these metropolitan areas are desirable places to live.
Fees, permits and inspection. Government regulations in the construction industry are consistently being reviewed and updated. You'll find a slew of extra costs when getting every aspect of your home up to code.
Restrictive covenants. There are some instances — mostly with homeowners association — where houses require specific building materials to be used or design requirements to be met. These costs will vary depending on the individual requirements.
One story or two. It'll generally cost more to build a two-story home than a one-storey home as there are additional items required for construction. This includes an additional floor, stairs, scaffold and more.
Materials used. From brick and veneer to a lightweight siding such as weatherboard, the materials used in the construction of your home will have a big impact on the total cost.
Tradesperson. Hiring each type of professional — electrician, plumber, roofer and so on — play a large part in the cost of your build.
Your house. How many square feet will your home cover? How many bedrooms and bathrooms will it have? Will it be architecturally designed or a production home? To what standard will the home be fitted and finished — budget, standard or premium? All of these factors can make a difference of tens or even hundreds of thousands of dollars in the cost to build your home.
Compare personal loans to offset the costs of your new home

Choosing a contractor
The contractor you choose to complete your construction project is the next factor that can have an impact on the overall price. Builders can vary not only in the type of work they specialize in (for example, custom-built homes versus production homes), but also in how much they charge for their work. It's essential to obtain quotes from several home builders to get an accurate idea of construction costs, as well as which contractor offers the best value for money.
Here are some important questions you should ask any prospective builder before enlisting their services:
Are you properly licensed?
Do you have insurance?
What is your building process and why is it like that?
Can you design and build a house to suit the layout of my property?
Do you provide regular updates on contraction progress?
Are the plans and design flexible?
Are there any completed homes you've built that I am able to inspect?
Do you have any references?
Check that any contractor you consider is properly licensed and insured.
How do I get an estimate for building a house?
You've got two different routes you can take to get a ballpark figure of what you'll spend to build your new home.
Construction cost calculators
There are a number of building cost calculators available online to help you work out your costs. While these calculators are useful to get a very rough idea of how much money to set aside for your new-home budget, they're a long way removed from an accurate quote.
So before you use them, make sure you're aware of any assumptions each calculator makes, and take whatever per-square-foot result you are given with a grain of salt.
Getting a custom quote
For a much clearer idea of how much it will cost to build your house, you'll need to have detailed design and construction plans drawn up and get quotes from several builders. These will take into account all the specifics of your project, from any site requirements to the size, layout and features of the build.
Just make sure you know exactly what is included in the quote from your builder and what may cost extra. For example, site costs, carpets, driveways, landscaping and fencing are often not included in quotes but can add thousands of dollars to the overall cost.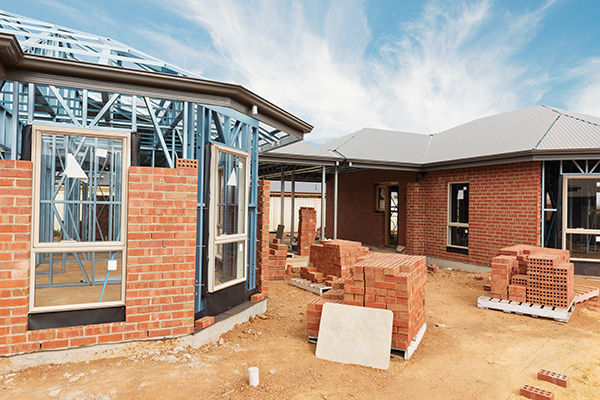 How do you finance the construction of a new home?
If you need to borrow money to build your home, you'll need to apply for a construction loan. These loans can be set up to allow you to purchase a vacant block of land first and then build on that land within a set timeframe or to fund the construction of your home if you already own the land.
Unlike a regular mortgage, where the lender gives you access to a big lump sum when you take out the loan, a construction loan is set up a little differently. The lender calculates the total amount you'll need to borrow to pay your builder and then allows you to access portions of this amount at specified times so you can pay your builder throughout the construction process. These loan withdrawals are known as progress draws and are a predetermined percentage of the total mortgage amount.
The lender will typically set a timeframe for the construction of your house and typically only require you to make interest payments while your home is being built. Once construction is complete and the builder has been paid, you'll start making full principal and interest repayments.
Before you can qualify for a construction loan, you'll need to have full plans drawn up and the project professionally priced by your contractor. Some lenders may impose a slightly higher interest rate during the building process, so it's important to compare construction loans and interest rates to find the right loan for your requirements.
Compare mortgage lenders and brokers
Compare top brands by home loan type, state availability and credit score. Select
See rates
to provide the lender with basic property and financial details for personalized rates.
Alternatively, use the form below to compare rates from multiple lenders on LendingTree's secure site.

Production homes vs. custom homes
Although it's not always the case, production home builders are usually nationally owned companies that have completely systemized their construction process. The main feature that typically attract people to use a volume builder is their extensive range of floor plans that are already priced out and cater to budgets ranging from standard to luxury.
However, when you choose a production home, every aspect of the build is typically finalized before construction starts — every single detail is set. If you're someone who likes to improvise and change things as you go, you might be happier with a custom built home.
Custom builders are usually hands-on local contractors who pride themselves on the personal quality and uniqueness that they can bring to your home building experience. Custom homes suit people who like the idea of having some level of involvement in the home-building process — though that is completely optional.
With a custom builder, you have the freedom and flexibility to improvise and make adjustments along the way. Although many custom builders may have a range of plans available to inspire you, they generally have no problem working alongside an architect to create plans for your home.
How much does it cost to build a kit home?
If you're looking for a low-cost option when building a house, you might want to consider a kit home. These homes are designed and built off-site, and then the materials are delivered by truck to your property for assembly.
Kit homes can be cost-effective, allowing DIY contractors to do much of the work themselves, and come in a wide range of designs.
However, there are several factors that can affect the cost of a kit home.
The model. A four-bedroom kit home costs substantially more than a one-bedroom kit home. The floor space of your chosen design has a big impact as does the number of bathrooms and other spaces (e.g., a study).
The siding option. Brick, weatherboard, render and more are available.
The site. Sites that are difficult to access or that require levelling could result in increased costs.
What's included in the package. Some kit-home prices you see quoted online will include nothing but the bare shell of a home, while others will include everything from air conditioning to floor coverings.
Before you purchase a kit home, make sure you get an itemised list of what is included in the price. Will you just get the bare essentials, or does the price cover everything you need to move into your home? Will other jobs like site levelling or soil testing cost extra? The last thing you want is a raft of unexpected costs that cause a budget blowout, so make sure you know exactly what you're getting yourself into before handing over any money.
Below are some rough guides to how much it costs to buy a kit home and get a licensed builder to construct it for you.
Two-bedroom kit home
Three-bedroom kit home
Four-bedroom kit home
$55,000–$120,000.
($25,000–$60,000 for kit and floor +
$30,000–$60,000 for labor and construction)
$120,000–$180,000.
($55,000–$85,000 for kit and floor +
$65,000–$95,000 for labor and construction)
$150,000–$220,000.
($65,000–$100,000 for kit and floor +
$85,000–$120,000 for labor and construction)
Are kit homes really cheaper than standard homes?
For some people with a level and easily accessible site, and who have the necessary skills and qualifications to do much of the work themselves, a kit home can be an affordable option. However, others will be able to find contractors that can build a home for around the same price as a kit home, so it's important to shop around to compare costs.
The key to deciding whether a kit home is the most affordable option for you is to make sure you're fully aware of what is included in the package and what you will have to pay extra for. You may need to pay for soil testing, laying slabs and any finishes you add yourself.
Get financial help with a personal loan
Choosing the right option
From the features you want in your home to your bank balance, there are a myriad of factors you need to consider before you start building a home. Make sure to research all your options thoroughly and obtain an accurate idea of the total cost involved before construction begins. This will ensure that your new home is ready on time and, most importantly, on budget.
More guides on Finder