Finder is committed to editorial independence. While we receive compensation when you click links to partners, they do not influence our content.
How does Ibotta work?
Earn cashback by redeeming coupons — but understand that it tracks your shopping habits.
Ibotta helps people save money by offering coupons and rewarding them with cash back. But you'll need to be intentional about redeeming the deals, and understand that your personal information, including shopping habits and geo location, may be sold to third parties.
What is Ibotta?
Ibotta is a tech company that connects bargain hunters with in-person and online deals from major retailers and rewards them with cash back for using coupons. It partners with over 1,500 retailers that you probably shop at anyways, like CVS, Target, Walmart, Barnes and Noble, Ulta, Sephora and many more. Still, like any data-driven company, Ibotta collects information about how you use its platform, and it'll sell this information to third parties unless you manually opt out.
How to use Ibotta
To use Ibotta, first you need to create an account. You can do this online or through the app. To register, you'll enter your email, birthday and ZIP code.
Once you're in, there are three ways to find coupons on Ibotta:
By category. Ibotta organizes deals into categories like Grocery, Online Shopping, Clothing, Health & Beauty and more. Click into a category to browse relevant coupons.
By retailer. Search recommended retailers to see the coupons available from each store.
By searching for an item. Need to buy coffee? Simply type that into the query bar to see all the coupons currently available for coffee.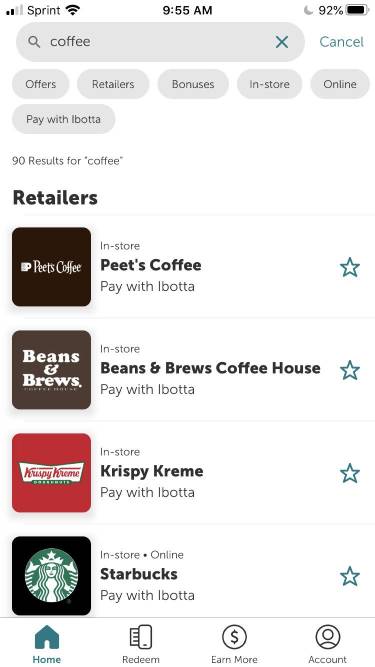 Another way to get cashback is through its Earn More page. There, you'll find extra incentives and challenges to get bonus cash. For instance, the Moooo-lah bonus (valid in September 2020) rewards users with $20 cashback when they redeemed 50 offers before October 1.
Ibotta deals
One of the great things about Ibotta is that it has generic cashback deals that don't require you to shop at a specific store. For example, the $0.75 back grocery deal is valid with a receipt from one of 35 grocery stores, including Walmart, Woodman's, Metro Market, Hybee, Piggly Wiggly and Albertsons. It also offers generic item deals, like $0.10 back when you buy any brand of chicken at one of 35 grocery stores.
Additionally, it runs promotions on specific brands. Here are a few of the deals that caught our eye on September 15, 2020:
2% back on any online Ulta purchase
$3.50 back on RXBar 10-count multipacks
5% back on devices purchased through Amazon
4% back on Booking.com reservations
10% back at Warby Parker on blue light-filtering glasses
2% back on orders made through Seamless
$3.50 back on Smirnoff vodka, any variety, 750 ml or larger
$2 back on Tanqueray Gin, select varieties, 750 ml or larger
1.25 back on Perdue fresh chicken, select varieties, any size
$1.50 back on Coleman Natural bacon, any variety, 12 oz
$0.50 back on avocados from Mexico
Ibotta's rebate offers change daily, but it adds the most new deals on Wednesday afternoon, so savvy shoppers should check back then.
Ibotta stores online
Here are just a few of the websites that partner with Ibotta online:
How to get cash back on Ibotta
Coupons are swell, but getting your hands on cash rewards is stellar. Here's how to get cash back from Ibotta:
Link up your loyalty account. For retailers with robust loyalty programs such as Target, Walmart, CVS, Kroger and more, you can connect your loyalty account to Ibotta — and the cash back will automatically be applied to every purchase.
Upload a picture of your receipt. Click Redeem, select the retailer you shopped at, then upload a picture of your receipt to get rewarded for your purchase.
Pay through your Ibotta account. You can shop online through the Ibotta app, connecting your credit card to automatically get cash back.
The catch with Ibotta is that you can only access the cashback after you've accumulated $20. Even then, you'll need to withdraw it using Venmo or PayPal. Alternatively, you could transfer the money onto one of 20 gift card options, including Amazon, Walmart, Target, Sephora and Starbucks.
How to earn $20 with Ibotta today
Ibotta has three deals for first time users that you can redeem within a month of signing up.
$10 cash back for redeeming your first in-store offer
$5 cash back for redeeming your first online offer
$5 for your second mobile or in-store offer redemption
You can also earn $7 by referring a friend that signs up for Ibotta.
User privacy when using Ibotta
Ibotta tracks your activity and shopping habits to understand how you use the app and what you like to buy — that's the tradeoff you make when you sign up.
Does Ibotta track your personal data?
Yes. Ibotta's privacy policy states that it collects information about users using cookies, pixel tags, web beacons, browser analysis tools and web server longs. Basically, it tracks your activity and behavior, both online and in store. Ibotta also specifically states that it uses session cookies and persistent cookies to understand your activity on the site. Session cookies disappear after you close the browser or app, while persistent cookies — such as login information and account settings — remain.
Ibotta also tracks your location as a default setting, though you can turn this off by going to the Mobile section of the app.
If you're concerned about Ibotta tracking your personal information, be sure to read its privacy policy before signing up.
Does Ibotta sell my personal information?
Unless you opt out, Ibotta sells data related to your personal information, including:
Your shopping and purchase history
Your browsing and search history, including cookies
Geo location data
Demographics information from your profile
Your data is sold to brands, retailers, advertising agencies, financial institutions and data platforms. That said, Ibotta never sells information that could identify you personally, such as your name or contact information.
If you're uncomfortable with the idea of Ibotta selling your personal information, here's how to opt out:
Click Account.
Click Preferences.
Under Privacy, click Do not sell my personal information.
Is Ibotta secure?
Yes. Ibotta uses the same encryption standards to secure your financial information as a bank, which means your payment information should be secure. Likewise, your personal data is secured at all times using software and hardware encryption. You won't be able to withdraw money from Ibotta without verifying your account with a code.
What to watch out for
Let's say you ask Ibotta not to sell your personal information. There are still a couple of things to be aware of before using the app, including:
$3.99 maintenance fee. This is only charged to accounts that've been inactive for at least six months, with an account balance that hasn't been withdrawn. So if you decide to take a break from the app and leave your account balance at zero, you won't be dinged.
It doesn't partner with small businesses. Ibotta works in tandem with big box stores, not your neighborhood grocer. If supporting local small businesses is important to you, consider saving a few purchases for the corner store.
What Ibotta users say
Ibotta has been accredited with the Better Business Bureau (BBB) since 2016, where it has a B rating — though 230+ reviews average out to just 1.5 out of 5 stars. Likewise, it has a 1.5- out of 5-star Bad rating on Trustpilot. However, Ibotta has answered every complaint on the BBB website with a feasible explanation. For example, one user complained that their account was suspended, and Ibotta replied that that particular user had been altering the numbers on their submitted receipts to justify the suspension.
Some people complain that the process of verifying purchases is time-consuming, and can add up to nothing if there are technical issues — like if Ibotta can't verify the date on the receipt. So Ibotta won't be ideal for shoppers who value efficiency above all else.
Overall, it's a positive sign that Ibotta's customer service team actively responds to complaints submitted to the BBB. But be sure to always read the fine print, and be patient when trying to redeem deals.
Case study: Amy's experience
Amy Stoltenberg
Writer, Finder US
I used Ibotta for a few months back in 2017, and earned $51 overall — though $20 of that was from taking advantage of new user bonuses. But to be honest, I don't use it any more, mostly because my shopping habits are sporadic and I'm always trying to minimize my screen time outside of work. The five minutes it would take to snap pics of my receipts and upload them to earn a couple of bucks just isn't worth it to me. Time is money, too.
On the flip side, you could totally take this as an argument for Ibotta — you can earn decent cashback simply by not being lazy! Writing this actually makes me want to start using it again. We'll see how long that lasts.
Bottom line
Ibotta can save you money on purchases you'd make anyways, like milk, eggs, butter and wine, but you'll need to be comfortable with having your shopping habits tracked. If you're not ready to sign up yet, consider using coupon codes, promotions and one-off deals to save money in the meantime.
Frequently asked questions
More guides on Finder