Farmers World game guide
Raise animals and mine resources in this play-to-earn farming simulator.
Free to try
Complete daily quests
Earn crypto & trade card NFTs
Runs on HIVE blockchain
Go to site
Disclaimer: This page is not financial advice or an endorsement of digital assets, providers or services. Digital assets are volatile and risky, and past performance is no guarantee of future results. Potential regulations or policies can affect their availability and services provided. Talk with a financial professional before making a decision. Finder or the author may own cryptocurrency discussed on this page.
It's been less than a year since Farmers World officially launched. In that time, it amassed over 150,000 players worldwide and has over 80,000 members on its Discord.
Gameplay is passive, which may be a big plus to investors who want to sit back and let it ride. But it costs a little cash to get started, and it might take time to earn back what you've put in. It's a game of strategy and timing – not skill.
Highlights:
Played in browser
Little skill required
Passive gameplay
Not free to play
Some NFTs are extremely costly
Unknown, new developers
May not be for newbies
What is Farmers World?
Developed in Japan by G.JIT JAPAN and built on the Worldwide Asset eXchange (WAX) public chain, Farmer's World has gained popularity in the crypto, play-to-earn gaming space.
It's a passive, mining game with three in-game tokens: Food, Wood and Gold. Each has its own use, and can be exchanged within the game.
You spend most of your time using NFT tools to get the three resources, buy NFT Land Plots to cultivate food and raise NFT animals. Plus, you can sell your earned NFTs on the secondary market for WAX.
The game doesn't have a storyline to follow, but the inspiration for Farmers World stems from an ancient document called "Manuscript №4848" housed in the National Library of Brazil. It's not required to read this lore but we did anyway.
The document talks about a mysterious civilization that's adapting to life in the Amazon wilderness. It mentions a stone statue of a young man that "does not have a beard," earthquakes and other natural disasters — it's a little convoluted.
Farmers World takes place when the mysterious, ancient civilization was in its infancy. As a player, you're tasked with building up your civilization by chopping wood, catching fish, farming and mining gold.
In real life, you're doing these things with the hopes to earn some real cash. There's a lot of strategy involved in this game, so here's the basics on how to get started.
Playing Farmers World
Go to farmersworld.io, and select the green button "Play & Earn." You're redirected to the actual game where you log in with a digital wallet, either Wax Cloud Wallet or Anchor.
You also need a WAX account if you plan on selling on the secondary marketplace, which you can sign up for at wax.io. Gas fees are required to power any blockchain transactions, which means when you exchange resources or mint NFTs in game, gas fees apply.
Once you're logged in and have your accounts ready, you can immediately start playing – sort of.
To play the game, you need tools. Tools are what you use to mine the in-game tokens. Craft these tools yourself or buy them at AtomicHub's marketplace, through drops or secondary sales.
And since crafting tools isn't an option when you're first starting out, due to lack of resources, you'll need to buy items from the marketplace.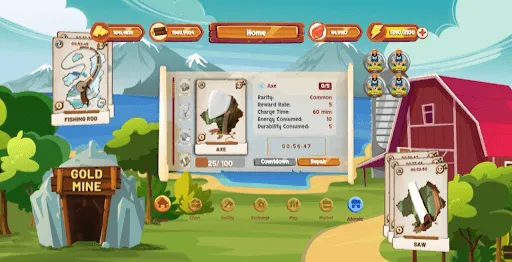 Image source: Farmers World
Here are the tools you'll need to earn in-game tokens:
Wood (FWW) — use Axes, Saws or Chainsaws.
Food (FWF) — use Fishing Rods, Fishing Net or Fishing Boat.
Gold (FWG) — use a Mining Excavator.
You start with 200 Energy, which needs to be replenished in order to carry out tasks. To get food and replenish Energy, use fishing tools.
Each NFT tool has a durability index. To repair a tool that's durability is 0, you need Gold. The starting durability of tools varies between 25 and 1,600.
Each tool has a cooldown of one hour after using it to mine resources. During this cooldown, you can't use the items until the countdown is over.
Farmers World recommends starting the game with an Axe and a Fishing Rod. We agree, since chopping wood is an easy way to get going and you can use the Fishing Rod to replenish your Energy.
The tokens work in a cycle of sorts: need tools and energy to mine; need resources to replenish and repair tools to keep mining; mine the resources to earn and buy better tools and get more energy, and so on.
Membership cards
Membership cards are "wearable" NFTs used to get bonuses in-game: a chance to mine more resources, increase tool slots and increase your Energy.
The membership levels are:
Level 1: Bronze Member (common)
Level 2: Silver Member (uncommon)
Level 3: Gold Member (rare)
Level 4: Diamond Member (epic)
Farmer Coin and Gold can be used to craft Level 1 or 2 Membership Cards.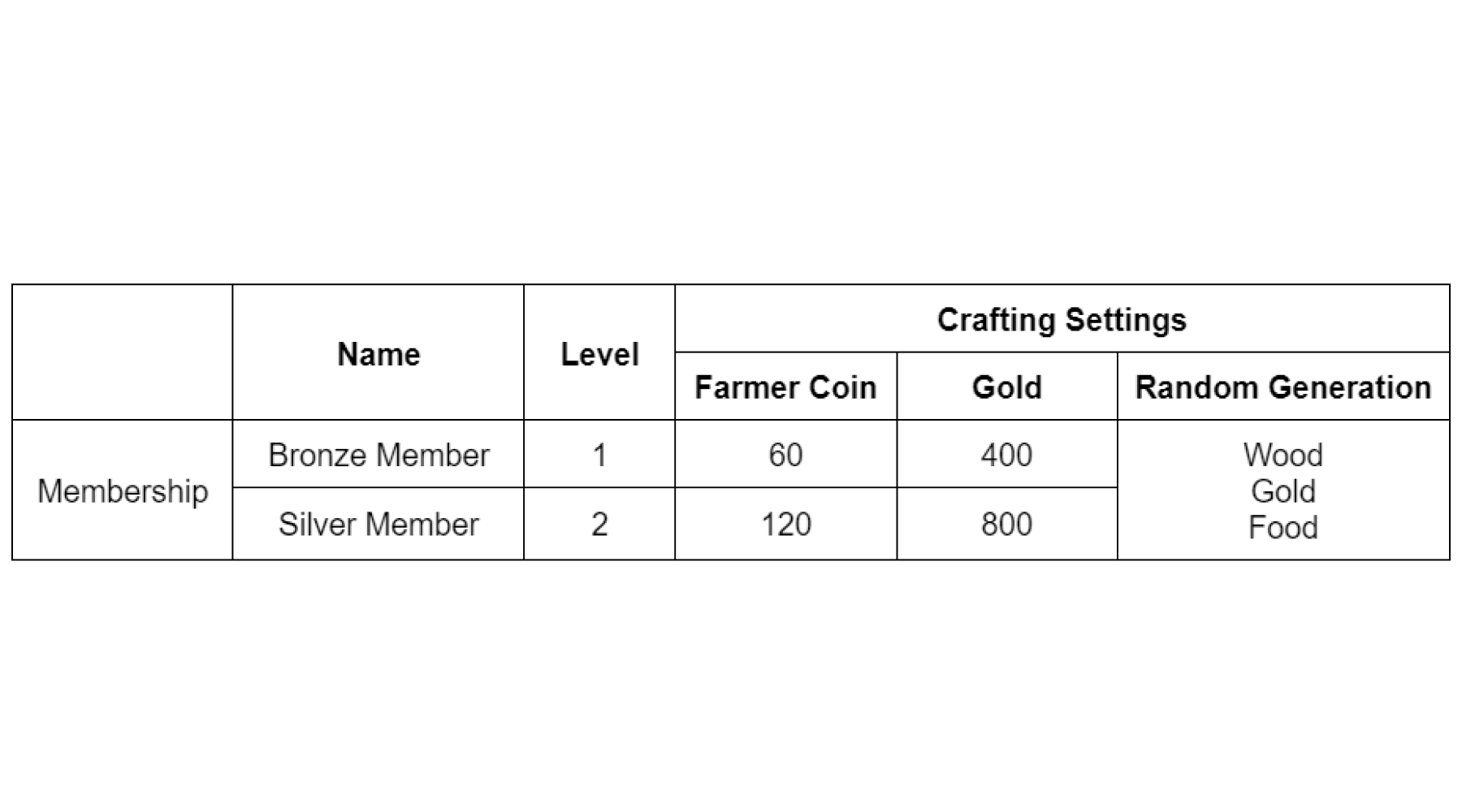 Cards are randomly assigned a token powered by Gold, Food or Wood. The in-game benefits are outlined below: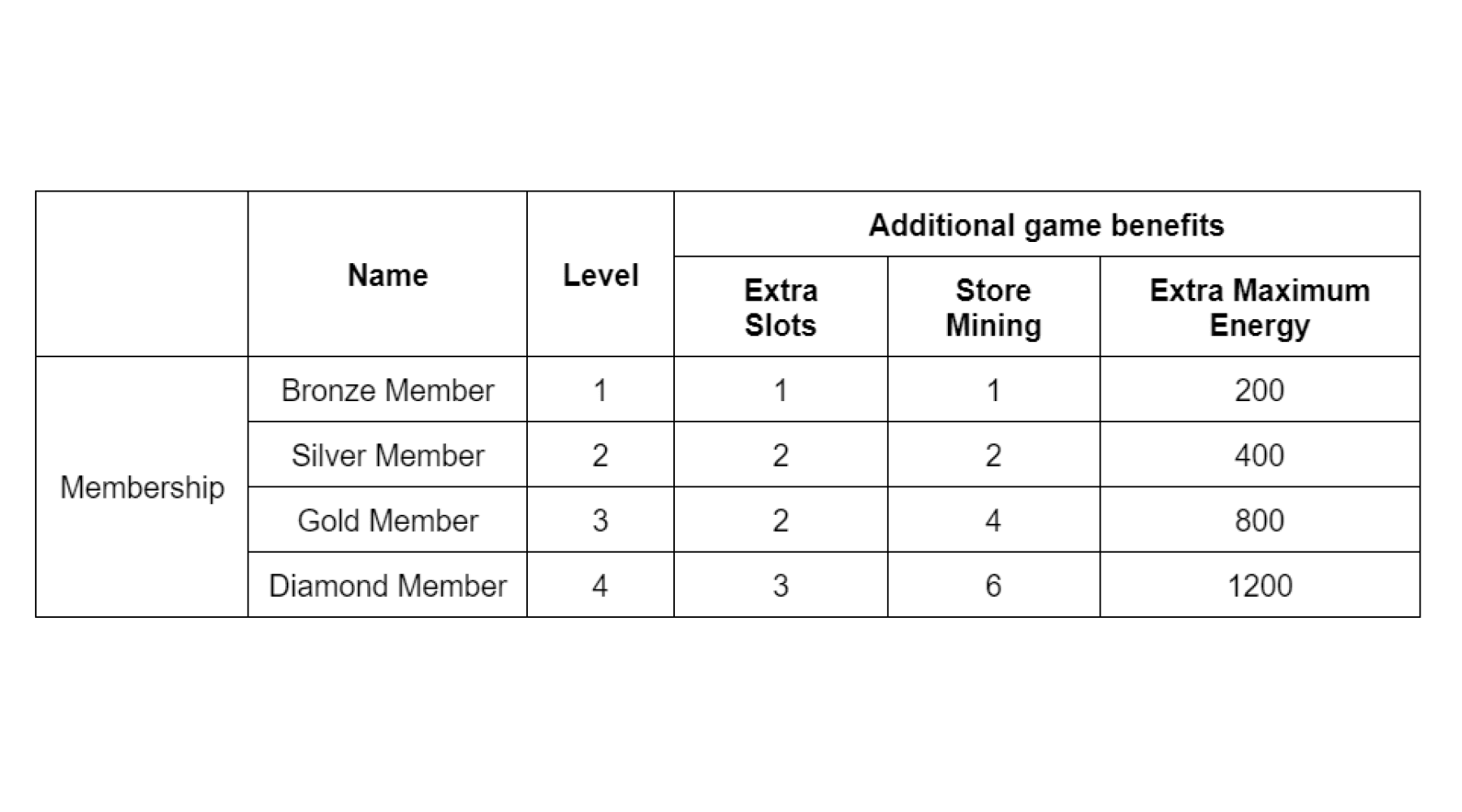 At the time of writing, there was a Silver Member card powered by Gold listed for $1,502 (4,400 WAX). Bronze Member cards run around $70 to $90, or ~200 WAX, so that level is much more affordable.
Use the cards to earn rewards, which costs you Energy. If you wear a Member card and wait one day, you'll earn the default reward. And if you wait a few days, you can earn more rewards.
To claim a one-day reward, you must have at least 100 Energy. Wearing the Member card for longer requires more energy to claim the rewards:(# of days) X (100 energy)
Here's the breakdown of how rewards work: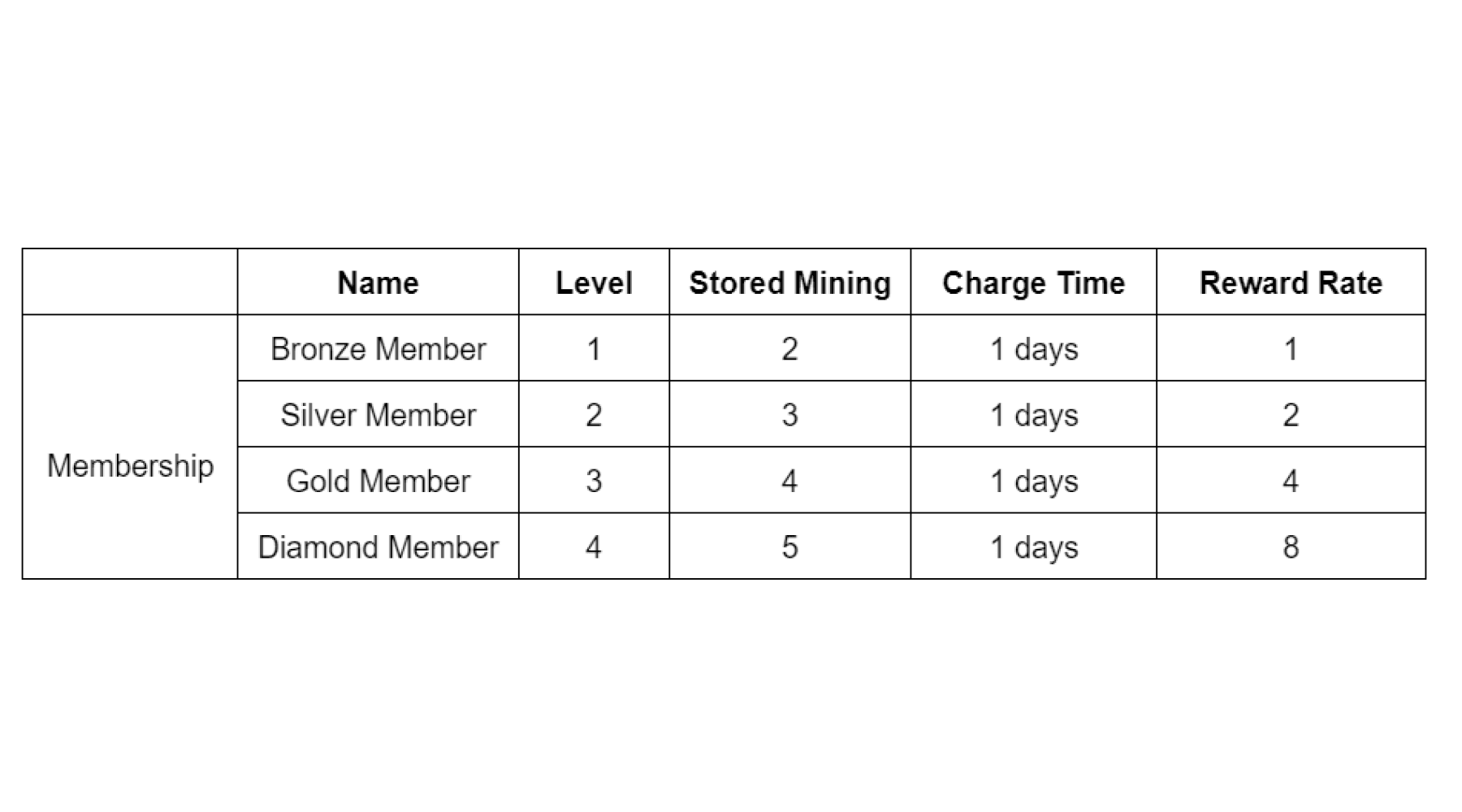 How to raise animals and crops
Farming and cultivation was added to the game in September 2021. You need at least one Farm Plot to cultivate crops, a Cowshed for cows and a Coop for chickens.
The NFTs associated with raising animals and crops are:
Farm Plot
Milk
Cowshed
Coop
Baby Calf
Cow
Bull
Dairy Cow
Chicken Egg
Chick
Chicken
Barley
Corn
Craft a Cowshed, Coop or Farm Plot using Wood and Gold. The building process takes time, as outlined here: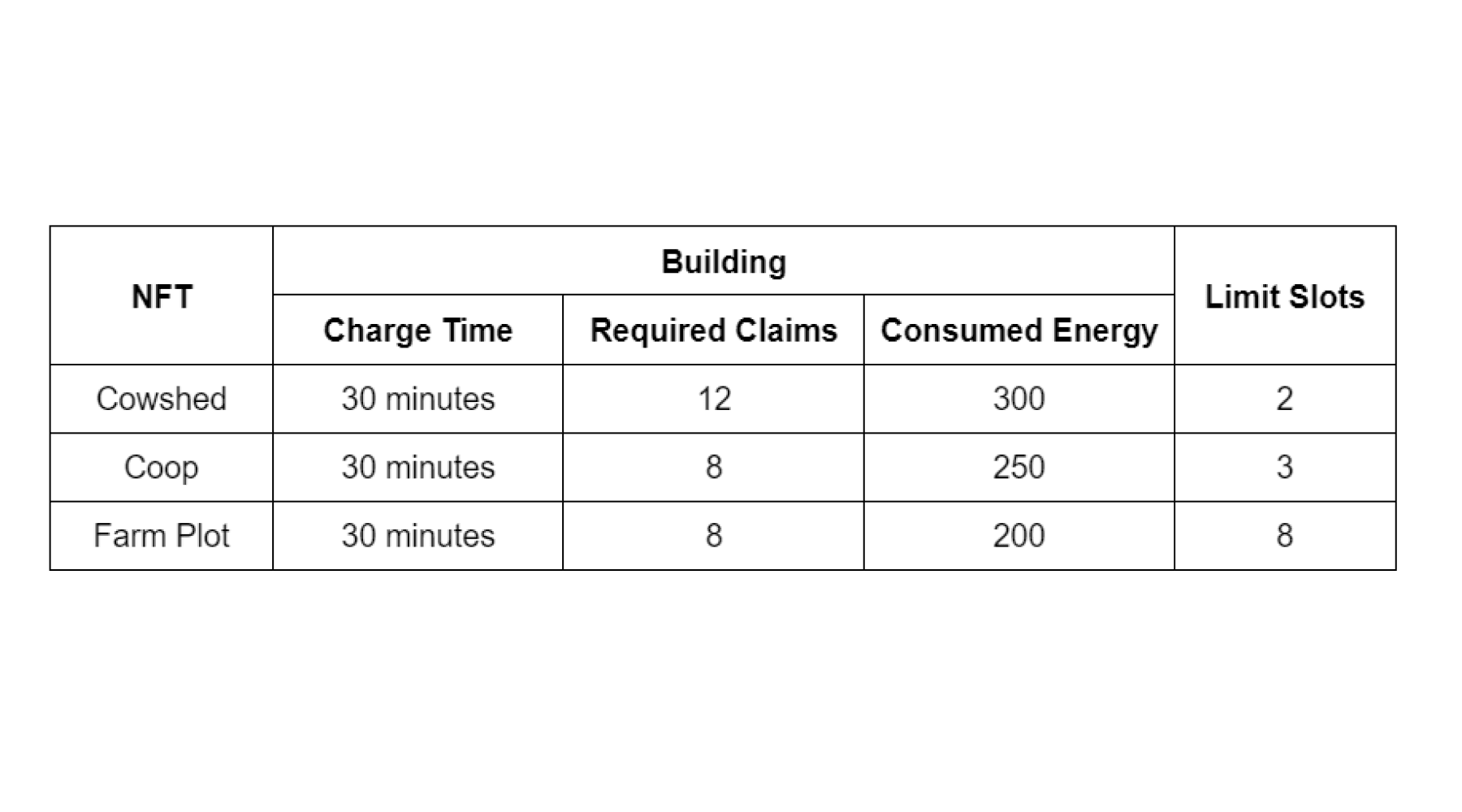 While raising crops, you need to water the plants, which consumes Energy.
When baby animals grow up, their NFT cards are burned and minted into the next level, for example: Baby Calf > Calf > Dairy Cow/Bull.
Other things to note while cultivating crops and raising animals:
Baby Calves need to consume Milk.
Calves need to consume Barley.
Dairy Cows need to consume Barley.
Chicks and Chickens need to consume Barley.
There's a countdown between animal feedings.
What is Farmers World's token?
WAX is the token needed to play Farmer's World. WAX is a purpose-built blockchain and protocol token.
NFTs for Farmers World are bought with WAX.
How to buy Farmers World token
Unfortunately, at this time no major exchanges in the US offer this coin. However, you may be able to purchase it with another cryptocurrency, just be sure you're following all legal restrictions and requirements.
Consider buying a different cryptocurrency after comparing popular exchanges.
How does play-to-earn work with Farmers World?
At its core, Farmers World is a farming game where players use their Energy and Tools to get resources to be exchanged in game or sold on the marketplace.
Earning can be done in two main ways:
Mine resources. Get Wood, Food or mine Gold to be sold on the marketplace. You can also exchange the resources for other resources in game using the Exchange option, such as Wood for Gold. Additionally, you can craft Member cards to sell — we'll get to more on that in a minute.
Raise animals and cultivate crops. Farm animals and food can be sold on the secondary marketplace for a profit. There's cows, chickens, bulls, corn, barley and much more. Resources from animals can also be exchanged, such as Milk for Barley.
If you want to mine Gold, you'll need around $1,500 to $2,000 to get started in that part of the game, as of February, 2022. Yes, you read that right.
In order to mine Gold in-game you need a Mining Excavator, which can be around $1,600 — about 4,700 WAX — on AtomicHub's marketplace.
For new players, starting out by getting Wood, Food and Farm plots is recommended because it doesn't require as much cash up front, unless you're comfortable with dumping a couple thousand dollars into the game right away.
What are the Farmers World NFTs?
Farmers World has many NFTs, including the tools, animals, wearables and more. Here are a few:
Beginner pack
Chicken pack
Spotlight pack
Baby calf
Corn
Corn seed
Barley
Barley seed
Coop
Farm plot
Bull
Farmer coin
How to buy NFTs on Farmers World
You can purchase Farmers World NFTs at AtomicHub marketplace, using WAX.
There are two easy ways to get to the AtomicHub NFT marketplace:
Select the blue button labeled Atomic on your game menu and head to the marketplace directly to search for Farmers World NFTs.
Go to wax.atomichub.io/explorer/collection/farmersworld
Prices of these NFTs vary — a lot. A user listed a Bull for over $40,000 (122,000 WAX), comparable to the price of a brand-new sedan. Other NFTs don't run you nearly as much, such as Farm Plots that run about $20 a pop.
You need a crypto wallet to buy and sell NFTs on the AtomicHub marketplace, which supports three wallets: WAX Cloud Wallet, Anchor and Scatter.
Other crypto games and NFT projects
How to sell Farmers World NFTs
Selling your NFTs is as easy as selecting the blue
Atomic
button on your menu, connecting your WAX wallet and listing your NFTs for sale. Or you can head to wax.atomichub.io/explorer/collection/farmersworld, connect your wallet and sell NFTs that way.
You need one of these three wallets to sell NFTs on AtomicHub: WAX Cloud Wallet, Anchor and Scatter.
We sorted the listings from low to high on the Farmers World collection, and the lowest listing we saw was less than 0.01 WAX (technically equals $0 USD). The higher listings tend to float around 800,000 to 400,000 WAX (roughly $98,000 to $49,000 USD). Suffice to say, prices are all over the map.
The pricey NFTs tend to be Farmer Coins, Mining Excavators and Member Cards.
About Farmers World developers
We know that the game was developed by a company called G.JIT JAPAN, but other than that, there isn't much information about the developer at all.
We were able to determine that G.JIT JAPAN is a company based out of Japan, and it was founded around the same time that Farmers World was launched.
Anonymity is a common theme in decentralized applications, but when it comes to game developers and dealing with real cash, a developer with transparency on their background, founders, and investors send us more trust signals. Farmers World and the developers don't seem too keen to dispel that information, so take that as you will.
Farmers World Roadmap
There's a mobile version of the game in the works, for both iOS and Android platforms.
Along with adding new characters and items, Farmer's World plans to add the ability to:
Cultivate fruits.
Forge weapons.
Recruit weapons.
Defend farms.
Players may also have the capability to exchange resources in Farmers World to another player with Farmers World. We're not completely sure what this entails, and there's an update slated for the long-term.
Bottom line
Farmers World requires some patience. Tools have cool-down times, animals and crops take time to grow and your characters need to replenish energy. It's a passive game that requires real planning and strategy for success.
The gameplay isn't particularly exciting, but for gamers that want to earn without relying on skill, it could be worth looking into.