Finder is committed to editorial independence. While we receive compensation when you click links to partners, they do not influence our content.
Compare credit card consolidation loans
Streamline repayments while saving on interest.
Editor's choice: Upstart personal loans
Work and education get you better rates
Fair credit OK
No prepayment penalty
Go to site
Compare personal loans for credit card consolidation
A selection of personal loans you can apply for
Use this table to compare the interest rates, loan amounts and eligibility requirements of top online lenders.
A selection of brokers you can speak to
One way to make sure you're getting the best rate is to let a broker find a competitive rate for you.
How does a credit card consolidation loan work?
A credit card consolidation loan is a personal loan you use to pay off multiple high-interest credit cards. The benefit is that you'll pay off your existing debts with those credit card companies and instead have just one monthly loan payment to worry about. You could possibly save on interest too, since credit cards tend to come with higher interest rates than personal loans. And if used correctly, you could see an improvement in your credit score.
Pros and cons of a credit card consolidation loan
Pros
Fewer payments to keep track of. By rolling several different balances into one, you should be able to manage your repayments easier.
Fixed terms. A fixed term means you can't get away with paying the minimum and ignoring your balance. Consolidation can put you on the path to debt freedom.
Improve your credit. Taking on a new type of credit, paying down your credit card balance and making on-time repayments all have positive effects on your credit score.
Potentially lower rates. Credit cards typically have higher APRs than personal loans, meaning that you can save.
Cons
It doesn't wipe out your debt. Debt consolidation is only useful in some situations. If you can't get a lower rate or qualify for affordable repayments, debt consolidation won't do you much good.
You could pay more in interest. A lower rate can help, but if you sign up for a long-term loan to get the lowest monthly repayments, you could actually end up paying more in interest.
It doesn't fix bad habits. In the end, debt consolidation doesn't get to the source of the problem: credit card spending. In addition to debt consolidation, you might want to learn how to budget or consult a financial adviser to help you stay on track.
You could lose some assets. If you decide to back your loan with collateral, you risk losing that if you're unable to pay off the loan.
4 steps to find the best credit card consolidation loan
Follow these steps to find the best credit card consolidation loan for your personal situation:
Add up your credit card balances. This will give you a ballpark idea of how much you need to borrow. Many lenders have limits to how much debt they're willing to consolidate, so knowing this ahead of time can help you find a lender that offers what you need.
Compare lenders. Take into consideration features like the minimum and maximum loan amounts, APR range, fees and turnaround time before you apply. You might want to also take a look at online reviews from vetted sites like Trustpilot and the Better Business Bureau to look out for any red flags.
Prequalify with a few lenders. This can help you figure out which lender can offer you the best deal. Your rates and terms might not be exactly what you'd get with the lender, but it's more specific than a general range of loan amounts.
Calculate your potential savings. Think you found the best loan offer available to you? See how much you stand to save using our debt consolidation calculator.
If you're happy with how much you could save, go ahead and submit the full application with the lender. Otherwise, continue comparing personal loan providers until you find one that fits your needs.
How to avoid a credit card consolidation loan scam
Do your research. Make sure the lender is accredited and licensed to do business in your state. License numbers should be visible in the footer of the website and in the terms and conditions.
Stay away from "guaranteed approval." Lenders can't guarantee that you will qualify for a loan without knowing your particular situation and personal information.
Watch out for upfront fees. Be wary of having to pay any fees to apply for a debt consolidation loan — you should never have to with a legitimate lender.
Take note of initial contact. You should always be the one to initiate contact — unreliable lenders are more likely to be insistent in their search for borrowers.
Beware of companies claiming to offer loan debt consolidation. Many of the companies that advertise this way instead offer debt management and settlement services.
Case study: Matt saves $16,588 with credit card consolidation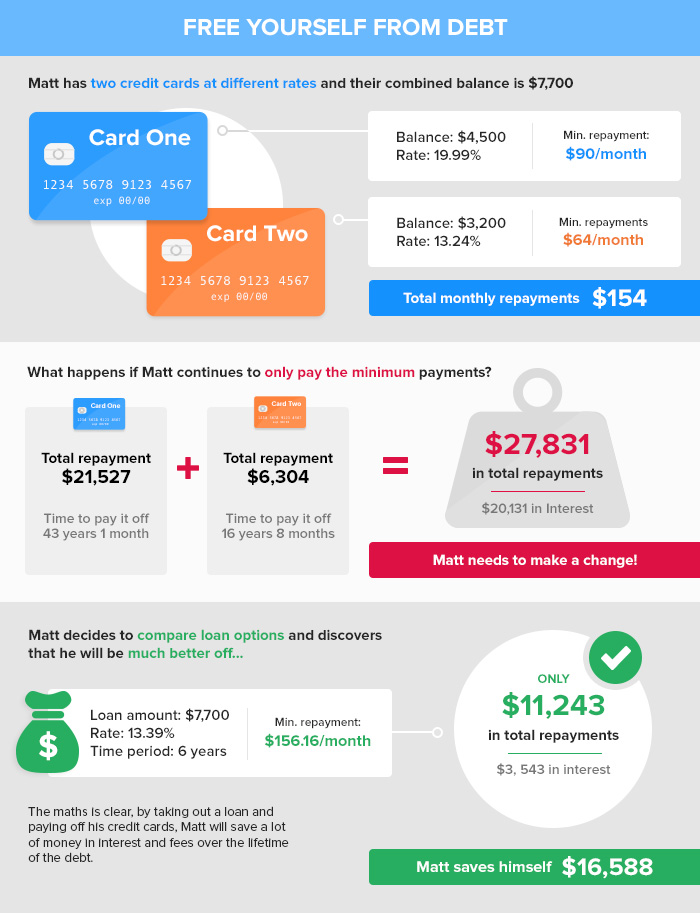 Here was Matt's credit card situation before he took out a consolidation loan:
| | | | |
| --- | --- | --- | --- |
| | | | |
| Minimum monthly repayment | | | |
| | | | |
| | | | |
If he only made the minimum payment each month, it would have taken him over 40 years to pay off credit card one — not to mention that he'd end up paying over four times the amount he borrowed in interest.
Here's how much Matt saved by taking out a $7,700 consolidation loan with an APR of 13.39%:
When should I hold off on consolidation?
Consolidating your credit card debt with a personal loan isn't always the right move. Consolidate at the wrong time and you could actually lose money. You might want to hold off on consolidating or consider other options when:
You qualify for a higher APR. This is a red flag that your personal finances are not strong enough to handle a new loan, even if it's a debt consolidation loan. You might actually end up losing money if the new APR is high enough.
You're about to get another loan. Lenders run a hard credit check that temporarily lowers your credit score. If you have plans to buy a new house, car or even get funding for your small business, you might not qualify for the most competitive rate if you recently took out a debt consolidation loan.
Your debt is more than half your income. In this case, you likely won't be able to qualify for a debt consolidation loan from a reputable lender. Instead, you might want to consider other options like signing up for credit counseling.
Balance transfer credit cards vs. debt consolidation loans
A debt consolidation loan and a balance transfer credit card are similar in purpose, but there are some key differences. The most obvious is that a loan generally has equal monthly payments while a balance transfer credit card has variable payments based on a percent of the balance owed.
Balance transfer credit cards are used to transfer one or more high-interest amounts from a different provider. Typically, these credit cards have promotional periods that generally last for 6 to 12 months and offer low or 0% APR. A balance transfer credit card's usefulness is on a relatively tight timeline. After the promo period is up, the APR reverts to the standard purchase rate, which can be 20% or more.
Debt consolidation loans are also used to shift debt away from high-APR credit cards. Rather than taking advantage of a short-term promotional period, these are likely to have a lower APR than the non-promotional rate of a balance transfer credit card. A loan may be better when you want to pay your debt off over a longer period of time.
Take a deeper dive into balance transfer credit cards vs. debt consolidation loans
Compare balance transfer credit cards to consolidate debts
4 tips to beat the credit card debt trap
Debt tends to stick around once you've picked it up. Use these tips to avoid getting into debt in the future:
Only spend what you have. Spending more money than you know you can pay back in the near future can make your credit card balance balloon. Make sure to reduce your spending during the next billing cycle to pay off any months that you drop more cash than you have. Can't resist the temptation? You might be better off sticking with a debit card.
Avoid interest. Pay off your credit card balance in full each month. The longer you take to pay off your balance, the more difficult — and expensive — it becomes thanks to mounting interest.
Don't spend everything you earn. Spending your last dollar can leave you vulnerable to piling on debt. Make and stick to a monthly budget to help manage your money.
Save up. Unexpected expenses could come along and hurl you into a pile of debt. Be prepared by cutting out room in your budget to make a deposit into a high-interest savings account each month.
Bottom line
Consolidating your credit card debt with a personal loan can help simplify repayments. And you might be able to save on interest if you qualify for a lower rate than your current credit cards. But you might want to hold off if you're planning on applying for another loan in the near future.
Not sure a credit card consolidation loan is right for you? Explore other debt consolidation options with our guide.
Frequently asked questions
More guides on Finder