Credit card concierge services: Which can help you find toilet paper?
We put three of the top concierge services to the test.
I think most of us who don't own bidets can agree that toilet paper is important.
How much do Americans love toilet paper? About three rolls of toilet paper a week's worth — about 147 rolls a year – according to a recent Statista report.
Much of the wood pulp the US uses for toilet paper is imported from Canada's boreal forest, which has lost 28 million acres to logging between 1996 and 2015, according to a 2019 report from the NRDC.
At that rate, it's no surprise that in the face of nearly any emergency – including the current pandemic – that toilet paper is among the first things to fly off the shelves.
Magic credit card person, please deliver me toilet paper
Credit card concierge services are a perk often found on high-end or luxury cards. These can help you with research or similar tasks, such as making travel arrangements or dining reservations. But you can essentially ask a concierge representative for help with just about anything, and they'll do their best to help you out.
Given the current toilet paper shortage, many of us in the Finder home office thought it was a good time to run a little experiment. Which credit card concierge service can find us toilet paper the fastest?
I corralled members of the team who also possess luxury cards to run the test:
We kept the test short and sweet: We'd each contact our card's concierge service at the same time and ask them to find the nearest store with toilet paper in stock. We chose one central address from Midtown Manhattan to make this test as fair as possible.
Credit card concierge test results
Here's a quick look at our test results. To see details on our calls and what each concierge service told us, keep reading below.
| | Time to connect | Performed the task? | Turnaround | Number of options |
| --- | --- | --- | --- | --- |
| The Platinum Card® from American Express | 4 minutes | No | 5 minutes | 0 — unable to fulfill task |
| Luxury Card Mastercard® Gold Card™ | Immediately through app | Yes | 5 minutes | 2 |
| Chase Sapphire Reserve® | 1 minute | Yes | 2 hours, 50 minutes | 3 |
The toilet paper test
Liza: The Platinum Card® from American Express
On calling the Amex Platinum Card Concierge Service, Liza spoke with an American Express representative within about 4 minutes. Liza ran into a curious hurdle after delivering her request: The rep needed to ask a supervisor whether they could fulfill her request. I can't say for sure why the representative needed approval, but you never know in these crazy times.
After a 5-minute hold, the representative returned with surprising news — not "We couldn't find a store," but "We don't typically perform that service."
This is the first I've heard of a concierge service refusing to perform such a simple task.
Amex's concierge service did offer to search and place an order for toilet paper for Liza through an online shopping service. Thoughtful, but strange they would offer to do this but not call local stores directly.
Megan: Luxury Card Mastercard® Gold Card™
Unlike Liza, Megan was able to contact her concierge service through the Luxury Card mobile app. When Megan entered her request into the chat box, she got an immediate response from representative Chantel through the app. Honestly, I expected Megan to have to wrestle an automated bot, but Chantel appeared to be a real person!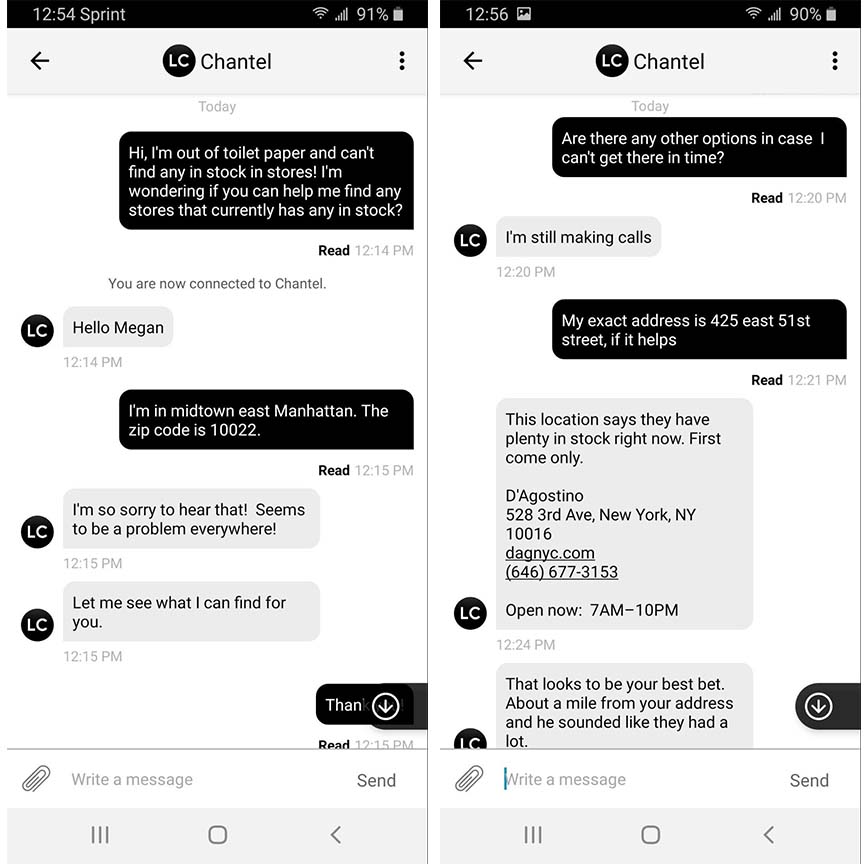 Within 5 minutes, the Luxury Card concierge app returned an answer: a Whole Foods within walking distance that had limited stock of toilet paper. Ten minutes later, another answer: a local joint, also within walking distance, but with a healthy stock of rolls.
Not only did Chantel let Megan know where the nearest toilet paper could be found quickly, but she also let her know whether the store allowed holds on products.
Steve: Chase Sapphire Reserve®
Unlike Amex and Luxury Card, concierge services for Chase cards go through Visa. So if you have a Visa card that features this service, you might expect a similar experience.
After calling Chase's concierge line, I was met with a few service options:
Dial 1 for banking options
Dial 2 for reward options
Dial 3 for dining, entertainment and travel options
Oddly absent was an option for "other," so I dialed option three. Once there, I dialed "4" for all other requests. I was put on the line with my representative almost immediately, though I had to confirm my account information first, because it was my first time calling. Fair enough!
Having settled my account information, I told the representative about our toilet paper quandary. She asked clarifying questions — including whether I was a member at a wholesale club and how far I'd be willing to travel — and offered to call or email with her results. I chose email.
I hung up the phone at 12:21 p.m. Given how quickly Liza and Megan received replies, I figured I'd be well on my way to picking up my imaginary toilet paper in about 5 to 10 minutes. But after 10 minutes had passed, my inbox remained empty.
I imagine most people would have the foresight to call in a toilet paper request before they're actually out of toilet paper. But pretending I made this call from the toilet, I'd have been on the can for a full 2 hours and 50 minutes, bereft of that pillowy paper.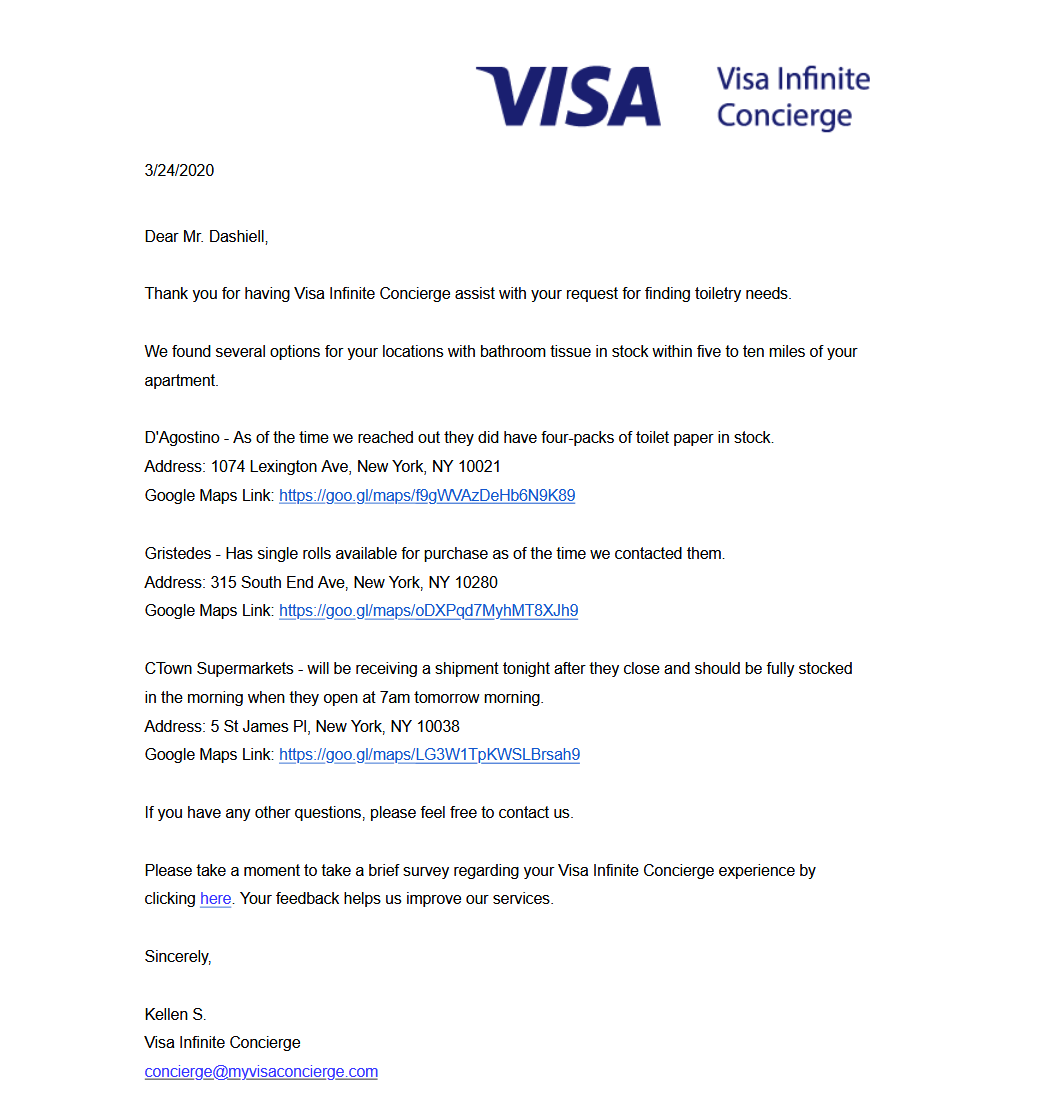 The options Visa eventually offered aligned with Megan's results, and the concierge even included when each store would receive shipments and the types of rolls the store kept in stock. These stores were also nearby, with the closest store proving a 30-minute walk. Still, nearly three hours is a marked difference from the 5 minutes it took Megan to get an answer.
Absorbing it all
No matter how you look at it, Megan and the Luxury Card Gold Card ran away with this one. She got an answer nearly immediately, and she didn't have to pick up the phone. On the other hand, Liza fared much worse, without a single ply of toilet paper found through her request. I was left somewhere in the middle — I got the answer I was looking for, but I had to wait much longer to get it.
To be fair, it's likely our test was affected by the current state of business in the United States. In simpler times, I'd expect a concierge could tell me exactly where to pick up toilet paper within 2 minutes. But reps for Luxury Card and Chase both mentioned that toilet paper locations had become a popular request. Clearly, we're not the only ones with this idea!
Credit card perks like concierge services are designed to take the pressure off your day, so long as you use them. In this case, through arranging travel, finding a great restaurant — or, yes, buying toilet paper. Just remember that while your concierge service is often happy to help you search for toilet paper, there's no guarantee they'll find any — especially in these unusual times.