Credit card concierge services: Which can help you find a kettlebell?
Let a concierge do the work so you can "put in work".
As US cities began locking down to curb the spread of COVID-19, among the first businesses to shutter were gyms. An order to not work out might have been a lazy person's fantasy initially, but after weeks of inactivity and no defined end to the lockdown, many of us turned to the Internet to buy home workout equipment. And we inadvertently made the versatile, apartment-friendly kettlebell an especially prized possession.
Much like the panic buying of toilet paper, hand sanitizer and even bread yeast that's dominated the headlines, gym equipment has also become hard to track down.
To help, we put our credit card concierge services through the paces, asking professional searchers to track down two kettlebells for our imagined home gym.
Concierge guru, help me get ripped
We asked three credit card concierge services to help us locate two 15-pound kettlebells. To score their efforts, we considered:
Time to get a hold of a concierge
Whether the concierge could fulfill the request
How long it took for the concierge to respond with locations
Whether locations they gave were close to us
Speaking with their respective concierges were Finder's crack team of credit card experts:
Which concierge service pulled their weight?
Before we break down the efforts of each concierge service, let's have a look at how they compare generally.
Which concierge service was most im-press-ive at finding kettlebells?
If you've kept track of previous challenges in this series, you may not be surprised at which concierge lunged in for the win.
Megan: Luxury Card Mastercard® Gold Card™
Checking out our summary, you can easily see the Luxury Card Gold Card comes out on top for response time. This is the result of one feature that sets it apart from the other two concierges: the ability to speak to an agent from an app.
Megan got an immediate response through her app's chat function, though to start, the rep wasn't able to find kettlebells in the area. (Told you they were popular.) The first rep then added another concierge to the chat. And after a thorough check of both in-store and online options, the two of them tracked down a set of 15-pound kettlebells within driving distance — just 13 miles away.
Rating: A for teamwork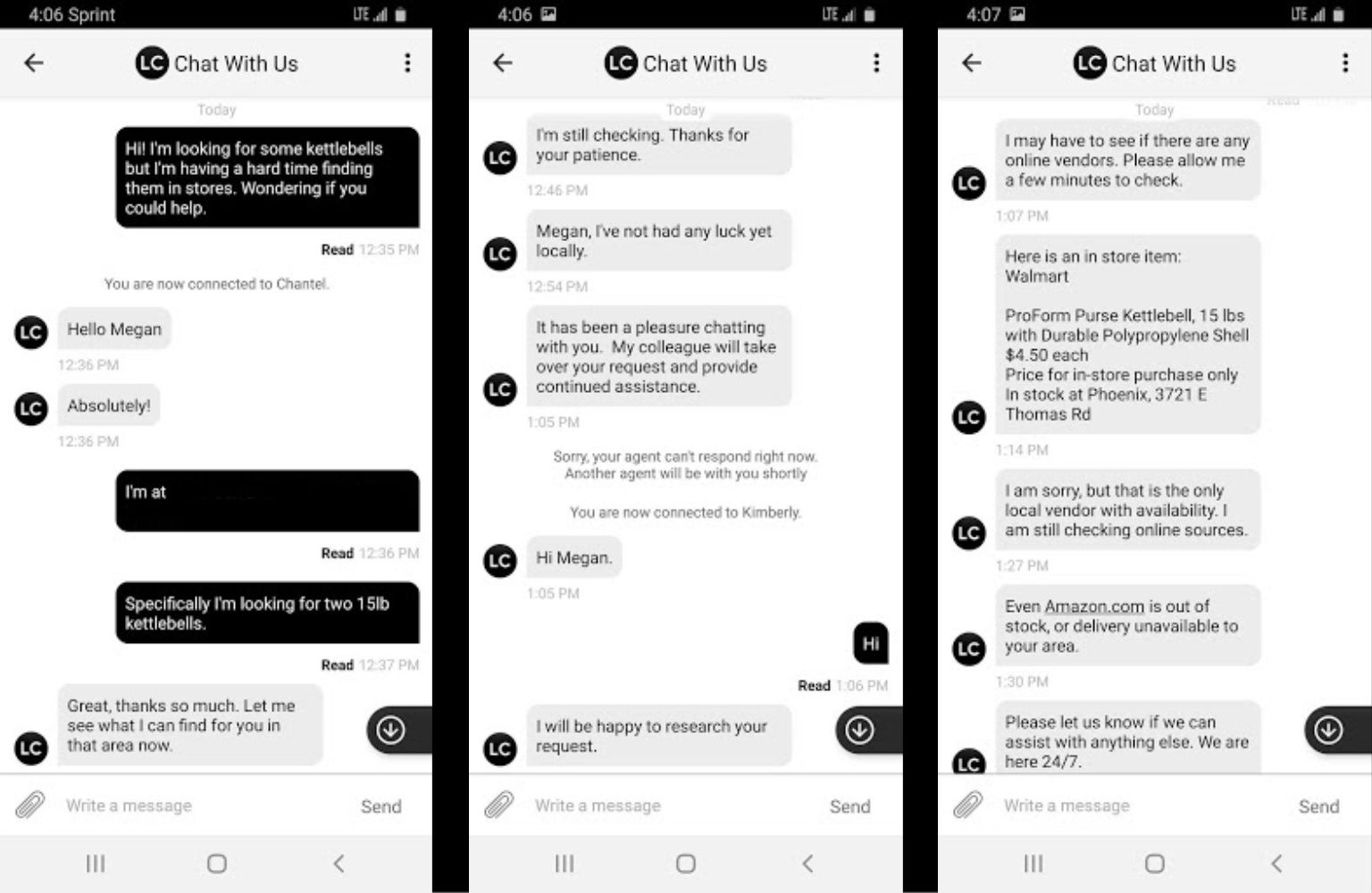 Steven: The Chase Sapphire Reserve® Visa Infinite Concierge
Steven called the Chase Sapphire Reserve Visa Infinite Concierge and was connected to a rep after a brief 1-minute hold. The concierge asked for brand preferences, which Steve didn't have, and other specifics that took all of five minutes to nail down.
The concierge estimated that finding kettlebells could take anywhere up to an hour, but because Steven was hoping to pick up the items on his drive home from work, she'd try and expedite his request. Within 3.5 hours, the concierge successfully tracked down not one but two locations with two 15-pound kettlebells in stock: a dedicated fitness store and a Walmart — both locations within 15 miles of Steven's home.
Rating: A for effort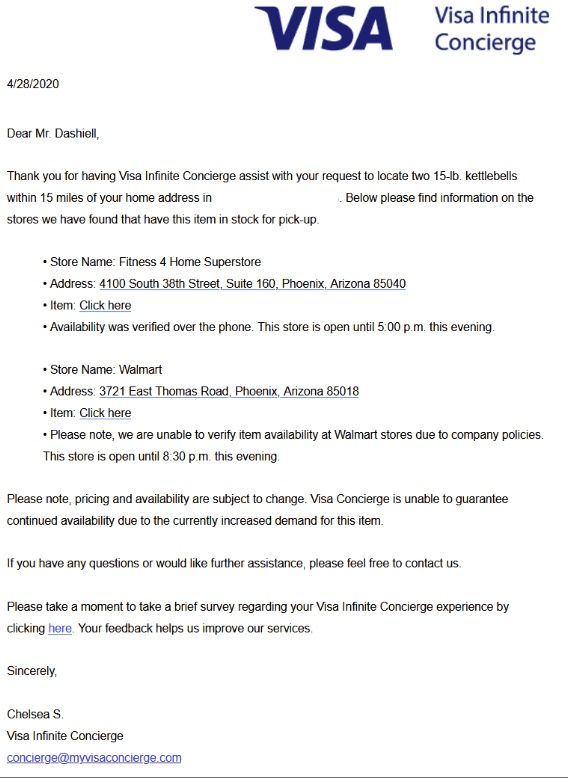 Amy: Citi® Double Cash Card Concierge
Last and very much least is Citi Double Cash Card Concierge, which was unable to find a store stocking kettlebells. Like Steven, Amy called her concierge and after a minute's wait connected with a rep. She told the concierge what she needed and was placed on hold for five minutes.
During the hold, the concierge called both a Dick's Sporting Goods and another store but was unable to find a retailer with 15-pound kettlebells in stock. The concierge told Amy they'd keep looking with a response in the next 24 hours. Unfortunately, after about an hour, the concierge emailed with an update: No stores with these items within 50 miles of her address.
Rating: F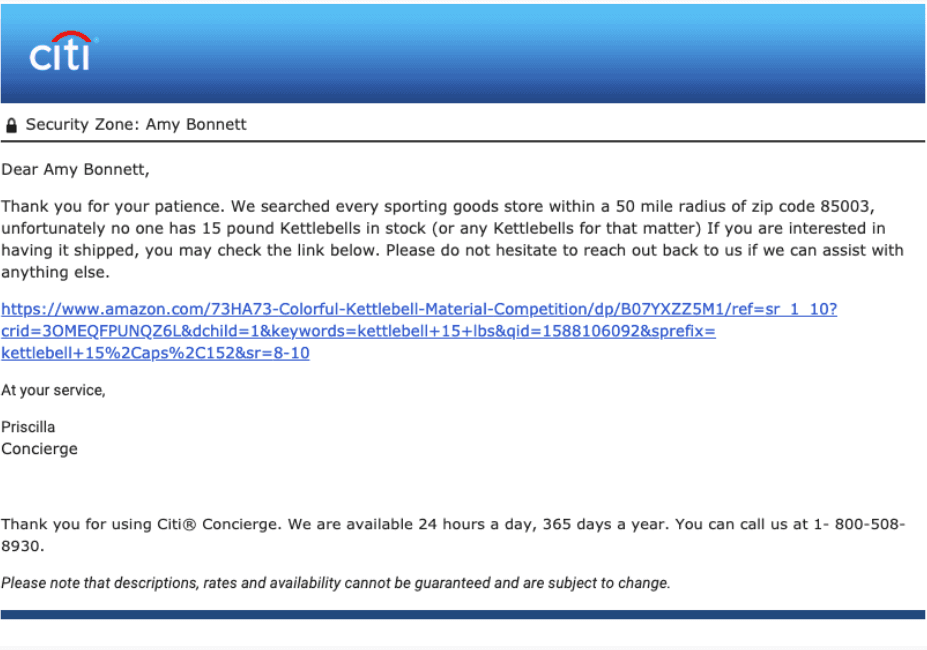 Whose concierge service is most swoll?
It's hard to split, depending on whether you value immediacy or quantity.
The Luxury Card Mastercard Gold Card concierge turned around an answer in under an hour. It's also easily accessed through an app, which allowed for the addition of a second concierge to the quest without hassle when the first couldn't find a retailer.
While the Chase Sapphire Reserve concierge took more than three hours, it went the extra mile to find a second retailer with kettlebells in stock.
The winner is …
In times like these, when stocks are limited, we're giving it to the Luxury Card Mastercard concierge for being Johnny-on-the-spot.