Credit card concierge services: Which can help you find hair clippers?
Shave time off your search with the help of an expert.
With most of the country still sheltering in place, many of us are missing our barbers and hairdressers. Closed salon doors have inadvertently led to an explosion in do-it-yourself haircuts, and merely finding a set of trusty clippers is a hairy situation.
As we've done before with meat, condoms and kettlebells in the past, our credit card team puts concierge services to the test, checking in with three service desks to see if they can track down these modern-day diamonds.
Concierge guru, where can I buy a pair of clippers?
We asked three credit card concierges to find a pair of hair clippers within driving distance of a specific address, scoring them based on:
The time it took to get ahold of a concierge
Whether the concierge could fulfill the request
How long it took for the concierge to respond with locations
Whether locations they gave were close
Putting these concierge services through their paces are our in-house credit card experts:
Credit card concierge test results
If you're interested in the high-level results of how these concierges did with the task, here's a shortened version.
| Card | Time to connect | Performed the task? | Turnaround | Number of options |
| --- | --- | --- | --- | --- |
| Luxury Card Mastercard® Gold Card™ | Immediate | Yes … er, kinda | 2.5 hours | 2 |
| Chase Sapphire Reserve® | 1 minute | Yes | 17 hours | 2 |
| Citi® Double Cash Card | 1 minute | Yes | 5.5 hours | 2 |
Chop chop with the clip clip
Here's a breakdown of how each concierge service performed.
Megan: Luxury Card Mastercard® Gold Card™
First up is Megan, whose Luxury Card Mastercard Gold Card has widely taken the lead in previous challenges.
Megan was able to connect with a representative immediately through to the card's in-app chat. But that's where the accolades stop, at least this time. In the 2.5 hours the concierge took to find options to buy clippers, they were able to track down only two retailers, both online.
So while it's by far the quickest response from a concierge in this test, its inability to track down a physical location for easy clipper pickup wasn't helpful.
The kicker: Megan tried her luck by jumping online herself and found a Target close by with hair clippers in stock.
Rating: C –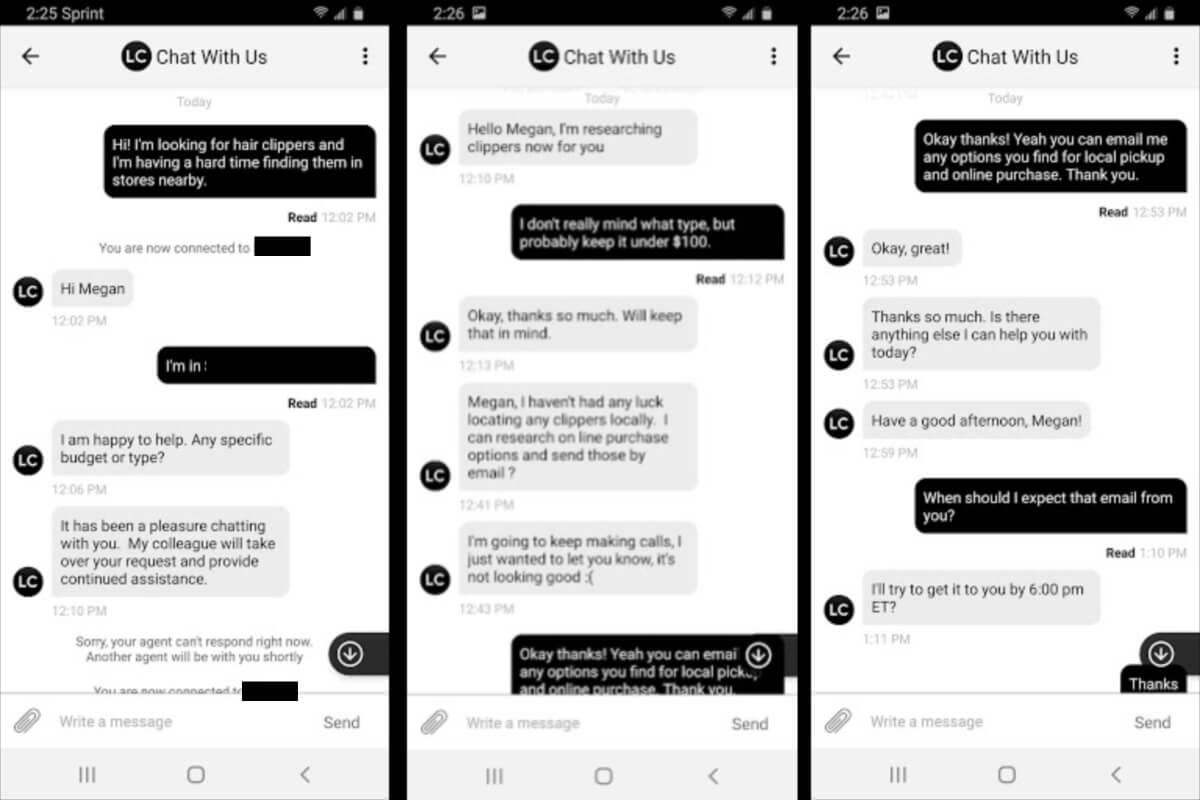 Steven: The Chase Sapphire Reserve® Visa Infinite Concierge
Steven called up the Chase Sapphire Reserve Visa Infinite concierge, and they were on the case after about a minute. Steve and a rep went back and forth about how far he was willing to drive, how much he wanted to spend and whether he wanted a response by phone or email before the representative said she'd have a result in the next 24 hours.
After 15 hours — quite the wait when compared to other endeavors in this series — Steven received an email with two retailers for buying a set of clippers. Both within driving distance.
Rating: A –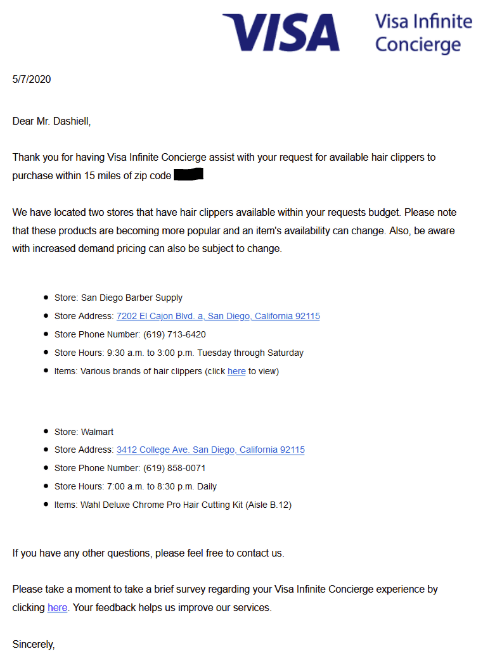 Amy: Citi® Double Cash Card Concierge
Like Steven, Amy called up her concierge team and was on the line with a rep after a minute on hold. The assistant was not only quick but also attentive, asking Amy about price preferences, whether the kit needed to include facial hair trimmers and whether she wanted a smock to wear while cutting hair. Above and beyond service.
After Amy answered all the questions, the representative said she'd do some research and be in touch by email with the results. And after 5.5 hours, the Citi Double Cash Card Concierge came back with two options: one from a Walmart within driving distance and the other to Walmart's online store.
Rating: A+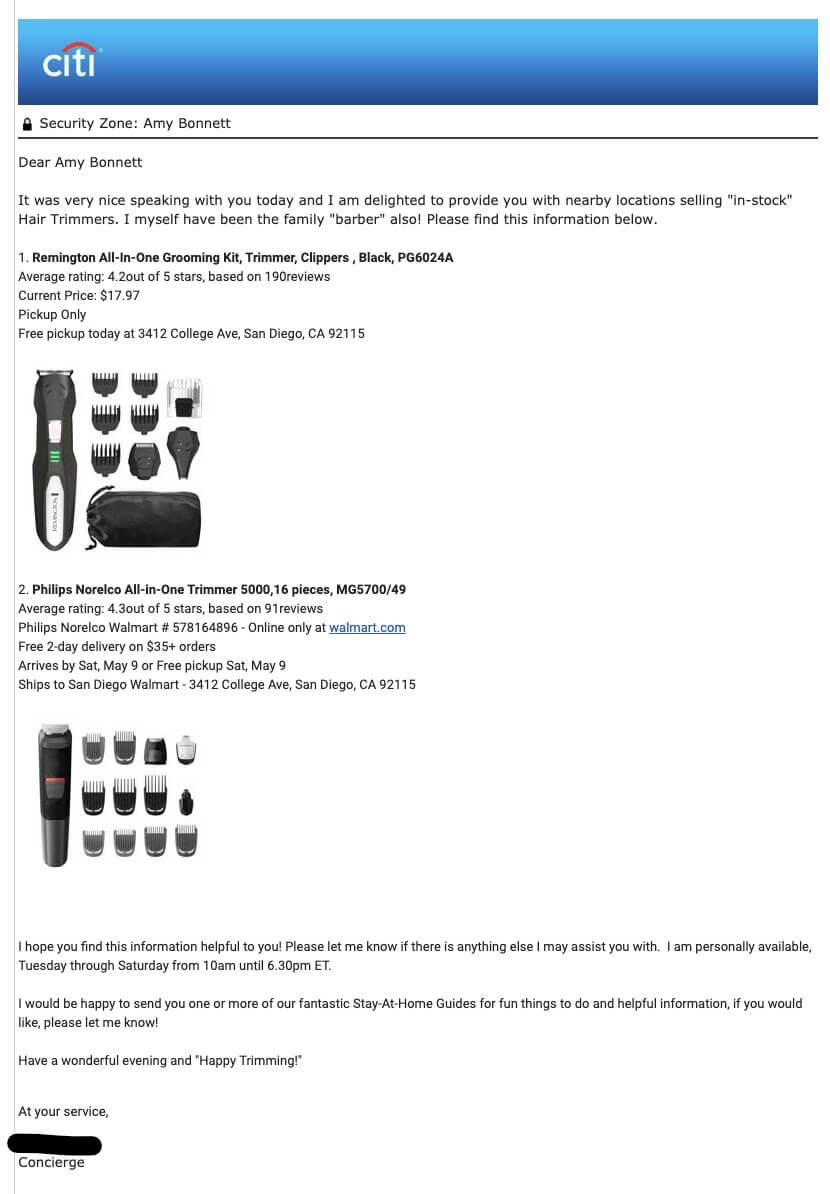 Which concierge service made the cut?
All three services provided at least a passable outcome, but it looks like third time's the charm for the Citi Double Cash Card Concierge team. They didn't provide the quickest result, but they tracked down a physical location with hair clippers in stock and asked the most thorough questions with Amy.
A close second goes to Chase Sapphire Reserve Visa Infinite Concierge, which helped Steven find two locations to buy hair clippers within driving distance. A 15-hour wait time for a response set them back.
Falling in third place is the Luxury Card Mastercard Gold Card's concierge, which provided Megan with online options only for buying hair clippers. When you're after a physical shop, that's the retail equivalent of getting bangs on a whim.