Credit card concierge services: Which can help you find condoms?
Which credit card service will get you the answer you need before the mood is lost?
You might be thinking, "Why the heck do I need a concierge service? I know how to Google." But with COVID-19 leading to shortages of sundry items, we've learned it helps to have a professional guiding your search. Which is why we thought we'd test whether a concierge could track down one of the many items in short supply today: condoms.
Concierge guru, fetch me a pack of condoms
We asked three credit card concierge services to help us locate two boxes of Trojan Ultra Thin condoms, grading their efforts on four main criteria:
The time it took to get a hold of a concierge
Whether the concierge could fulfill the request
How long it took for the concierge to respond with locations
Whether locations they gave were close
Putting these concierge services through their paces were our in-house credit card experts:
Credit card concierge test results
Before diving into the details, all three concierge services were able to complete the request, though with varying turnaround and options.
| Card | Time to connect | Performed the task? | Turnaround | Number of options |
| --- | --- | --- | --- | --- |
| Luxury Card Mastercard® Gold Card™ | Immediate | Yes | 9 minutes | 1 |
| Chase Sapphire Reserve® | Immediate | Yes | 1 hour | 3 |
| Citi® Double Cash Card | 1 minute | Yes | 11 hours | 2 |
Which concierge service will burn rubber to find you a condom?
Megan: Luxury Card Mastercard® Gold Card™
The Luxury Card Gold Card offers the best performing concierge service by far. A big pro from the start is the chat function within the card's app, which allows you to hide behind a keyboard and screen rather than chat awkwardly with a rep.
The concierge's response to the initial request was immediate. They not only fulfilled the request, but also pointed us to a local Walgreens stocking Trojan Ultra Thin condoms in under 10 minutes, understanding time is of the essence.
Rating: A+ performer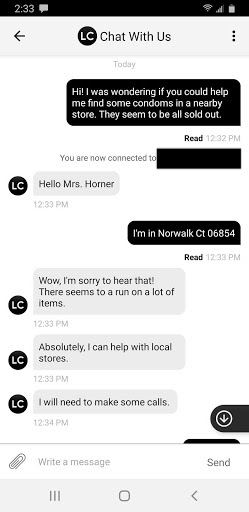 Steven: The Chase Sapphire Reserve® Visa Infinite Concierge
Unlike with the Luxury Card Gold Card, the Sapphire Reserve required a phone call. The response was immediate, but because Steven wasn't an app, he first needed to verify our card and personal details.
After Steven explained what he was after, the concierge estimated 4 hours to fulfill the request — though they did point out it shouldn't take that long. They also asked if we'd prefer to be contacted by phone or email for the follow-up, which was a nice touch. He chose email.
Lo and behold, our concierge came through with the goods in just under an hour, citing several local Walgreens locations that stock Trojan Ultra Thin condoms. They also pointed us to a local CVS but couldn't confirm whether the condoms were in stock.
Rating: Honorable mention
Amy: Citi® Double Cash Card Concierge
The third was Double Cash's Citi Concierge. Like the Sapphire Reserve Visa Infinite Concierge, Amy needed to get on the phone, follow the prompts and confirm our details — all of which took under a minute.
Once on the line with the concierge, they confirmed they would call around to see what they could find and get back to us within 24 hours. Once more, she opted for email follow-up rather than a phone call.
While the concierge tracked down two locations that stocked the Trojan Ultra Thin condoms Amy were after, they took a lot longer than the other two to return results, responding to the request in 11 hours.
Rating: The mood is gone
Getting what you need, when you need
Unlike the act itself, when you're in need of condoms, the quicker, the better. Megan's Luxury Card Gold Card comes out on top with a concierge able to track down a pack of jimmies in under 10 minutes.
If you value choice in prophylactic carriers, then you'll appreciate how Steven's Chase Sapphire Reserve® Visa Infinite Concierge went above and beyond by providing three possible locations to find a sheath.
And while Amy's Citi® Double Cash Card did track down two stockists, the 11-hour turnaround was markedly slower than the other two services.
In any case, concierge services are a great perk offered by many carriers and can help you track down the items you need, when you need them, which is especially useful in the strange COVID times we find ourselves.
Image: Supplied / Getty
When choosing a credit card, what features are most important to you? For most people, it's the interest rate or the ability to earn points. But an often-overlooked advantage of a credit card is its access to a concierge service.