Finder is committed to editorial independence. While we receive compensation when you click links to partners, they do not influence our content.
Christmas gifts for someone who has everything
Surprise the person who's already got it all.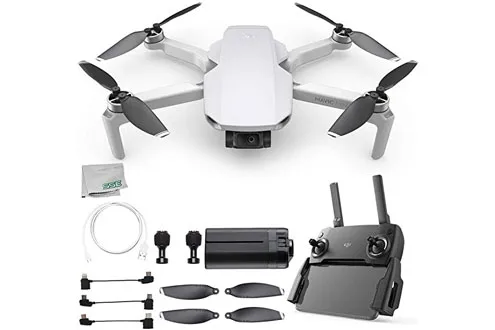 DJI Mavic Mini
from Amazon
Top stocking stuffers
See the rest of our guide for more Christmas gift ideas.
Back to top Top retailers to Christmas shop for the person who has everything
Unique gifts
Experiences
Flowers and gift baskets
FTD.com1-800 FloralsGiftBasket.comPick Up Flowers
What do you buy the person who has everything for Christmas?
Don't panic. There are plenty of Christmas gift ideas for someone who has everything. There are just a few key things to remember when choosing a gift:
Don't try to buy them something they want or need. They'll probably already own it.
Think outside the box. What is something that they would never buy for themselves?
Pick something quirky. Things like movie or book memorabilia or sports merchandise. Obscure books, weird boardgames or gag and novelty gifts work too.
Donate to a charity or nonprofit organization. Consider making a donation in their name.
A meaningful or handmade gift. A photo collage of pictures of you together or maybe matching printed T-shirts are things they're unlikely to already own and will make special and sentimental gifts.
What are the best DIY Christmas gifts for someone who has everything?
Hand-making a gift is a great way to get around the fact that your recipient likely already has everything imaginable that you could buy from a store. Try these fun and thoughtful DIY gifts:
Crochet mermaid blanket. If you're handy with a crochet hook and you have a mermaid-loving friend, a super popular handmade mermaid blanket could be just the ticket.
Homemade butters or spreads. Whip up a batch or two of homemade apple butter, pumpkin butter, brown sugar honey butter or other recipes you've got up your sleeves and put them in mini mason jars.
Plant magnets. Drill a small hole in a couple of corks, add dirt and a mini succulent, and you've got the cutest plant magnets around!
Photo collage. Spice it up by buying or making a large letter for their first or last initial and trim photos to fit inside it.
Customized gift basket. Put together your own custom gift basket with random little things that you know they like. This could include their favorite snacks, wine, books and movies.
Top gift cards for someone who has everything
Shop more gift cards Back to top
Christmas deals and coupons
Frequently asked questions
Looking for gifts for the rest of the family?