Finder is committed to editorial independence. While we receive compensation when you click links to partners, they do not influence our opinions or reviews. Learn how we make money.
How to prequalify for a Chase credit card
Chase preapproval gives you a better sense of your odds.
Having your application denied is never fun. That's why it's best to apply for products you'll have a higher chance of approval for. Enter: Chase prequalification. Though Chase prequalification won't guarantee approval for a Chase product, it will at least tell you which ones you have higher odds for success.
How to check for Chase credit card preapproval
There are three ways to check for Chase credit card preapproval: online, by mail and in-person.
Online
Visit the Chase credit card prequalification page.
Enter your name, address and last four digits of your Social Security number.
Check the box to agree to Chase's terms.
Click Find my offers.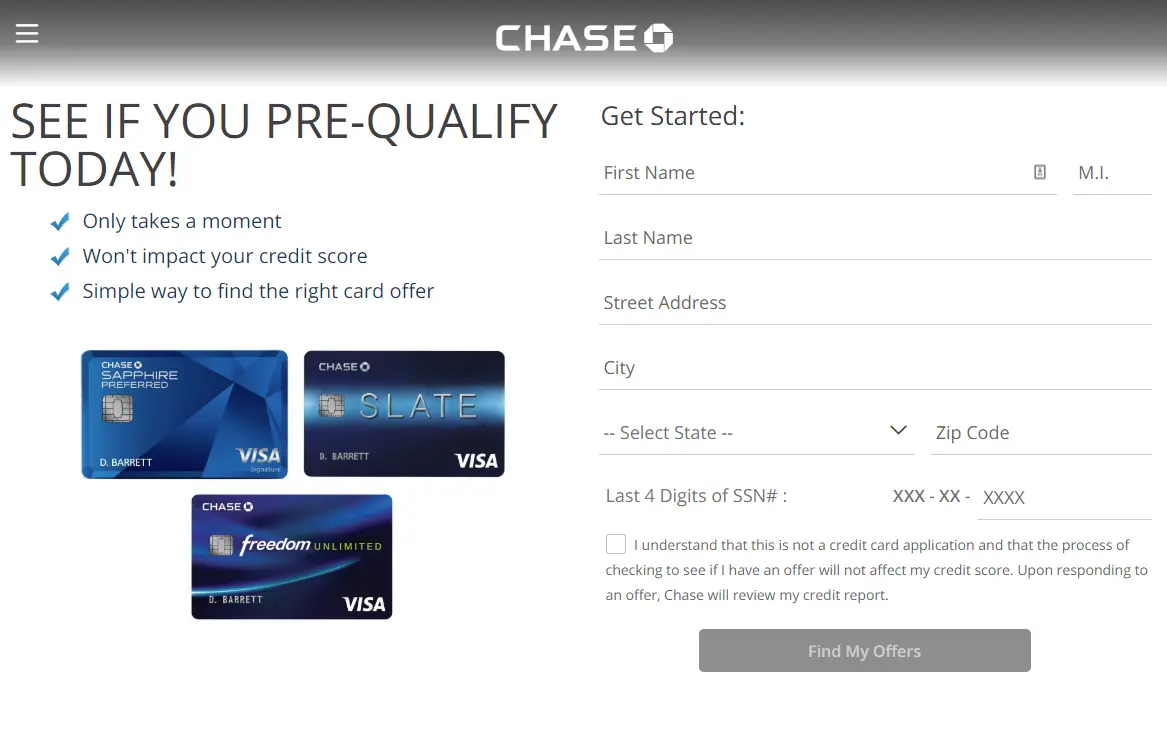 By mail
You may receive a mail featuring a Chase preapproved credit card offer. Chase sends these out to potential new customers who already prequalify for a particular card. You can simply fill out the form you receive and return it to Chase to apply. You can also apply online using the confirmation number listed in the preapproval offer.
There is a caveat with these mail offers: You'll only receive the preapproval offer on one card. If you check for Chase preapproval online or at your local branch, you may find that you prequalify for a variety of card options.
At your local branch
You can simply travel to your local Chase branch and ask if you're preapproved for any offers. If you're not already a Chase customer, you'll need to provide the same information you would provide as if you were checking for preapproval online.
Consider these cards if you're prequalified
What is Chase prequalification?
When you get prequalified, Chase performs a soft pull on your credit history and thinks you're a good candidate for one of its credit cards. If you apply for a card, your chances of approval rise above 80% to 90% by some estimates.
But this doesn't mean you're guaranteed approval. You can still be denied for a card if Chase deems your credit profile insufficient. However, getting prequalified by Chase is a good way to test the waters before risking a hard pull on your credit history.
What are the benefits of a Chase prequalification?
High chance of approval. While approval is never guaranteed, a prequalification from Chase means your application has very good odds.
See which cards you qualify for. When you use Chase's prequalification tool, you can see which cards you're more likely to get approval for. This can help you narrow down your options.
You can still shop around. There's no obligation to apply after your prequalification. You can try to get prequalified with other institutions without affecting your credit.
No impact on your credit score. Chase will perform a soft pull on your credit history, so there's no effect to your credit.
Chase prequalification and Chase preapproval: What's the difference?
Prequalification is when you provide your credit information before you apply for a credit card to know your chances of approval.
Preapproval is when a bank determines your eligibility to receive a credit card without your request.
Whether you get preapproved or prequalified by Chase, you are not required to apply.
What's the difference between a soft and hard pull on your credit history?
Think of a soft pull as a background check. Banks might perform a soft pull to see if you're the right fit for their products. Or you might get one when you check your credit score.
You'll get a hard pull on your credit history when a bank makes a lending decision — for example, when you apply for a credit card, car loan or mortgage. Typically, a hard pull will slightly lower your credit score.
If you're not sure whether a bank will perform a soft or hard credit pull, ask one of its representatives.
For another option, consider using CardMatch
Chase isn't your only option to get prequalified. Another tool you can use is CardMatch, which helps you see products you're prequalified for and receive targeted offers.
By entering basic details such as your name and the last four digits of your Social Security number, you can get a customized list of credit cards that fit your credit profile.
One advantage of CardMatch is it can show you prequalified offers from a variety of issuers — not just Chase.
Compare Chase credit cards
It may be easier to prequalify for Chase's cashback cards, which are available to more customers. Chase prequalification is especially useful for the bank's travel products, which tend to have tougher approval requirements.
Bottom line
Head to Chase's prequalification website to get a better picture of where you stand. There will be a soft pull on your credit history, so your credit won't be affected. In a few seconds, you'll see which cards you're prequalified for.
You're not obligated to apply for any of the cards, so don't be afraid to shop around with other providers. You could prequalify for the right product with American Express, USAA or another bank.
Frequently asked questions
Images: Shutterstock