Finder is committed to editorial independence. While we receive compensation when you click links to partners, they do not influence our opinions or reviews. Learn how we make money.
How to use the Chase Offers program
Get personalized deals and cash back on purchases.
If you want to save money or earn cash back on select purchases, consider the Chase Offers program. If you accept the program's tailored deals and make eligible purchases with your Chase credit card, you can get cash back in the form of a statement credit. Note that you may not get the same offers as other cardmembers.
What is Chase Offers?
Chase Offers is a cashback program where you receive cashback deals tailored to your spending habits. These deals are listed on your account and are separate from any rewards your card might usually earn on a purchase. For example, activating a Chase Offer on Starbucks might earn you 5% back in addition to the standard 1%. These deals can go as high as 30%.
These deals feature expiration dates, so you only have a limited time to activate and redeem them. As a result, you'll see a rotating selection of Chase Offers from month to month. Some of these deals also have specific spending requirements, such as limiting your reward to purchases of a certain product or purchase method. These requirements are listed on each Chase Offer deal.
How do I activate Chase Offers?
To activate a Chase Offer, you'll need to do the following:
Log in to your account on the Chase website or through the Chase app.
On your account main screen, you should see your current Chase Offers listed on the right sidebar. You can click the arrows to scroll through offers or click See all offers to browse available offers.
If you're using the Chase app, you can find this section by scrolling to the very bottom of the app home account page.
To activate a deal, simply click Add to card.
You can then make your purchase according to the offer's requirements to earn your reward.
Deals have expiration dates, so you'll need to make your purchase before the set date. For example, if you get a deal on your Chase Freedom Unlimited®, you must use your Chase Freedom Unlimited® to get the rewards.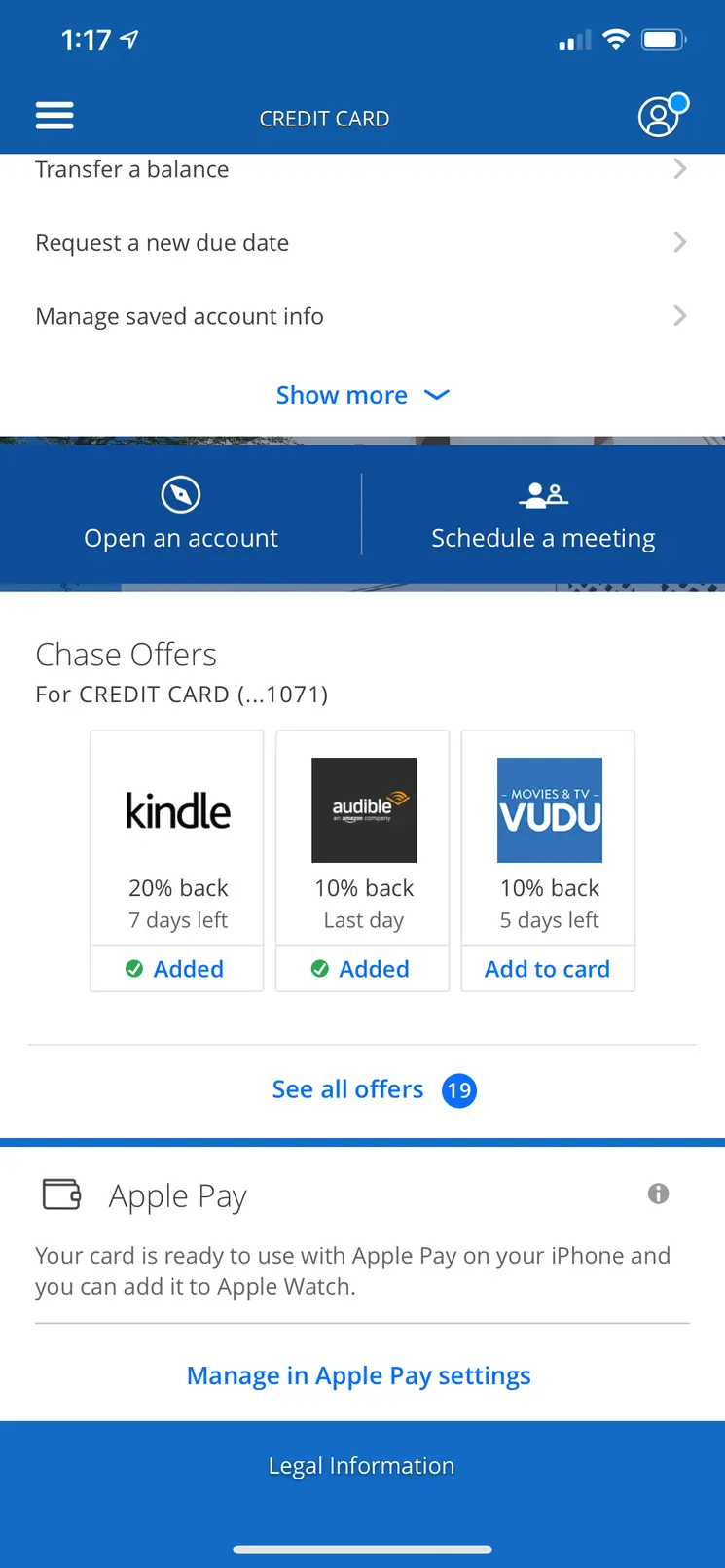 Can I use offers online?
Yes, in general, you can use your Chase deals online, in-store or with your digital wallet. But it's always best to check the deal's terms before activating it.
Which credit cards can I use?
You can use most Chase credit cards to get the offers, but you need to use your card often. Otherwise, you may not get any deals or you could get only a few. Most Chase Ultimate Rewards cards will have access to this service.
How long do offers last?
Most offers last up to 30 days after they first appear on your app. You can only use selected deals once. Typically, you can pay in store, online or with the Chase Pay app.
What types of offers will I find with Chase Offers program?
You'll find a variety of potential deals with Chase Offers, with many tailored to your spending. The more you use your card, the more offers you'll get. These deals tend to cover shopping and services. A few examples based on our recent research includes:
20% back on your next Kindle purchase
10% back on an eligible Norton product
10% back on an Audible membership
5% back on your next drive thru Starbucks purchase
Back to top
Your rewards are issued as statement credit
One thing that might surprise you is that your Chase Offers bounties come as statement credit — that is, they reduce your credit card balance. In this sense, it's not as flexible as Amex Offers. The latter sometimes offers Membership Rewards points.
Compare credit cards with Chase offers
How to maximize Chase Offers program earnings
You can earn solid cashback rewards by using the Chase deals. But there are ways to earn even more cash back on your purchases. For example:
Use the right card. If you have multiple Chase cards and you get the same deal on both, use the card with higher rewards.
Buy gift cards. These can give you a high value. But make sure you read the deal's terms to find out if gift cards are an eligible purchase.
Use an online shopping portal. Earn additional cash back by shopping through an online rebates portal such as Ebates.
Always be on the lookout for new offers. If you check your Chase Offers regularly, you may be able to find numerous opportunities to earn attractive statement credits. Over time, this can lead to great savings.
What are the drawbacks?
Using the Chase deals is an excellent way of earning additional cash back. However, there are some drawbacks to consider.
Deal activation. You have to activate a deal to earn cash back.
Deal expiration. Add your chosen offer to your card and use it before the offer expires
Deal use. You can only use each Chase deal once.
Offers vary. The offers you get are tailored for you. You may not get the same deals as other cardmembers.
Watch the deal's terms. Make sure you read the deal's terms to avoid surprises.
Receiving statement credit. Getting the cash back as a statement credit isn't instant. You have to wait up to 14 days to receive it.
Back to top
Bottom line
The Chase Offers program and its tailored deals is an excellent way to earn cash back on your everyday purchases. Just make sure to activate the Chase deals and use the right card to maximize your rewards.
If this program isn't right for you, compare other rewards credit cards to find something that'll better suit your needs.
Frequently asked questions
Back to top