Finder is committed to editorial independence. While we receive compensation when you click links to partners, they do not influence our opinions or reviews. Learn how we make money.
Espresso machine buying guide
Get that barista experience at home.
With the right espresso machine, you can save time and money by making barista-style cappuccinos and lattes from the comfort of your own home.
Top espresso machines
Best espresso machine under $150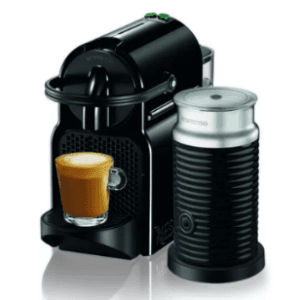 The Nespresso Inissia Coffee Machine with Milk Frother is available in a variety of colors and won't break the bank. Perfect for a hot and velvety coffee with the added options for making an espresso or lungo, this machine has the versatility required to cater to the varying tastes of your family and friends.
It comes with an Aeroccino frother, which enables you to enjoy creamy milk in your beverages. It's simple and easy to use, as it allows you to create hot or cold milk froth for your latte at the touch of a button.If you're drawn to a more hands-on approach, the Sunbeam Cafe Barista Coffee Machine can be a good option. Perfectly priced around $150, you can perk up your day with cafe-quality coffee.
Additional features:
Automatic milk frother
Removable milk reservoir
Removable parts are dishwasher safe
Best espresso machine under $400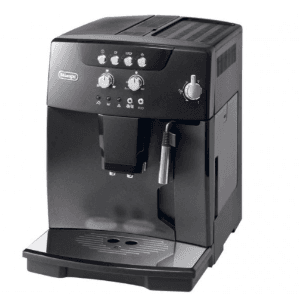 A solid choice in the automatic category at this price point is the DeLonghi Magnifica Automatic Coffee Machine. This machine offers 13 grinding settings and can process beans to cater to your perfect brew. It uses a compact reliable fresh (CRF) system, which allows you to sip your drink at its ideal temperature, and produces a rich aroma every time.
CRF works by grinding beans inside a compact, tubeless system for efficient performance. It also features an innovative cappuccino system.If you're after the simplicity, diversity of flavor and cost-effectiveness of a pod or capsule machine, then the KitchenAid Nespresso Coffee Machine could be the perfect choice for you.
Additional features:
Crafted from precision die-cast metal
Six coffee strength and volume settings
Heats up in less than 30 seconds
Best espresso machine under $1,500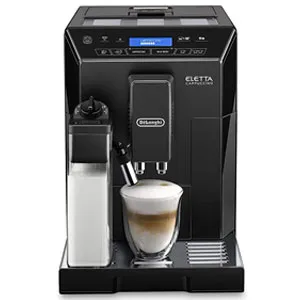 If your budget is a little less constrained, indulge in this higher-end model from DeLonghi. It features a tubeless system to ensure fresh coffee with every use, twin brewing cycles, latte cream system and the ability to brew drip style coffee as well. And its integrated silent burr grinder, equipped with 13 settings, ensures your mornings start off calm and quiet.
Additional features:
67 ounce removable water tank
14.10 ounce bean container
Hot water spout for tea or hot chocolate
Best espresso machine for offices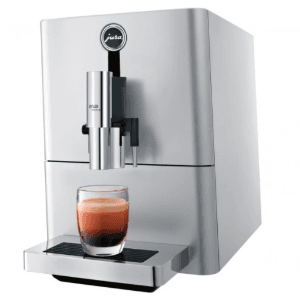 An automatic machine like the Jura Ena Micro 90 Automatic Coffee Machine is perfect for small office kitchens. This machine allows you to create a variety of specialty coffees, selecting the ideal extraction time to streamline the process.It also has an energy-saving mode that minimizes energy consumption while creating your favorite coffee. Its simple control layout lets you make adjustments easily, and its space-saving design means it won't take up too much space, even in an already overcrowded office kitchen.
Additional features:
Three cup sizes and two aroma levels to choose from
Multi-level grinder
Ultra-compact
How to decide which espresso machine is best for you
Ask yourself these questions to help you decide what type of espresso machine is the right one:
How often do you drink coffee?
Do you like drinks with steamed milk like lattes and cappuccinos, or is an Americano more your style?
Do you want to be able to cater to your friends and family? Or is this just for you?
How much free counter space do you have?
Which espresso machine is best for use at home?
Some espresso machines are designed for those with barista experience, while others are engineered for beginners. Look out for these features when deciding which machine will suit your level of expertise.
Pods and capsules
Machines that use pods and capsules have become very popular in recent years.
Pods are discs that contain compressed coffee between two layers of filter paper. Capsules are sealed in an airtight manner that ensures freshness for approximately nine months.
Both coffee pods and capsules are inserted into the machine, which then pierces the capsule, allowing hot water to flow through the shot of coffee. These machines are easy to use and offer a wide variety of coffee flavors readily prepared. They also require very little in terms of maintenance and cleaning.
However, if you're a strong-coffee enthusiast, you may find that these machines don't produce that intensity of flavor you're looking for.
Automatic espresso
Although not as convenient as the capsule or pod machines, automated machines can prove very useful in the confinements of a tight office kitchen or when serving a larger group.
You position your mug directly underneath the spout of the machine and press a button. The machine grinds the coffee beans and produces an espresso, cappuccino or latte. These are easier to use than a semi-automatic espresso machine and have the additional bonus of using fresh coffee beans to create a better density of flavor than pods or capsules.
Semi-automatic and manual espresso machines
Both semi-automatic and manual coffee machines allow users to practice, experiment and get more hands-on with their coffee. These machines are a favorite with extreme coffee enthusiasts and require additional knowledge of barista techniques.
To use these machines, you first put the accurate amount of ground coffee into the group head, then you can set the machine to pour. A semi-automatic machine automatically cuts off the flow of coffee once a pre-set amount has been poured into your cup, whereas a manual machine will require you to manually stop the flow.
These are a great choice for an intense and flavorful coffee, as they use freshly ground beans. But they can be tricky to master if you're a novice.
Espresso machine features
Espresso machines have a wide variety of features to offer. Here are a handful of useful features to look out for and compare when shopping:
Clear control panels
Digital displays are much easier to understand than indicator lights, especially when it comes to programming your machine.
Grinder adjuster
If you're opting for an automatic machine, they come ready-assembled with built-in grinders. An adjustable grinder will allow you to adjust the grind to suit whichever coffee bean and machine you're using.
Variable coffee strength
This feature allows you to accommodate the intensity of the coffee flavor to your own personal taste, as well as the varying tastes of your friends, family or colleagues.
Space
Machines range dramatically in size from a compact capsule model to a large espresso machine. Make sure your coffee machine will suit its spatial surroundings.
Cup warming tray
A cup warming tray can help to retain the heat of your coffee by warming the cup before it's poured. If you tend to forget about your coffee, only to remember it later and come back to a cold cup, this could be a game-changer for you. It's also handy in those cold winter months when drinks cool much more quickly.
Double shot
Plenty of models can make two espressos at once, but they often just grind one dose of beans, which leads to a much weaker flavor. If you regularly need to make two cups, look out for models that make them one after the other rather than at the same time. These models grind a new dose of coffee beans for each cup, which is the best way to ensure you both get a good, intense hit of caffeine.
Water tank empty reminder
This is a handy feature that reminds you to add water before starting your machine or before making your next cup of coffee. It's usually a little icon that illuminates to show you that the water in your tank is running low.
Height-adjustable spouts
Height-adjustable spouts allow your machine to accommodate larger cups, for example when making a tall latte.
Coffee grind, machine compatibility and taste
Coffee grinds range from extra coarse to extra fine. Here's some handy information on what each level of coarseness is useful for and the flavor it produces.
Coarse grind
Extra coarse coffee grinds are generally used for cold brewing techniques — perfect for a refreshing iced coffee on a simmering summer day.
Medium grind
Medium coffee grinds generally have the texture of sand, are most readily available on the market and are most commonly used in automatic drip coffee machines.
Fine grind
To make the best espresso, you'll need to use a very fine and consistent grind. One easy test to check whether your grind is fine enough is to pinch the grounds between your thumb and forefinger. The coffee should clump together slightly in the center of the pinch, where the pressure is hardest, but not clump too much. If it does not clump at all, it is too coarse and will produce a weak shot. If it clumps excessively, it is too fine and will produce over extraction, which results in unfavorable flavors.
How much does an espresso machine cost?
Espresso machines range in price. Pod and capsule machines can cost anywhere from around $75 to $400. If you're leaning towards an automatic machine, the prices range from $400 to $2,000 and beyond. If you'd like to try a more hands-on experience, semi-automatic and manual models can cost somewhere between $150 and $1,100.
Bottom line
An espresso machine can be a great investment to help you save both time and money if you like to indulge in lattes, cappuccinos and other coffeehouse drinks on the regular. Consider the machine's overall features, size, price and ease of use before buying.
Grab a discount with these coupon codes
How did we choose these products?
To choose our list of the best espresso machines, we conducted online research to determine some of the most popular models currently available. We compared the type, size, price and overall features, as well as considered third-party product reviews.
Frequently asked questions
Photo by Tim St. Martin on Unsplash
Related Posts