10 best crypto tax software for 2023
Our picks for the best crypto tax software to help you meet your IRS reporting requirements.
Disclaimer: This page is not financial advice or an endorsement of digital assets, providers or services. Digital assets are volatile and risky, and past performance is no guarantee of future results. Potential regulations or policies can affect their availability and services provided. Talk with a financial professional before making a decision. Finder or the author may own cryptocurrency discussed on this page.
Crypto tax software programs make it easier to record your cryptocurrency transactions, track any capital gains or losses and report them to the Internal Revenue Service (IRS). To help you manage your tax obligations, we've compared a range of options to find the best crypto tax software programs in the US.
Best crypto tax software for 2023
1. Koinly: Best overall
2. CoinLedger: Best for frequent traders
CoinLedger, formerly CryptoTrader.Tax, has been helping cryptocurrency traders with their transaction reporting since 2018. Its tax software is designed to allow you to track all your cryptocurrency transactions for the financial year in minutes, then generate reports detailing gains, losses and income from NFTs, staking and mining.
| | |
| --- | --- |
| Federal starting price | $0 |
| State returns starting price | Included |
| Free options available? | Yes |
Go to site
Read review
3. Coinpanda: Best for number of exchange integrations
4. CryptoTaxCalculator: Best for crypto tax professionals
CryptoTaxCalculator offers crypto tax software designed to meet IRS guidelines. It supports hundreds of major US and international exchanges, and also offers a professional software suite for accountants and bookkeepers.
| | |
| --- | --- |
| Federal starting price | $0 |
| State returns starting price | Included |
| Free options available? | Yes |
5. CoinTracking: Best free plan
6. TokenTax: Best for customer support
TokenTax is a full-service crypto tax software that takes the lead in customer service. Although it only supports about 120 exchanges and wallets through API and CSV uploads, you can manually add your trades no matter the exchange.
7. Accointing: Best crypto tax app
Accointing is handy crypto tax software that helps you organize your crypto portfolio and generates the necessary forms when it comes time to file your taxes. All of its plans come with valuable features that include a tax-loss harvesting tool. But its free plan covers only 25 transactions a year on your tax report.
8. ZenLedger: Best for extra accounting features
9. BitcoinTaxes: Best for Best for 20 to 100,000 transactions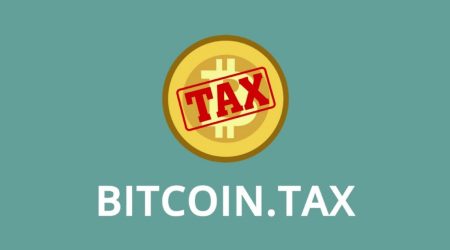 BitcoinTaxes — also known as Bitcoin.Tax — is a cost-effective crypto tax software that generates your Form 8949 and Schedule D. While its platform may look a bit dated and doesn't come with fancy features like tax-loss harvesting tools or a comprehensive crypto portfolio dashboard, it's one of the best deals you'll find up to 100,000 transactions.
10. TaxBit: Best for unlimited transactions
What is crypto tax software?
Crypto tax software helps you keep a record of crypto transactions and calculates the capital gain or loss when your crypto assets are sold, exchanged, given away or traded.
The best crypto software integrates with the exchange you use to manage your cryptocurrency. It automatically grabs and records details of your transactions when you execute an exchange or trade.
Most crypto tax software gives you the option to manually import your data. You can export your transactional data from your crypto exchange platform as a CSV file. This file can then be imported into your chosen crypto tax software.
Most crypto software programs also keep track of your transactions in a way that's suitable for IRS forms and US tax reporting. They can automatically fill in your tax forms at the end of the tax year, making sure you pay the correct tax that's due, in line with US crypto tax rules.
How to choose the best crypto tax software
It's important to research a range of crypto tax software to compare the pros and cons of each option. The best crypto tax software for you depends on what you're looking for, so consider the following:
Price
Some platforms like Koinly and ZenLedger offer free basic services for crypto investors who make under 10,000 transactions a year. To get a more comprehensive service, you'll need to pay an annual fee. It could be worth it to save you a massive headache at the end of a tax year.
Other platforms like CoinLedger don't have free plans and charge yearly subscriptions depending on your level of transactions.
Data import options
Most crypto tax software lets you integrate your account with a range of crypto platforms and automatically import the relevant tax data. If you're interested in one that isn't compatible with your crypto platform, check that you can manually import CSV data.
Calculators
Working out your tax liability is the bread and butter of good crypto tax software. You'll want to try to minimize your tax liability and maximize profitability where possible. For example, pooling crypto assets to work out your tax liability. This could reduce your tax liability by offsetting gains and losses for similar crypto assets.
Creating tax documents
Most crypto tax software can help you complete the necessary tax forms at the end of the tax year. In the US, you'll need to report capital gains or losses on relevant forms, including Form 8949 and Form 1040.
Integration with the IRS
Crypto tax software doesn't currently integrate directly with the IRS, but the best platforms will help you automatically fill in your tax forms.
Investors should watch out because the IRS is becoming more active in chasing up people who may have crypto tax liabilities. They currently ask for information from several crypto platforms including Coinbase, and it is likely that the IRS will ask all the major crypto platforms to share customer information in the future.
Security
Most platforms provide detailed information on their security features, like 256-bit encryption and employee vetting.
Check out online customer reviews to see if the crypto tax company you're considering has a good reputation. You can also search google to see if a company has had any recent breaches or hacks.
Customer support
Many tax software companies offer 24-hour support and live chat. They also provide online guides and resources to help you understand more about how crypto tax works.
You need to ensure your software integrates with the crypto exchanges you use and that it can generate tax forms like the 8949, which reports capital gains and losses. You also need to make sure the software can identify cost basis (most of them do) to identify your gains and losses.
Why use crypto tax software?
Crypto tax software should help you simplify keeping records and submitting tax forms for your crypto investments. Here are some of the advantages of using crypto tax software:
Saves time. Most software automates crypto record-keeping by integrating with your crypto exchange.
Helps with complicated tax rules. Tax rules for cryptoassets are complicated. Crypto tax software can help make sure you're paying the right tax each year and don't have any nasty surprises.
Generates tax forms. Most crypto tax software will help you complete your year-end tax forms so you don't have to employ a specialist accountant.
Protects your profits. Top crypto tax software uses strategies to save you money on your tax bill. For example, you may be able to pool similar crypto assets to offset some of your gains and losses.
Lower risk of being fined. Because US tax rules are complicated, there's a significant risk of reporting incorrect crypto assets information on your tax return if you don't use specialist software.
Compare crypto tax software
20% of Americans don't think Bitcoin is taxed
Almost one in five (19.6%) Americans don't think Bitcoin is taxed, according to an online survey of 2,040 American Adults conducted in October 2021, which might present a surprising tax season for a number of BTC investors.
Although you won't be taxed for simply holding, investors can expect to report any sellings, tradings and earnings that have taken place within their portfolio to the IRS within the tax year. Understanding the nitty-gritty details will allow you to have a less taxing tax season.
Genders, generations and taxable Bitcoin
Men (24.5%) were almost 10 percentage points more likely to say that Bitcoin is not taxed than women (14.6%).
Gen Z (23.8%) are the leading generation that report believing Bitcoin is not taxed. Following Gen Z are Millennials (23.1%), Gen X (21.2%), Silent Gen (14.8%) and Baby Boomers (14.5%).
Crypto tax software alternatives
Crypto-focused tax software might not be best for every type of investor or trader. Beginners may be able to make use of standard tax software, while trained professionals can be helpful for heavy investors.
Certified public accountant. Certified accountants versed in crypto can ease the process of filing taxes, though you may be required to share a file of your crypto transactions first. Look for a good track record of dealing with cryptocurrency investments.
Crypto tax lawyer. Similar to crypto CPAs, you can find tax lawyers that specialize in crypto tax law. A crypto legal professional can advise you on cryptocurrency holdings, take transactional data and reconcile taxes. But they can be expensive.
Standard tax software. Rather than purchase a crypto-focused package, you may be able to use market-leading providers like TurboTax that integrate cryptocurrency features — including one that you already use for your state and federal taxes.
File your own taxes. Individual investors and traders are free to complete their own tax forms. If you have a solid understanding of your crypto tax obligations and are willing to put in the time, this option could save you money. But you face stiff penalties for failing to accurately report your capital gains.
Methodology
We considered a wide range of factors before choosing the best crypto tax software for US investors. When pouring over each platform, we looked at:
Price. We compared crypto tax software plan prices and what you get for the money you pay. Not only did we search for the most affordable plans for different types of cryptocurrency investors and traders, we also searched for those plans that offer the best value for money.
Number of supported exchanges. We considered the number of exchange, wallet, blockchain and coin tracking service integrations each provider offers. This allows for easy importing of all your cryptocurrency transaction data using API keys or CSV files.
Ease of use. Next, we compared crypto tax software to find out how easy it is to use. From signing up to importing transaction data and generating tax reports, we looked for programs that simplify the process from start to finish.
Included tax forms and reports. All crypto tax software generates IRS Form 8949 to report your capital gains and losses from your crypto investments. But depending on your crypto activities, you may need additional tax forms, such as Schedule C and Schedule 1.
Accountant access. Once you've generated your tax report, we inspected how easy it is to give your accountant access to your tax report and export your data to popular tax filing software.
Customer service. Finally, we also considered how you can get in touch with a software provider's customer support team, what previous users have to say about the level of customer support, and whether they also offer online help resources.
Bottom line
Using crypto tax software can help simplify keeping records of your crypto asset transactions. It will keep secure records of all your crypto transactions by integrating directly with your crypto trading platform.
It will also save you a headache at the end of the tax year when you need to fill in your tax return. That's because you'll be able to automatically fill in the required IRS forms. You can also rest easy that you're complying with all the complicated rules on crypto tax.
FAQs
How do I keep track of crypto taxes?
Use crypto tax software to track all your crypto transactions and produce your tax reports.
It's also good to manually track your crypto transactions so that you can alter the reports the software produces if some of your crypto transactions upload incorrectly.
What is the best way to file crypto taxes?
First, you'll want to learn how to report your crypto taxes.
Once you've done so, you may want to use crypto tax software to help you produce your tax reports, especially if you have over 100 transactions.
Is crypto tax software free?
Most crypto tax software has free features, but many charge a fee if you want to produce tax reports.
For example, Koinly allows you to track up 10,000 transactions for free, but charges you if you want to generate any tax reports.
Can I do my crypto taxes myself?
Yes. First, learn how to calculate your crypto taxes, then consider using crypto tax software to support your recordkeeping and tax form generation to make sure you stay on the right side of the IRS. If in doubt, consult a tax professional for additional guidance.
Disclaimer: Cryptocurrencies are speculative, complex and involve significant risks – they are highly volatile and sensitive to secondary activity. Performance is unpredictable and past performance is no guarantee of future performance. Consider your own circumstances, and obtain your own advice, before relying on this information. You should also verify the nature of any product or service (including its legal status and relevant regulatory requirements) and consult the relevant Regulators' websites before making any decision. Finder, or the author, may have holdings in the cryptocurrencies discussed.