Finder is committed to editorial independence. While we receive compensation when you click links to partners, they do not influence our opinions or reviews. Learn how we make money.
Bank of the West Any Deposit Checking account review
A simple checking account with two ways to avoid the monthly fee.
finder.com's rating: 3.0 / 5.0
★★★★★
This simple checking account offers a $5 overdraft buffer and one waived overdraft each year. But, the account costs $10 a month if you are over 25 years old or miss making a monthly deposit. And it only services select Western and Midwestern states.
$0
Minimum deposit to open
Details
Fee
$10 per month
To waive the fee
· Deposit any amount each statement cycle
· OR have an account owner who is under age 25
Minimum deposit to open
$0
ATMs
Over 750 ATMs
ATM transaction fee
$0
Out-of-network ATM fee
$3
Foreign transaction fee
3%
Overdraft fee
$35
Expert review
Review by
peter.carleton@findercrew.com
---
Peter Carleton is a writer that covers banking and investing, breaking down what you need to know about where you put your money. When Peter's not thinking about cutting-edge banking apps and robo-advisors, he runs a creative agency and spends his spare time cooking or reading.
Expert review
The Any Deposit Checking account is good for those younger than 25 years old or if you can arrange monthly deposits to avoid the $10 fee every month. It's a fairly bare-bones account, but it doesn't require a minimum balance to open and has a small amount of overdraft protection. You may be able to get more features from another provider, especially if you're willing to pay a monthly service fee.
What are the benefits of the Any Deposit Checking account?
The Any Deposit Checking account issued by Bank of the West is FDIC-insured to keep your money safe and it offers a handful of other benefits:
Overdraft protection. You're covered if you overdraw your account by less than $5 — and it waives one overdraft charge each year.
No balance requirements. There's no minimum to open or maintain this account.
Avoidable monthly fee. Bank of the West offers two ways to avoid the monthly fee.
Bank of the West ATM network and fees
This account comes with a Bank of the West Mastercard debit card, which allows you to make purchases almost anywhere. Plus, you'll get fee-free access to Bank of the West's network of over 750 ATMs. However, if you use an out-of-network ATM, you're charged the following fees:
Domestic ATMs: $3 plus any charges from the ATM owner.
International ATMs: 3% of transaction amount
What should I look out for?
This simple checking account has easily avoidable monthly fees and convenient access, but there are still a few other things to watch out for:
Monthly service fee. If you fail to meet one of the fee waiver conditions, you'll be on the hook for a $10 monthly fee.
High fees. Even if you can avoid the monthly fee, there are high service fees like a $3 paper statement fee, $15 incoming wire fee and $15 returned item fee.
No interest. Unlike some other checking accounts, you earn zero interest on your balance.
Limited ATM access. Bank of the West only has 750 ATMs, so you could end up frequently paying for out-of-network ATM fees.
Limited availability. Accounts are only available to residents of:
Arizona
California
Colorado
Idaho
Iowa
Kansas
Minnesota
Montana
Nebraska
Nevada
New Mexico
North Dakota
Oklahoma
Oregon
South Dakota
Utah
Washington
Wisconsin
Wyoming
If you live outside its service area or want to look at other options, compare your options to find an account that meets your needs.
Compare with other checking accounts
How do I apply?
You can open an Any Deposit Checking account like this:
Visit the Bank of the West website and click Banking.
Click Checking Accounts.
Scroll down to Any Deposit Checking and click Apply Now.
Enter your ZIP code, then click Get Started.
Enter your personal information and click Continue.
Enter your employment information and any other details, then click Continue.
Verify your information, fund your account and submit your application.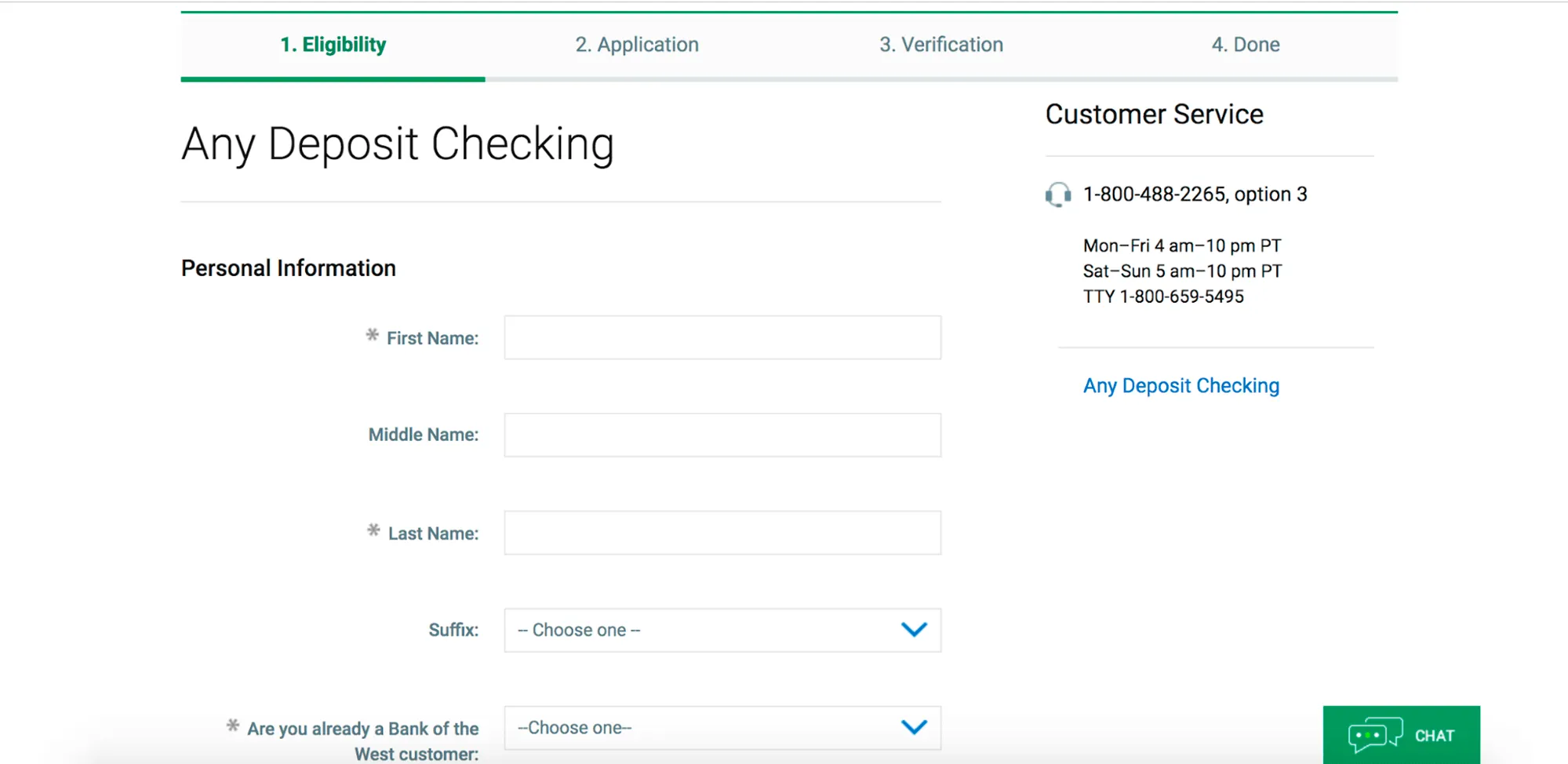 Eligibility
Regardless of how you choose to open this account, you'll need to meet a few eligibility requirements:
Be at least 18 years old if you're applying online
Live in one of the 19 states Bank of the West operates in
Be a US citizen
Possess a Social Security or tax ID number
Have state-issued ID
Required information
Here are the personal details you'll need to provide when you open an account:
Name
Date of birth
Address
Government-issued ID number
Social Security or tax ID number
Employment information
How can I get in touch with customer service?
If you need to speak to customer service, there are a couple ways you can get in touch with a representative:
Online: Use the live chat option on the website
By phone: 800-488-2265 Monday to Friday 4 a.m. to 10 p.m., Saturday and Sunday 5 a.m. to 10 p.m. PT.
How do I deposit or withdraw money?
Once your account is set up, there are numerous ways you can deposit and withdraw money:
Deposits:
At a branch or ATM
Online or wire transfer
Via direct deposit
Mobile check deposit
By mail
Withdrawals:
At a branch or ATM
Online or wire transfer
Bill pay
Cashback at a retailer
What other checking options does Bank of the West offer?
Bank of the West has one other checking account available:
Premier Checking account. This account pays interest, waives all out-of-network ATM fees and gives you access to better rates on other Bank of the West products, but has a $25 monthly fee.
Frequently asked questions
Checking account ratings
★★★★★ — Excellent
★★★★★ — Good
★★★★★ — Average
★★★★★ — Subpar
★★★★★ — Poor
We analyze top checking accounts and rate them one to five stars based on factors that are most important to you. These factors include: monthly fees, the ease at which monthly fees can be waived, the breadth of ATM access, ATM and overdraft fees, and customer service.