Finder is committed to editorial independence. While we receive compensation when you click links to partners, they do not influence our opinions or reviews. Learn how we make money.
How to prequalify for American Express credit cards
Get a better idea of your Amex approval odds by prequalifying.
While you can never be 100% sure whether you'll be approved for a credit card, you can get a pretty good idea of your odds. To do that, get prequalified by American Express. Amex will tell you if you're a good fit for its products. Then you can apply for one with a higher degree of confidence.
How do I get prequalified for an American Express credit card?
Visit the American Express prequalification page.
Fill in your full name, last four digits of your Social Security number and home address. You can also click the Select an interest section, where you can select which type of cards you're interested in.
Click View my card offers.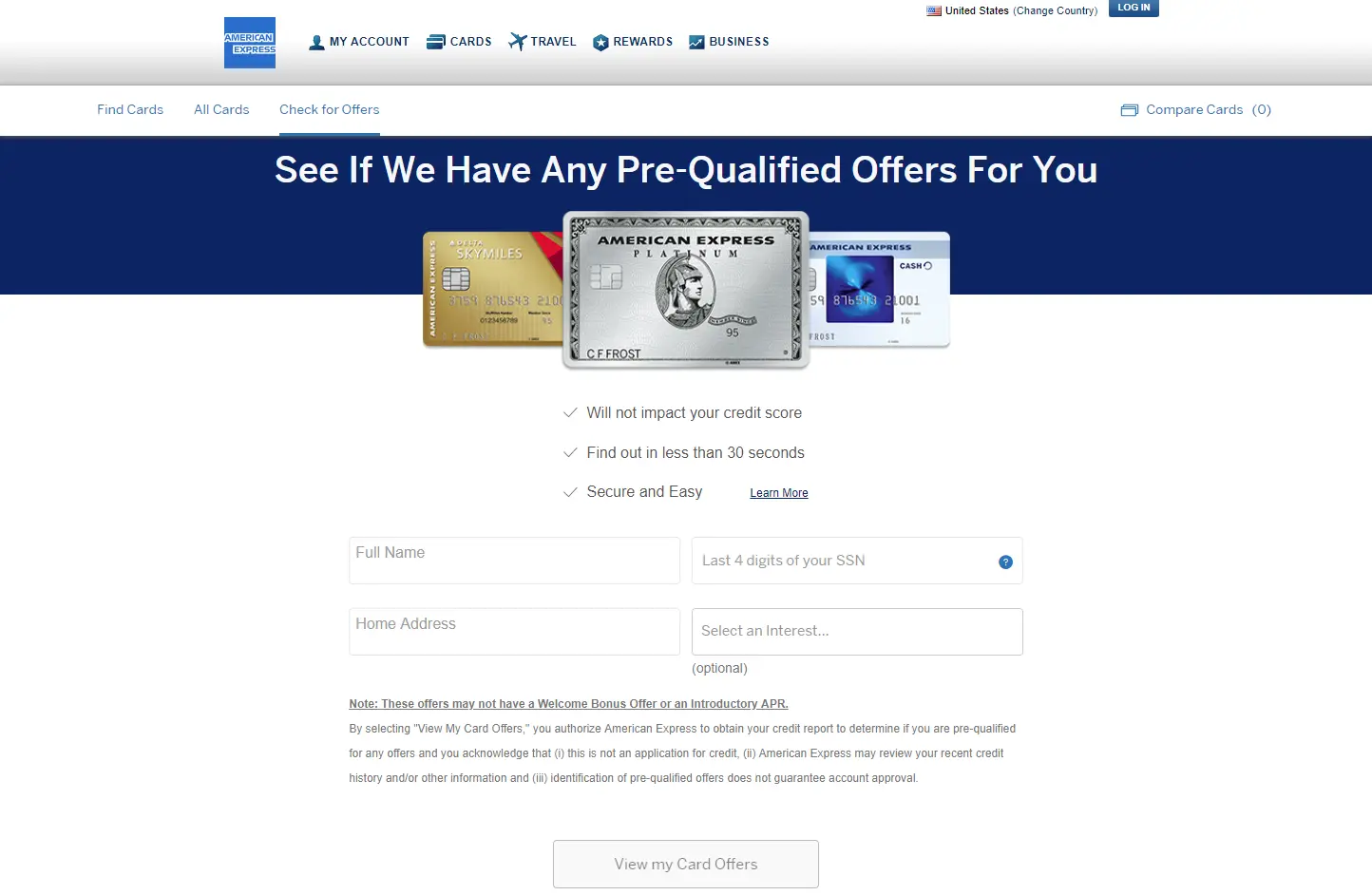 Consider these cards if you're prequalified
Compare American Express cards
Premium cards typically have stricter approval requirements. For that reason, it's often wise to get an American Express prequalification before applying for a card.
What are the benefits of an American Express prequalification?
Strong approval odds. Prequalification means you have a very good chance of getting approved for certain cards.
Narrow your options. Amex's prequalification tool can point you to cards that fit your credit profile.
No obligation. You don't have to apply after getting prequalified. You're free to shop around with other providers and look at other products.
Your credit score is unaffected. Amex will initiate a soft pull on your credit history. There's no adverse effect on your credit.
What is American Express prequalification?
If you're prequalified, American Express has performed a soft pull on your credit history and thinks you might qualify for its products. Typically, you have very good odds of approval after prequalification — your chances could be 80% to 90% or higher.
It's great to get prequalified, but it never means you're guaranteed approval. If your credit profile doesn't meet the bank's minimum requirements, you may be denied. Still, it can be a good idea to get prequalified for American Express's products before exposing your credit history to a hard pull.
Credit terms: Soft vs. hard pull
A soft pull is a quick background check on your credit history. Banks might initiate one to see if you qualify for their cards. You might also initiate a soft pull when you request your own credit score.
You'll get a hard pull on your credit history if a financial institution needs to make a lending decision — for example, when you apply for a mortgage or credit card. A hard pull will usually decrease your credit score by a few points.
To check whether a bank performs a soft or hard pull on your credit history, give it a ring and ask a representative.
Prequalification and preapproval. What's the difference?
Prequalification is when you agree to provide your credit information in order to apply for a credit card.
Preapproval is when a bank determines that you are eligible to receive a credit card.
In both cases, you are not required to apply for the card if you don't want to.
Bottom line
Prequalification isn't required before applying for an American Express card, but it could be a wise decision. You'll have a better picture of where you stand, and you can narrow your options before having a hard pull on your credit history.
You're not obligated to apply for cards you're prequalified for, so feel free to compare other providers. You could find whether you qualify for the right product with Chase, USAA or another bank.
Frequently asked questions